To celebrate Father's Day, StarWars.com sat down with the duo behind the fan podcast "Father. Son. Galaxy."
StarWars.com is shining a light on those who truly give the saga its power: the fans. In the StarWars.com Fan Spotlight, we're honored to tell their stories.
When the lights went down in a packed Manhattan movie theater in 1983, it changed 15-year-old Kerwin Yarde's life forever.
"It was the best experience I've ever had watching any film," Yarde says of seeing Star Wars: Return of the Jedi with friends. "The trumpet blast. 'Star Wars' appearing on the screen. Everybody went crazy. And it was that way from the beginning of the movie to the end."

As an adult, however, Kerwin says he didn't talk about Star Wars much with college friends or co-workers. "Unfortunately," he says, "the topic never came up."
That all changed in 2015, with Star Wars: The Force Awakens playing in theaters and a chance trip to a bookstore.
"I saw these little Golden Books of the first six films," Kerwin says. He bought the children's stories and took them home to read to his then-four-year-old son, Keith. Like his father before him, Keith was instantly hooked.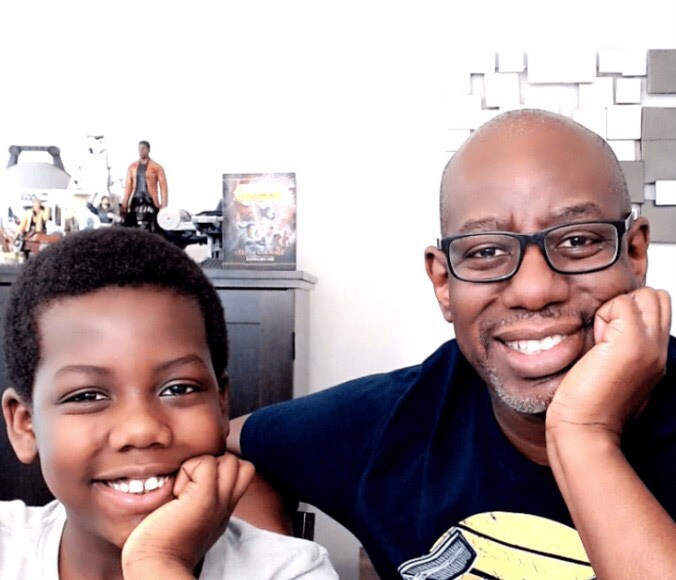 "I loved them," says Keith, now 11. "Dad bought the DVDs and a Blu-ray player, and we watched all the movies together." 
Father and son have been talking Star Wars ever since. In 2021, they started their own podcast and YouTube channel they named "Father. Son. Galaxy."
The duo host the show, a family-friendly podcast with weekly livestreams, from their home. Together, they review new Star Wars series, discuss young adult novels, and conduct interviews including conversations with Diego Luna, Katee Sackhoff, Ashley Eckstein, Michelle Ang, and Dee Bradley Baker.
The pair even got to attend the Hollywood premiere for season three of The Mandalorian.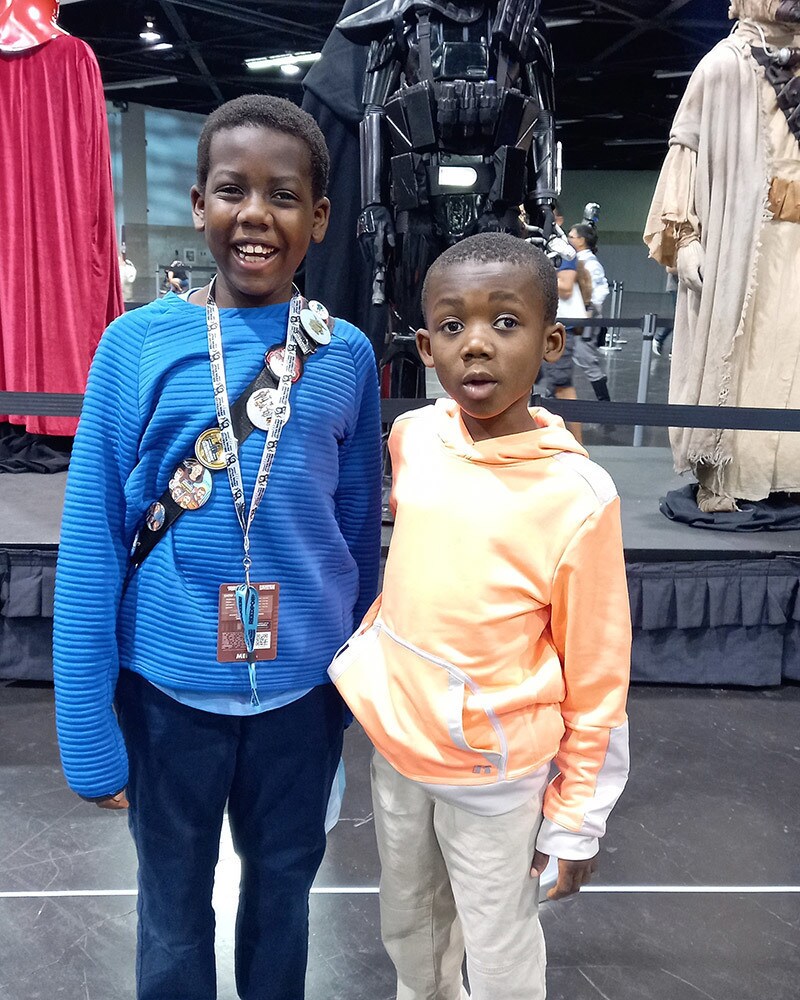 "Father. Son. Galaxy." is a family affair. Keith's younger brother is featured in a segment called "Storytime with Maceo" that uses a love of reading to highlight neurodiversity, the idea that people experience the world in a variety of ways. "He's on the Autism spectrum, but he loves to read," says Kerwin. "Reading, to us, is very important."
And behind every episode is intrepid producer Tanya Manning-Yarde. She handles the marketing, social media accounts, and setting up all the equipment for livestreams; she's also Keith's mother. "My mom is the best," Keith says.
"She really had a vision for this podcast," adds Kerwin. "It's amazing how much work Tanya does behind the scenes. We wouldn't be here if it wasn't for her."
Keith and Kerwin are especially proud of the way their show helps represent diverse viewpoints and ages across Star Wars fandom.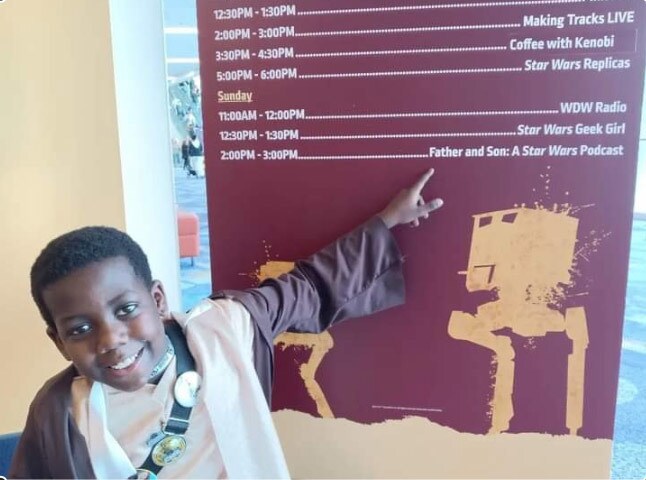 "We really didn't see a lot of African Americans in the podcast field," Kerwin says. "We want to let people know that Star Wars represents everyone. It doesn't matter where you're from — what race, color, religion, or orientation. If you're a Star Wars fan, you're more than welcome."
"I think it's kind of nice to have a child representing in this field," Keith adds. "A child speaking to children is kind of rare. So that's one of the things I like about this podcast."
Kerwin and Keith say one of the highlights of their journey was getting noticed by Luke Skywalker himself.
"I was in my room trying to go to sleep. And my mom came in, and she's like, 'Get out of bed!'" says Keith. "She shows me the phone and it's Mark Hamill's Twitter account, literally giving us a shout out."
Despite a more than four-decade age difference, father and son say they see eye to eye when it comes to their love of that galaxy far, far away.
"Star Wars is about family, and just knowing that you can do great things, using your voice," says Kerwin. "Now that I am a father, I see now what Vader was trying to do — maybe not successfully or something I would recommend — but he was trying to connect with his son."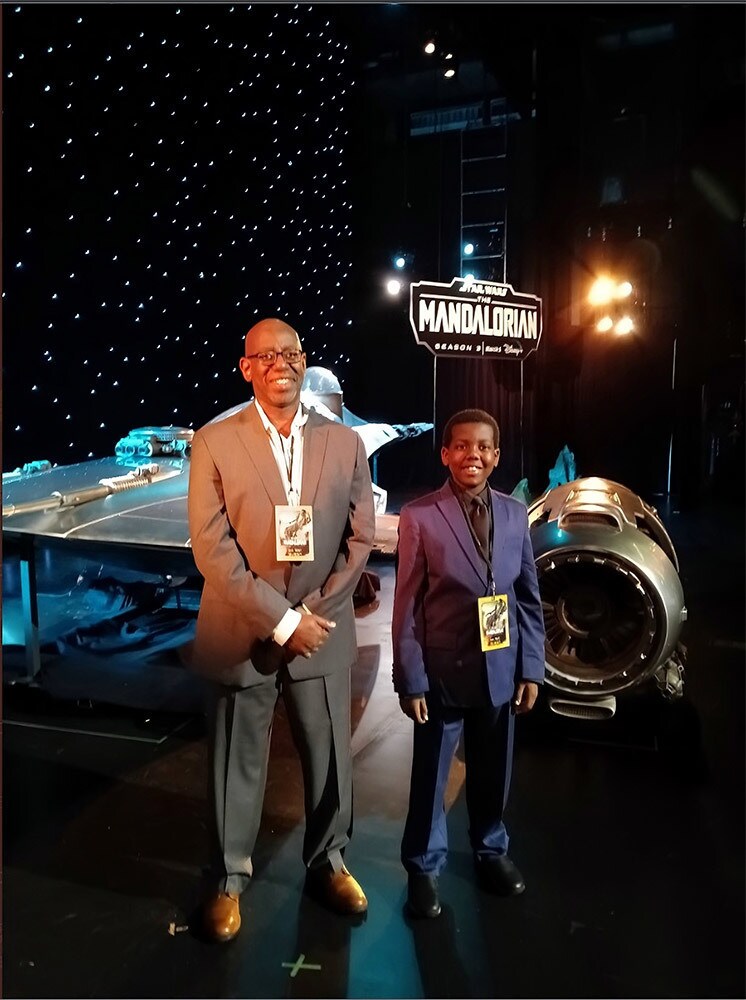 The StarWars.com Fan Spotlight Q&A
It's summer vacation season. What Star Wars planet would you most like to visit?
Kerwin: Endor. I love the outdoors. It seems like a place where you could take trails or hikes, stuff that I like to do with the family. Someplace where it's shaded, lots of trees.
Keith: I would go to Naboo, because there's water. If it's summer, I need to cool off.
What Star Wars villain do you secretly root for?
Keith: Darth Maul. I always understood his conquest. I get where he came from. And it's cool that he designed himself legs.
Kerwin: Moff Gideon for me. I just love the cool outfit. I love his bravado. I love his arrogance. I love the cape! I would secretly root for Gideon.
If you could have any job in the Star Wars galaxy, what would it be?
Keith: I would like to be the person who straightens up the room after someone's had a battle. I'd get to take home all those battle droid parts that the Jedi cut up, and I can make my own new battle droid.
Kerwin: I would rather be a Royal Imperial Guard. Because I love their uniform. I love the red.
What is your absolute favorite Star Wars story?
Keith: Adventures in Wild Space. Basically, these two kids Lina and Milo Graf have their parents abducted by the Empire. I won't spoil how it ends for you, but you never saw it coming.
Kerwin: For me, it would be Luke trained by Yoda on Dagobah. I just love the spiritual message from that story. As I get older, I start to understand it more, about believing in something that you don't see, and having that faith that you can do anything you put your mind to.