LEGO Star Wars design director Jens Kronvold Frederiksen speaks to StarWars.com about bringing the ultimate cliffhanger to LEGO life.
On May 21, 1980, Star Wars: The Empire Strikes Back made its theatrical debut. To celebrate the classic film's landmark 40th anniversary, StarWars.com presents "Empire at 40," a special series of interviews, editorial features, and listicles.
"I am your father." Following a brutal duel, Darth Vader reveals a terrible truth to Luke Skywalker, turning his world upside down. In 1980, these words shocked moviegoers just as much as the young Jedi, and it ended Star Wars: The Empire Strikes Back with a cliffhanger for the ages.
Now, Star Wars fans can experience it again -- in beautiful LEGO brick form.
Launching August 27 exclusively on Target.com, the new LEGO Star Wars Bespin Duel set celebrates the climactic clash between Luke Skywalker and Darth Vader in Star Wars: The Empire Strikes Back, in honor of the film's 40th anniversary. The set focuses heavily, however, on the moment that changed everything. It looks to be a fun build for LEGO fans, and an eye-catching display piece for anyone who loves The Empire Strikes Back. In advance of its release, StarWars.com caught up with LEGO Star Wars design director Jens Kronvold Frederiksen to discuss how LEGO rebuilt (literally) one of the saga's most memorable scenes.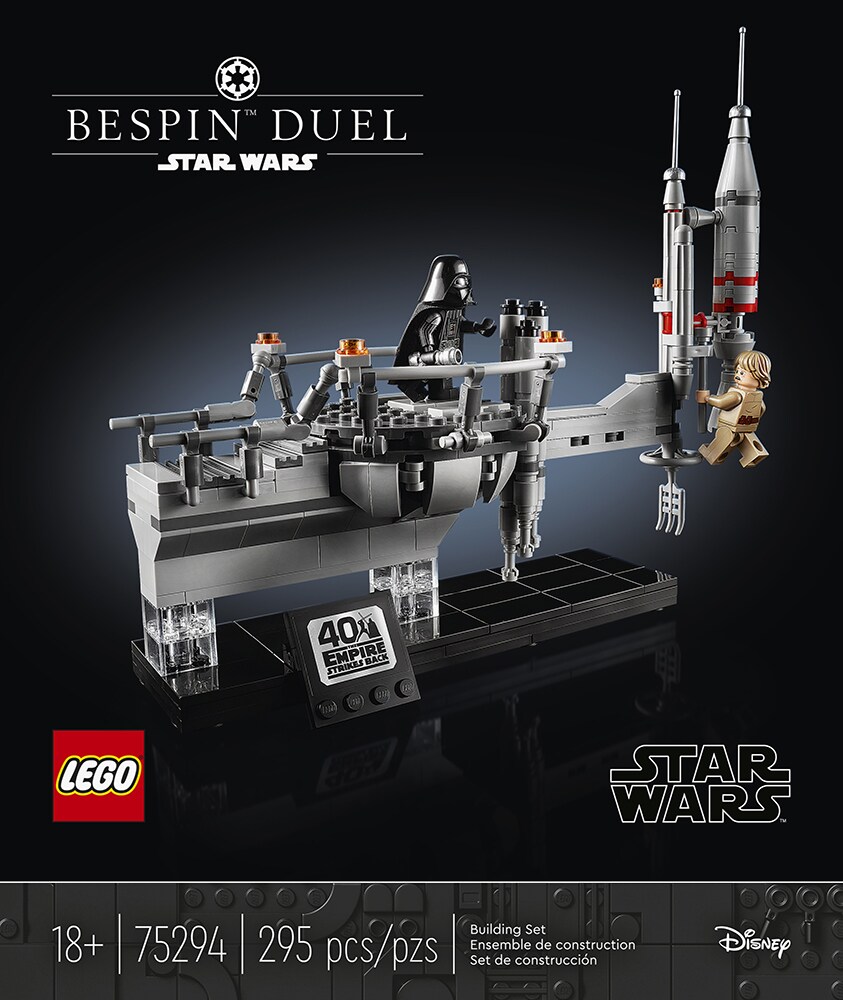 StarWars.com: I can't think of a more iconic moment from Empire to celebrate with a LEGO set. I'd imagine it was something of a no-brainer, but at the same time, there's probably extra pressure to get it right.
Jens Kronvold Frederiksen: You are right. I am sure for many, this is THE most important moment, and we feel the same! So it is an obvious scene to choose as a set. Another good reason is that this scene has only been available as part of the two bigger Cloud City sets. This is the first time it is made as a separate model.
StarWars.com: It really looks beautiful and accurate to the film set. Can you talk about what kind of reference you worked from in creating your design?
Jens Kronvold Frederiksen: Thank you! The visual design and details were our main focus when developing the model, as it is intended as a display model more than for play. That is also the reason that the model is built onto a display base. When developing a model like this one, we typically watch the specific movie sequence over and over again. When we are using reference images, it is always original images supplied by Lucasfilm.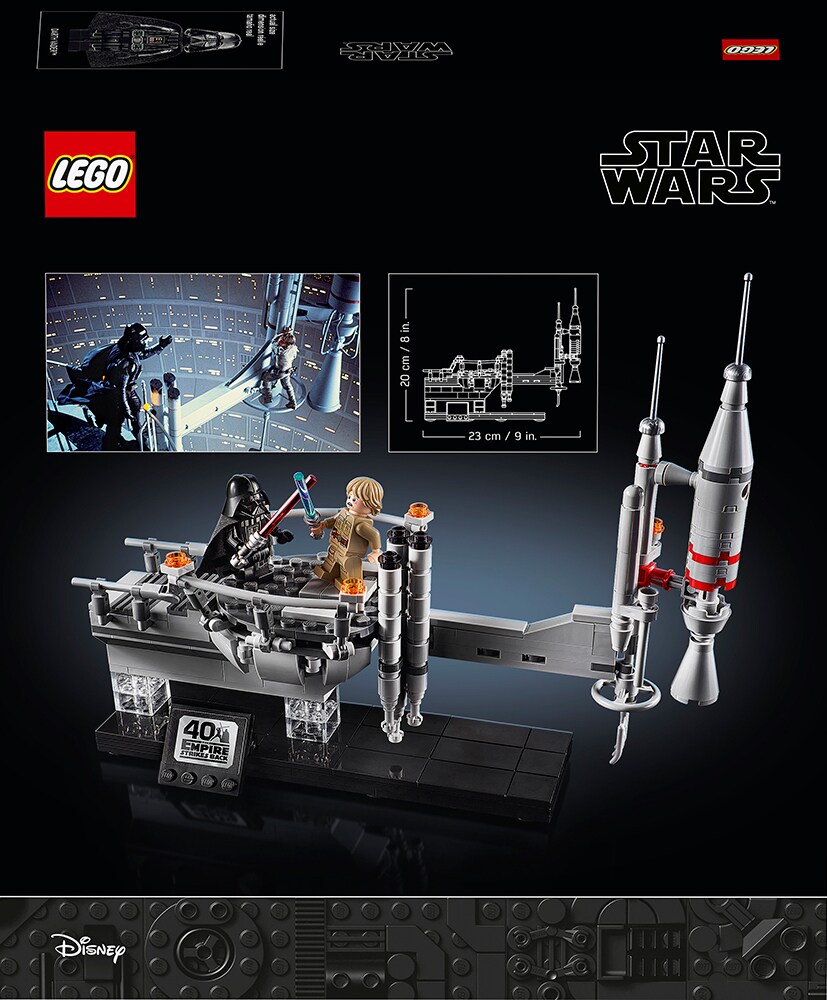 StarWars.com: Did you uncover anything in your research that surprised you?
Jens Kronvold Frederiksen: We received some black-and-white pictures from Lucasfilm from the original movie set when The Empire Strikes Back was filmed. I had never seen them before! It was very interesting to see behind the scenes of a movie we have seen so many times.
StarWars.com: I love the details, like the three sliced columns near Vader, that you were able to carry over from the film. How important is it to you to get those storytelling elements and details into a build like this?
Jens Kronvold Frederiksen: As mentioned before, this is more a model thought for display, so it is very important to get every little detail right. And, by the way, the storytelling. Therefore, Luke and Vader do not have their lightsabers. [Note: At this point in the film, Luke has lost his lightsaber, and Vader has turned his off.] The model reflects the moment after the lightsaber duel is over, and Vader tells Luke, "I am your father." But, since everybody wants lightsabers with their LEGO minifigures, the lightsabers ARE included in the set. On the back of the bridge there are two small clips holding a blue and a red lightsaber.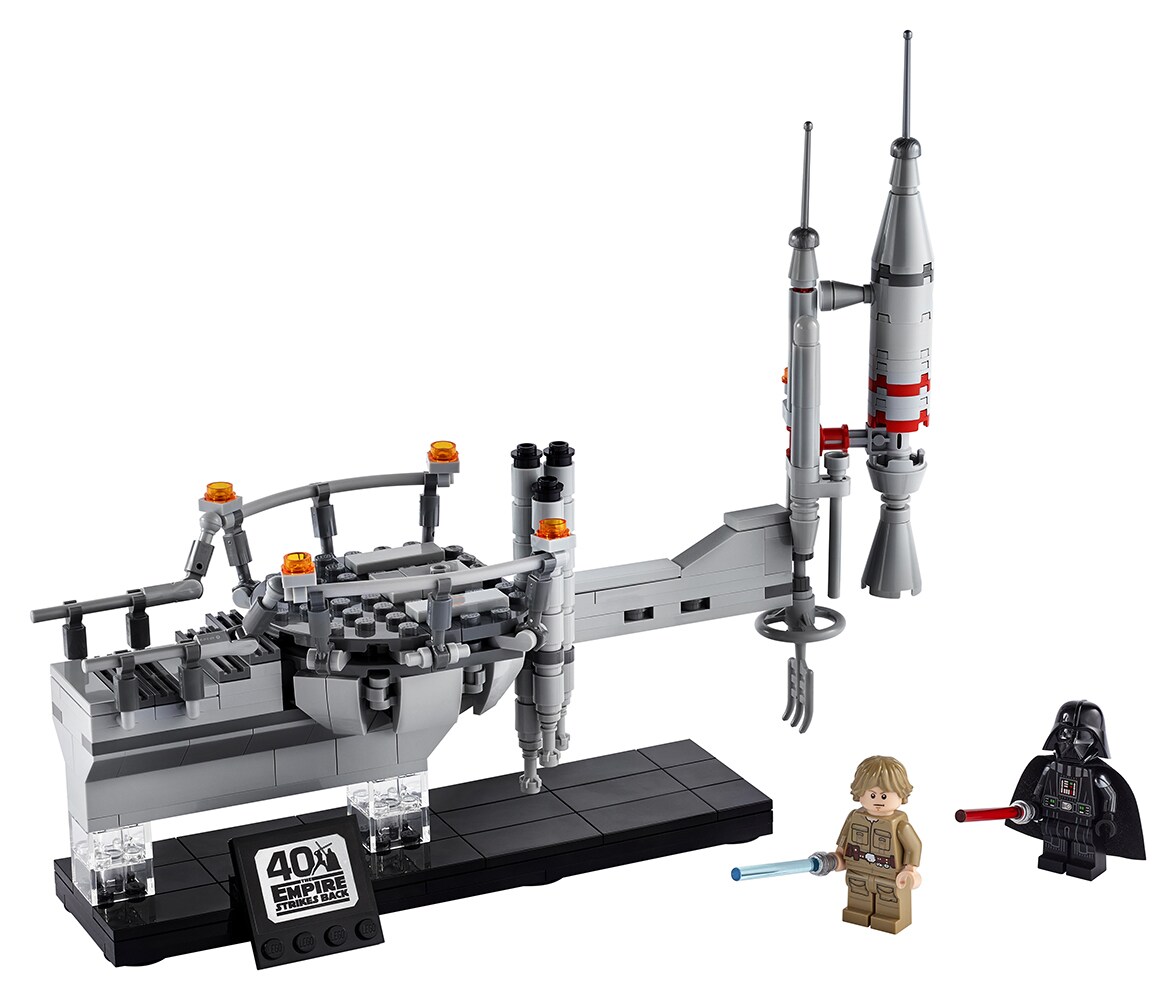 StarWars.com: You've obviously worked on a lot of LEGO Star Wars products. When you get to capture a moment like this, for such a big anniversary, is it especially exciting?
Jens Kronvold Frederiksen: It is always exiting to work on models like this one! We know that there are high expectations for anniversary models like this. Selecting the model, though, was not that difficult for the reasons mentioned before. Designing it is a bit more difficult. We wanted a cool-looking model with all the correct little details. On the LEGO Star Wars team, we are quite happy with the final result, so we really hope that everybody else out there likes it as much as we do.
LEGO Star Wars Bespin Duel set arrives August 27, only on Target.com.
Dan Brooks is Lucasfilm's senior content strategist of online, the editor of StarWars.com, and a writer. He loves Star Wars, ELO, and the New York Rangers, Jets, and Yankees. Follow him on Twitter @dan_brooks where he rants about all these things.
Site tags: #StarWarsBlog, #ESB40