The doctor is in...the 3.75-inch Vintage Collection, thanks to Star Wars fans!
Doctor Aphra is going on her biggest adventure yet: a journey from the pages of Marvel's Star Wars comics to your toy collection. And it's all thanks to you!
The kinda good, kinda bad archaeologist has won Hasbro's Star Wars Fan Figure Vote on StarWars.com, meaning that she'll be making the jump to toy form and joining the new 3.75-inch Star Wars Vintage Collection. Doctor Aphra, introduced in 2016 in Marvel's Darth Vader series, rocketed quickly to fan-favorite status. She was dangerous, funny, and kept the company of two psychotic droids, but wasn't completely without a heart; it was hard not to root for her, even when battling our heroes. Today, Doctor Aphra stars in her own ongoing series and cosplay sightings are regular.

"I'm of a generation that some of my earliest memories are of Star Wars figures and the magic herein," Doctor Aphra creator and series writer Kieron Gillen tells StarWars.com. "The idea that someone Salva [Larroca] and I made up is going to be one of those, immortal in plastic, feels all kind of magical."
While runner-up Ahsoka Tano (Star Wars Rebels version) made the contest a close one, Aphra, in typical fashion, remained a few steps ahead and didn't look back. In the end, the variant cover to Darth Vader #25, seen below, proved strangely prophetic.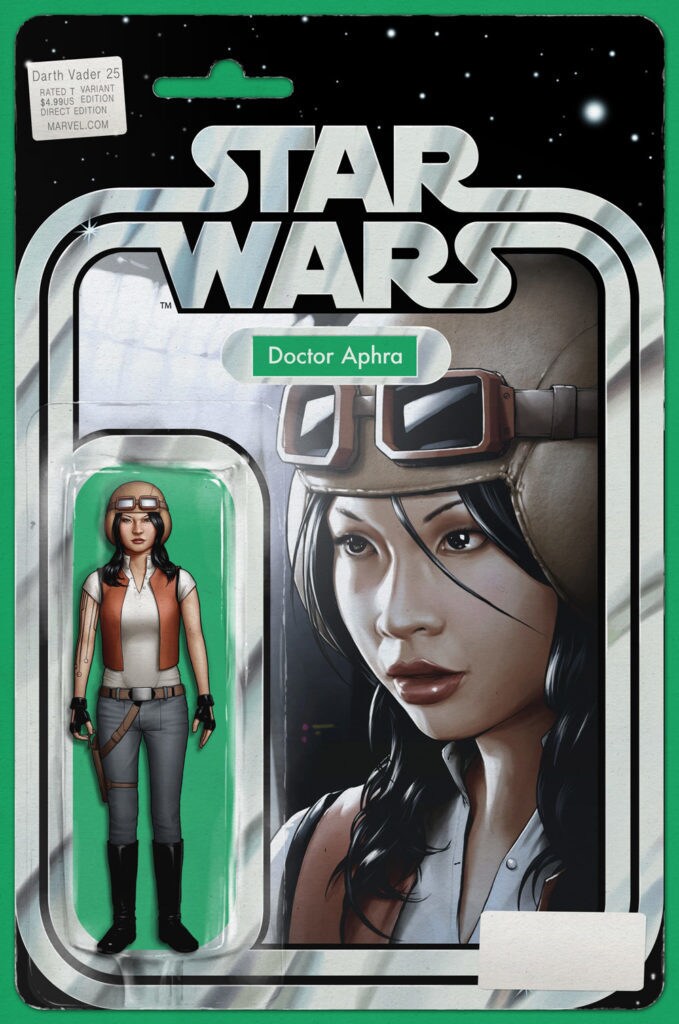 Well done, Aphra fans.
Stay tuned to StarWars.com for more on Hasbro's Star Wars figures!
StarWars.com. All Star Wars, all the time.