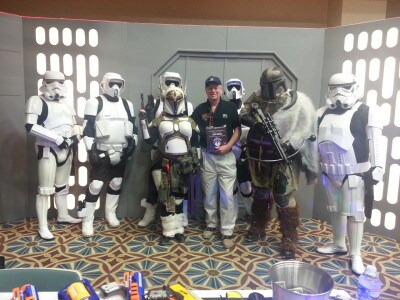 One of the last conversations I have at the March 2014 Lexington Comic & Toy Convention is with a miner from Eastern Kentucky. He comes to my table with his teenage daughter, a pretty cosplayer all decked out in pink, heels a tad too high for her rail-thin legs. A rugged, handsome man, he says proudly he's a fracker who has coal-mined all his life -- except during the years when he had an unhappy experience out West working in oil and gas. "It was crazy out there," he says. He's glad to be back in Kentucky, in coal.
"Which Side Are You On?" is a protest song from the late 1930s famously covered by Pete Seeger. The legendary folksinger/activist left us this winter at the age of 94. As one who began his entertainment career in the early Sixties as a Greenwich Village-inspired folkie, I regard Seeger, along with Woody Guthrie and Ramblin' Jack Elliott, as one of my pre-Bob Dylan Yodas. The song is about a 1931 miners' strike in Harlan, Kentucky. It was in fact written by a coal miner's daughter, Florence Reece, who was also the wife of one of the strike organizers. The Eastern Kentucky Coalfield also spawned another folkie, Jean Ritchie -- and well-known country music artists like coal miner-daughter Loretta Lynn, Crystal Gayle, The Judds, Ricky Skaggs, Keith Whitley, Patty Loveless, Dwight Yoaka, and Billy Ray Cyrus, Miley's dad.
So, which side are you on? Well, Dak's a Rebel. Those of you familiar with his backstory know he was raised in captivity in the Kalist VI labor colony. As a teenager, he worked in a mine as a laser drill operator blasting away one of the ores that is a constituent of transparisteel.
Recently I have been asking fans at conventions that very question. In February, Peter Mayhew, Daniel Logan, and I were in Pensacola, Florida, at Pensacon. The first day, we three were on a Star Wars panel before a packed house of fans, and I put it to them. The show of hands indicated: 30 percent Imperials, 30 percent Rebels and 30 percent Underground, consistent with what I have found in my previous surveys.
But in the lines before my table, I found most to be Imperials. Pensacola's a company town—famous, of course, for its Naval Air Station were the Navy trains its naval aviators.  I liken it to a Tierfon where Dak trained on Y-Wings with the Yellow Aces before matriculating to X-Wings with the Rogue Squadron after the defection of the Incom design team to the Rebel Alliance. Pensacola also has an Air Force presence with airmen hailing from nearby Maxwell and Eglin AFBs. Navy and Air Force personnel and a smattering of Army and Marine guys and gals are regional stalwarts in the 501st. The major presence is the Florida Garrison whose commanding officer is Lance "IrishFett" Tomkins, who by day is a state fire marshal. Hosting at Pensacon was the Florida Garrison's Parjai Squad Leader LaVonne French, a dance instructor at Pensacola State College. LaVonne and her squad were raising money for Ronald McDonald house. Dak and daughter Emily did their part by firing off several clips at bounding stormtroopers who gamely failed to dodge our salvos.
On Saturday night, LaVonne's squad invited us to join them for a private dinner at McGuire's Irish Pub where Dak drank the local stout and stuffed himself with boxtys. At McGuire's I reconnected with Tim and Anna Zahn whom I had not seen since we first met in Washington at the 1997 Star Ladies Convention. Also invited were another of Dak's cousins, Michelle Doolin, and her BFF, Jennifer, her partner who watches her six. Michelle departed from family tradition and joined the Army. She's a hero: a little over a year ago she returned from duty in Afghanistan. A diehard gamer, Michelle reported that in country many soldiers occupied their downtime gaming and honing their warrior skills at their field consoles. I told her to blog about it when I get www.tapcaf.net up and running.  She will.
The night before, Michelle and Jennifer took Emily and me to Pensacola's Seville Quarter and its "Gallery Night Art in the Streets." The monthly event was overflowing with artists, bands and revelers, the Quarter's restaurants and bars all catering to Pensacon's sci-fi fans and cosplayers. It could have been New Orleans during Marti Gras.
But on Saturday at McGuire's, it was Emily's birthday. It's a family tradition is to have Star Warriors sing "Happy Birthday" to her. So Squad Leader LaVonne French obliged, leading her squad and guests to render Emily birthday honors.
Later I found myself sitting with a table full of Star Wars gamers. All day, fans with military backgrounds had come by the table to talk gaming. One precocious lad claimed to be a sharpshooter. When he introduced his proud father, I discovered that in the '90s he had served as a Navy religion program specialist (RP) on the Aegis cruiser Cape St. George (CG-71). On that ship, Emily's sister now serves as the navigator. Small galaxy, eh?
So, a couple of weeks later, we rejoin fellow Fett Daniel Logan at the Lexington Con. With us this time are Tim Rose (Admiral Ackbar), Return of the Jedi's Henson puppeteer Mike Quinn and Ewok Felix Silla, Tom Kane (the voice of Yoda), and Barbara Goodson (the voice of Mother Talzin in The Clone Wars). Emily and I had flown into Louisville and made the trek to Lexington along I-64 where the road kill was wolf, in alarmingly large numbers. What does that tell us?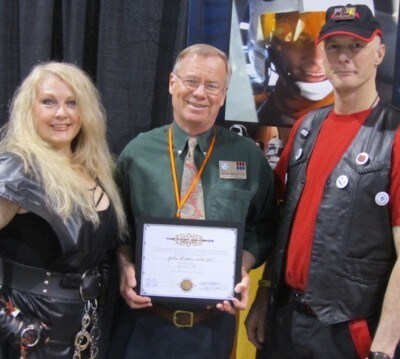 Well, we find the dark side in force in the exhibit hall. On the Friday night, the first Star Wars fans we see are two Sith roaming menacingly along the aisles between exhibitors. Later to my surprise, they are before my table. Army vet Charles Richter and his wife Cathy are there to induct me into a new organization, the Dark Alliance. Recognized by Lucasfilm as a Star Wars costuming organization, the Alliance is a worldwide club based in Louisville. Founded in 2013, the 150-member club depicts dark side characters, encourages short-story fan fiction and, as one would expect, fundraises for charities. Charles is the Alliance's public relations officer and Cathy, the senior membership officer. They've assigned me the membership number AHM-007, telling me they chose that number as befitting someone who hunts bounty as a sometime agent of the dark side. As I thank them for presenting me the plaque, I start to say, "May the Force be with you," but quickly correct myself saying something ridiculous like, "I guess I mean, 'May the Force not be with you.'" Leaning to me with a wink, Cathy confides, "We say, 'May the dark Force serve you.'"
Also present are the Mandalorian Mercs—the regional Blue Moon Clan, plus clan members from South Carolina. On Saturday, a full-bore Merc appears at my table. He's another Army veteran of Afghanistan who goes by his Mandolorian name Dar Kyram. He's there to induct me into the Clan. After my induction, I sign a number of copies of The Bounty Hunter Code. One Merc who really catches my attention is a beast hunter named Skanah Dala (aka Abbie Rich). Above, she is on the 501st blasting range with her fellow clansman and beast hunter Blackbird (David Endicott).  When not hunting beast, Blackbird serves as a 911 dispatcher.
Over the course of the weekend, Dar takes time to explain to me the details of Mandalorian lore, insignia and traditions and the psychographics that distinguish Mercs from the 501st. Says he, Mercs are individualists who pride themselves in their clans, whereas the 501st enjoy the raw presence that stormtroopers have when they gather in numbers. "It is very impressive," he concedes admiringly.
Both clubs are hugely committed to raising money for children. At this Con, the 501st MidSouth Garrison is raising money for the University of Kentucky Children's Hospital. Prominent among the assembled are the Garrison's Dewbecks, the 501st presence at Kentucky's Fort Campbell, home to the 101st Airborne Division. Helping lead the Blast-a-Stormtrooper fundraiser is Glenn "Tambo" Tambola who's with the 160th Special Ops Aviation Detachment, the Nightstalkers. Tambo presented me with a Dewback patch.
So what does all this say about Dak the Rebel? Has he chosen his side, now that he is both a Merc and a member of the Dark Alliance? Stay tuned. In the meantime, he leaves you with a clip of the great Pete Seeger. 

John appeared as Dak, Luke Skywalker's back-seater in the Battle of Hoth in The Empire Strikes Back. He also appeared in the film substituting for Jeremy Bulloch as Boba Fett on Bespin, when Boba utters his famous line to Darth Vader, "He's no good to me dead." Follow him on Twitter @tapcaf.