We heard earlier this week from Carrie Goldman, mother of Katie Goldman; the Star Wars girl who united fangirls and fanboys all over the world after her Mom shared her story of being bullied for carrying a Star Wars water bottle to school, that she will soon be releasing a book called Bullied. After her daughter's experience with bullying, Carrie has poured herself into research for more than a year and has written an amazing guide telling us what every parent, teacher and kid needs to know about ending the cycle of fear. I was honored to speak with Carrie as she was doing research for her book and I had the opportunity to share my stories and experiences with her. In anticipation for the book's release, I have joined Team Bullied, a website devoted to sharing videos from fans all over the world telling their personal stories about bullying and sharing advice. You can watch my video above.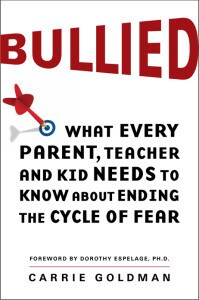 Please visit the Team Bullied website and share your story. One way to help put an end to bullying and the cycle of fear is to speak up! This is another chance for all of us self proclaimed and proudly proclaimed Geeks to help pave an easier road and create a more accepting environment for the younger geeks coming up behind us.
THEN....At Celebration VI on Thursday August 23rd, make your way to room W311ABCD from 3:30 PM - 4:40 PM for a special panel, where I will be interviewing Carrie about Katie's story and everything she has learned in her research for Bullied. Trust me it's FASCINATING!!!! We will dive right into this subject that has affected everyone in some way or another. Everyone knows someone that has been affected by bullying, especially in our own community. This panel will be family friendly and educational for all ages, but I encourage parents to come and listen to Carrie. I have an advance copy of her book and she has become such an amazing advocate for anti-bullying and I look forward to chatting with her about everything she's learned. We will also open the floor to questions, so please come and join the conversation.
I want to share a photo with you before I sign off, of this Clone Wars birthday card I saw in the grocery store. Katie was bullied because she carried a Star Wars water bottle to school and the boys made fun of her because they said Star Wars was for boys....Well do you blame them, when the retailers have signs like these? They are clearly saying that this card is not for a girl! Even with Ahsoka on the front! One small way to help all of the little girls out there that like Star Wars is to at least make it acceptable for them to receive a Clone Wars birthday card without feeling like they are getting a card meant for a boy. Last time I checked there are boy AND GIRL Jedi!
May The Force Be With You!
Ashley :o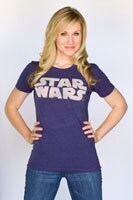 Ashley Eckstein is the voice of Ahsoka Tano on Star Wars: The Clone Wars and also the Founder of Her Universe, the first merchandise line made exclusively for female Star Wars fans! You can follow Ashley on Facebook and Twitter.