The Jedi Masters of home and portable audio ready a new Star Wars AR experience and turn to the dark side with limited edition headphones.
Developed by Lucasfilm, Bose, and Trigger Global, a Star Wars audio AR experience will be coming this month to the official Star Wars app, and will deliver a 360-degree audio augmented reality timeline featuring Rey's lightsaber. Timed to complement the release of Star Wars: The Rise of Skywalker, the highly anticipated conclusion of the Skywalker saga, this experience is poised to be a dream-come-true for fans and audio enthusiasts alike. To put it in simpler, this-sounds-amazing terms, you'll feel as if you're inside Star Wars scenes involving Rey's (formerly Anakin and Luke Skywalker's) iconic Jedi weapon. The audio has been remixed from the ground-up for this experience to take advantage of Bose AR technology, and will feature spatialized sound for unique, gesture-driven interaction where the user can freeze a scene, move toward elements, hear new content, and listen from new angles -- or, as Obi-Wan might say, "a certain point of view." Yes, you'll be able to experience the conflicts from the side of the villains.
"We're working with authentic sound from the original film recordings, drawing from scenes that date all the way back to the initial 1977 movie release," says Bose's developer relations lead, Chuck Freedman. "We have been fortunate to collaborate with artists and engineers at Skywalker Sound, who advised us on sound placement and optimization for ideal spatialization and positioning. In addition to character dialogue and prominent sound effects like lightsaber movement, we also prioritized more subtle sounds, like wind and other environmental sounds, as well as the detailed effects created by the original Foley artists for the films."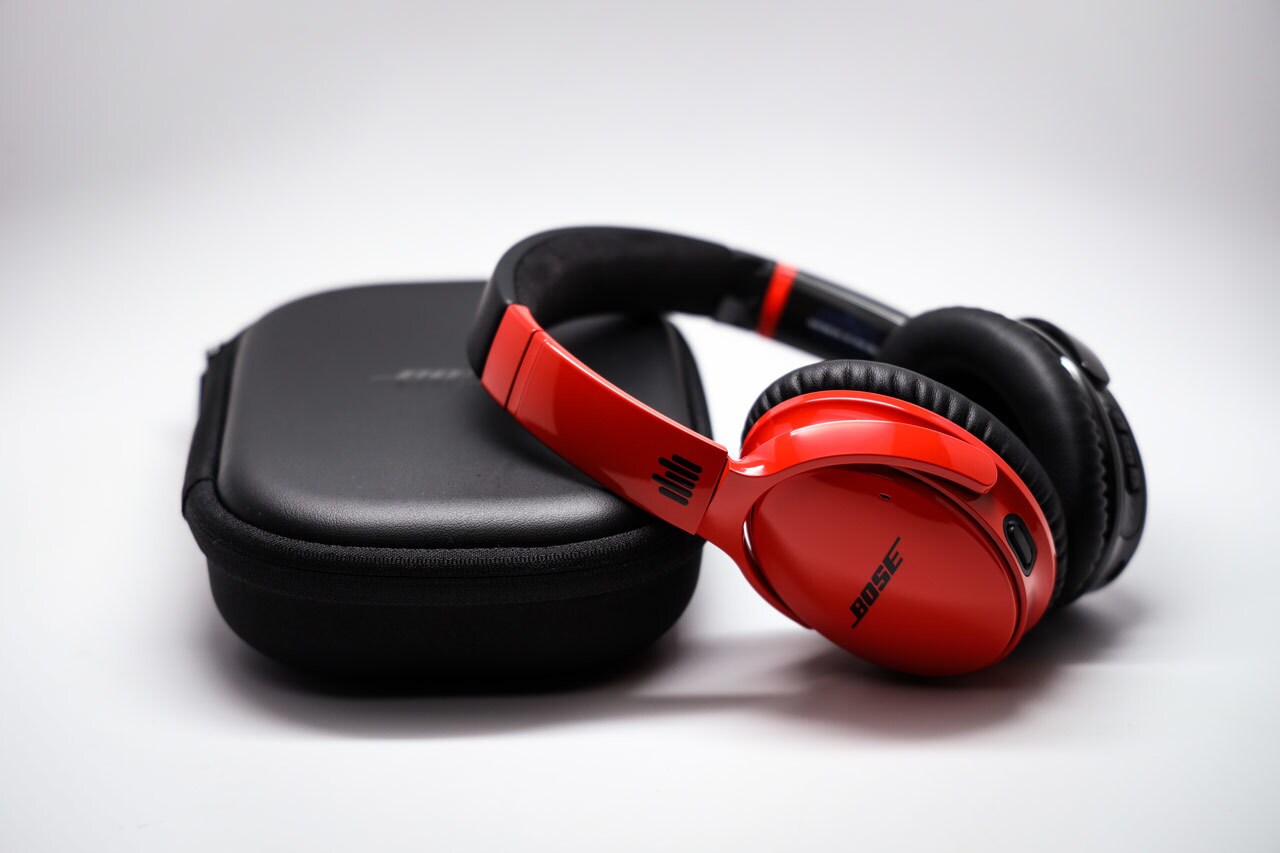 When the feature arrives on the Star Wars app, it will be compatible with Bose Frames, Bose Headphones 700, and Bose QC35 headphones II. The level of immersion that can be achieved sounds most impressive, particularly the ability to move around in a scene. "This was something we came up with early in the development process, and we were inspired by one of the featured scenes, the battle between Luke Skywalker and Darth Vader on Bespin from The Empire Strikes Back," says Freedman. "It was amazing listening to the dialogue between the characters. We thought, 'What if you're Luke?' And in the scene, you're first approached by Vader and then start moving away from him. The angle of the sound plays out as Vader dominates -- beginning with him stepping towards you, breathing, and talking to you. It's thrilling, and also provides a great, new perspective on hearing a scene many know so well."
Launching in conjunction with the Star Wars AR experience is Bose's first-ever Star Wars-themed product release: limited-edition Star Wars QC35 headphones II, available exclusively on Bose.com in the US, which are also compatible with the experience. The headphones have been designed with a definite dark-side theme, sporting a sleek black-and-red color scheme as well as the newly revealed Sith insignia, which will be seen in the upcoming Star Wars: The Rise of Skywalker film.
"We love the curated details and colors that define both the characters and factions in Star Wars films," says Freedman. "The striking Sith color palette is both powerful and refined, a perfect match for the QC35 IIs. Paired with subtle Sith symbols, we love the sophisticated appearance that this collaboration brings to life." Indeed, the headphones look like something a Sith trooper might wear while on break.
"Our design team had a blast exploring a wide variety of designs with the goal of uniquely combining the refinement of Bose technology with the excitement and symbology of Star Wars," Freedman says.  "We modified our all-black headphone by dipping the left side of the headphone in Sith red. This asymmetric color application brings energy to the refined form and creates a look unlike anything we've ever created before." Even if you're more Jedi, it's hard to argue with Sith style like this.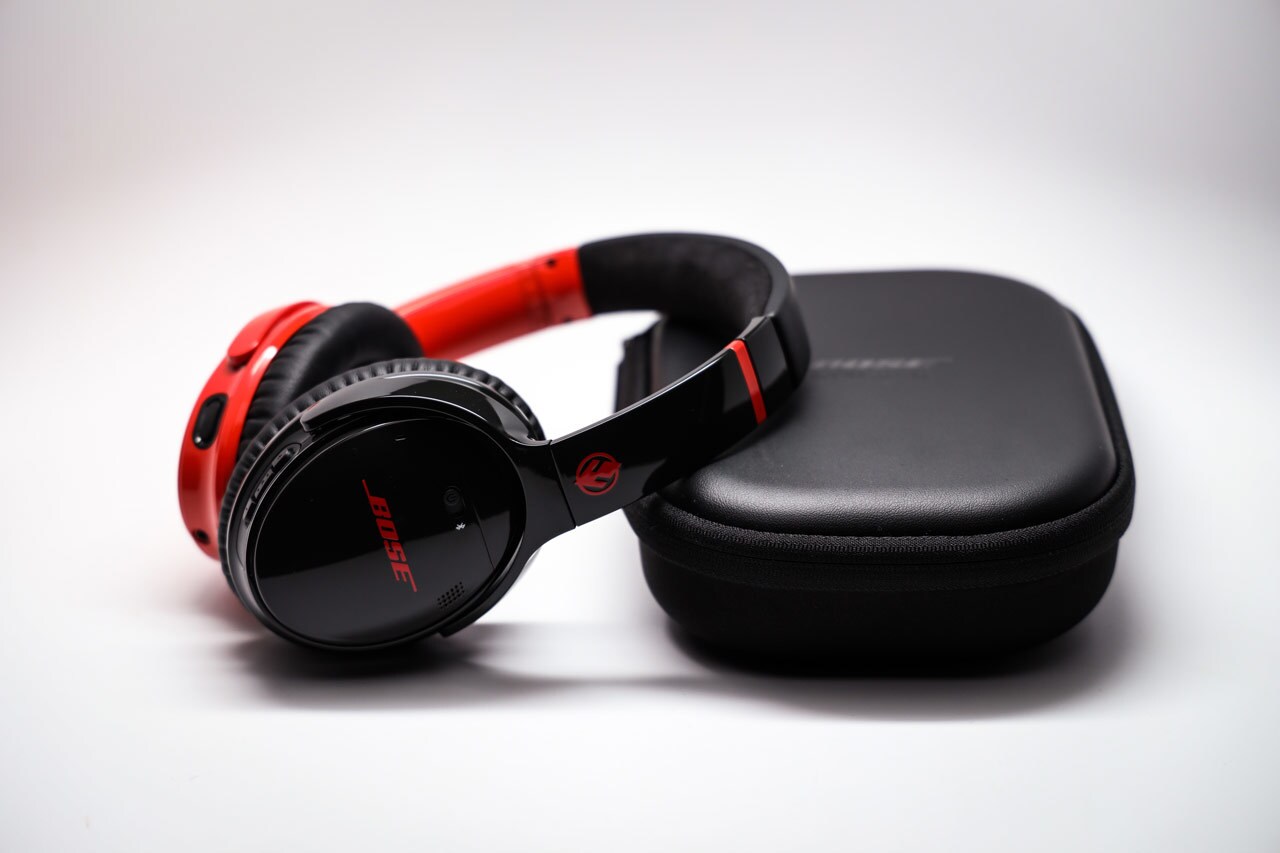 The world will soon witness the combined strength of Bose and Lucasfilm, two companies with a legacy of audio innovation. It's a wonder it didn't happen sooner.
"Lucasfilm, with their achievements beginning with Star Wars, is a cornerstone of sound quality in film,"says Freedman. "We have a similar desire to drive sound innovation at Bose through our products. We're inspired by this amazing collaboration, producing something that complements the saga and its legendary storytelling, while also providing an opportunity to advance the importance and significance of sound innovation."
To quote Obi-Wan again, "reach out with your senses." With this experience, doing so will change the way you think of Star Wars.

Photos by Kyle Kao.
The Star Wars audio AR experience developed by Lucasfilm, Bose, and Trigger Global will be coming this month to the official Star Wars app.
Bose's limited-edition Star Wars QC35 headphones II are available now. 
StarWars.com. All Star Wars, all the time.
Site tags: #StarWarsBlog