The Japanese clothing brand's mascot, Milo, joins a cast of cartoonish classic characters and new faces from Star Wars: The Rise of Skywalker in a stylish new line.
The first time D-O rolled out on stage at Star Wars Celebration Chicago, the artists at A Bathing Ape knew the little droid would be the perfect addition to their new collection inspired by Star Wars: The Rise of Skywalker. The creative team at the Japanese clothing brand is filled with Star Wars fans, including Fukui, who says D-O's personality was easy to see from that first glimpse, long before the film premiere. "I was fascinated by D-O's unique form," Fukui says, but even more importantly, "[I] was able to empathize with the character. From his movements, I was able to envision and understand his relationship with BB-8."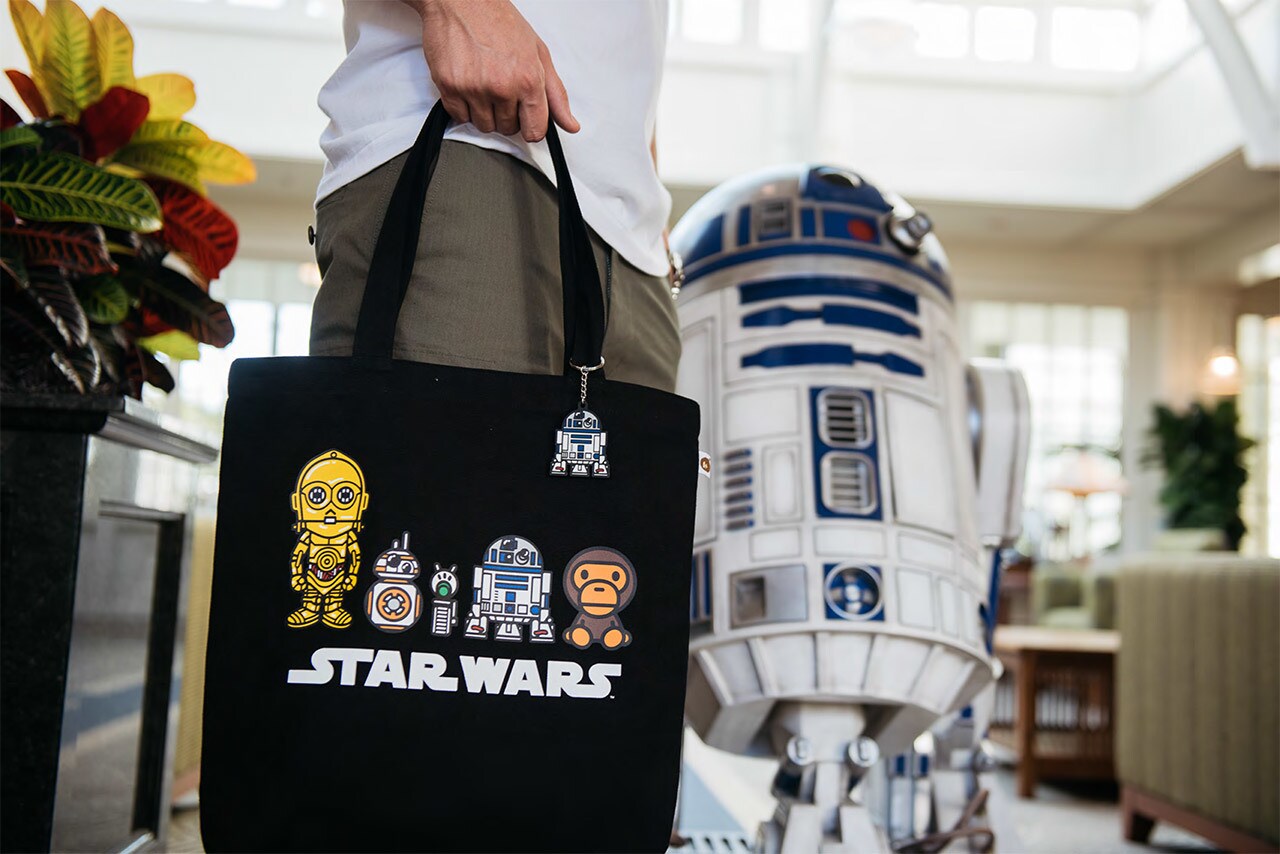 Fukui took a closer look at still images, then used that reference to inform his designs involving the new droid. To celebrate the new BAPE x Star Wars collection, available December 21, StarWars.com recently chatted with Bathing Ape designer and Star Wars superfan Fukui, a proud member of the 501st Legion in Japan, about fusing his fandom with the new illustrations inspired by Star Wars: The Rise of Skywalker.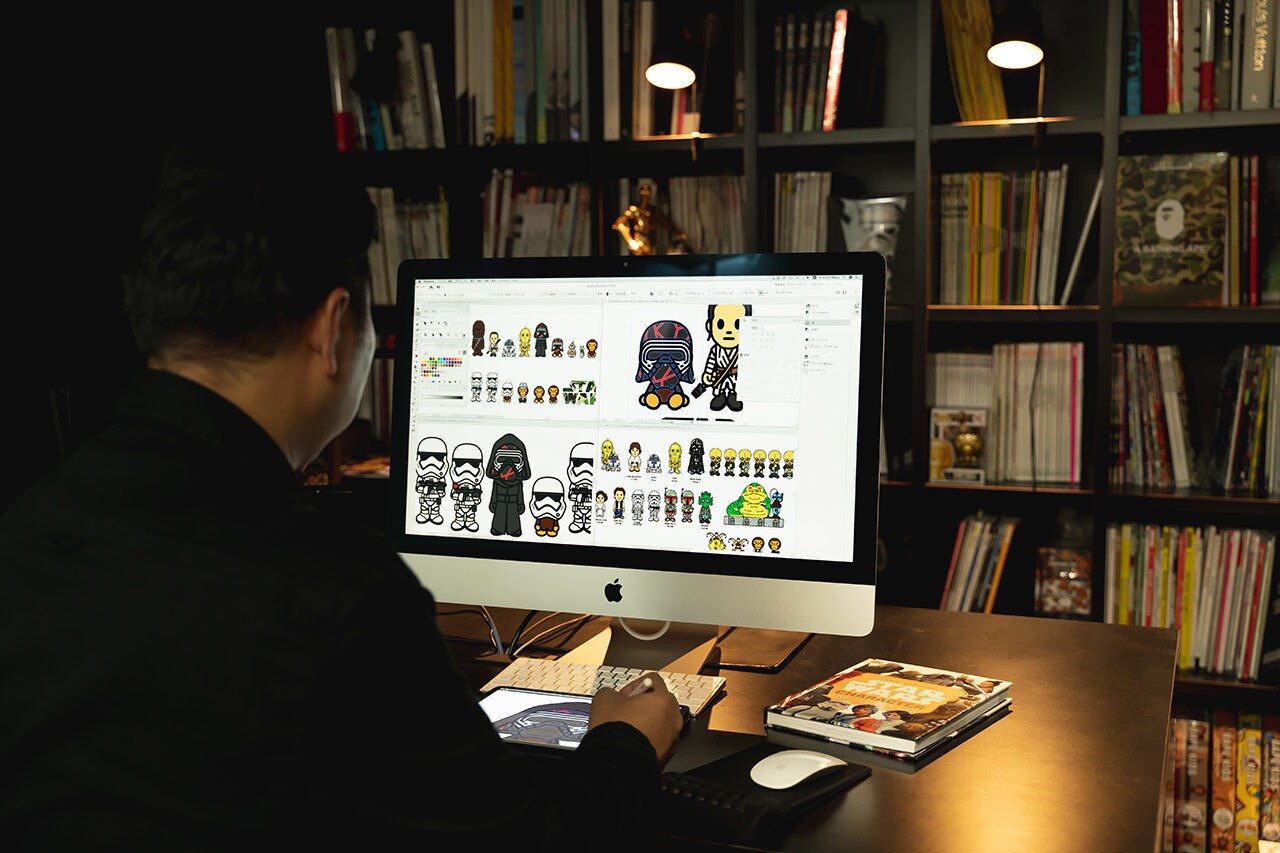 Designers have translated elements of Star Wars and the Skywalker saga into their own unique style, including adding in Milo, the eponymous bathing ape, adorably mugging in Kylo Ren's helmet and trying on a stormtrooper bucket. But Fukui says it's the inherent humanity of the Star Wars characters that make them accessible even as stylized illustrations.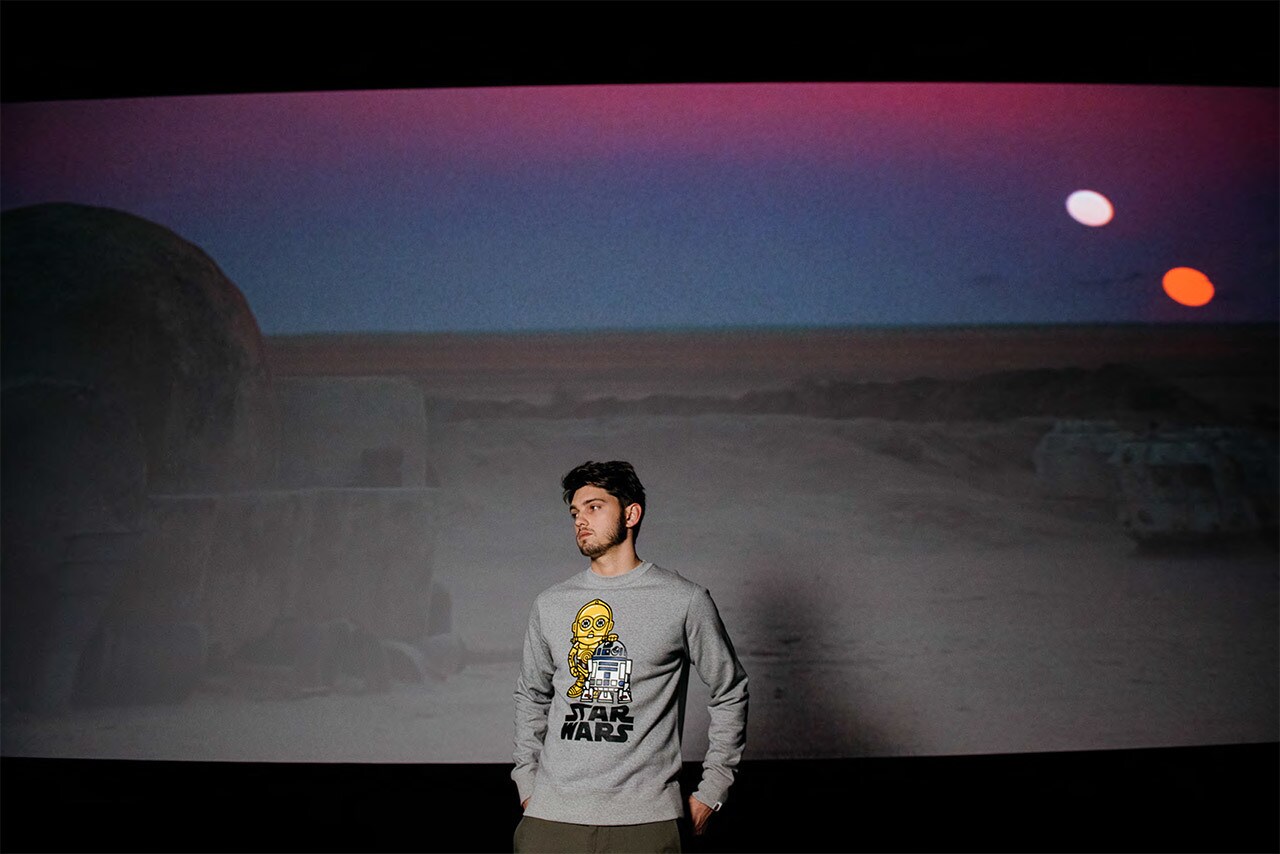 From the stormtrooper hitting his head in the opening scene of Star Wars: A New Hope to FN-2187, later renamed Finn, fleeing from a Jakku battle in fear, Star Wars is populated by characters that feel real and fully realized, Fukui says. "The beauty of [George] Lucas' work is that he never fails to incorporate the human nature in all of his characters," Fukui says. That extends to the wonderfully absurd denizens of the Mos Eisley cantina, and other creatures and aliens. "They made it very easy to visualize their coexistence with the adorable Baby Milo," Fukui says.
Fukui and the rest of the team created the new designs inspired by classic characters and some new additions from the upcoming film, The Rise of Skywalker, like D-O. The pint-sized droid, friend to BB-8, is represented in the new designs alongside mainstays like Darth Vader, Chewbacca, and even Jabba the Hutt and his little buddy Salacious B. Crumb.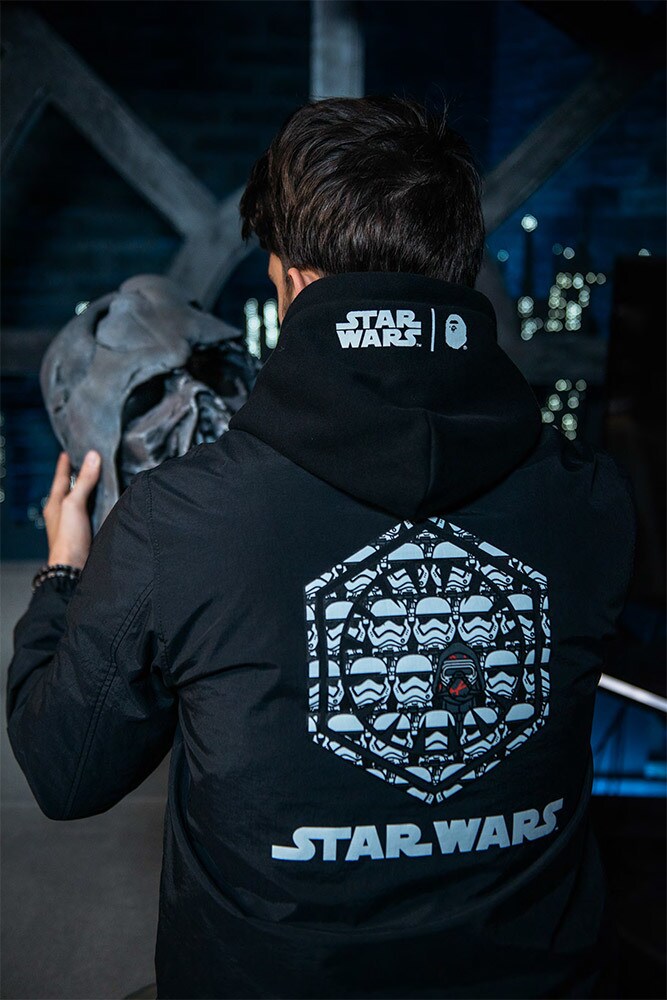 "There are a lot of Star Wars fans on our team," Fukui notes, who typically have a deep and abiding love for the saga that began in childhood. With that devotion, the team enjoys creating nods to atypical Star Wars characters and wraparound designs that pay homage to the worlds inhabited by them. For example, on a shirt that had Milo dressed as Han Solo and facing Greedo, the team added a second design so the cantina band could be seen printed on the back. Another design featuring a gang of Jawas had line art for a sandcrawler gracing the back of the shirt it was printed on. But Fukui was most proud to work the floating metropolis of Cloud City onto the back of design that had a playful depiction of Chewbacca escaping with C-3PO strapped to his back, and Milo as R2-D2 by their side.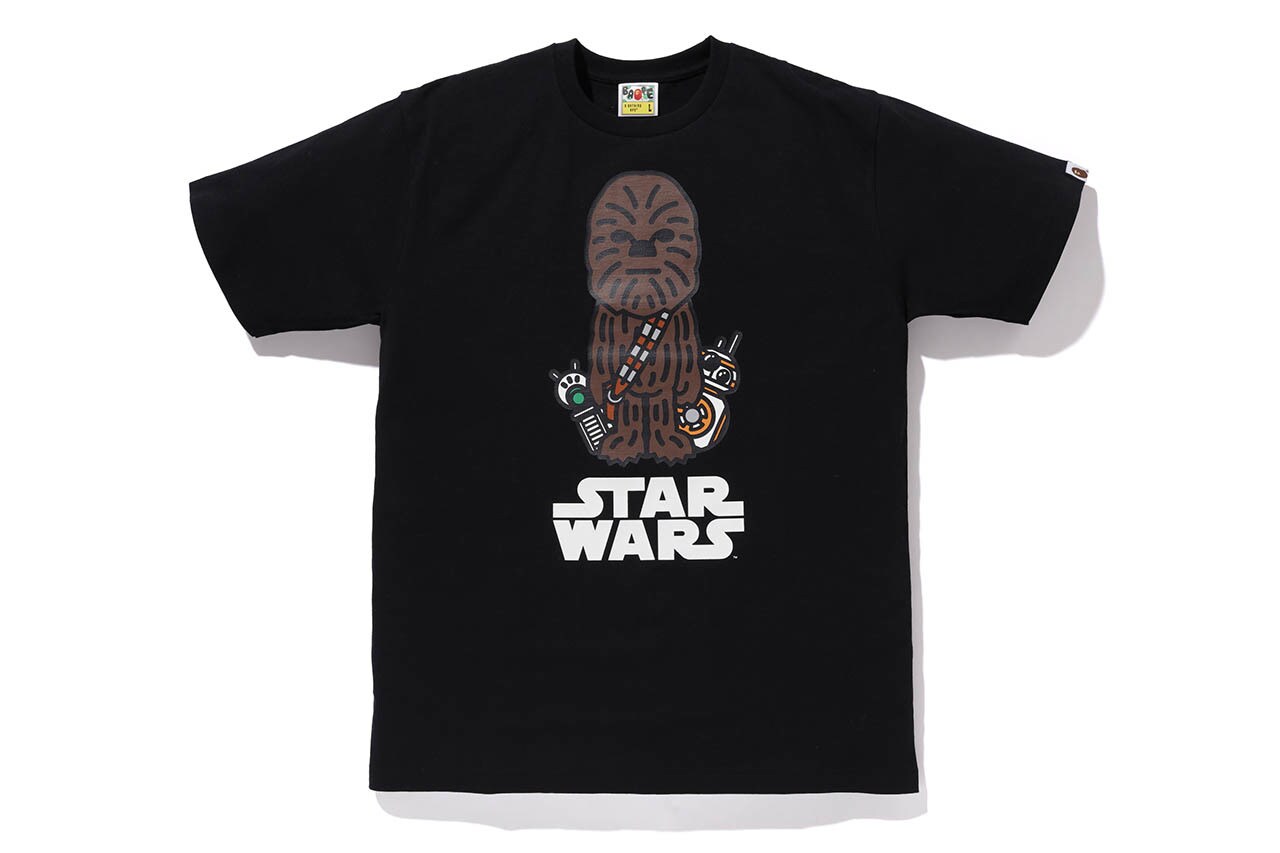 As for the latest collection, Fukui is particularly fond of a design he created with Peter Mayhew, the gentle giant who first portrayed Chewbacca, in mind. Mayhew passed away earlier this year, and the design -- with a stylized Chewbacca standing tall, flanked by BB-8 and D-O -- is dedicated in his memory, Fukui says.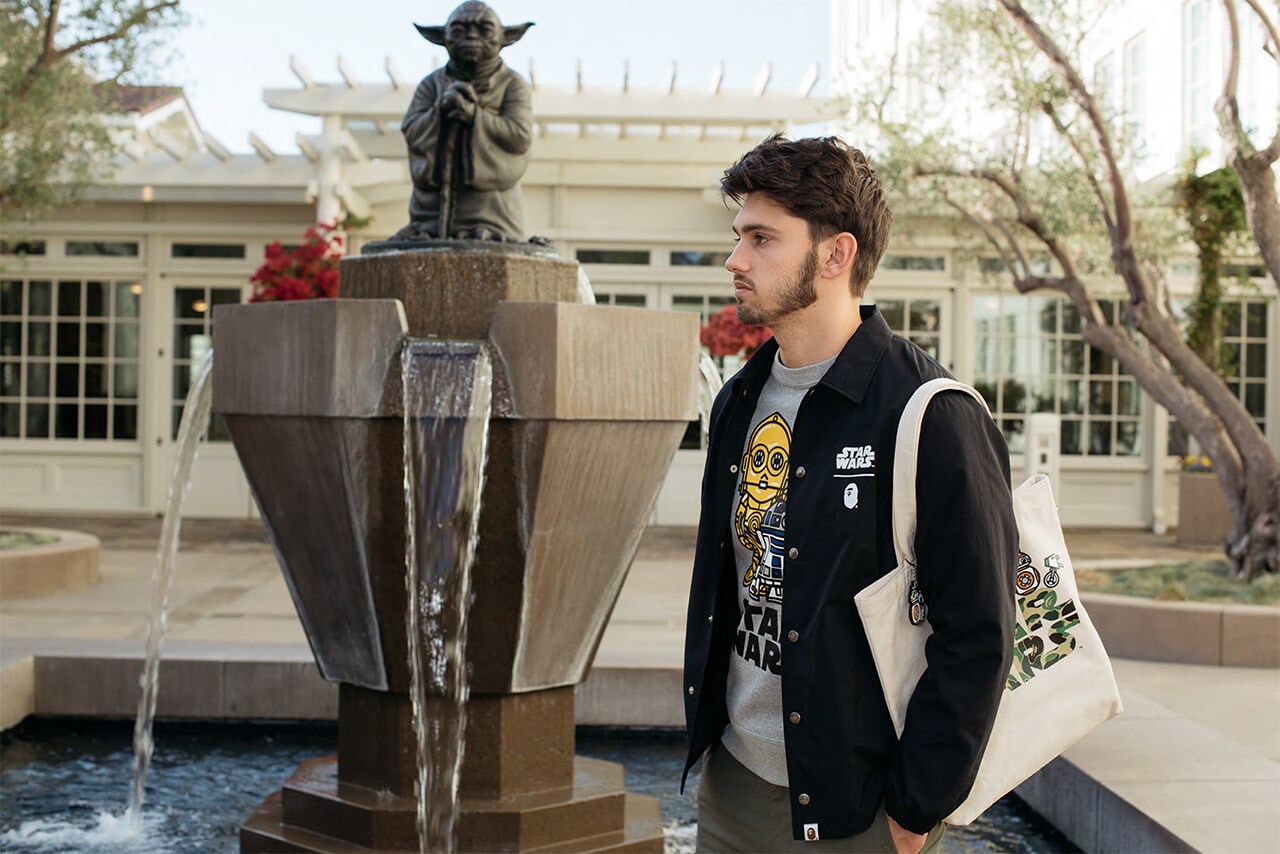 Check out some more products from the line below.
Shop the new BAPE x Star Wars collection starting December 21.
Associate Editor Kristin Baver is a writer and all-around sci-fi nerd who always has just one more question in an inexhaustible list of curiosities. Sometimes she blurts out "It's a trap!" even when it's not. Do you know a fan who's most impressive? Hop on Twitter and tell @KristinBaver all about them.
Site tags: #StarWarsBlog