Sometimes it take a near-disaster as well as happy news to remind us what has made -- and keeps -- Star Wars so strong and such an important part of the lives of so many of us around the world. When it all happens in the space of just seven days, it's like a bright neon sign flashing the word COMMUNITY.
Let me tell you about my week. About an hour into a guided tour of Rancho Obi-Wan on Monday for eight adults and two children, my friend and museum general manager Anne Neumann appeared at the top of the stairs with as serious a look as I've ever seen on her face. "Steve, there's a major problem in the garage. Come now!" she spit out breathlessly, then turned and left. I couldn't imagine what was up, only remembering that the garage was filled with scores of cardboard boxes filled with thousands of books and magazines that might -- or might not -- be duplicates of what we had in the collection. There were also cardboard store displays and more boxes filled with old and new collectibles that were awaiting integration into the museum.
My heart stopped when I got downstairs. The garage was filled with water. A plastic pipe on the tankless water heater had burst, and it was gushing like an uncapped fire hydrant. My immediate reaction was to start carrying boxes out until -- Doh! -- I remembered I needed to shut the water main off. But there was still so much in the system that the rushing water didn't end for what seemed like an eternity. Anne, her husband Stew, and my partner Bob starting emptying the garage. And then I looked up and saw everyone on the tour -- including the ladies in their nice clothing -- pitching in and quickly helping to clear the space. A passing neighbor saw our plight, stopped to help move things, and later came back with large dehumidifiers and blowers from his commercial cleaning company.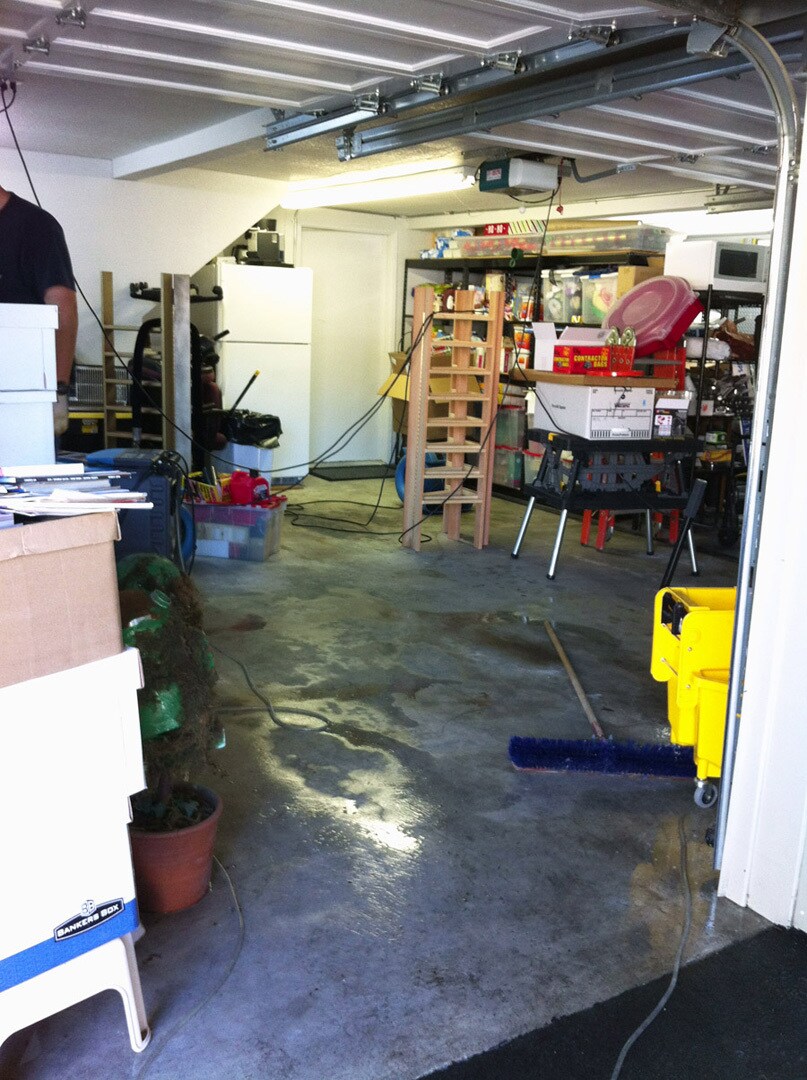 With the plumber on site, and most of the garage emptied, we resumed the tour, although I have to admit that I was a little preoccupied by what I'd find when I had a chance to assess the damage. The triage has already started by the time the tour ended, and our guests stayed another hour or so to help separate more. We had to trash several hundred waterlogged books and magazines that had been destined to be donated to various organizations. I lost some recent store displays, including some from the 2011 Blu-ray and 2012 Episode I 3D releases. Most of the collectibles survived. In other words, it could have been a lot worse.
Anne and I and our good friend Jon Nagle, on spring break from his job as a teacher, continued sorting and removing ruined books Tuesday and Wednesday while the dehumidifiers continued to suck out copious amount of water from under plastic tiles in the workshop area and from damp wallboard. More local fan volunteers answered Anne's call Saturday and Sunday, and things are starting to get back to what passes for normal around here.
On Friday, a small but heavy box arrived from Delaware. I opened it to find 2,000 of my official member cards from then 501st Legion; as I pulled one out a big grin spread across my face. There I was, TK-6590, dressed in my full Stormtrooper costume, as anonymous on the card front as my hundreds of fellow masked members of the Legion. There are many great Star Wars fan groups -- the Rebel Legion and the Mandalorian Mercs to name two of the largest -- but I have to admit that my first love was the first group, the Legion.
The 501st was started on a lark by fellow blogger Albin Johnson, a South Carolina resident who has a bigger brain, heart, and courage than the Scarecrow, Tin Man, and Cowardly Lion end up with in the land of Oz. He has personally gone through some of the trials of Job and has emerged both stronger and with more common sense than any politician in the land. To say that I admire Al and the amazing organization he built would be a vast understatement.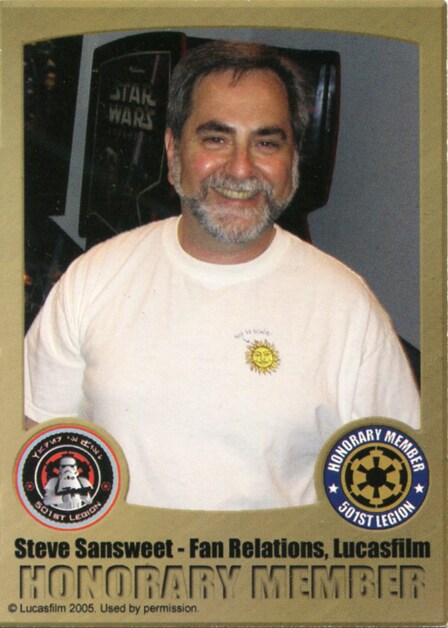 I worked quickly in the early days of the Legion to get the group to understand what was and was not acceptable to Lucasfilm. And I worked inside the company to get executives to understand just what the 501st was, and how the members were a positive reflection of Star Wars fandom. So naturally I was excited to be made an honorary member in 2002.
It was through a bit of trickery that I became a full member. My buddy and fellow trooper Garet Jones told me a few years ago that he was in the process of putting together a new costume and did I want his old one? I was a bit skeptical. Garet is 6'1" with a 34" waist. Stretching, I'm 5' 6 ½" and I'm afraid my waist hasn't been 34 since around the new millennium. Somehow he made it work, and Anne took photos at the final fitting.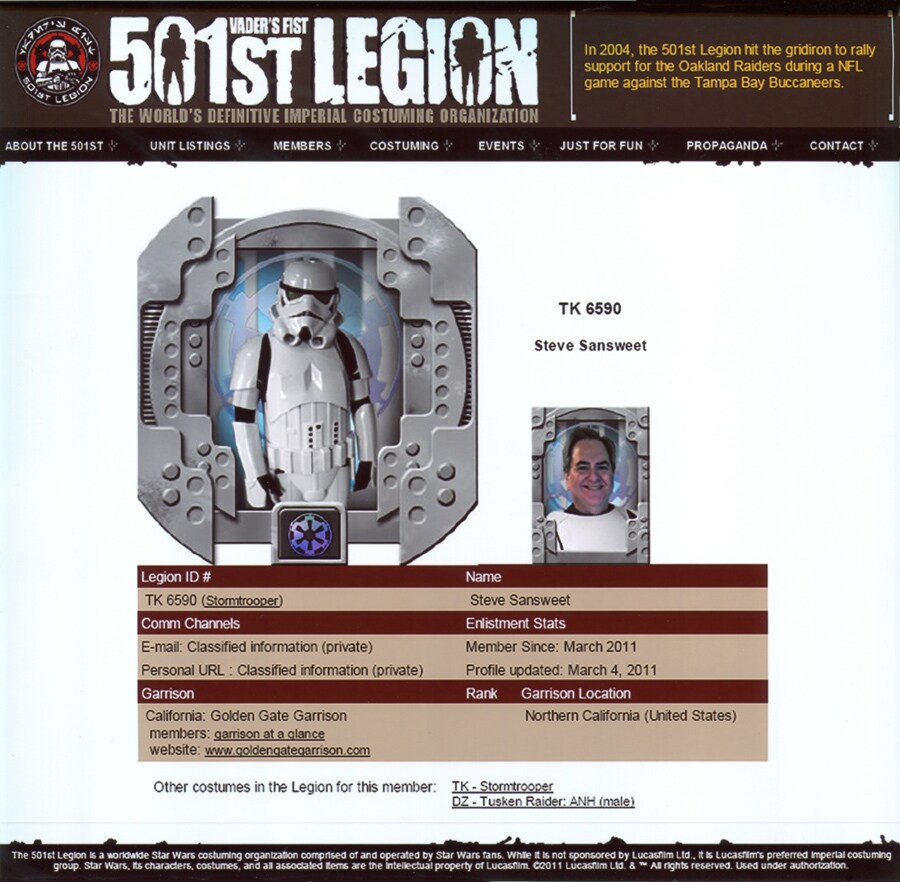 The day I retired as a fulltime employee at Lucasfilm, April 1, 2011, fan groups got together and gave me a surprise dinner during WonderCon. And one of the coolest of all the gifts was a framed printout showing "my" page online as an official member of the 501st, TK-6590. It was me in the costume -- along with a bit of Anne's Photoshop work. And just about two years later, cards with me as a member of the Golden Gate Garrison arrived.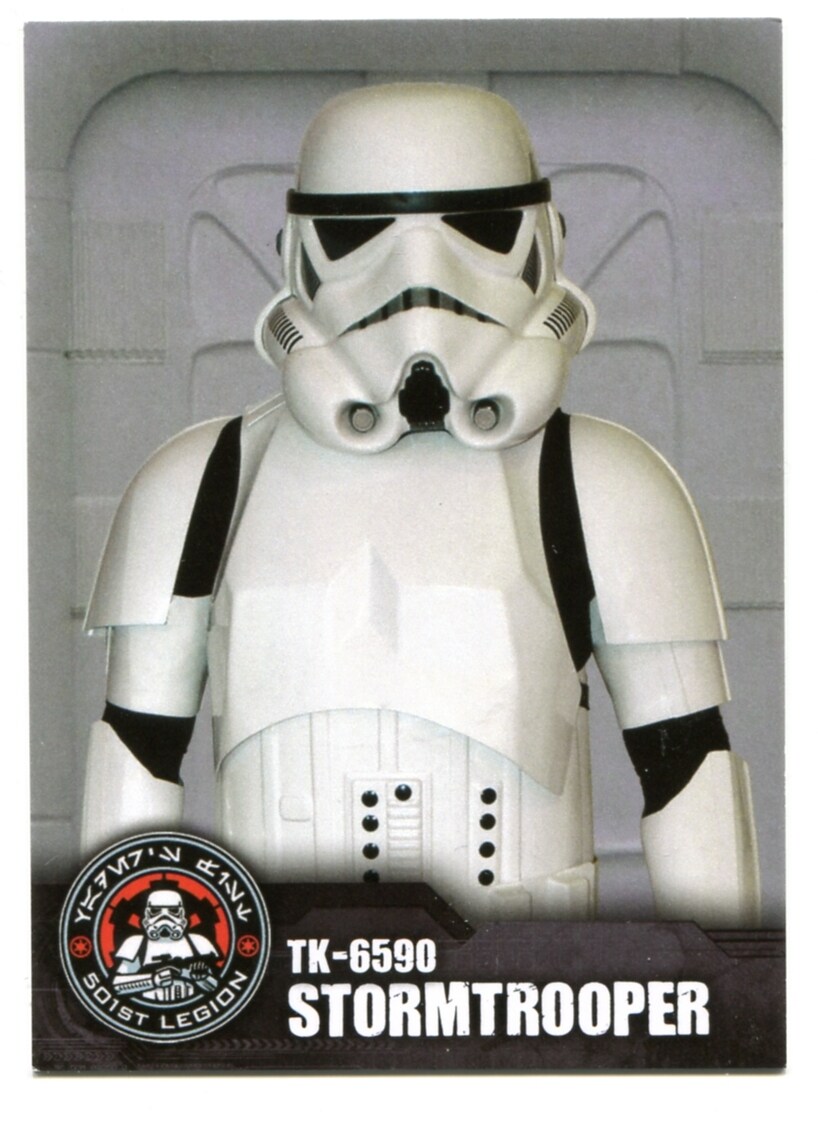 Something else very special happened last week, but that's a tale for a future column.
Steve Sansweet, head of Fan Relations at Lucasfilm for 15 years and now Fan Relations Adviser, is chief executive of Rancho Obi-Wan, a non-profit museum that houses the world's largest private collection of Star Wars memorabilia. To find out about joining or taking a guided tour, visit www.ranchoobiwan.org. Follow on Twitter @RanchoObiWan and https://www.facebook.com/RanchoObiWan.