Star Wars is coming to Disney parks like an Ewok on a speeder bike: it's awesome and filled with surprises.
Star Wars and Disney Parks have quite a history together already and, with new Star Wars-themed lands in the works, the future is looking even brighter. But you don't have to wait for the new lands to open to get your Star Wars fix at Disneyland because Season of the Force opens today! Season of the Force gives guests daily opportunities to explore, interact, and celebrate the galaxy far, far away.
Two of my absolute favorite things in the world are Star Wars and Disneyland, so I was thrilled when a few nights ago I was fortunate enough to get a sneak peek at Season of the Force -- and I spotted a few things that perhaps only the most die-hard Star Wars/Disneyland fans would have noticed…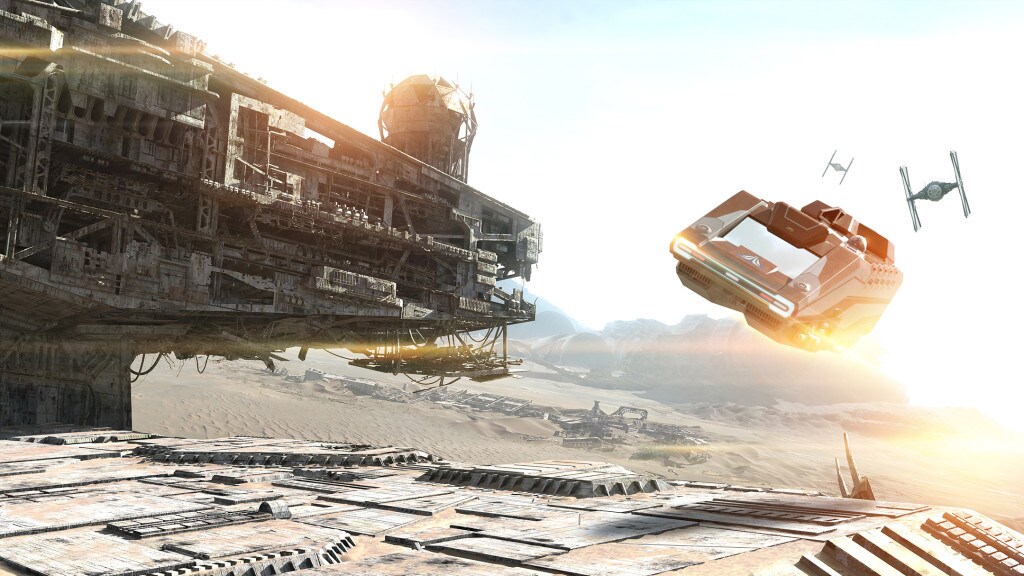 1. Subtle additions to previously explored Star Tours locations
Back in 2011, the original Disneyland Star Wars attraction was revamped, allowing guests to visit multiple worlds in over 50 possible story combinations made possible through a random selection of multiple scenarios. During Season of the Force, a new adventure lets guests explore the planet Jakku from Star Wars: The Force Awakens and even features cameos from a couple of your soon-to-be-favorite characters.
But that's not all; frequent Star Tours travelers may also notice some new additions to the original sequences. In one of my three times on board we opened up with the usual scene of Darth Vader asking about the Rebel spy, but unlike my previous flights, the Sith Lord was joined by none other than bounty hunter Boba Fett! On another trip we finished up on a landing pad on Coruscant, but instead of being lowered into a garage full of Star Tours starspeeders, Chewbacca was looking at us from the cockpit of the Millennium Falcon!
I haven't seen all the locations yet so there may be even more additions. If you notice any let me know in the comments below.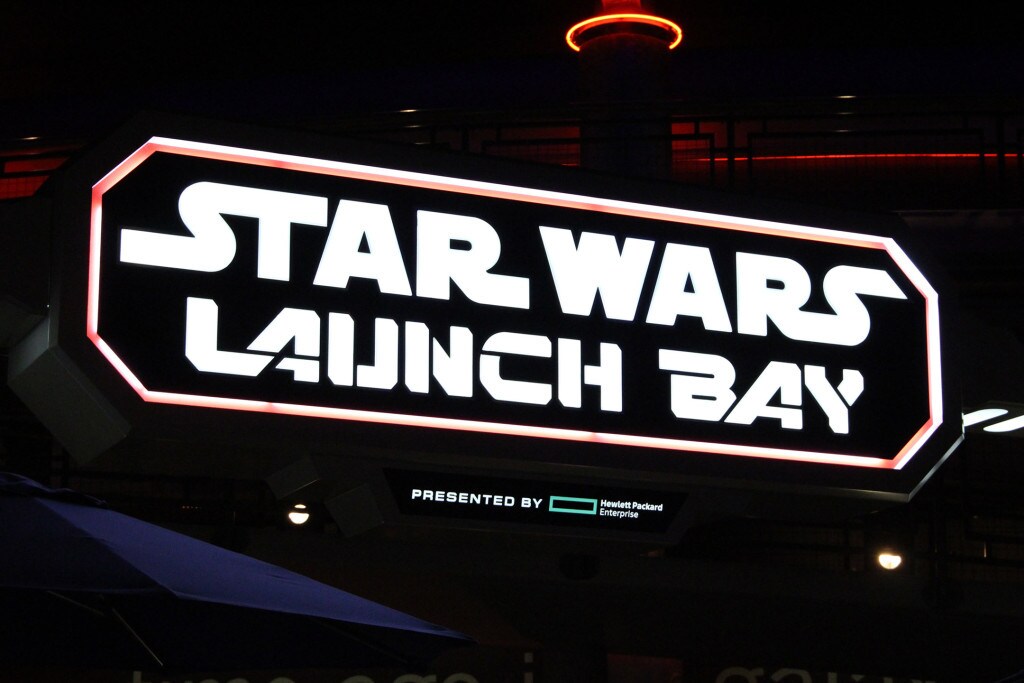 2. Sneak a (very brief) peek at Rogue One: A Star Wars Story
Star Wars Launch Bay is the new place to celebrate all things Star Wars featuring character greeting experiences, a cantina complete with a holochess table, demos of current, and upcoming video games and much more.
However, the thing that caught my eye was a small viewing area playing really cool Star Wars behind-the-scenes videos on a loop. In one of those videos it discusses the future of Star Wars with various members of the Lucasfilm team. It features insights on Star Wars: The Force Awakens as well as Star Wars Rebels, but there's also a mention of Rogue One, which features a very brief look at director Gareth Edwards on the set of the upcoming film.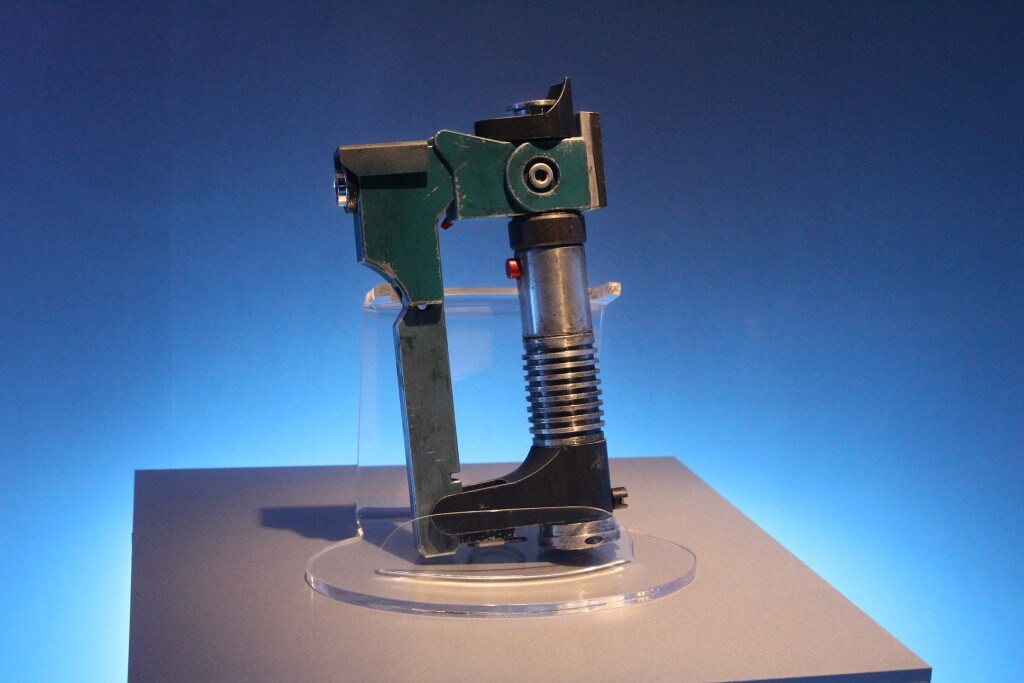 3. Animated props in the real world
One of the other features of the Star Wars Launch Bay are replicas of film props, costumes, shop models, droids, and other notable items from a galaxy far, far away.
Here you can see a life-size (and very intimidating) flametrooper and Rey's speeder from Star Wars: The Force Awakens, as well as classic models of X-wings and TIE fighters. However, what I was most intrigued by was the "real-life" models of a few props that have, until now, only been seen in animated form, including one of Ahsoka's lightsabers, the Ghost ship model, Sabine's helmet, and my personal favorite: Ezra's lightsaber/blaster hybrid from Star Wars Rebels.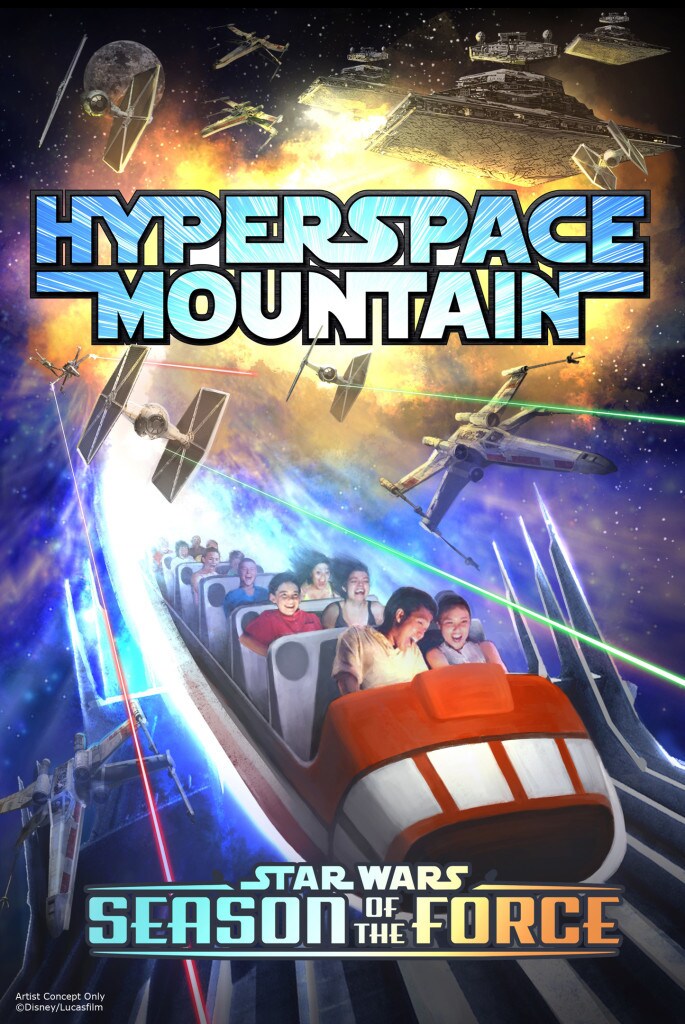 4. The Blue Squadron returns in Hyperspace Mountain
Hyperspace Mountain reimagines the classic Space Mountain attraction and puts guests into the cockpit of an X-wing fighter in the middle of a dogfight, and the squadron taking part in this thrilling assault is named the Blue 77 Squadron.
The "Blue Squadron" may be a reference to the original name of Luke's X-wing squadron from the early drafts of the first Star Wars film (it was eventually changed to Red Squadron, since having blue markings on the ships would have been too challenging to shoot using blue screen technology). The 77 is, of course, a reference to 1977 -- the year that Star Wars was released, as well as the year Space Mountain opened at Disneyland.
The attraction also features a new soundtrack inspired by the film's score, recorded with the London Symphony Orchestra especially for Disneyland.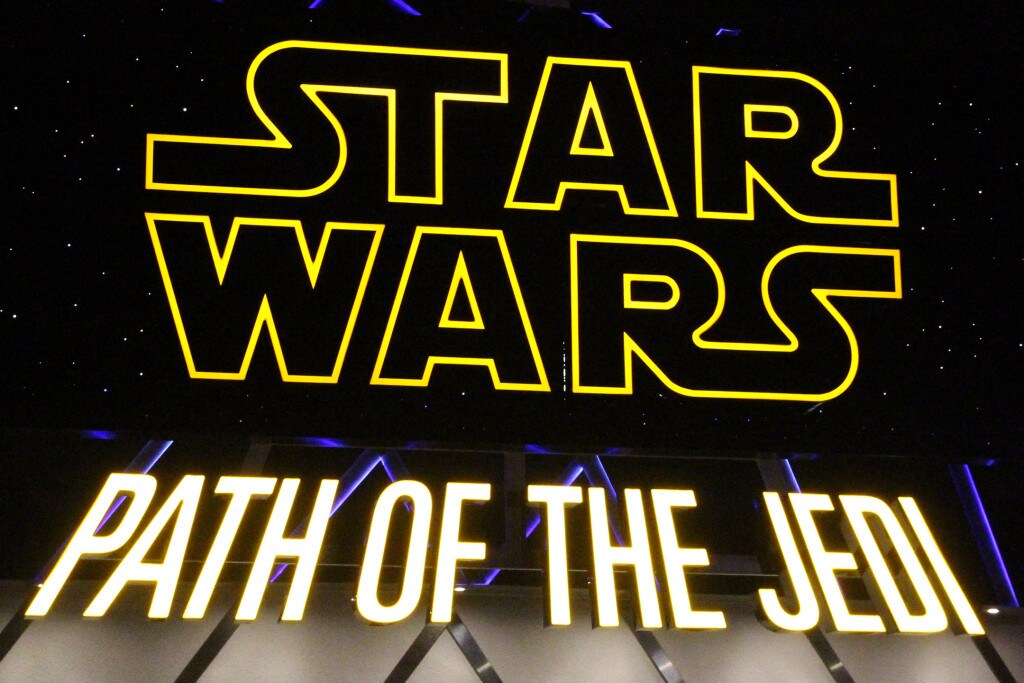 5. Original and prequel trilogies intersect in Star Wars: Path of the Jedi
Star Wars also takes over the Tomorrowland Theater (former home of another George Lucas co-creation: Captain EO) with Star Wars: Path of the Jedi. Guests can relive the Star Wars story following Luke Skywalker's journey with immersive elements including lights, motion, and more.
What I loved about this presentation though was the clever juxtapositions between the original trilogy and the prequel trilogy, seamlessly stringing together Luke's narrative with footage from all six films. And if that's not enough, the whole thing ends with the full trailer of Star Wars: The Force Awakens -- something I could never see too many times.

6. Build a lightsaber that puts Kylo's to shame at Star Traders
Cross-guard lightsaber, tri-saber, broadsaber, whatever you call it -- Kylo Ren's lightsaber from Star Wars: The Force Awakens is an incredible addition to the Lightsaber Hall of Fame. Now guests shopping at Star Traders can use elements of Kylo's innovative design to create their own custom lightsabers like that monstrosity pictured above. Who says lightsabers need to be practical anyway?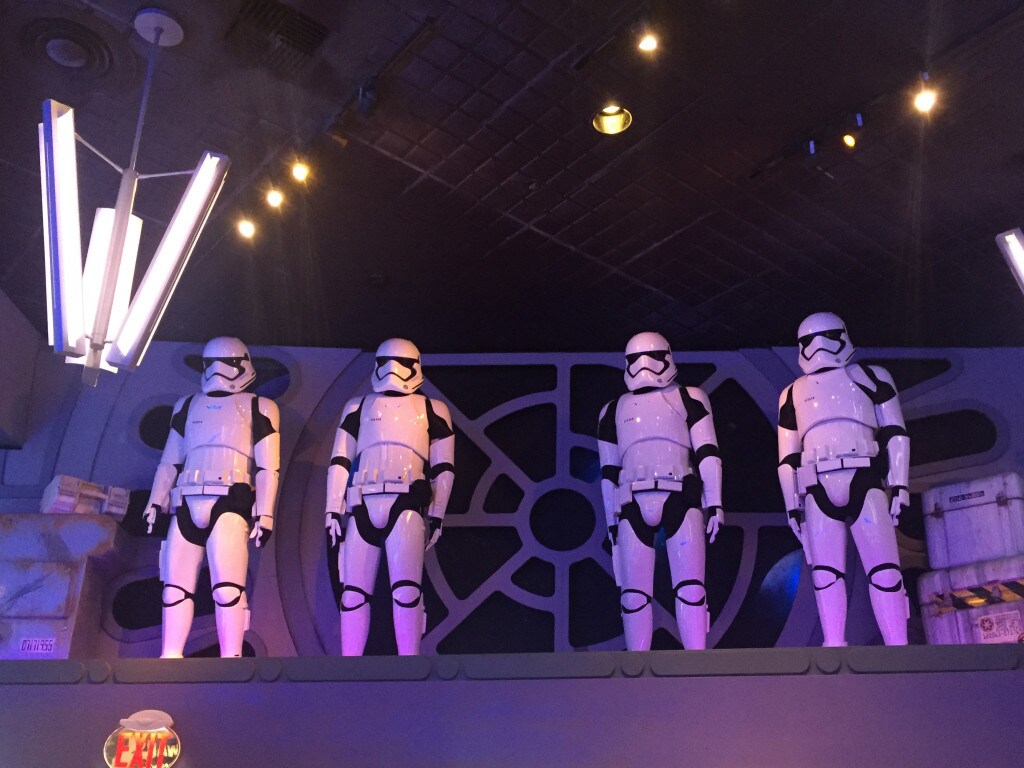 7. Attack of the stormtroopers
You'll also notice that Star Wars has taken over the entire Star Traders store and features new and exclusive merchandise for every type of fan. Oh, and a new security detail.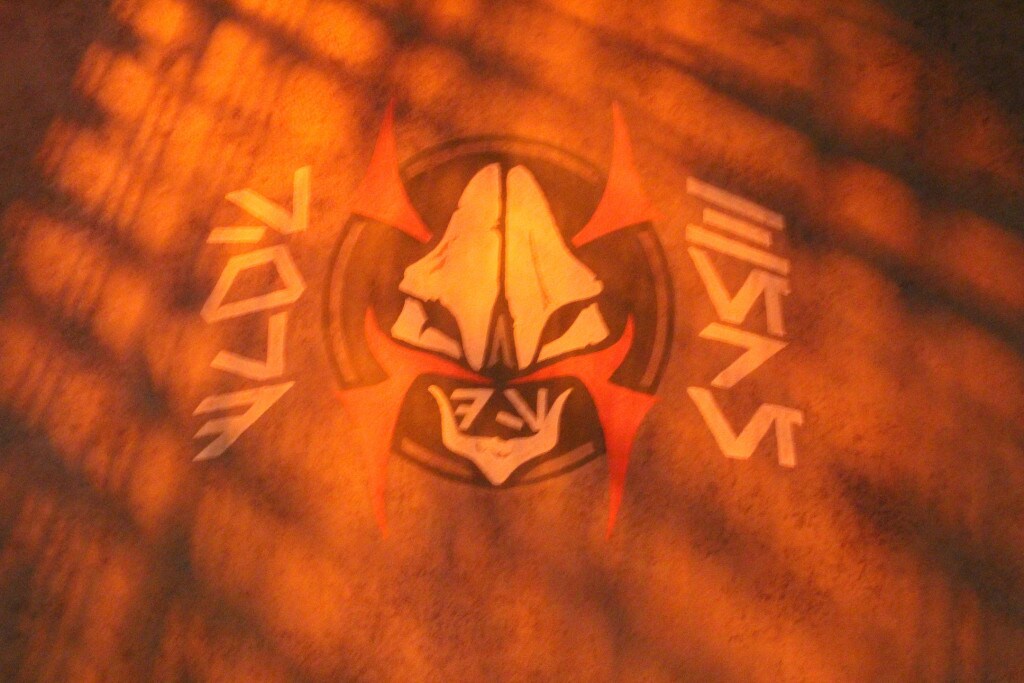 8. Hone your Aurebesh-reading skills
Have you been teaching yourself to read the Star Wars written language of Aurebesh since you were a kid like I have? Well then, you're a nerd. But it's your time to shine! During Season of the Force you'll find Aurebesh lettering all around Tomorrowland -- especially in the Star Wars Launch Bay. Brush up on your Basic and impress everyone else in the queue!
Season of the Force is open now at the Disneyland Resort in Anaheim, California, and coming soon to Disney's Hollywood Studios at Walt Disney World in Orlando, Florida. Oh, and one final word to the wise: don't let Lord Vader see you wearing any Rebel apparel or this might happen…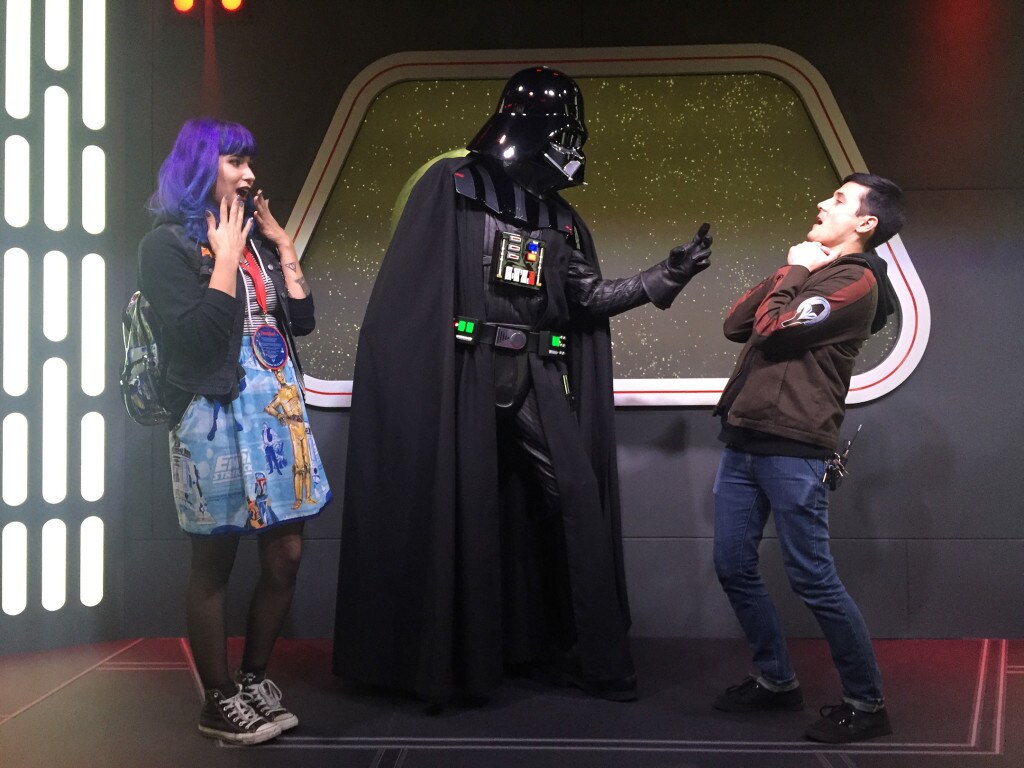 There's a whole lot more to discover during the Season of the Force. Let me know your favorite additions in the comments or on Twitter!
Matt Martin is manager of digital content and community relations for Lucasfilm. He played Greedo in a video once and now wavers on the subject of who shot first. Direct complaints to @missingwords.