The talented illustrators on why scoundrels and criminals are the most fun to draw, creating a Millennium Falcon infographic, and the influence of Star Wars.
"If you come with us, you're in this life for good," warns Tobias Beckett to a young Han Solo. Life as a smuggler isn't easy: credits and jobs come and go, and there's always someone on your tail, whether it's the law, the bosses, or the competition. But the new book, Star Wars: Smuggler's Guide, makes it easier to get into the life of smuggling, piracy, and general outlawism and scoundrelry. Written by Dan Wallace and published in a deluxe hardcover edition from Epic Ink, Smuggler's Guide is set as an in-universe journal, being added to and commented on by various owners as it passes from various scoundrels and pirates like Han Solo, Lando Calrissian, Hondo Ohnaka, and Maz Kanata. Part of the appeal of the book is the wonderful illustrations, lavishly depicting aspects of the lifestyles of the sometimes rich and infamous. StarWars.com sent a probe droid over to Spain to gather intel from Javier Charro and Adrián Rodríguez, two of the artists behind the illustrations of Smuggler's Guide, to learn their secrets on making the book.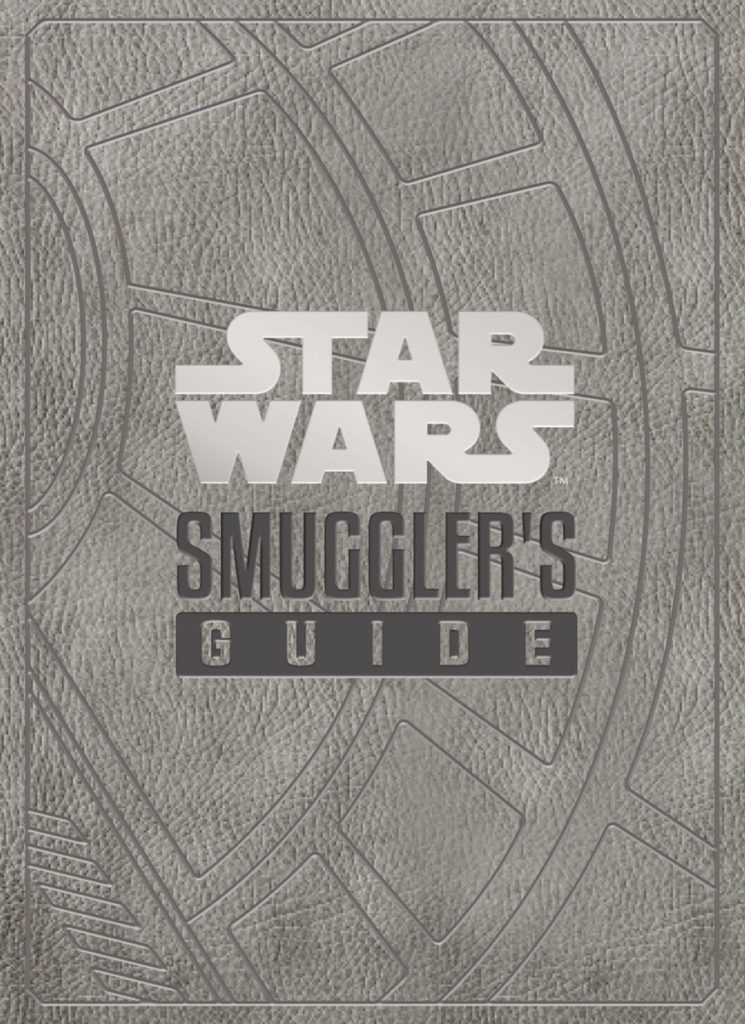 1. The artists got into character.
As a book, Smuggler's Guide is not written like a single book by one author but is more a compilation of different entries in the same journal by a whole crew of characters, including Dr. Aphra and the Master Codebreaker, filled with all different styles of artwork: sketches, images set in media clippings and graphics in brochures, character portraits, stills from security feeds, and larger pieces to illustrate key scenes being recounted by the in-universe writers. So how did the artists go about developing different styles to fit the different sections? "It was an interesting process because each illustration allowed me to apply a different technique," says Rodríguez. "I made pieces from rough sketches to complex and defined illustrations. In some illustrations, the main characters drew their experiences, so I imagined a naturalist from the 19th century taking some notes of what they were seeing, or a pirate looking a treasure map to provide more sense to the illustration."
2. Drawing the kinda-baddies feels good.
The main focus of the book is on adventures of scoundrels, pirates, and criminals in the Star Wars universe -- some of the most appealing characters for fans, but also interesting for artists. "[They] are my favorite characters of all, probably because they move more into the gray -- neither the good, nor the bad," Charro says. "They act more as individuals with their own morality and I think that that is a very interesting and important role in Star Wars, where the light side and dark side are so powerful."
"Personally, I like to work with these kinds of characters," adds Rodríguez, "because they are more interesting than others. The ships, the costumes, and the different types of species allow me to play a little bit more with their appearance."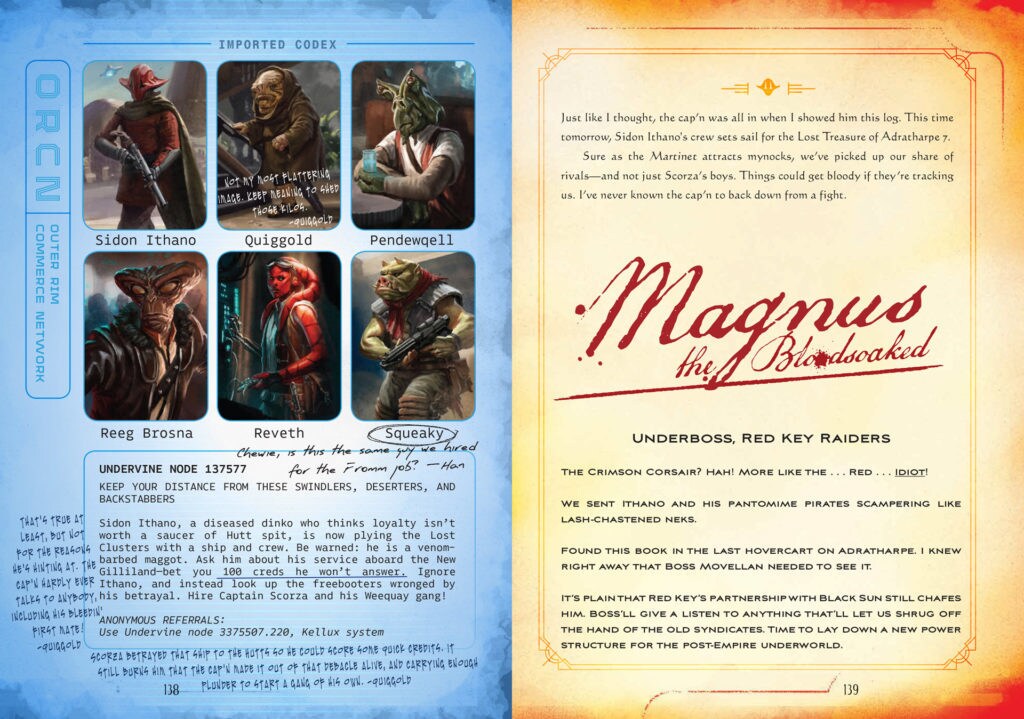 3. A portrait of a pirate ranks highest for its artist.
When it comes to picking his favorite piece in Smuggler's Guide, Charro selects his portrait of Sidon Ithano, the Crimson Corsair. "I love the design of the helmet," enthuses Charro, "and I thought that would look great in a full-frontal piece, making a strong composition with his silhouette and a backlight. The setting suggests a door or a corridor, like he has just appeared suddenly from somewhere in front of the viewer."
Charro kept things simple when developing the illustration. "For all the character pictures, I tried to keep a fresh painterly style," he says. "I was more worried about the overall colors and lighting than adding details or too many sharp edges that ruined that freshness. When it came to the Crimson Corsair's helmet, I had to find a balance between the accuracy and readability of the shapes and that painterly look. For his clothes, I used a color variance to bring the rough textures they have."
Overall, the pages on the criminal crew of the Meson Martinet proved to be favorite section for Charro. "I enjoyed working on Crimson Corsair and the crew of smugglers," he says. "Sam Dawson, the book's designer, asked me to do candid scenes to showcase the characters. Therefore, not only did I do what I love -- that is, digital painting of characters -- I had a chance to draw them as if stolen from other scenes, not simply posing for the book. I loved the idea!"
4. A monster jam is monster fun.
"The piece that I enjoyed most to do, which I consider my favorite, is an image of two beasts fighting inside a hole excavated in the ground," shares Rodríguez. "It was an interesting illustration because it had to be dynamic and intense." How did Rodríguez build such a battle scene? "After I received the description of the scene, I began to explore how it would be through different thumbnails. Then, I selected the most interesting and I started with the color of the background and characters. After that, I finished adding the light and dust effects. In this case, the hardest part of the image was the absence of previous reference for the creatures. I only had a short brief to create those aliens and it was really fun."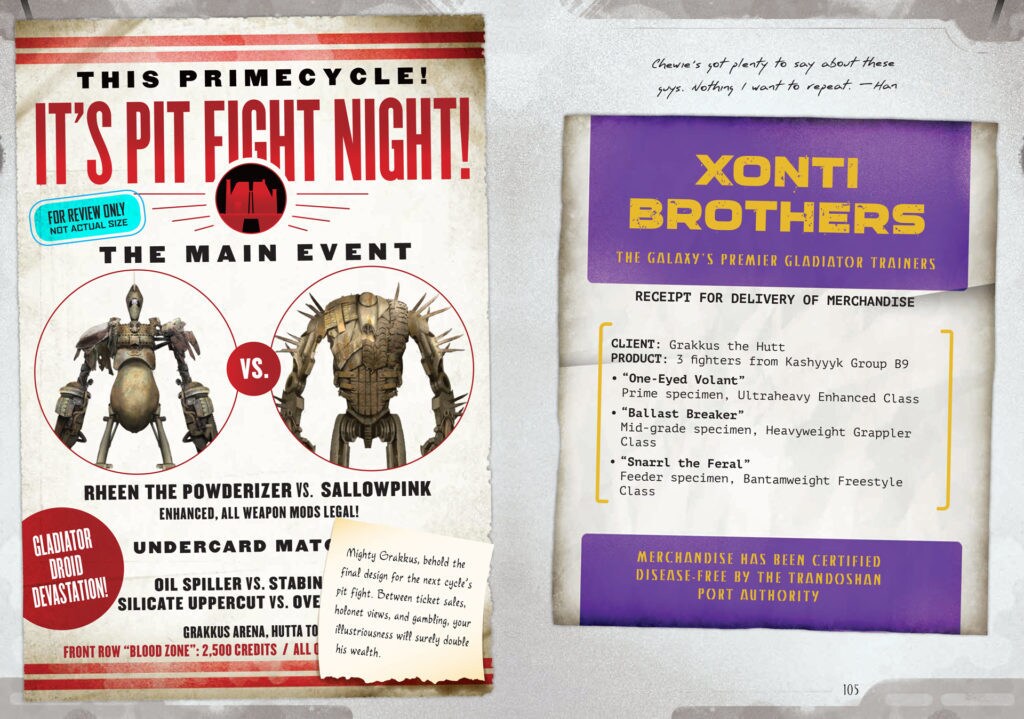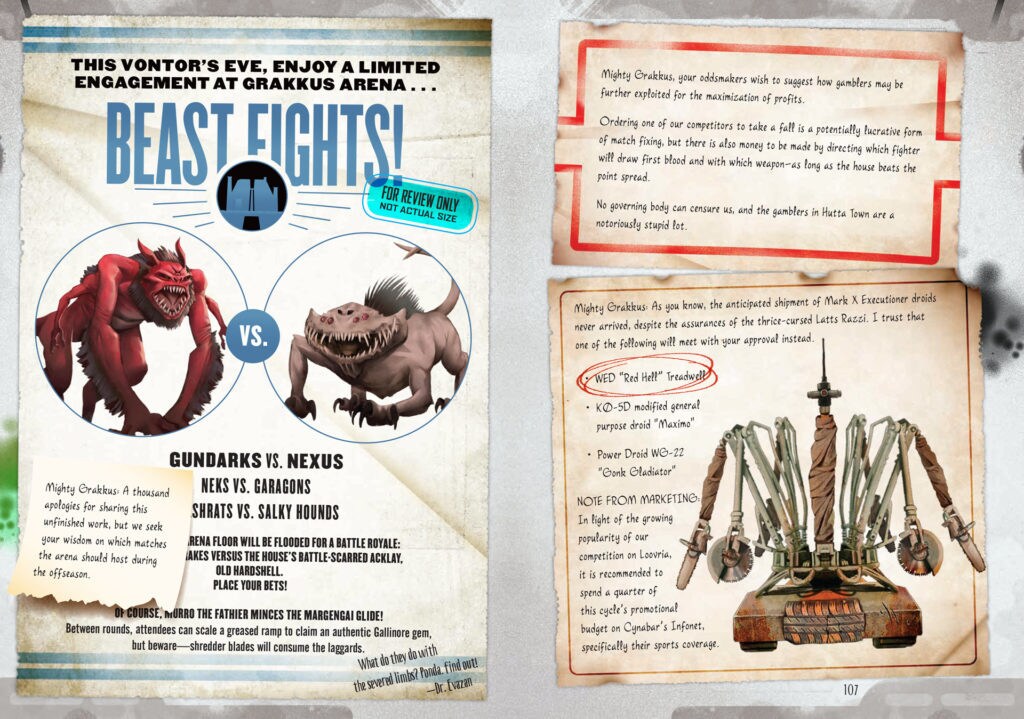 5. The illustrators made their own additions to Star Wars -- a tough but rewarding challenge.
Part of a Star Wars illustrator's job is creating the look for brand new or existing characters and creatures that have never been depicted visually in any way. And Rodríguez had that opportunity with many that first appear in the pages of Smuggler's Guide. "It was a complex challenge because Star Wars has a wide range of creatures and iconic characters that make it really special," he explains. But Rodríguez took on the challenge with gusto. "Personally, working with different species and creatures is something enjoyable because they are not conventional shapes. Also, it gives me the opportunity to play a little bit with different appearances beyond just human."
That ability to play with the beyond-human shows in the final product. "One of my favorite parts of the book is the posters announcing fights between droids," Rodríguez says. "It was cool to prepare those robots for battle."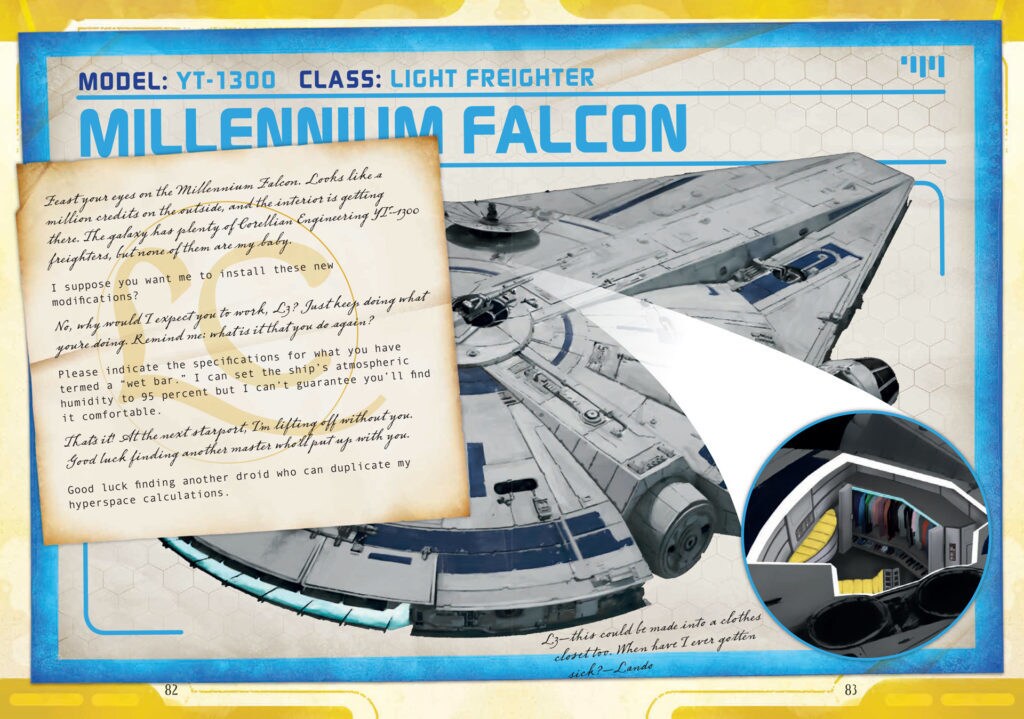 6. Illustrating Lando's closet in the Millennium Falcon is a highlight for its draftsman.
Javier Charro took on many of the illustrations in the book that focused on the technology of Star Wars, such as ships or schematics of various devices. "Since I have an architectural background, it was a pleasure for me. It takes a lot of effort to make these kinds of fantasy spaceships credible, but as a fan I have always loved Star Wars plans and blueprints. The way they are done make the universe more close and real to the viewer, adding more depth to the world." One of his biggest pieces in the book is a spread with the Millennium Falcon, as it looked under Lando Calrissian's ownership. "It was so cool to have a chance to work with the original Millennium Falcon," says Charro. "It is one of the most iconic vehicles from the movies and it was really challenging to do the infographic of the ship, including Lando's closet."
7. The path of an artist is always unfolding.
While both illustrators took different paths to become professional artists, they share common themes in how they maintain their careers. Charro switched from being an architect who did art commissions in his spare time to being a full-time artist for games and novels. Rodríguez studied art and specialized in illustration before starting as a freelance artist. But both emphasized the role of continuing to improve their skills while managing work for customers. "What I try to do is be the most professional I can," explains Charro. "I follow guidelines, due dates, and clients' needs, keep myself inspired with my personal work, and attend as many art events and master's seminars as I can." In addition to working on projects for clients, Rodríguez says his journey is an ongoing one. "I also try to have time to do my own stuff for practicing and learning new things, which would help me in future projects."
8. Influenced by the Force.
Artists are inspired by the art they see around them, and these two illustrators are no different. In addition to being influenced by comics, video games, and tabletop roleplaying games, both Charro and Rodríguez have always come back to the art style of Star Wars. "The Star Wars universe and all its characters have always been a reference for me when I have to create new sci-fi illustrations," says Rodríguez. And Charro points out how the look of the films gave him a valuable lesson: "As a 1980s kid, I was influenced by Star Wars more than I can tell. I hope that I have learned something from the epic Star Wars saga to make my characters and scenes fit the setting perfectly in my every commission."
As for the role of the art in Star Wars, Charro says it's essential. "You can really see a big inner coherence between the art and design of Star Wars and the story and universe of Star Wars to the point that they seem indivisible," he says. "In my opinion, there is a special blend of the antique and the futuristic, which makes that world so special and unique."
Star Wars: Smuggler's Guide is available now in a deluxe hardcover edition from Epic Ink.
For more on Star Wars: Smuggler's Guide, check out our interview with author Dan Wallace.
James Floyd is a writer, photographer, and organizer of puzzle adventures. He's a bit tall for a Jawa. You can follow him on Twitter at @jamesjawa or check out his articles on Club Jade and Big Shiny Robot.