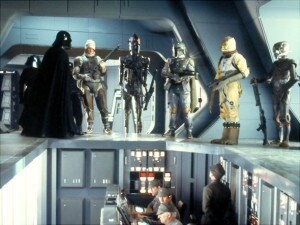 By skybridges and streets, according to event organizer Steve Perry, well over 30,000 attendees descended on Providence's Rhode Island Convention Center to gather at the 2013 Rhode Island Comic Con. Among a huge list of media guests and artists, Perry featured what he billed as a "very, very rare bounty hunters reunion." Several jumped across The Pond via the Leisure Corridor. Dak made the transit north from Tierfon on the I-95 hyperlane, re-entering realspace somewhere to the west to stay at the baronial hall of a local lord and lady (a noted paleontologist pair) on the Waterman Reservoir. Headlining the con was the debonair onetime gambler and baron administrator of Cloud City, Lando Calrissian. RICC proved to be an epic Underworld gathering.
Representing the Hutt Cartel were the famed Rodian, Greedo (Paul Blake), and the notorious team of that uncanny Gand, Zuckuss (Cathy Munroe, making her first appearance in America), and the protocol droid, 4-LOM (Chris Parsons). From Jabba's Palace on Tatooine, the Trandoshan Bossk (Allan Harris) reunited with Bespin Boba. Recall that Bossk and Boba have been uncertain allies, but both feel a bond as members of the Bounty Hunters' Guild and subscribers to the Creed. (Absent, alas, was Dengar, the fifth bounty hunter in the image above, who was portrayed by the English actor and boxer Morris Bush who departed this life in 1995.) Also present among the Underworld villains and scum were Tim Rose, the puppeteer for Jabba's jester, Salacious Crumb. Like Dak/Bespin Boba, Tim is another who has dual Rebel/Underworld identities. As Admiral Ackbar, the Mon Calamari who is the military commander of the Rebel Alliance, Tim is at the pinnacle of Dak's chain-of-command. Sharing the Admiral's Rebel sensitivity to any Imperial trap was Beru Lars (Bonnie Piesse), the woman who raised Luke Skywalker. See, the Empire is ever present: with us at RICC was Lieutenant Renz (Barrie Holland), the Imperial officer who uttered the famous line to Han upon his arrest, "You rebel scum!"
It was a wild and noisy crush throughout the weekend. Though joyous, it was one apparently fraught with danger -- villains and scum on every side. The con assigned two uniformed officers from the Providence Police Department, Mike and Will, to provide us protection. Mike is the department's commanding officer for special events. Will handles homeland security. Both happen to be fans. With no RICC staff to escort us to the bounty hunter panel on the Sunday, Will led us from the exhibition hall through fire doors to the ventilation shaft, the portal to the Coruscant underlevels. Through the maze of underlevel back alleys and lifts, he guided us around the Uscru Entertainment District until we arrived at the stage door of one of the Center's grand ballrooms.
One by one, we entered as announced to boisterous catcalls from an SRO audience that Steve Perry later told us was something over 1,200. Halfway through the hour-long panel moderated by Star Wars podcaster Frank Rich and artist Kevin Liell, we took a poll of the affectionate rabble to determine what percentage self-identified as Rebels, Imperials, and Underworld. Raised hands revealed equal thirds. One shouted, "What about Mandalorians?!" Indeed, if not Imperials, can we only be Rebels, villains or scum? Check this video provided by Allen Shepherd, the XO of Maryland and Washington DC's Old Line Garrison of the 501st Legion.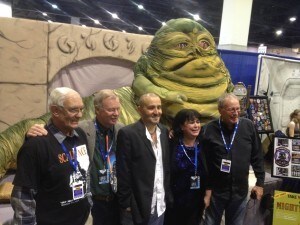 Retracing our passage under escort through the portal to the teeming exhibition hall, we were delivered to the 501st at Jabba's Palace. There, the New England Garrison featured Jabba and Roxy, his female rancor, a favored pet of the galaxy's criminal underworld. After seven years on the circuit with the NEG, Jabba was making his last East Coast public appearance. Mike Brunco, the NEG's CO, told us he commands over 100 members in five New England states -- Rhode Island, Massachusetts, Vermont, New Hampshire and Maine. At RICC, the NEG raised over $3000 for Providence's Hasbro Children's Hospital Fund. That number included monies from Star Wars author and NEG member Ryder Windham who donated 100 percent of his book-signing receipts. Ryder also led an NEG blood drive at the con for the Rhode Island Blood Center. Last month's NEG activities included support for Star Wars Reads Day at book stores in four states. Along with its sister organization, the Rebel Legion, Alderaan Base, the NEG marched in the Woburn, Massachusetts, Lions Club's Halloween parade. The week before, the two orgs were in Portland, Maine, onstage in costume with the Portland Symphony Orchestra as features of the PSO's Star Wars music tribute.
For Dak, the Con afforded a number of reunions. His alter ego, Bespin Boba, reunited with Lando. The two had not been together since Han's carbon-freezing. This time their talk was about Duke Ellington. Billy Dee offered how he would have liked to portray the jazz legend in a film. During his well attended panel, he allowed to fans how he enjoyed playing real people, alluding to his celebrated portrayal of football great Gale Sayers in the TV movie Brian's Song. He and Sayers related well, he said, since each was "a reticent person." Billy Dee also modestly discussed his art, referring us to his website. A widely exhibited painter in oils and acrylics, he calls his style "abstract reality." Of Lando, he said he was most attracted to the idea of wearing a cape and the appeal of the baron administrator as a "swashbuckling, roguish character."
I have to conclude with mention of another two reunions. Dak also got to speak with Superman II's Jack O'Halloran (Non) and Sarah Douglas (Ursa) and Flash Gordon's Sam Jones. (As an astronaut in Superman II and pilot in Flash Gordon, Dak had brief scenes with these three stars.) A Marine before he was Flash, Sam said he is now in San Diego as the CEO of his own corporate security company, Inner Cordon. Discovering a mutual, realspace professional interest in homeland security, we talked the Hurricane Katrina response. Sam deployed to New Orleans to protect executives who opted to remain in NOLA after the storm. Closing advice: Though we may find ourselves deep in the Underworld or in orbit on the dark side of the Moon, realspace is but a hyperjump away.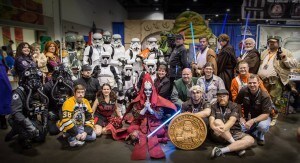 John appeared as Dak, Luke Skywalker's back-seater in the Battle of Hoth in The Empire Strikes Back. He also appeared in the film substituting for Jeremy Bulloch as Boba Fett on Bespin, when Boba utters his famous line to Darth Vader, "He's no good to me dead." Follow him on Twitter @tapcaf.