Meet fans and hear the stories of their incredible homemade costumes, including Finn, Rose, and more.
Star Wars: The Last Jedi made its debut to the world at the red carpet premiere in Los Angeles on Saturday night -- and so did some amazing cosplay by fans in attendance.
Among the members of the Rebel Legion fan group at the red carpet were some Star Wars faithful who crafted incredibly detailed and accurate costumes of characters from The Last Jedi. It's especially -- nay, most impressive, as a certain Sith Lord would say, considering there's not much reference available for these looks.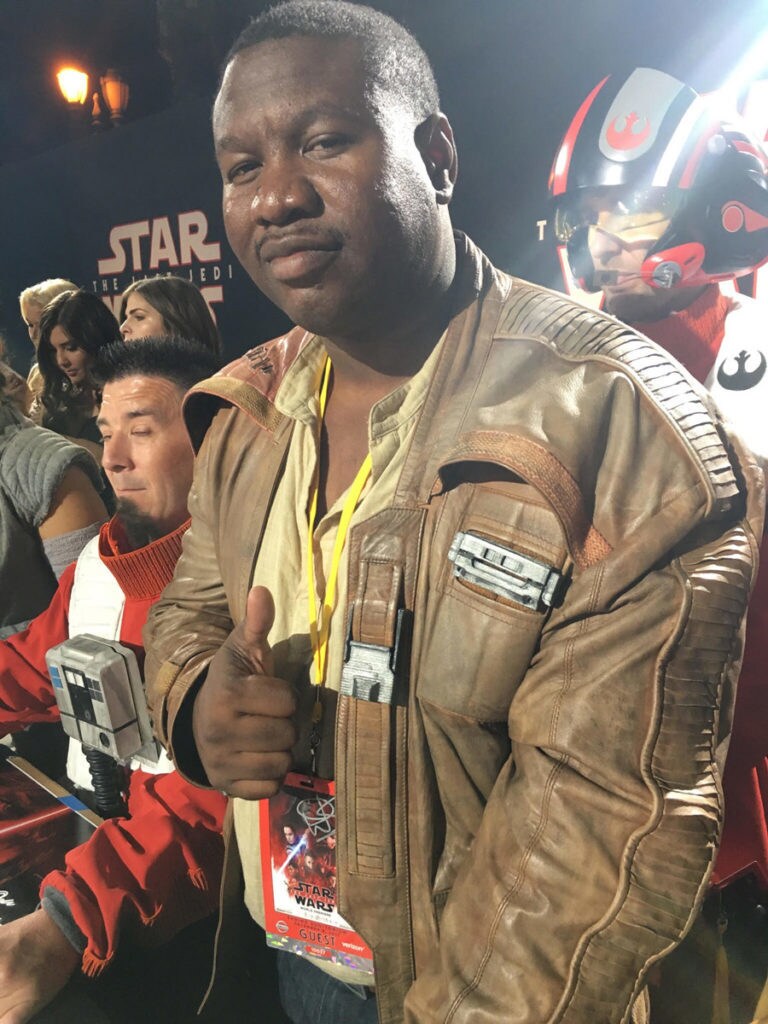 Brandon Jackson, from Murietta California, came as Finn. Already a Finn veteran having cosplayed as the stormtrooper-turned-hero based on his The Force Awakens appearance, Jackson was eager to update his costume for the character's new threads. "It didn't take me that long because I knew the ins and outs," Jackson said. "So it took me probably about two weeks or so once I actually got good images of Finn in his costume. I used one still from the movie and also the Vanity Fair shot. It was pretty easy to assemble since I already had the jacket." Jackson has been a diehard Star Wars fan since he saw The Empire Strikes Back at a drive-in theater. "For Lucasfilm and Disney to invite us fans -- the Rebel Legion, 501st, and Mandalorian Merchs -- means the world."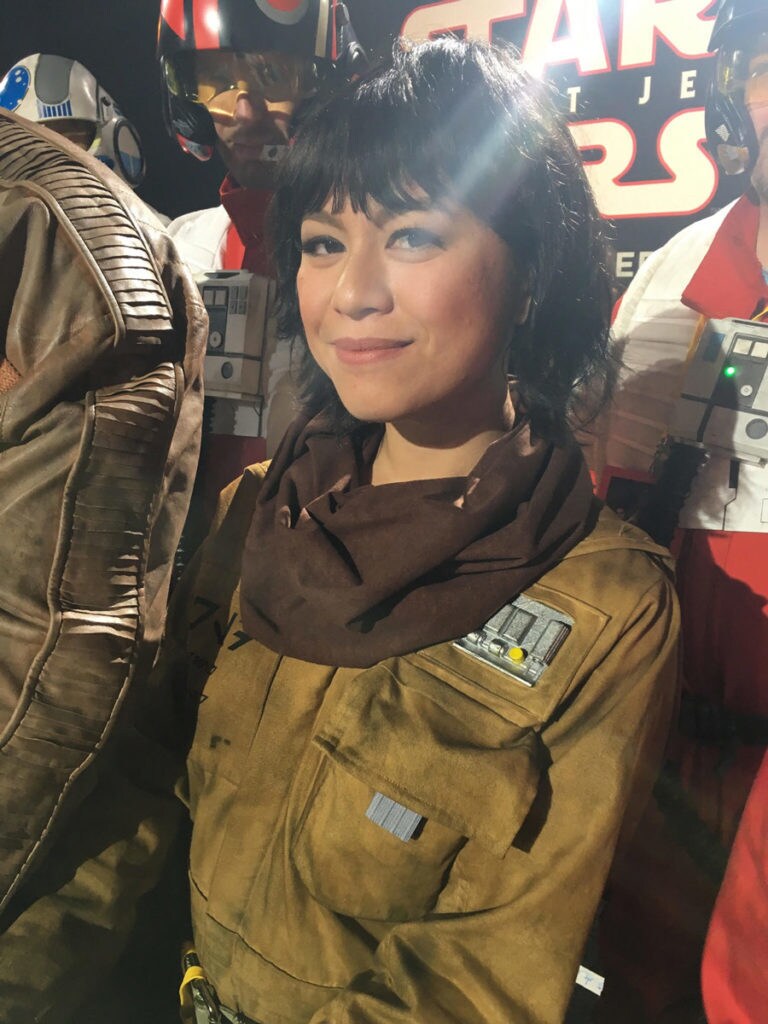 Accompanying Jackson's Finn (naturally) was Chelsea Cheng from L.A. County as an amazing Rose Tico, a new character in The Last Jedi. "I made it all pretty much from scratch," Cheng said. "It was a definite learning process and probably took me about two months to put it all together." Rose has special significance for Cheng. "It means a lot to me, as an Asian woman," Cheng said. "She's the first Asian-woman character in Star Wars, so the moment I saw Kelly Marie Tran cast in it, I was like, 'I have to do this character. I'm doing this character, I'm doing this costume.'"
And when Kelly Marie Tran arrived at the red carpet, she walked over to Cheng and the two embraced. "I definitely almost cried. She was saying she was very close to crying," Cheng says. "I can't believe I just met her."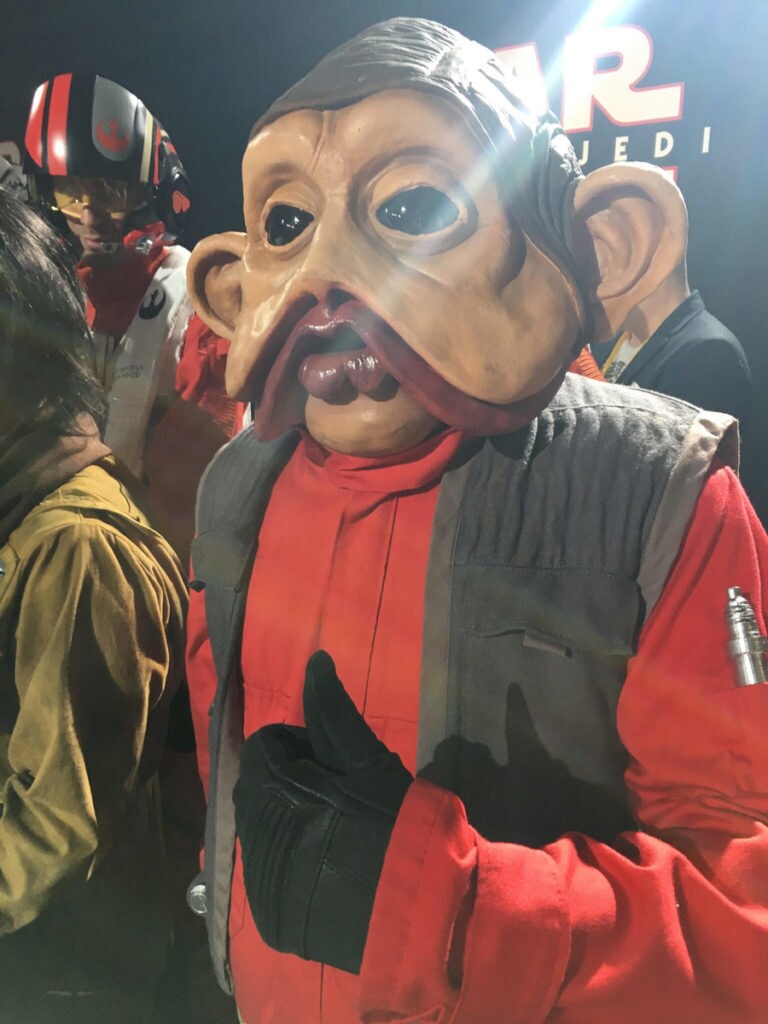 Gabriel Arroyo from Redland, California, worked on his Nien Nunb costume for three months. And he had some extra-special help putting it together -- from Mike Quinn, the actor who performed the Sullustan alien in Return of the Jedi, The Force Awakens, and The Last Jedi. "Really amazing guy, very supportive of our costuming groups," Arroyo said. "I met him at a comic convention. We started chatting, I told him I was interested in this character. He gave me little tips about what the material felt like, what it was made out of. The gloves were probably the hardest part to build and find, so he gave me little pointers about how the gloves were, the texture, colors, things like that. It was real exciting." (Fun fact: even Arroyo's mask is homemade.)
Doug Ridley, hailing from Moorpark, California, and attending as Jedi Master Luke Skywalker, worked with a friend to make his costume as accurate as possible. "For me, Luke Skywalker is my favorite character and the one I relate to the most," he said. "It's an amazing opportunity [to be here]. Star Wars is such a big part of my life."
Making the trip from San Diego was Rachel Williams, dressing as General Leia Organa in a costume that took four months to complete. Leia looks especially regal in The Last Jedi, and Williams captured Carrie Fisher's essence perfectly. "She's our princess," Williams said. "The newer generation has been blessed with amazing characters like Rose and Rey and Hera and Sabine and Ahsoka. My generation had Padmé. And we wouldn't have any of them without Leia. It's just really important for me to be here dressed as Leia."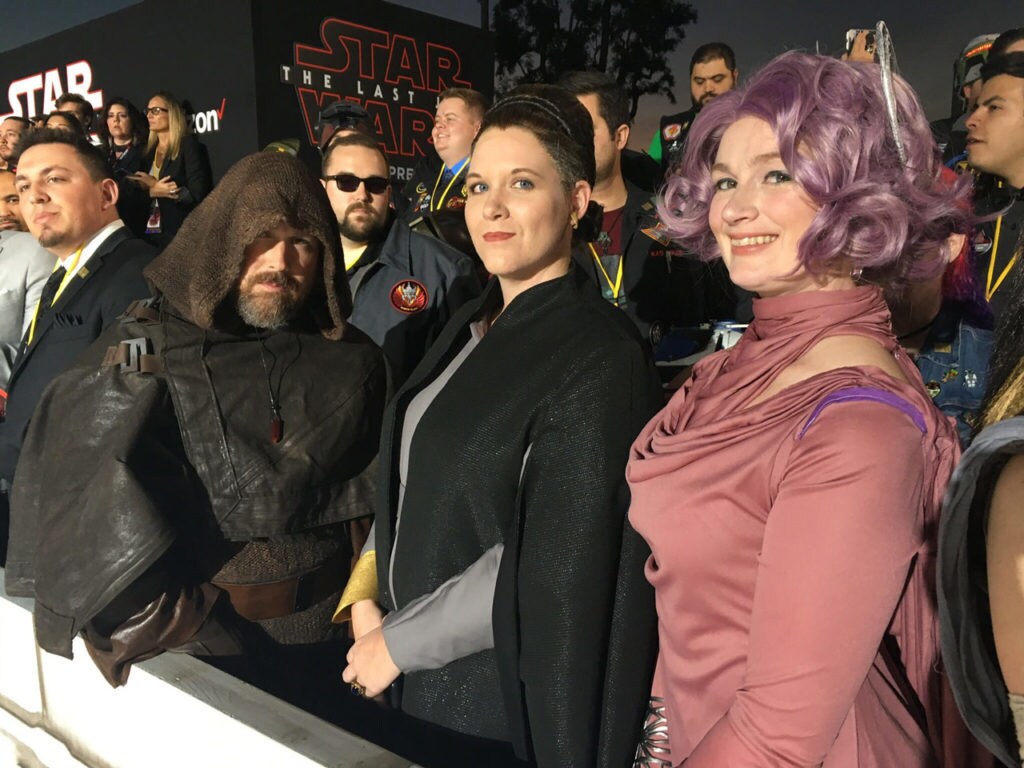 Finally, Lisa Saunders, a Los Angeles resident who braved the city's traffic to attend, costumed as Laura Dern's Amilyn Holdo. The original reason Saunders chose the character was pretty simple. "Initially I chose it because she was all purple, and I dig that," Saunders said. "And then I read Claudia Gray's Leia, Princess of Alderaan, and I don't know if I have ever identified with a Star Wars character as much in my life." The costume took two months to build, and Holdo was challenging, as very few photos or video as the character have been released. But good reference came from a surprising (if small) source. "The day I was starting to work on this, it was Force Friday and my friend Ryan [in the 501st Legion] sent me a picture from a sticker book he found, and it was the full front reference. I was like, 'Yes!'"
To borrow another Star Wars phrase, these fans are truly fearless and inventive.
Star Wars: The Last Jedi arrives December 15, 2017.
Dan Brooks is Lucasfilm's senior content strategist of online, the editor of StarWars.com, and a writer. He loves Star Wars, ELO, and the New York Rangers, Jets, and Yankees. Follow him on Twitter @dan_brooks where he rants about all these things.