Luke's gunner from The Empire Strikes Back recounts Star Wars Celebration Europe fan encounters!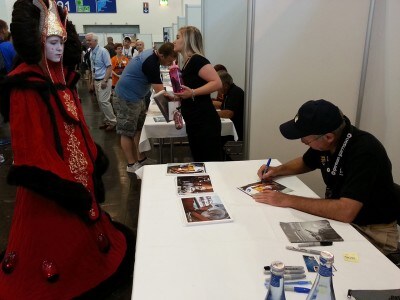 Some weeks after returning to Tierfon from Essen and Celebration Europe in Germany, I found myself one Sunday morning surfing onto the YouTube post of the "Words with Warwick" interview with Anthony Daniels. After a couple of minutes of requisite entertainment banter, Warwick Davis draws some excellent and thoughtful insights from Anthony on Star Wars as popular culture which I plan to reference in a future post or two. C-3PO expresses to his talented and ever-engaging host excited surprise over the number of Russian fans he encountered at CE to reinforce his point on how Star Wars has become a part of worldwide popular culture where fans and entertainers share a "joyous familiarity."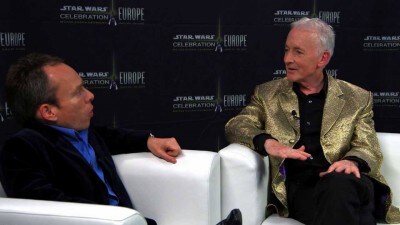 At the autograph tables in Halle 10, I myself encountered a fan or two from Russia. Scores of Germans, of course, came as well. But I also met fans from England, Wales, Scotland, Northern Ireland, Ireland, France, Belgium, Luxembourg, The Netherlands, Denmark, Norway, Sweden, Finland, Poland, the Czech Republic, Slovakia, Hungary, Austria, Greece, Turkey, Israel, Switzerland, Spain, Brazil, Canada, the United States, Australia, New Zealand, and Japan. I think I recall even a fan from Mongolia. And then I had a number of fans who were American and British servicemen and women and their families who were stationed in Germany, some of whom were staff volunteers at the con.
Essen truly opened its doors. All up and down the Rüttenscheider Straße, two streets over from the Messe Essen complex, dozens of restaurants with outdoor seating hosted fans and participants, helping to generate a festive Gemütlichkeit for all of us. The chosen location for some of Mary Franklin's Elite Squad and the Official Pix crew was "Fritzpatrick's Irish Pub." Here we had outdoor seating for scores of patrons with Guinness and regional bier on tap.
The "green room" for guests and staff was the bar at Atlantic Congress Hotel, on the plaza right next to the Grugahalle which housed the huge Celebration Stage. There, many a joyous reunion took place. Mine came early, on the Thursday night when I was grabbed from behind by Anthony Forrest, the New Hope Stormtrooper on Tatooine who succumbed to Obi-Wan's Jedi mind trick and uttered the famous line, "These aren't the droids we are looking for."  Tony regaled my daughter, who was serving on Mary's Elite Squad, with his war stories from the Tunisian desert, where of course the Tatooine exteriors were filmed way back when.
As a recent 501st inductee, I made the rounds during the con to visit with Garrison and Rebel Legion members to learn what all the different squadrons were doing to advance charitable causes. On Saturday night, my daughter and I attended the 501st dinner party at the Musikpavillion in Gruga Park behind the Messe Essen convention complex. A massive, catered affair involving hundreds of members from all over Germany hosted by the Vader's Fist, where the joyous familiarity was indeed international.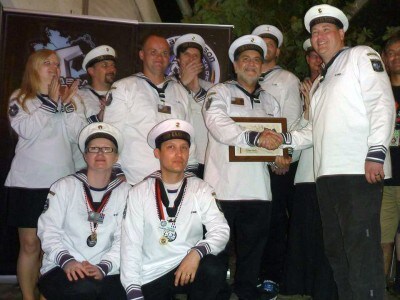 As a Navy man, I have to note one particular highlight that caught my attention. Late in the evening off stage left, Steve Sansweet was inducted into the German Garrison's "Coastal Hammer" Squadron, which represents the Imperial Navy. "They gave me the outfit as a gift the night before, but I thought it was just something for the collection," says Steve. "The induction as an honorary member was a surprise -- a very pleasant one." Since the mid-'90s, Steve's traveled to Germany every two to three years to be a guest at Jedi-Con, a smaller convention hosted by the Official German Star Wars Fan Club. "So I've gotten to know many German and European fans and have become friends with a fairly large number of them." Referring to Nathan D-King's induction photo, Steve says that the uniform is "very cool. Even the gold-colored buttons on the sleeves have the Imperial cog. That's our fans: Details down to the buttons!"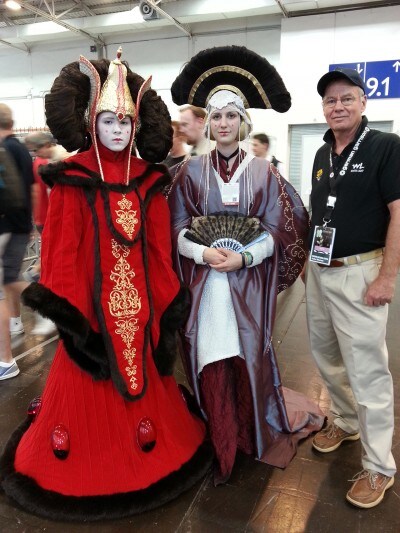 I myself was captivated by two young ladies who appeared as Amidala before my table from different directions. The Queen Amidala is 15-year-old Selma Siggelin, the daughter of Swedish Royal Air Force Capt. Lars-Åke "Sigge" Siggelin, who is also a member of the Nordic Base Rebel Legion. Sigge explains to me that Selma is actually listed as a "501st youngling" with a homemade Stormtrooper armor they built together. "But she realizes that an Amidala costume doesn't get you 501st approval," he adds. "So she is starting to look for some 'dark side' costumes, Zam Wesell being a favorite and Asajj Ventress, but Nightsister [is] the most probable."
The Amidala in the pre-Senate gown is the 29-year-old Marie Jost, a librarian at the University of Liege from Esneux, Belgium. She is there with her boyfriend, Nathan Plumier, a psychiatric nurse at the University Hospital of Liege who accompanied her as a Jedi knight. The pair has been a couple for six years, and they share a devotion to Star Wars that began in childhood. Marie, who is also a gifted artist, had taken so much time to make Nathan's costume she had little left to make her own. "I wanted to make a Amidala costume, because I love her character and all of her dresses," she tells me. "I chose this one because it was not too difficult to make in one month!"
I could go on and probably shall in another place and time. But I must leave you with one anecdote that is especially moving to me personally. On the Sunday, a 30-something German professional from some stadt to the north came to my table and tells me how Star Wars has affected his life. It inspired him to be a civil engineer in search of a higher calling. And he found one: he had designed and is managing his medium-sized town's waste treatment facility. And now he is in the process of designing the municipality's new energy system that will help make it semi-independent of the electricity grid. He is joyously beaming with pride as he shakes my hand. He has come for an autograph, but what he really wants is to tell me how he has been taking on the Empire all by himself.
John appeared as Dak, Luke Skywalker's back-seater in the Battle of Hoth in The Empire Strikes Back. He also appeared in the film substituting for Jeremy Bulloch as Boba Fett on Bespin, when Boba utters his famous line to Darth Vader, "He's no good to me dead." Follow him on Twitter @tapcaf.