Artist Tim Anderson talks to StarWars.com about his own Star Wars: The Force Awakens countdown: creating one drawing a day until December 18.
The impending release of Star Wars: The Force Awakens has been inspiring fans for years. It's wild to think that the film we learned about on October 31, 2012, (a long time ago) is now almost around the corner. Like, less than 30 days. I'm sure none of you need a reminder. If you're like me, you've been filling your days with as much Star Wars as possible -- whether it's rewatching the films, acquiring new apparel and collectibles, or playing video games like Disney Infinity and Star Wars Battlefront. I've also been enjoying projects from fans; projects such as Tim Anderson's 300 Days of Star Wars.
Tim is creating new Star Wars illustrations for 300 days, and he's almost at the finish line. His art career was inspired by the galaxy far, far away. When Tim received The Art of Star Wars: The Empire Strikes Back while he was in college, he realized being an artist was a viable career choice. He was especially interested by the idea of being a concept artist. He read every concept art book he could and ended up studying at the Art Center College of Design. He's been working on video games, films, theme parks, and more since graduating. I talked with Tim about his history with Star Wars, why he decided to draw Star Wars art every day for 300 days, and more.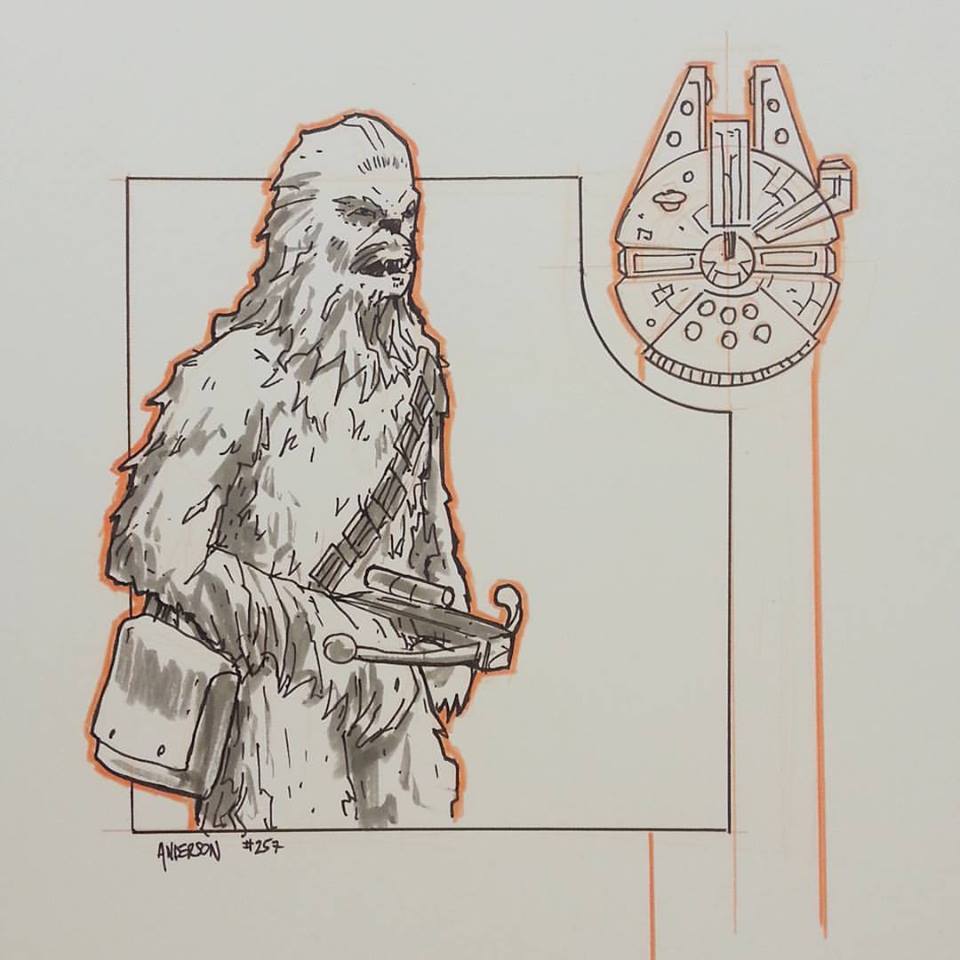 StarWars.com: What is your first memory of seeing Star Wars, and why has Star Wars stuck with you?
Tim Anderson: It's difficult to pinpoint a specific first memory; Star Wars has just always been a part of my life. My parents' first date was to actually go see Star Wars, and by the time I was born in '81, the trilogy was well under way. I remember watching the films on VHS all throughout my childhood, and it's always been so ingrained in me that it's also hard to nail down any one reason it has stuck with me. At this point, it would be kinda like asking me what my first memory of my left arm is and why that has stuck with me.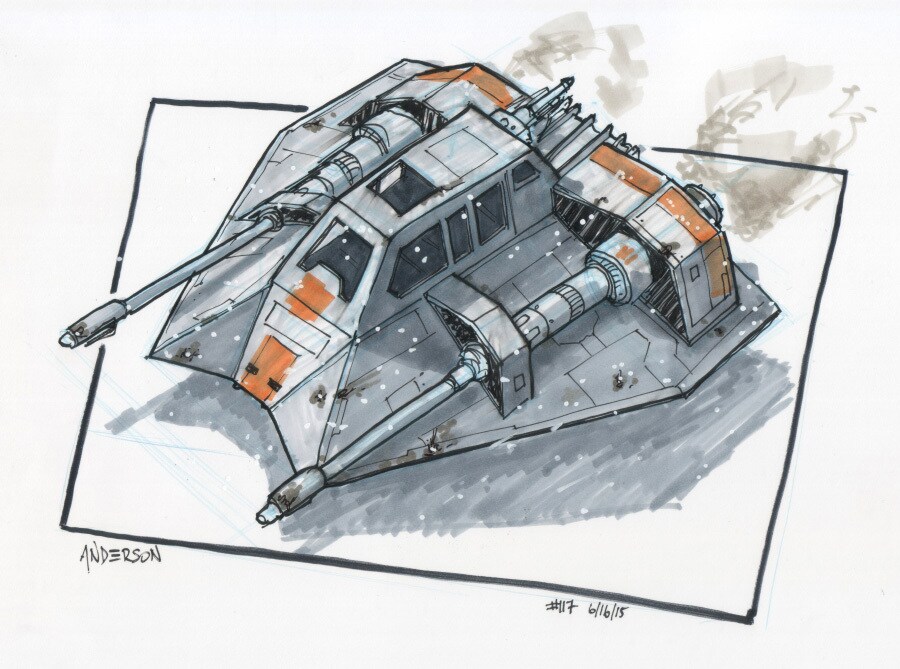 StarWars.com: What made you decide to count down to The Force Awakens with sketches?
Tim Anderson: I have tried several times to get on a daily drawing regimen, and I always seemed to peter out after, like, three or four days. One of my favorite illustrators, Jake Parker, posted a video challenging artists to "draw 100 of something," as a way of practicing drawing. As I tried to think of what that "something" could be, I realized that Star Wars would be a topic that would probably motivate and inspire me sufficiently. And then I decided to do one better than the challenge (or 200 better, I guess) and do 300! At the time, The Force Awakens was a little over 300 days away, so I put the two together, and it's kept me motivated and excited ever since! It also helps that so many other people are also counting down to the film, and a lot of people have taken an interest in following my project. The feeling of accountability that I have for my followers has helped push through my laziness several times along the way.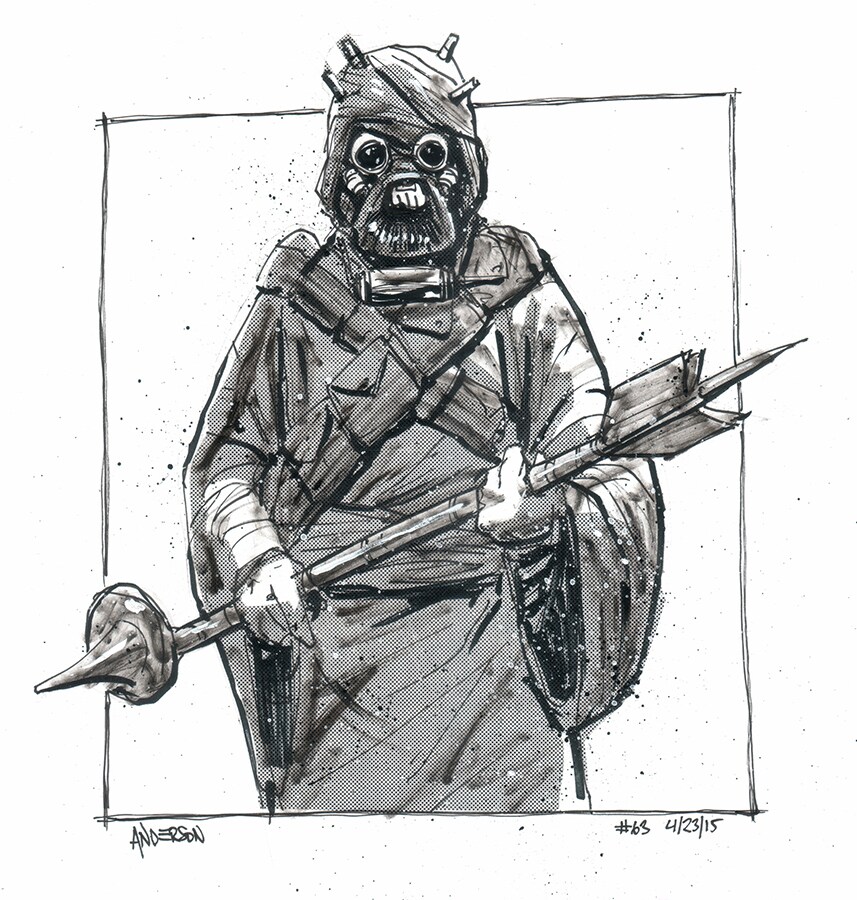 StarWars.com: Doing anything every single day isn't easy. What have been some of the challenges of completing sketches?
Tim Anderson: I'll admit that there have been a handful of days that I've missed my drawing and had to make up for them on subsequent days. There have been things like travel, sick kids, too much work to do, etc. At first I would try to at least scribble a little something to say that I'd done it, but that wound up kind of missing the point of the exercise. I didn't set out to do it on a daily basis just for the sake of having something to do each day; my objective was to make myself a better draftsman, and I realized I can best achieve that by putting some effort into each one and not by rushing them. That being said, some days turn out better than others.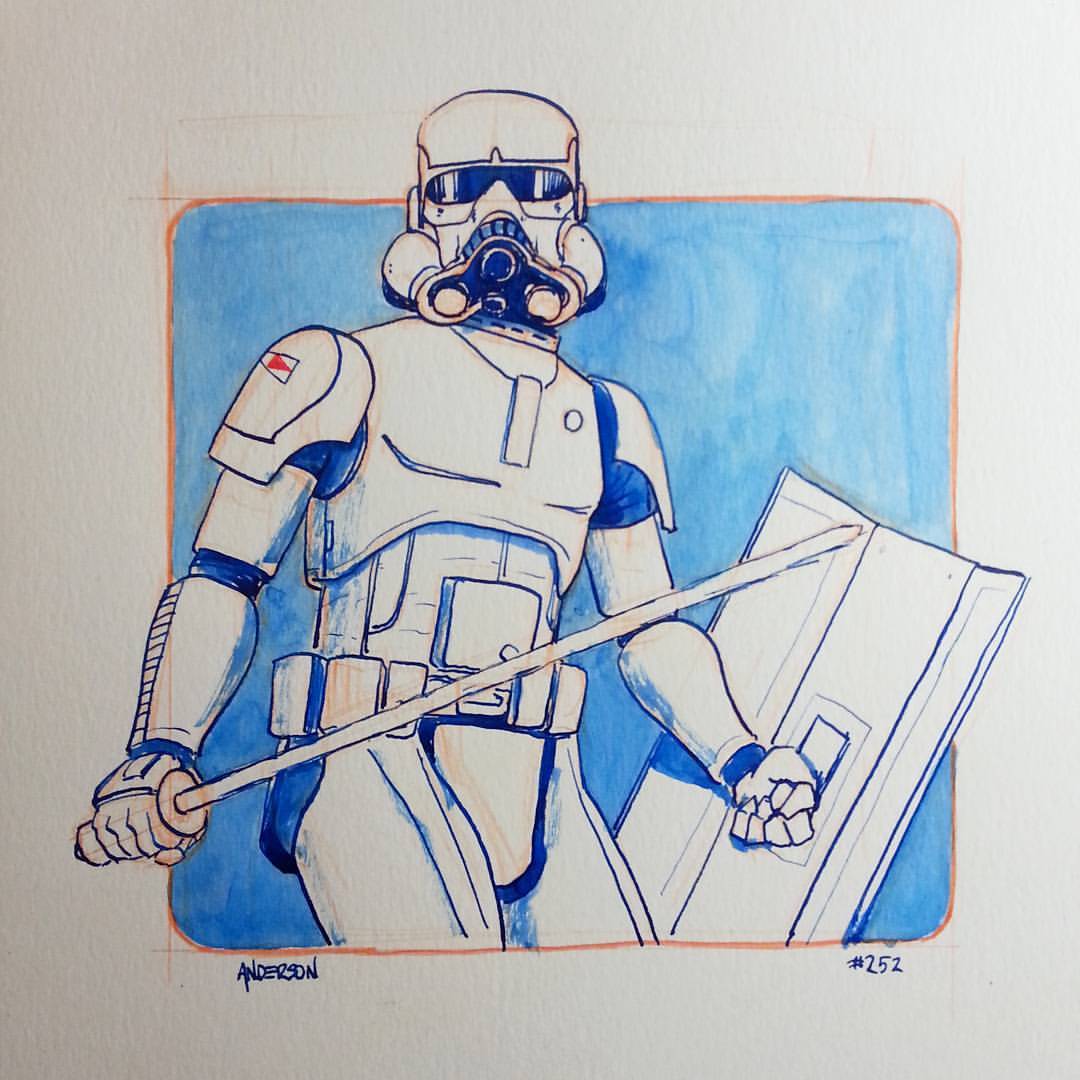 StarWars.com: I noticed you've drawn characters from all eras of Star Wars (even some pieces inspired by Ralph McQuarrie's concept art!), but which era is your favorite and is there any rhyme or reason to the characters you've chosen?
Tim Anderson: The classic trilogy is by far my favorite era, no question. I've really enjoyed The Clone Wars and Star Wars Rebels, but they are not as big a part of me yet, being so much newer. To me, Star Wars is the classic trilogy. And as I've matured as an artist, my awe for McQuarrie's work has only grown, as has my admiration for his work and its impact on the Star Wars universe.
As for which characters I choose specifically, my reasons have been all over the place. Sometimes my kids suggest someone. Other times friends ask for something specific. Often, I use these sketches to explore certain styles or techniques that are outside of my comfort zone. In cases like that I'll usually choose a character I know really well, like Boba Fett, C-3PO, Darth Vader, or a stormtrooper. Then I can focus more on the presentation and style than on the design of the characters, since I know them so well.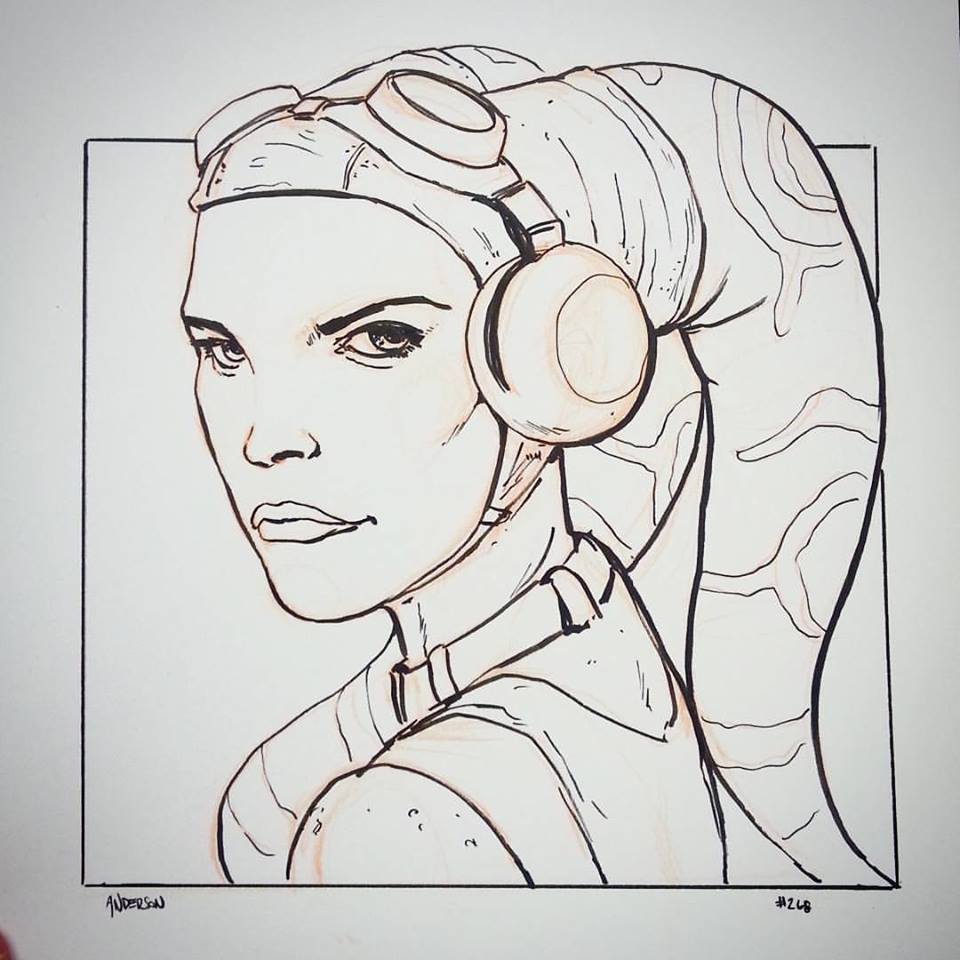 StarWars.com: After The Force Awakens is released, will you keep working on Star Wars sketches for practice or do you have another project in mind?
Tim Anderson: I'll definitely still draw Star Wars from time to time -- heck, with so many new films and shows coming out over the next decade, there will be plenty of new stuff from which to choose! But I plan on mixing in some other stuff to my daily drawings. I've grown a lot as an artist by doing this project, and it's a habit I definitely want to keep going.
StarWars.com: Have you encountered any other fans also doing daily sketch projects and if so, have you supported each other with words of encouragement?
Tim Anderson: Yeah, there are a few of my Instagram followers who have joined in at various points. One hopped in with 100 left to go, another at 50, and there have been a couple others along the way. It's flattering that others would want to join me on this, but it ultimately I think we're each motivated by the love that we all share for Star Wars and what it means to us individually.
Keep up with Tim's project on Tumblr, Instagram, and Facebook. Looking at new Star Wars art every day is a fine way to count down to December 18.
Amy Ratcliffe is a writer obsessed with Star Wars, Disney, and coffee. Follow her on Twitter at @amy_geek and keep up with all things geeky at her blog.