Meet the luminous winner of the High Republic cosplay contest from Star Wars Celebration Anaheim.
StarWars.com is shining a light on those who truly give the saga its power: the fans. In the StarWars.com Fan Spotlight, we're honored to tell their stories. 
Before Star Wars Celebration Anaheim 2022, Lucasfilm Publishing Creative Director Michael Siglain issued a challenge to avid Star Wars: The High Republic readers. "Calling all #StarWarsTheHighRepublic fans & cosplayers!" he wrote on Twitter. "Best cosplay wins a prize from the Luminous 5!" 
Isabella Holguin was up for the task.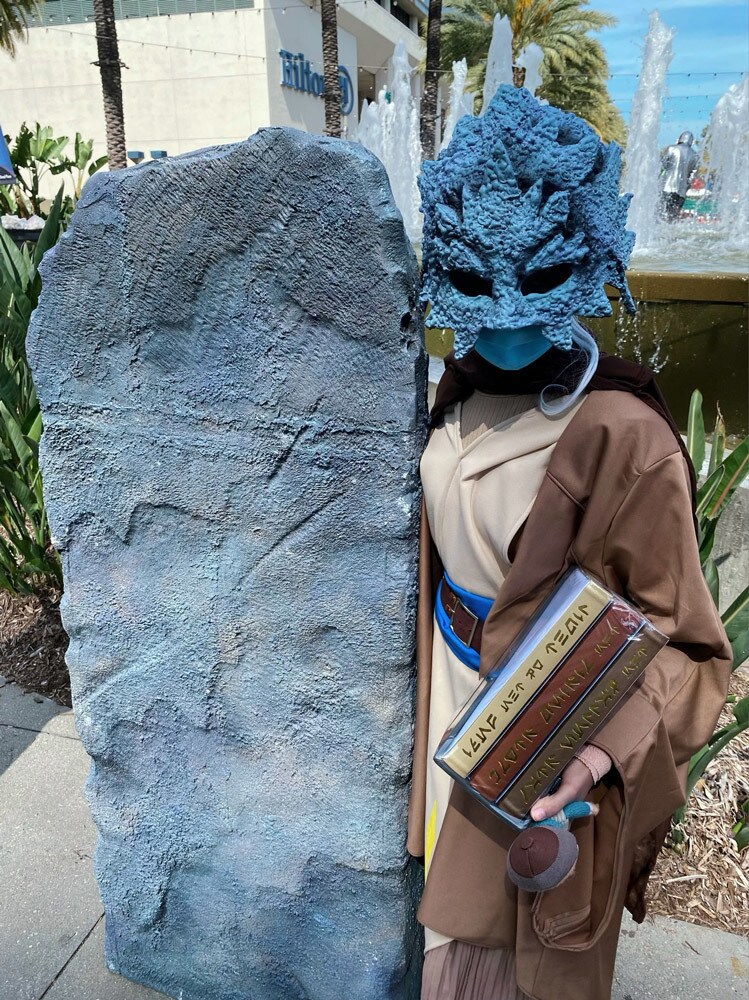 In fact, she was already hard at work designing a High Republic-themed costume for her first-ever Star Wars Celebration. "When thinking of who I wanted to cosplay as for Celebration, I absolutely knew I wanted to do someone from The High Republic," Isabella tells StarWars.com. "The stories and characters mean so much to me."
She first came across the exciting new era of Star Wars stories while on the hunt for a new book to crack open. "They looked so magical and exciting, fully showing the height of the Jedi," she recalls. "Within one chapter of Light of the Jedi, I was already hooked. My favorite book of the era is The Rising Storm, despite how much it hurts me when reading it. And, of course, my favorite comic is The High Republic Adventures!"
Young Qort from the action-packed all-ages comic series stood out for his striking design, and because Isabella enjoyed his journey in the story. But there was someone else she couldn't leave out of the fun: Geode, the Vintian navigator of the Vessel.
"The idea to bring Geode along came from countless Tweets of people saying they hoped to see a cosplay of him, so of course we had to provide," Isabella says. "Once the idea was laid out, my dad and I set to work on creating them, and the full cosplays were finished within a week."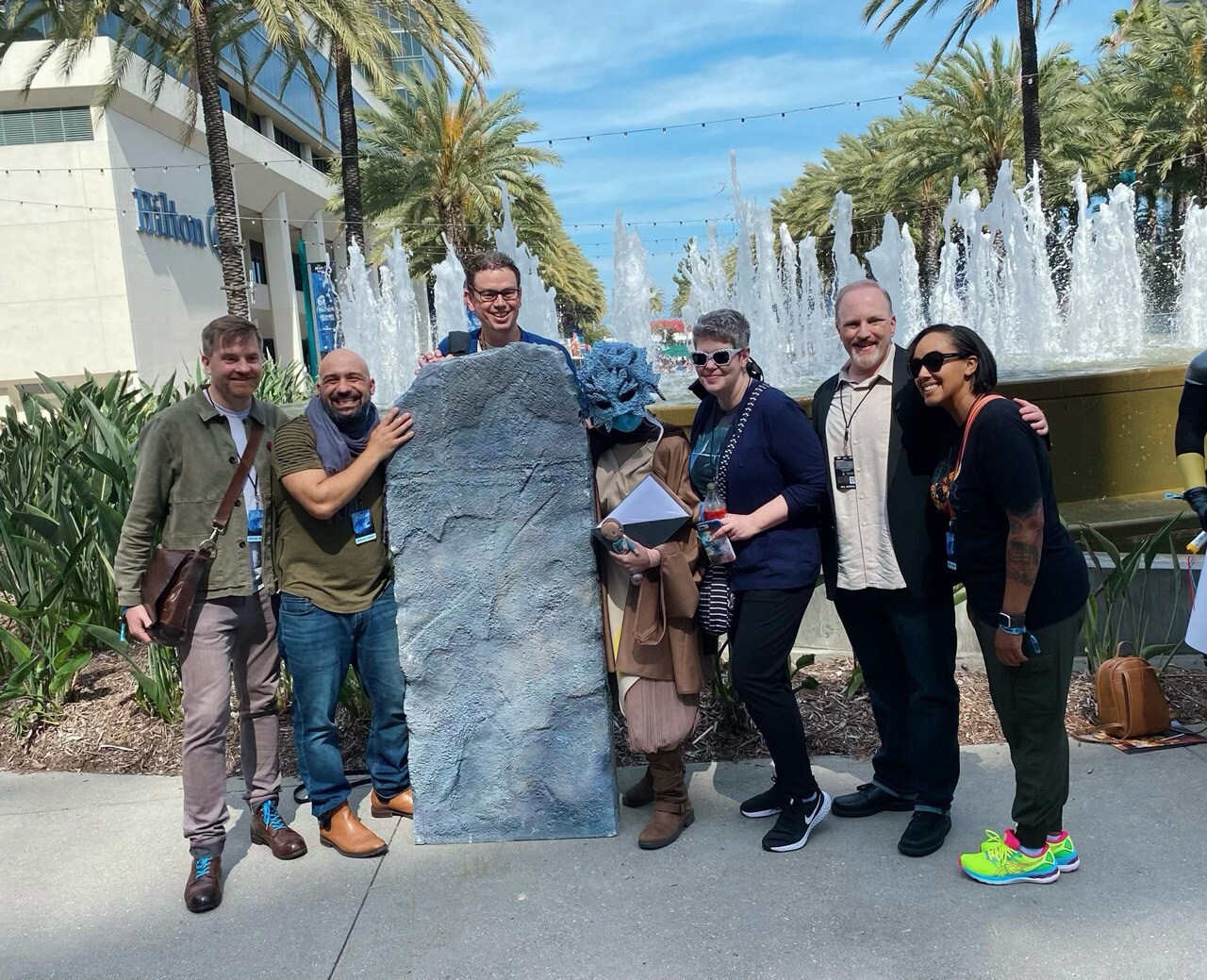 Qort and Geode drew gasps of admiration not just from Star Wars fans at the convention, but from the five authors of the first phase of The High Republic -- Charles Soule, Daniel José Older, Cavan Scott, Claudia Gray, and Justina Ireland -- as well. As for Isabella, she was over the moon to meet the luminous writers.
"Seeing all of them during the High Republic meetup, being so supportive and loving towards the fans, really shone on how positive this community is," she says. "It was such a great moment to be able to tell them, 'Hey, this thing you made really changed my life!' and to be able to feel that love radiating back. They are all just amazing people, and I don't think I'll ever forget that experience."
Isabella's creative take on Qort and Geode claimed the title of Best Cosplay that day.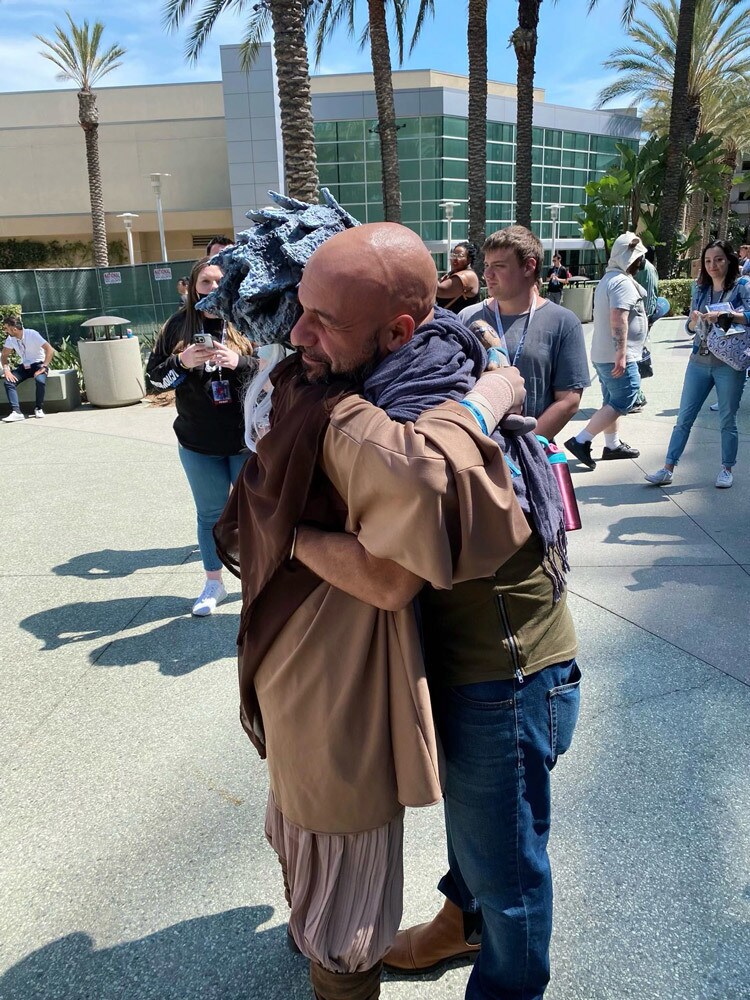 But it's not about the accolades. Above all, Isabella loves experiencing the joy of the galaxy far, far away with her fellow fans and friends. "Star Wars is so special to me because of the community that it brings," she says. "I grew up in a household that loves Star Wars, it was always something that brought us together. To now have that be extended towards friends and creatives, it's such a positive and remarkable feeling!"
---
The StarWars.com Fan Spotlight Q&A
What's your favorite Star Wars movie, and why?
Isabella: The Empire Strikes Back has always been my favorite for so many reasons. I mean, it has the Vader and Luke duel, Yoda, Bespin, the Battle of Hoth, and, of course, the debut of Zuckuss! What's not to love?
Would you join the Rebel Alliance or the Empire?
Isabella: Rebel Alliance all the way! I would love to bring hope all across the galaxy. And of course wouldn't mind becoming best friends with Wedge Antilles.
You can have Mando's Darksaber, Kylo Ren's unstable red lightsaber, or Luke Skywalker's green lightsaber. Which do you choose and why?
Isabella: I'm not a very Sith person, but I can't resist Kylo Ren's saber. It's too beautiful to pass up.
If you could align yourself with any group in the Star Wars galaxy — the Jedi, the First Order, the Mandalorian Death Watch, whatever you want — what would it be?
Isabella: The underworld speaks to me the most. Bounty hunting seems a little too dangerous, so I would love to be a smuggler or some kind of informant.
Which Star Wars character would you want as a road trip buddy?
Isabella: It would be a crime not to say Geode! He would be the perfect navigator and I'm absolutely sure he would know of all the best clubs to stop at.