Get a first look at Star Wars: Darth Maul -- Son of Dathomir #2, continuing an untold story from Star Wars: The Clone Wars!
It's Wednesday, which means one thing: new comic books! Check out a preview of new Star Wars comics available today after the jump!
STAR WARS: DARTH MAUL — SON OF DATHOMIR #2
$3.50
40 pages
With his Shadow Collective army stalled, Darth Maul calls on Mother Talzin for help and is sent reinforcements — the deadly Nightbrothers! Maul is ready again to take on the Separatist droid army, Count Dooku, and General Grievous — in a trio of simultaneous battles!
* Adapted from un-aired episodes of The Clone Wars TV show!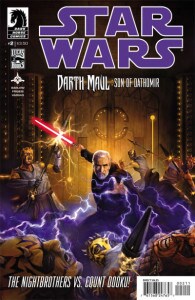 CREATORS
Writer:
 Jeremy Barlow
Penciller:
 Juan Frigeri
Inker:
 Mauro Vargas
Colorist:
 Wes Dzioba
Cover Artist:
 Chris Scalf