LEGO marks the first day of Celebration in record-breaking style.
With this many stormtroopers on Endor, the Empire probably would've won.
To open Star Wars Celebration Chicago and celebrate the 20th anniversary of LEGO Star Wars, LEGO has gathered an entire legion of its own best troops, and in historic fashion: the company has achieved a Guinness World Records title for largest display of LEGO Star Wars minifigures -- featuring an astonishing 36,440 stormtroopers. Now available for fans to see on the show floor, the minifigures are arranged in the shape of a massive stormtrooper helmet, requiring 12 LEGO employees working 16 hours to place.
"We really wanted to something that would be memorable," says Michael McNally, senior director of brand relations at LEGO. "A lot of times we build really large things with our master builders, so we thought that we might change it up this time and go small scale [Laughs], and really focus on the minifigure. The minifigures have really become one of the most iconic parts of LEGO Star Wars over the years. There have been over a thousand different versions of Star Wars minifigures, so we thought it was great way to mark the milestone."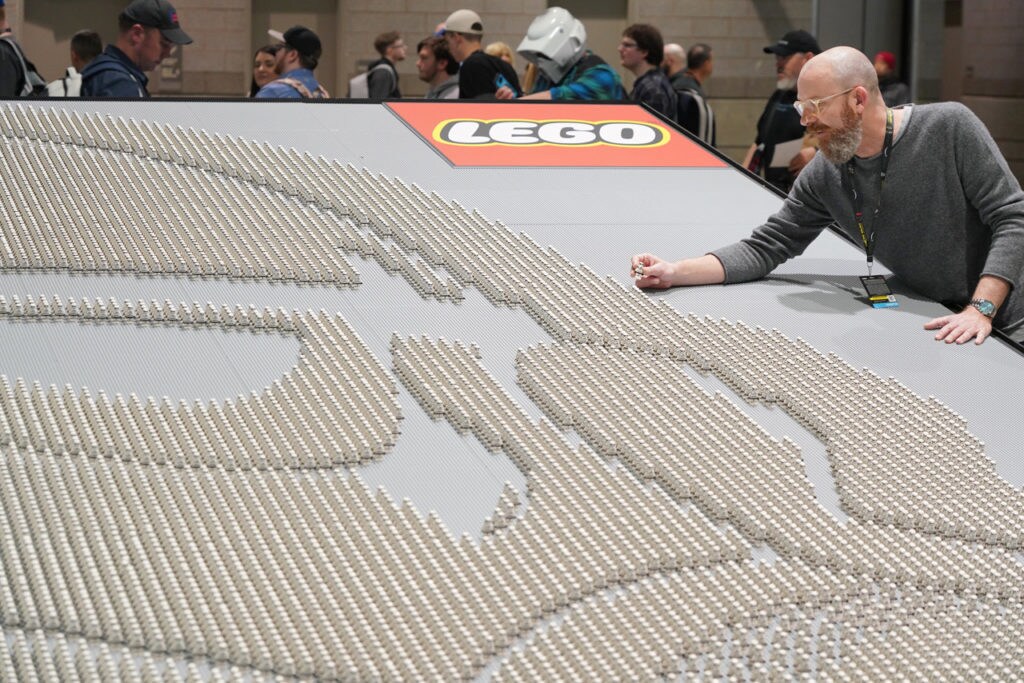 LEGO has broken Guinness records before, but this was the company's first attempt at a minifigure assembly in the US. Before it could be attempted, however, LEGO had to find out if they had the inventory. "We put in the emergency red phone call over to our colleagues in the Czech Republic, and they checked our central inventory of minifigure parts," McNally says. "It turns out we had enough of the stormtrooper minifigure parts to break the record." Plus, the version of the stormtrooper used is included in one of the five commemorative sets -- the Imperial Dropship -- launching this year for the 20th anniversary. "So it's a nice nod to the anniversary, as well," McNally adds.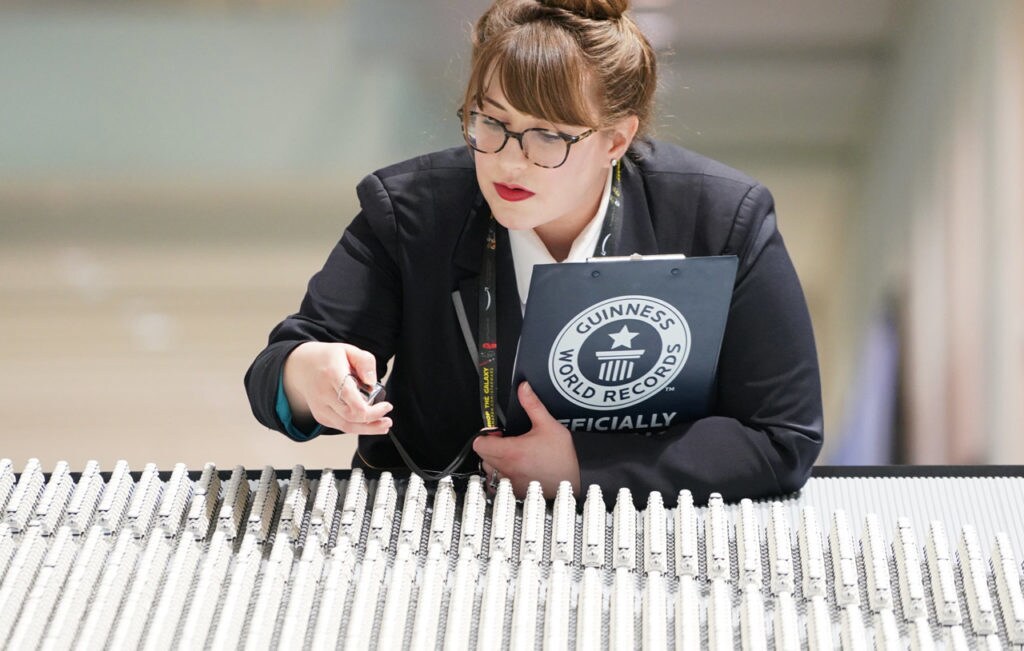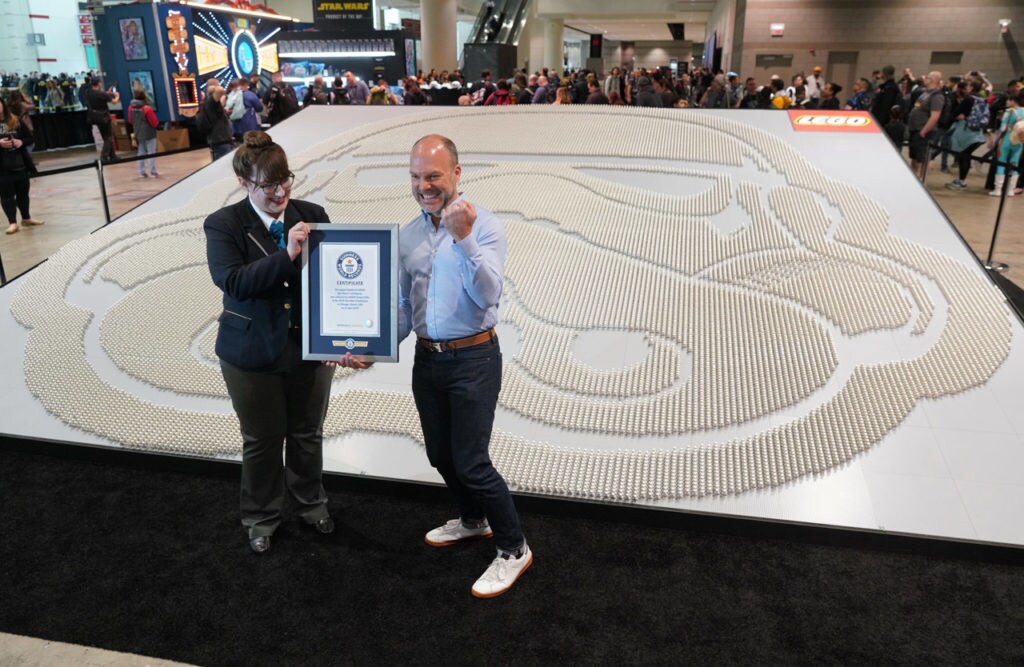 The model builders had to put each minifigure together the way you would when purchasing a set, and the overall helmet layout added an extra design hurdle. "The last time the world record was attempted, they were just lined up on base plates, straight in a row with no real formation," McNally says.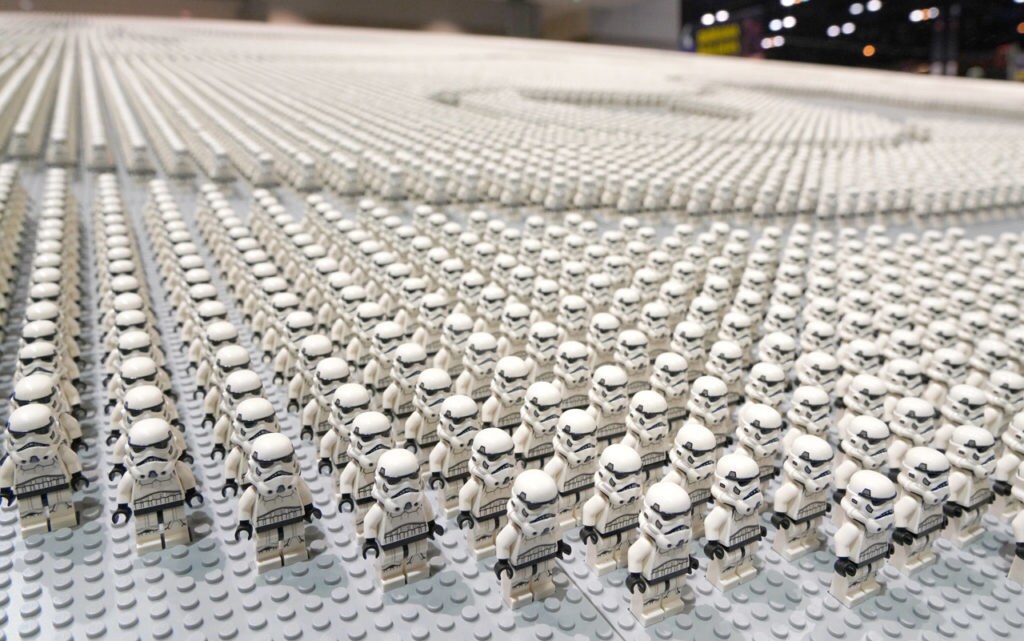 It is an impressive sight in person -- and a steady stream of fans have been taking photos in front of the display since its unveiling. "Really, it's about surprise and delight when it comes to any kind of Star Wars activation that we do," McNally says. "It was really about creating a visual that would stop fans in their tracks and remind them, Wow. Twenty years of LEGO Star Wars." On those grounds, we'd say these stormtroopers accomplished their mission.
If you're attending Star Wars Celebration Chicago, be sure to check out the stormtrooper minifigure display and visit the LEGO booth (#1616) for more surprises.
Visit StarWars.com's Star Wars Celebration Chicago hub for all the latest Celebration news.
Dan Brooks is Lucasfilm's senior content strategist of online, the editor of StarWars.com, and a writer. He loves Star Wars, ELO, and the New York Rangers, Jets, and Yankees. Follow him on Twitter @dan_brooks where he rants about all these things.
Site tags: #StarWarsCelebrationChicago2019, #SWCCNews