The legendary Jedi defeats Darth Vader for the championship in StarWars.com's fan-voted tournament!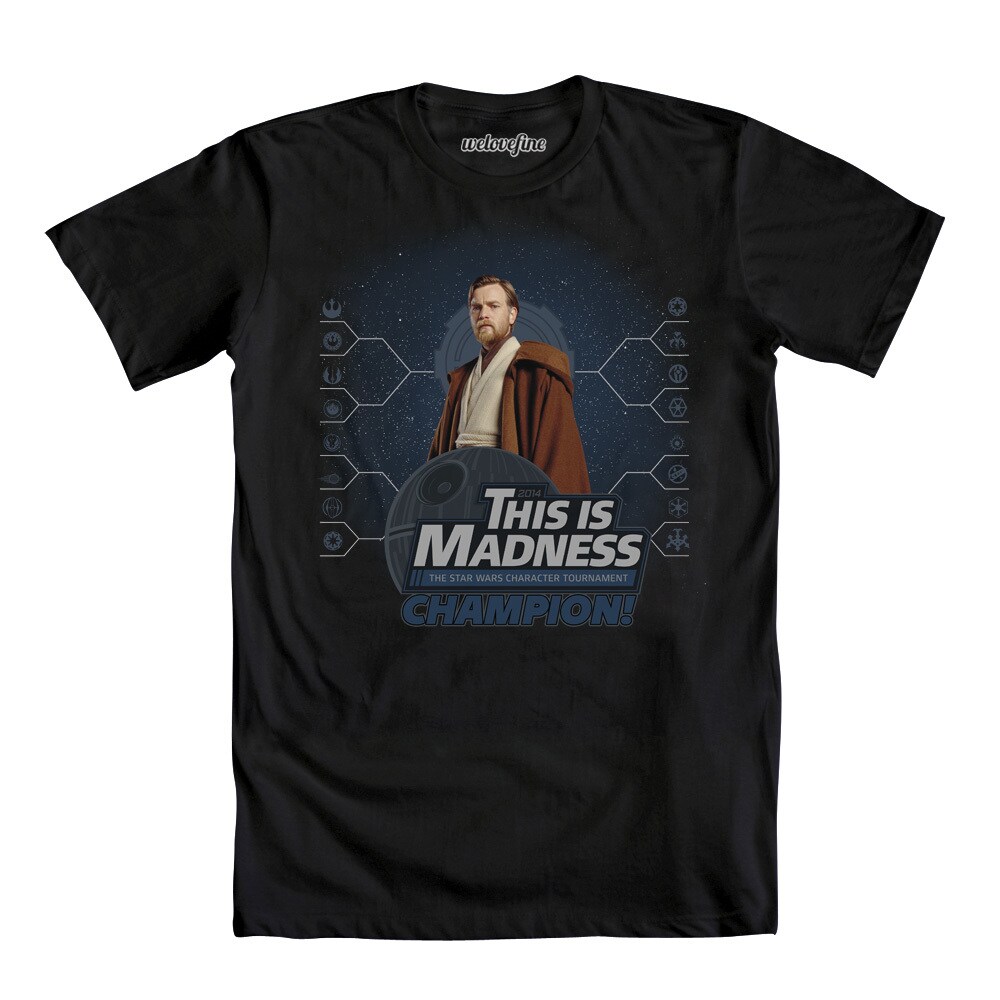 + Enlarge Image
It looks like Obi-Wan Kenobi really did become more powerful than Darth Vader could possibly imagine -- thanks to
Star Wars
fans.
The Jedi Master defeated his former apprentice for the championship in This Is Madness: The Star Wars Character Tournament, StarWars.com's fan-voted competition that decides the galaxy's most popular hero or villain. Obi-Wan won with a decisive 59% of the vote, jumping out to an early lead and never relinquishing. As a hero of the prequels, the animated series Star Wars: The Clone Wars, and the original trilogy, he has a cross-generational appeal that is hard to match, even for a Sith Lord.
In celebration of Obi-Wan's title win, WeLoveFine.com is offering a limited edition This Is Madness championship shirt with the famed Jedi atop the tournament bracket. The tee features Lucasfilm's official logo for the tourney and reflects the unique art style of thisismadness.starwars.com.
Obi-Wan had perhaps the hardest road to the championship, emerging victorious over several Star Wars icons, including Luke Skywalker (65% - 35%), reigning champion Yoda (51% - 49%), R2-D2 (73% - 27%), and Han Solo (63% - 37%). Darth Vader, conversely, came up short (one might say he "Force choked") for the second straight year in the final. In addition to voting Obi-Wan champion for the first time, however, fans engaged and competed in This Is Madness in an entirely new way.
Wikia, in collaboration with StarWars.com, launched "Predict the Madness." Fans were able to fill out their own brackets, share them with friends, and become eligible to win prizes from Sideshow Collectibles. More than 4,500 participants entered, but only one -- username Jarbatooth -- had a perfect bracket.
Yoda, winner of the inaugural edition of This Is Madness, kicked off the tournament with a special interview on ESPN's SportsNation. He spoke to Max Kellerman about his win and also addressed the outcome of his first matchup against Obi-Wan, saying, "picked the better-looking Jedi, voters did."
This year's competition featured a new play-in round and 32 combatants, with Tatooine junk-dealer Watto offering "expert" advice on each matchup. Reached for comment on Obi-Wan's win, he only replied, "Ahhh, big surprise. If he's anything like-a his Master, Qui-Gon, he probably fixed the tournament! Admittedly, I, uh, also tried to fix the tournament. But that's neither here nor-a there."
Lucasfilm thanks everyone who voted in This Is Madness.
StarWars.com. All Star Wars, all the time.