The team is thrilled to introduce the littlest stars of the High Republic to their biggest heroes.
Season 1 of Star Wars: Young Jedi Adventures continues today with brand-new episodes — and some major additions to the Disney+ and Disney Junior series. These episodes don't just feature the return of our favorite younglings; they'll also mark the first on-screen appearances of beloved characters from Star Wars: The High Republic comics and novels.
"From the beginning, The High Republic was all about giving people different entry points depending on their age and what they're into," Cavan Scott, one of the primary High Republic story architects, tells StarWars.com. He penned the first eponymous comic series as well as the game-changing novel The Rising Storm. Scott was thrilled to work with the Young Jedi Adventures team for one of the new episodes. "So to see these characters appear in a show as precious and delightful as Young Jedi Adventures, knowing that Bell and Ember will be there for a new generation of kids who are first discovering the Jedi, it's just humbling and wonderful."
Michael Olson, Young Jedi Adventures showrunner, is also delighted to help that generation feel at home in the galaxy far, far away. "It's been heartwarming to hear from parents whose children initially weren't showing interest in Star Wars, but after watching our show, became fans," he tells StarWars.com.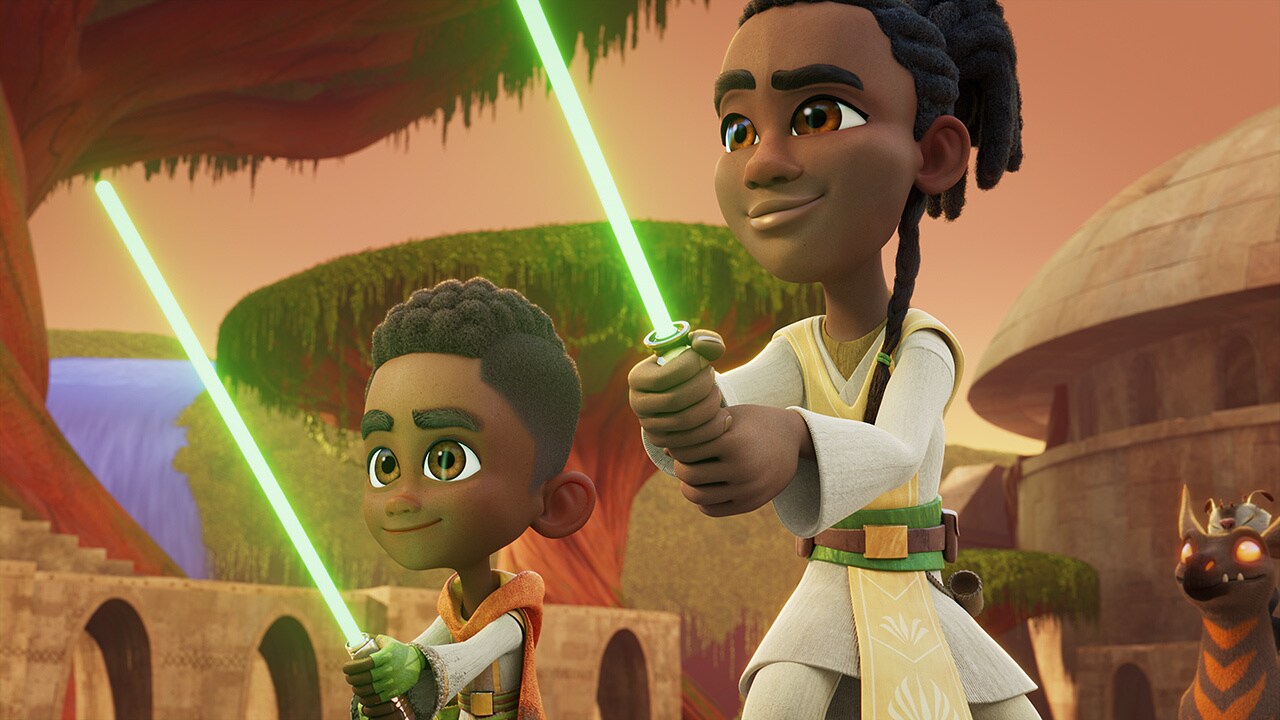 The calm before the (rising) storm
"Charhound Chase" brings book characters Loden Greatstorm, Bell Zettifar, and the charhound Ember to Tenoo for a special lesson, and the younglings aren't the only ones who are excited to see them there. Scott wrote the episode, and he joins High Republic fans in their enthusiasm for seeing the trio in a new medium. "It was so good to be able to tell a story for Bell and Ember when they're not in the middle of chaos," Scott says. "I get to tell a story of Bell where he is the mentor. He's the one who has experiences that the kids look up to, especially Kai."
Like Bell, High Republic fans will appreciate seeing the venerable Jedi Master Loden Greatstorm during a quiet respite. He brings wisdom and serenity to the Jedi Temple on Tenoo. "I've only had one experience with Loden Greatstorm before this, and that was quite traumatic for everyone involved," Scott jokes. "It was great to be able to tell a story of him when he is the Master Loden and everyone knows and respects and loves."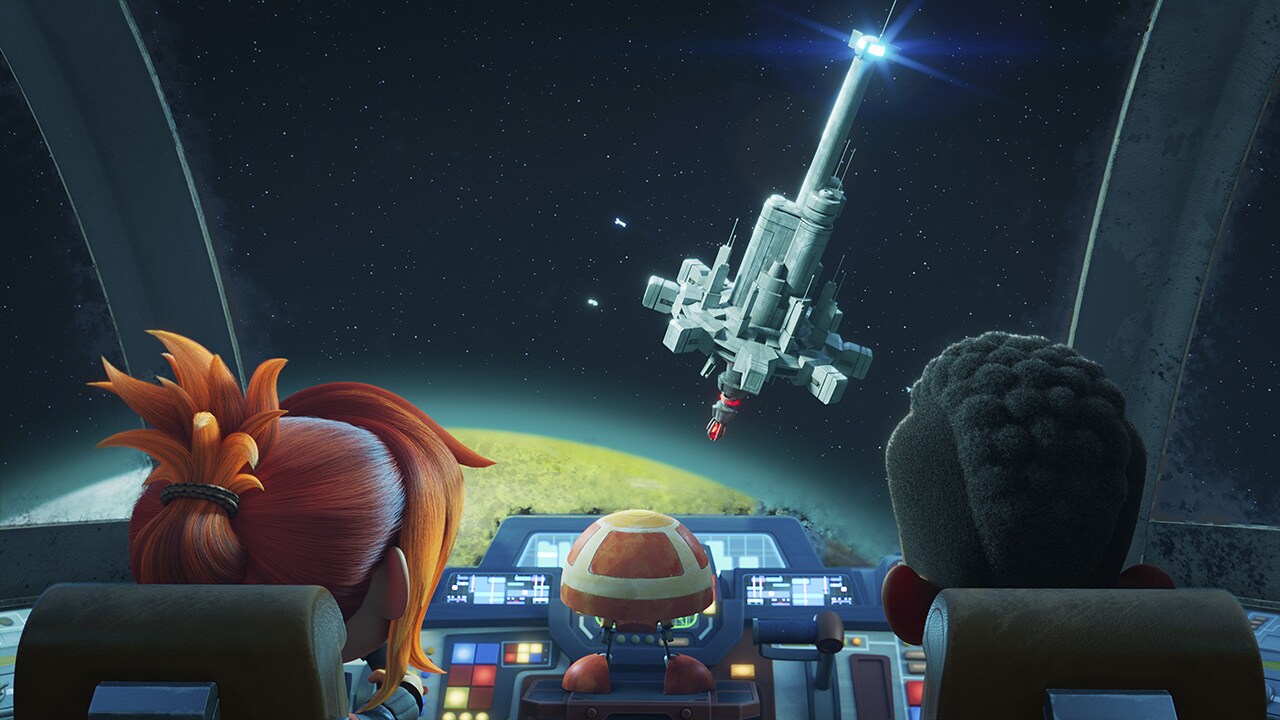 Drawing from experience
In "Stuck in the Muck," Kai, Lys, and Nubs are invited to tour the new space station Starlight Beacon. Pilot Nash Durango is happy to take them there, but the trip there doesn't go exactly as planned. Katie Kaniewski — a proud member of #NubsNation — wrote the delightful episode about the importance of learning from our mistakes.
"Perfectionism [and] that fear of messing up is something that I've struggled with my entire life," Kaniewski says. "My hope is that our young audience (and our not-so-young audience, too) can be heartened by the idea that this is a very real and very human thing that everyone deals with… If Kai, Lys, and Nubs can realize that messing up is okay, that life will go on and they will keep learning, then maybe we can, too."
When the younglings and their friends finally arrive at Starlight Beacon, very late but for a good reason, they meet their tour guide: Estala Maru. Scott, who created the character of Maru for the 2021 Marvel Comics series, was pleased to see the cranky-but-lovable Jedi have one more opportunity to stand in the spotlight. "One of the things we planned for the comic series, and we never had time to do, was explore Maru's character where he has relationships with younglings and Padawans, and he's a mentor to them," says Scott. "[This episode] explored that part of his life that I didn't get chance to do myself."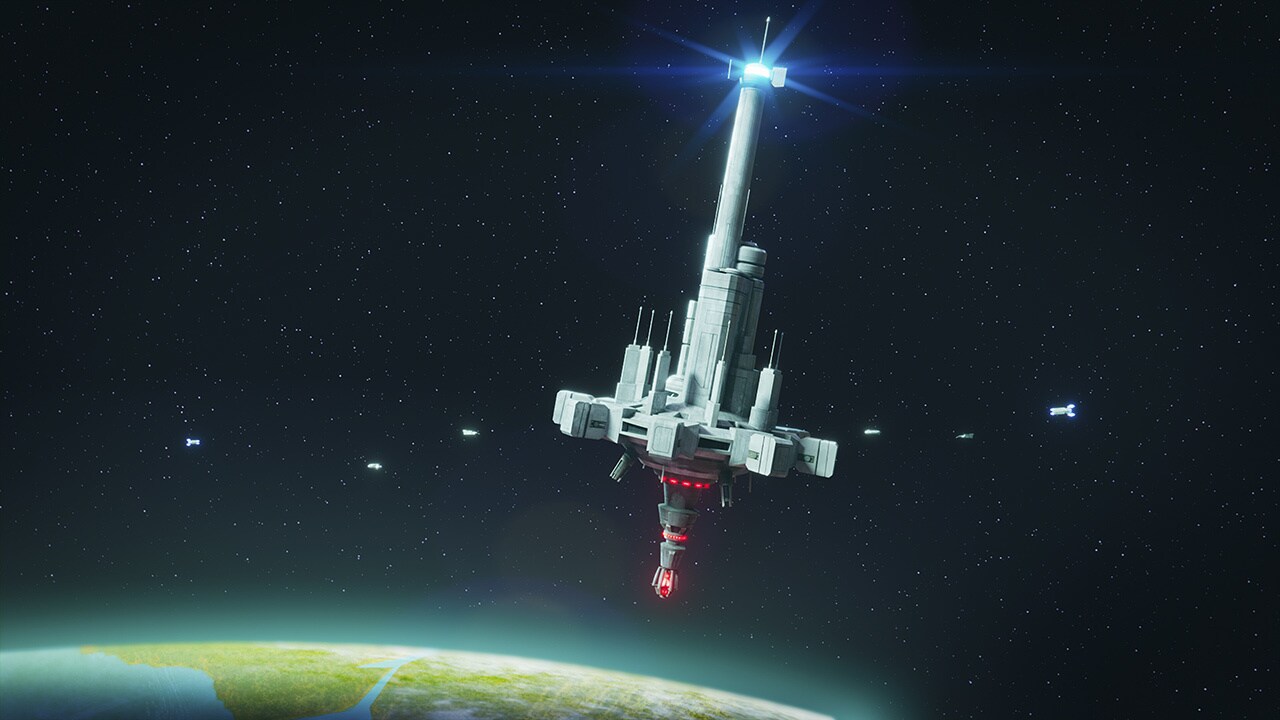 Designing Starlight Beacon
As for Starlight Beacon, which is practically a High Republic character itself, the Young Jedi Adventures team began with its look in the comic artwork and built out the design of the storied station. "My designers, led by Madi Hodges, are some of the biggest Star Wars fans I know," says Olson. "Madi and Bill brought their fandom and their knowledge to the table when they crafted the interior of Starlight Beacon.
"Additionally, we wanted to have subtle nods to the Death Star, because in our conversations with Lucasfilm and the High Republic team, Starlight Beacon is meant to be sort of the anti-Death Star. We very intentionally were looking for ways to, as George Lucas might say, 'rhyme' with the visual design language of the Death Star but keep it distinct and truthful to the books and comics as well."
Kaniewski vividly recalls writing the scene where the younglings enter the station. "Even just writing the words 'Starlight Beacon' made me say 'WHOA,'" she says. "I had to take a second to just sit in the weight of that. I knew the moment had to be full of awe and wonder and majesty, and it was so fun to envision such an iconic location through the eyes of our younglings."
And if you're a fan of The High Republic and you know the fate that befalls the glittering space station, Olson says you don't have to worry about the younglings getting caught up in any grownup adventures. "We were intentional in setting the show around the time of Starlight Beacon's construction and dedication," he says. "Our kids are living in a corner of the galaxy that's somewhat removed from the bigger events happening in the High Republic."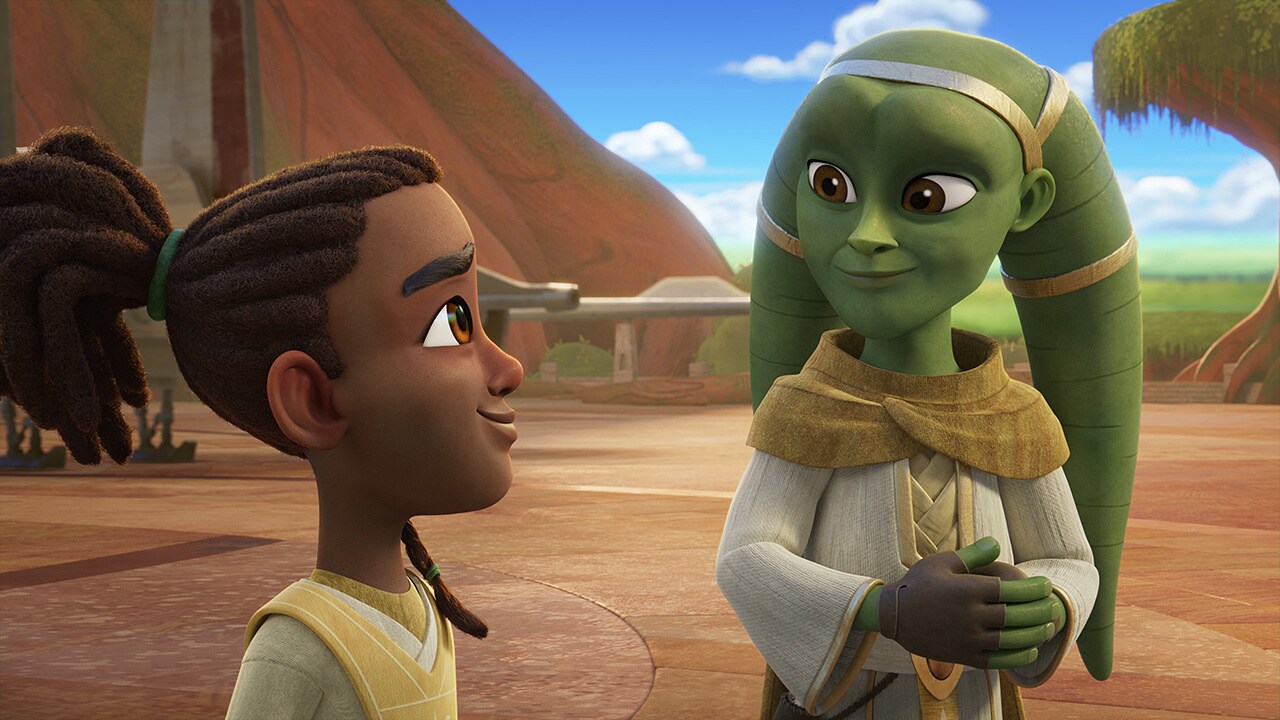 Finding their voices
Bringing the High Republic characters to life was a thrill for the Young Jedi Adventures team, and a challenge they took very seriously. "Early on, we knew we wanted Marcus Scribner to play Bell Zettifar," Olson recalls. "He has an incredible range, great timing, and a sense of warmth to his performances and to who he is as a person, so he felt like a natural fit for Bell. For Loden Greatstorm, we cast Matt Yang King, who is not only a fantastic actor, but he's also an incredibly versatile and talented voice actor. He was able to capture the confidence and poise of Loden while also being incredibly friendly."
Scott agrees. "My background is in drama and radio drama, so I'm used to hearing that moment where an actor performs your words and brings something to them that you never thought of yourself. That's how I felt when I heard Bell and Loden for the first time."
Estala Maru, an integral figure on Starlight Beacon, welcomes the younglings to the station with a kind voice. "I'm a fan of Critical Role and the incredible talent of all the actors on that show," says Olson, "and Liam O'Brien seemed to be a perfect fit. He found a distinct voice for Master Maru that's unique, inviting, and absolutely charming."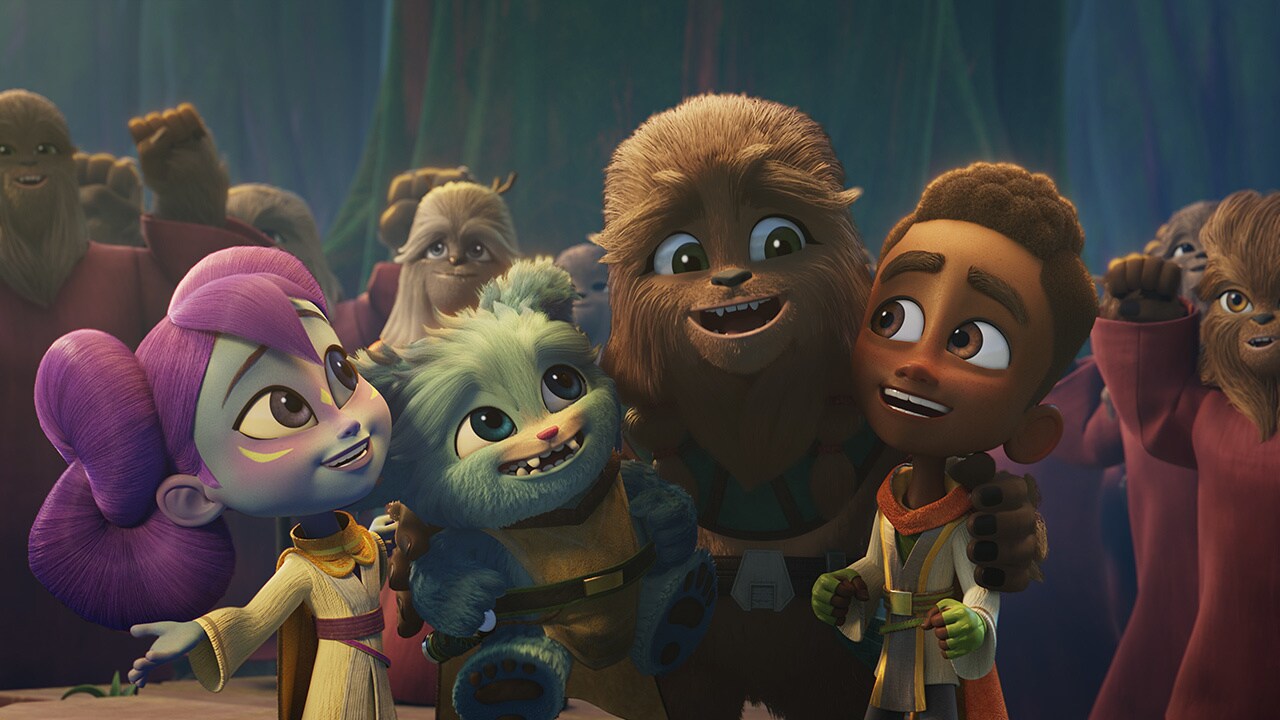 Looking to the future
Olson is excited for the other brand-new stories we'll see this season. "While we're delving into characters from The High Republic and getting to see Starlight Beacon, we've also got a standout episode where our young characters embark on a journey with Master Yoda," he teases. "Additionally, our Life Day episode was intimidating to make yet incredibly rewarding, and we can't wait for fans to see it. We also have an episode that's our take on a Fall Festival episode, reminiscent of a Thanksgiving theme — it's a heartwarming tale of family and community.
"This batch of episodes also has some of the most spectacular visuals we've done so far. Our design team and Icon Creative, our CG studio, have knocked it out of the park. Overall, it's a fantastic mix of episodes, featuring some fun, recurring villains fans might recognize, and we're also introducing a few new faces to the mix. Some of the stories also tee up exciting developments for the remainder of Season 1's episodes, which release next year.
"Lastly, I'll say that there may or may not be a couple High Republic Easter eggs sprinkled throughout this batch and the next, so keep an eye out!"
As for Scott, he hopes viewers young and old take away one very important message from his episode: Ember is a good girl. "I want a spin-off series: The Adventures of Ember," he says. "I'd write it for free. Don't tell them that... but I would."