Get a first look at beautiful new posters from PhaseRunner and Joe Hogan celebrating the Star Wars films and Star Wars: The Clone Wars.
For the artist known as PhaseRunner, holiday marathons of the Star Wars saga would come to make a lasting impact.
"Christmas in the '90s was never complete without me and my brothers huddling around the TV to watch Star Wars," he tells StarWars.com. "The promise of adventure these movies offered has stayed with me through my entire personal and professional life."
Indeed, that "promise of adventure" forms the basis of PhaseRunner's own Star Wars trilogy, of sorts. In three new, stunning paintings from ACME Archives, the artist depicts famous Star Wars craft arriving at some of the saga's most iconic planets, with the massive, boldly-colored worlds conveying a real sense of mystery at what awaits.
"The inspiration for my Dagobah, Mustafar, and Tatooine pieces came from those iconic moments you see in each episode, where a pilot approaches a new strange and wonderful looking planet, particularly Luke's first decent into Dagobah," PhaseRunner says. "I find the planets in the Star Wars galaxy vivid and rich in color, especially when contrasted against the blackness of space. They felt magical, and sometimes a little ominous. I wanted to echo this in my artwork."
Dubbed "Dagobah M-19," "Mustafar L-19," and "Tatooine R-16," these widescreen lithographs measure 36x12 inches, and will be available on September 1 at 9 a.m. PT at DarkInkArt.com and AcmeArchivesDirect.com, for $45 each in a limited-edition print run of 250 pieces.
In addition, artist Joe Hogan's Ahsoka Tano-centric Star Wars: The Clone Wars illustration, "A Padawan's Journey." A colorful and striking image, it's Hogan's tribute to a series and character that mean so much to him.
"The Clone Wars series debuted during a time in my life that I was very uncertain about who I was as an artist, despite knowing beyond a shadow of a doubt that I wanted to create Star Wars art," Hogan says. "I was already a huge fan of Star Wars since childhood, but was still struggling to find my voice after graduating art school in 2008. A few months later, the first episode, "Ambush" debuted, and the art style -- combined with classic George Lucas Star Wars storytelling -- heavily inspired me so much to keep working towards my goal of one day becoming a Star Wars artist."
Mission accomplished, we'd say. "A Padawan's Journey," measuring 18x24 inches and limited to 250 pieces, will be available for $45 on September 1 at 9 a.m. PT at DarkInkArt.com and AcmeArchivesDirect.com.
To mark the release of their prints, StarWars.com caught up with Phase Runner and Hogan for commentary on the making of their work, along with a look behind the canvas.


"Dagobah M-19" by PhaseRunner
"Initially, it was tempting to embellish or magnify certain elements of the planets with a view to show them from another angle or viewpoint, but after some good discussions with the Acme Archives team we soon agreed to keep the planet presentation close to what is seen in the movies.
For Dagobah I aimed to capture that enigmatic earthy vibe seen in The Empire Strikes Back; the wispy fog-like green that seems to seep into every corner of the planet. I wanted you to feel that uncertainty as Luke's X-wing approaches the planet's horizon."

"Mustafar L-19" by PhaseRunner
"Mustafar presented different opportunities, like whether to include the nearby gas giant Jestefad in the background, but ultimately I felt it took away from the relatively small but hellish planet. I enjoyed detailing rivers of lava and solar flare-like atmosphere."

"Tatooine R-16" by PhaseRunner
"Tatooine was all about capturing the iconic Millennium Falcon approaching the planet where it all started for a lot of us. Because Tatooine has two suns and three moons, I had a bit of a dilemma in choosing what to include and ultimately landed on what you see, again coming back to what best represents the movies. It was such a privilege to paint this planet knowing how much it means to so many people, including myself." 
Behind the Scenes 
"For each of these pieces I had a pretty solid vision in mind and was able to dive right into the creation process without the need for sketching. And though the composition for these images is pretty simple, I knew a successful end product would rely heavily on the lighting setup to create a dynamic piece with plenty of atmosphere.
"The most important step in the early stages was finding the right scale. The spaceships needed to be large enough to be discernible, but small enough to lend focus to the size of the planets and create a cinematic look.
"I approach my artwork differently depending on the style required and how quickly it needs to be finished. Some pieces consist entirely of paintwork in Photoshop, whilst others rely more heavily on the use of photos for texture. I typically find myself using a combination of both methods as I did with these."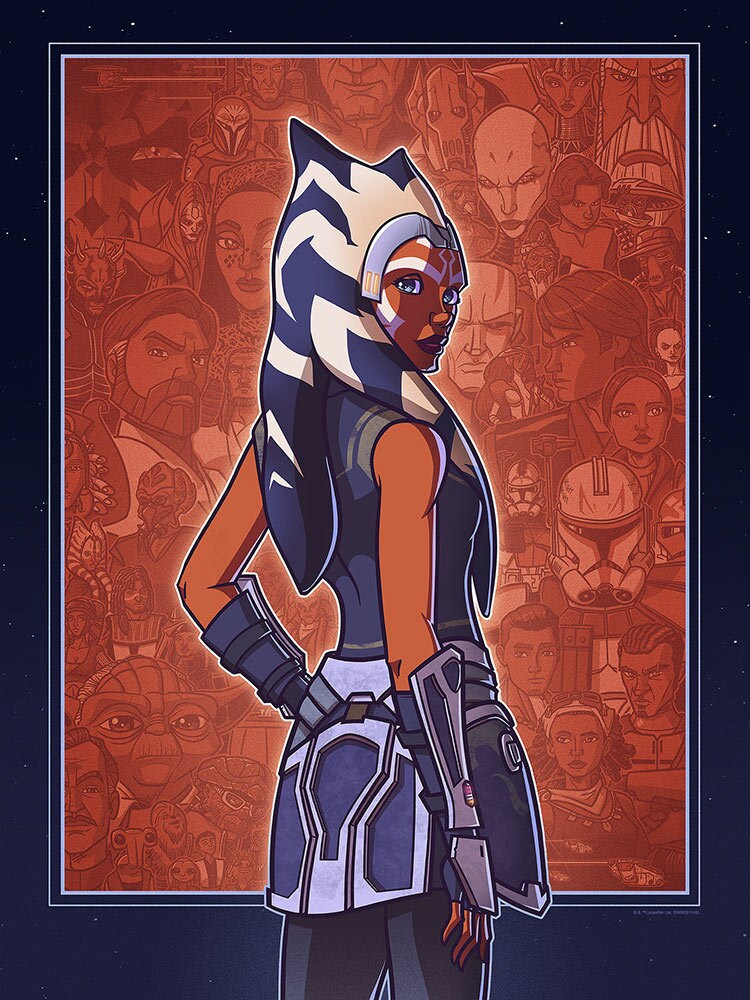 "A Padawan's Journey" by Joe Hogan
"Ultimately, I wanted "A Padawan's Journey" to be a reminder of how far the series had come since the beginning. I tried to include all the characters from the series that had a huge impact on Ahsoka's story and The Clone Wars series as a whole. ARC Trooper Fives was a last-minute inclusion after realizing how large his impact was on the overall story, as well. This piece was my love letter to the series that fueled my journey as an artist, and I am so humbled and pleased to finally share it. "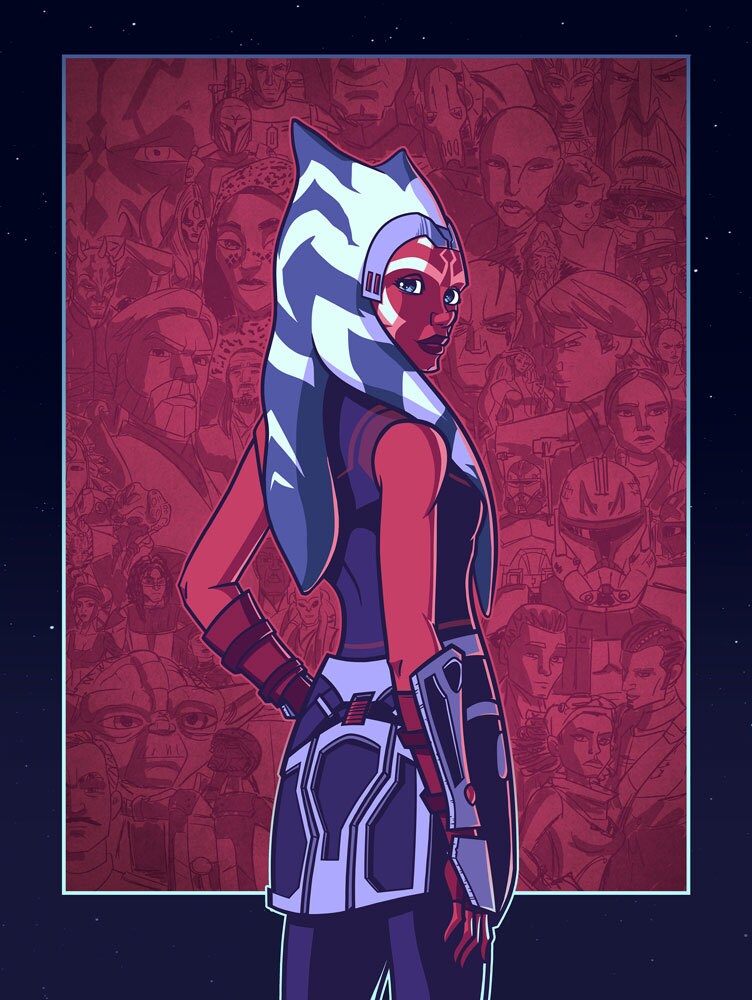 Behind the Scenes
"When it was announced that the series would return and conclude with a final season, I lost my mind. The teaser trailer announcing the show's return made me want to get to work right away, and eventually led to "A Padawan's Journey." At the time I started, I had no idea what the front of Ahsoka's final season outfit would look like, so I directly referenced her pose from that very teaser trailer!
Another challenge I faced was that, because she was originally shown in a blue-tinted hologram, I couldn't be sure what color all the details on her new outfit were either. So originally, I chose to keep the colors limited to reds and blues for the sake of creating a cool aesthetic. When I ended up pitching the piece to ACME (shout-out to my girlfriend Tina for convincing me), I was able to correct all the details on Ahsoka's outfit because enough footage for referencing had been released by then. It was exciting to see which parts I originally got right and which needed fixing based on one fast shot in the original teaser trailer. I also changed the color scheme to her outfit's proper colors, and changed the red theme to an orange to better represent Ahsoka."
"Dagobah M-19," "Mustafar L-19," "Tatooine R-16," and "A Padawan's Journey" will be available on September 1 at 9 a.m. PT at DarkInkArt.com and AcmeArchivesDirect.com.
Dan Brooks is Lucasfilm's senior content strategist of online, the editor of StarWars.com, and a writer. He loves Star Wars, ELO, and the New York Rangers, Jets, and Yankees. Follow him on Twitter @dan_brooks where he rants about all these things.
Site tags: #StarWarsBlog