Kamikaze Douga's action-packed short is a Star Wars story to remember.
Star Wars: Visions is here! The anthology series is now streaming on Disney+, featuring original shorts from some of the world's best anime studios. In Visions Revisited, StarWars.com picks the greatest moments from each short. Whether you love anime, Star Wars, or both, we'd be honored if you would join us.
Spoiler warning: This article discusses story details from the Star Wars: Visions episode "The Duel."

Creative risks are exciting. And when those risks pay off, the results can be innovative and transcendent. That's proven to be the case with Star Wars: Visions -- in which Lucasfilm essentially handed the keys to the Star Wars car over to some of the world's powerhouse anime studios -- and is exemplified in "The Duel." Coming from production house Kamikaze Douga and director Takanobu Mizuno, "The Duel" tells the story of the Samurai-like Ronin who comes upon a sleepy village just before marauders arrive to pillage and torment its people. It's all presented in grainy black and white with only select pops of color, and reflects the heavy Japanese/Samurai-film influence on Star Wars back in a very powerful way. And the anime style on display -- fast movement, shading that seems to breath with life, and a cinematic flair -- works so well with Star Wars, it's a wonder Visions didn't happen sooner. It may sound like a cliché, but you've never seen Star Wars quite like this; over 40 years on from Star Wars: A New Hope, that's a great accomplishment. Here are five highlights.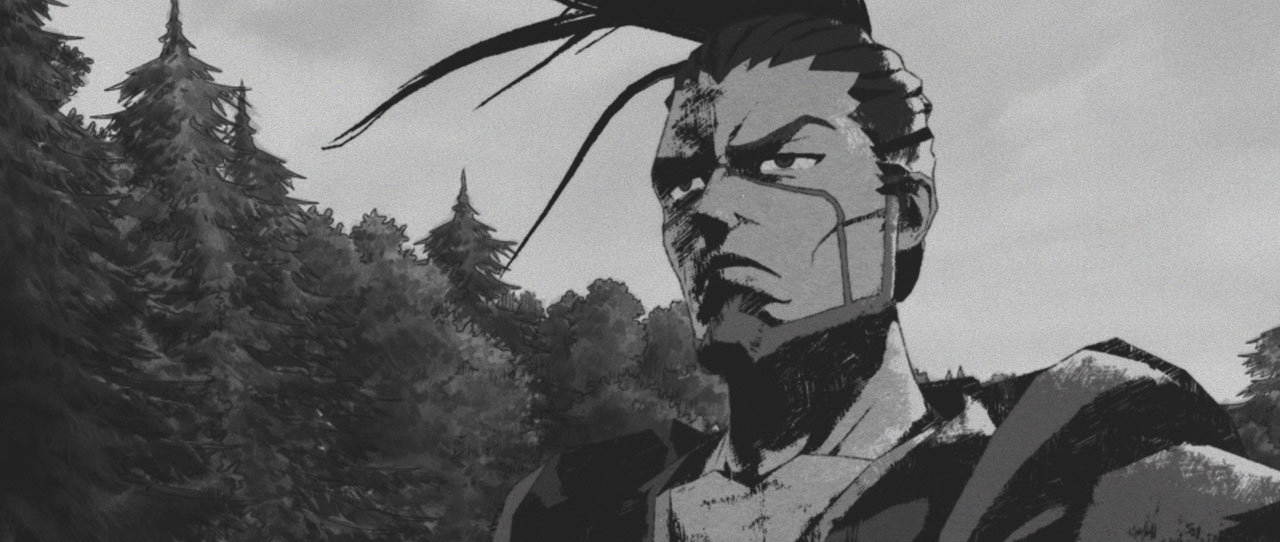 1. Meet Ronin.
The reveal of Ronin comes almost immediately in "The Duel," with a closeup on his face as he arrives at a quiet village. Ronin's serious expression and scarred visage speak volumes about this wanderer, but his friendly, chirping astromech also lets us know that he must have a hero's heart. Combined with stirring music, it's an instantly memorable introduction.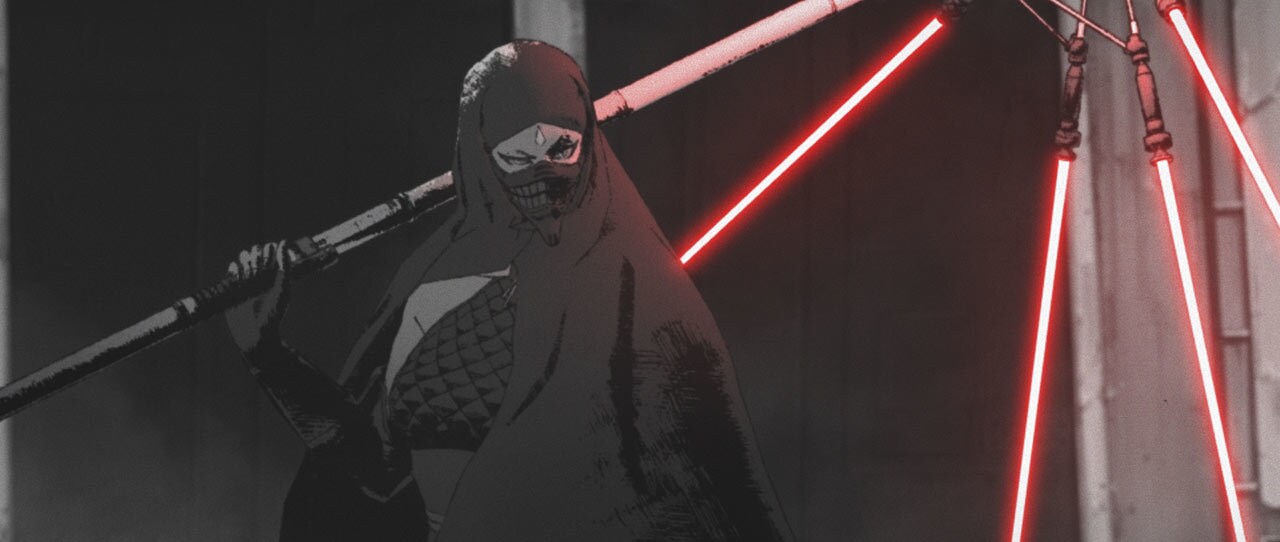 2. A Sith rises.
While bandits arrive at the village, Ronin quietly sips his drink and watches. There's a great sense of tension -- an unspoken reality that this is just the beginning of the conflict. That feeling is confirmed when a dark warrior rises from the marauders' vehicle and converts her staff into an umbrella-like lightsaber, filled with spinning red blades. She's a terror, and the use of color in for only her weapon makes this Sith's reveal even more impactful.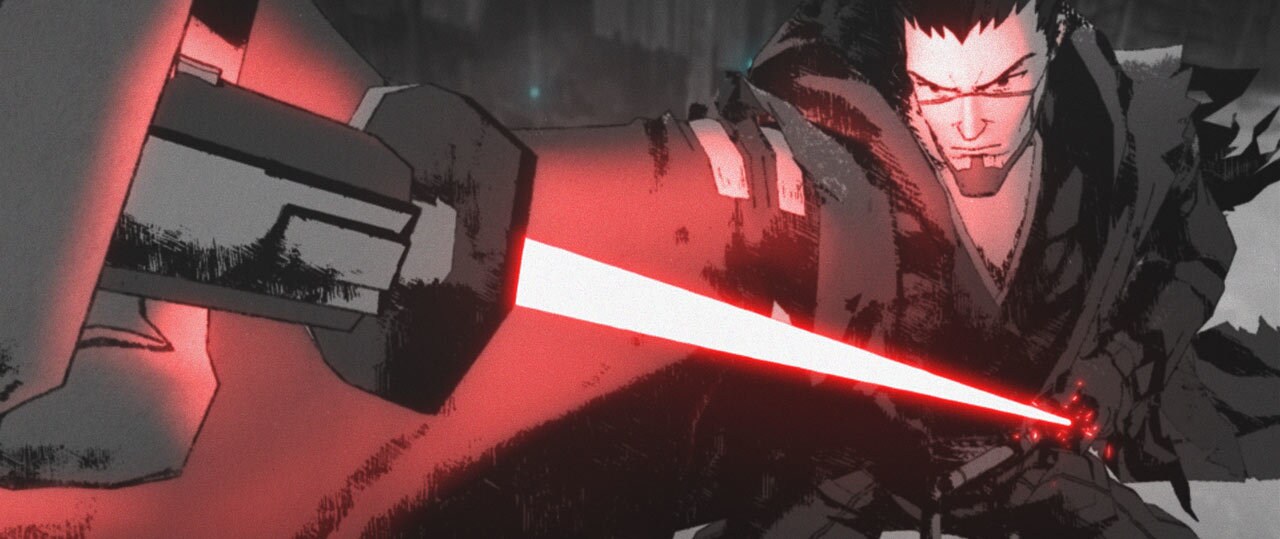 3. "It's a shame I'm not a Jedi."
I did not see that coming at all, and Ronin's red-bladed lightsaber raises even more questions. It's nice to be surprised, isn't it? 
(The duel was pretty fantastic, too.)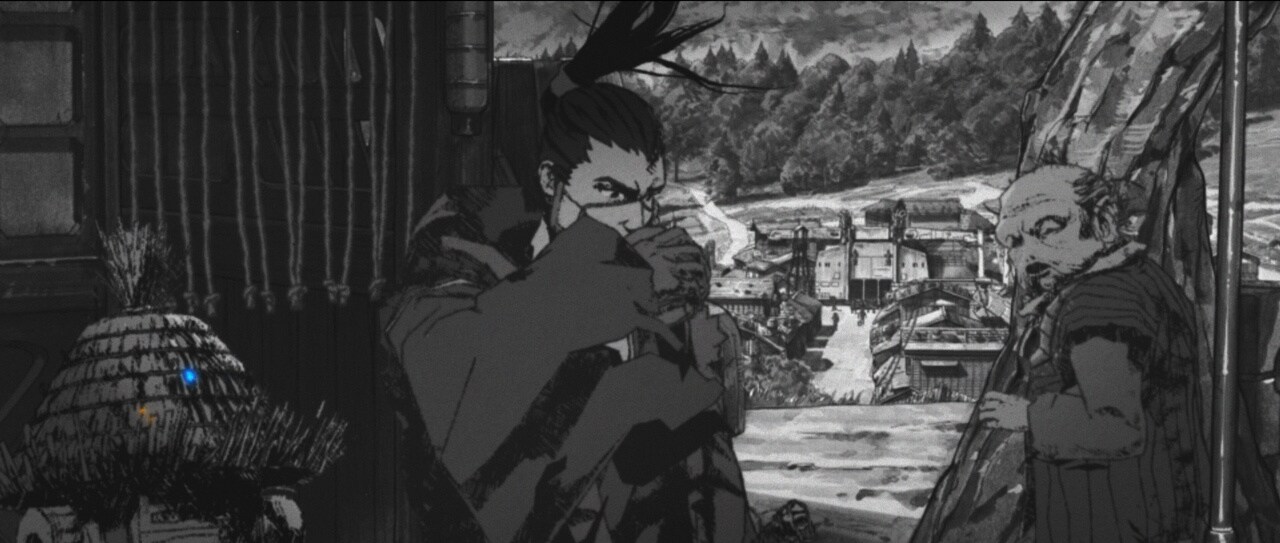 4. R5-D56 to the rescue.
It's hard not to love an astromech droid in a straw hat. But when it saves the day? That's a new fan favorite right there.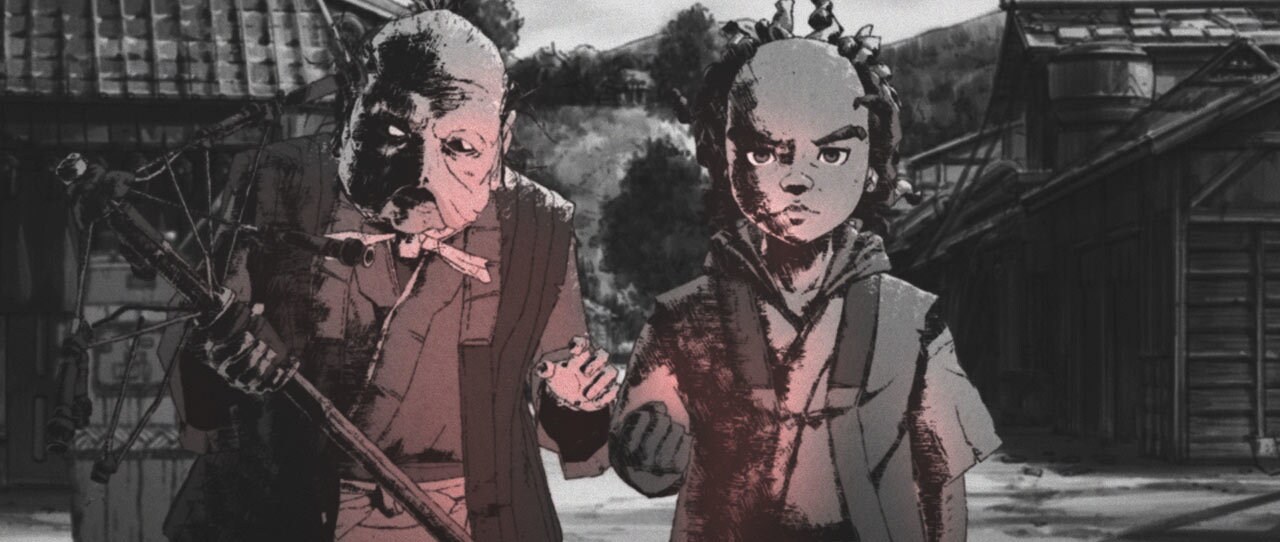 5. Crystal collector.
As Ronin prepares to leave the village, he removes the kyber crystal from the Sith's lightsaber and prepares to add it to his collection. Instead, he gifts it to the young village chief. The scene makes for a nice bookend to the introduction of Ronin and tells us more about his quest; moreover, whatever Ronin's past, he clearly has a code of honor and sense of kindness. That's great storytelling, and Ronin emerges as a Star Wars hero to follow. 
Correction: An earlier version of this article misnamed R5-D56.