Star Wars: Visions Volume 2 kicks off with thrilling action and a unique take on the Force.
Star Wars: Visions Volume 2 is here! New episodes of the anthology series are now streaming on Disney+, featuring original shorts from some of the world's best animation studios. In Visions Revisited, StarWars.com picks the greatest moments from each short.
Spoiler warning: This article discusses story details from the Star Wars: Visions episode "Sith."
One of the biggest — and most welcome — surprises to come from Lucasfilm in recent years has been Star Wars: Visions. In the first season, or volume, of the series, the company set some of Japan's best anime studios free in the Star Wars galaxy, untethered to previous storytelling or any established style. The results were creative and original, with takes on Star Wars that wouldn't have been possible otherwise. Thankfully, the show is back, and it's only expanded on its promise.
Volume 2, which arrived on May the 4th, casts a wider net, with studios of various disciplines from all over the world telling new stories. El Guiri Studios' "Sith" opens Volume 2, and one has to imagine that was an intentional choice. Like a great opening track on an album, it makes a statement about the series and Volume 2 — that it's different, that it has something to say, that chances will be taken. Directed by Rodrigo Blaas, "Sith" follows Lola, a former servant of the dark side trying to start anew. The short makes striking use of color to illustrate its themes, as Lola sees the world as a blank canvas, her struggle to find balance illustrated in her attempts to paint. It also has some fantastic action. "Sith" is everything Visions is meant to be, and a memorable Star Wars tale to boot. Here are five highlights from "Sith," now streaming on Disney+.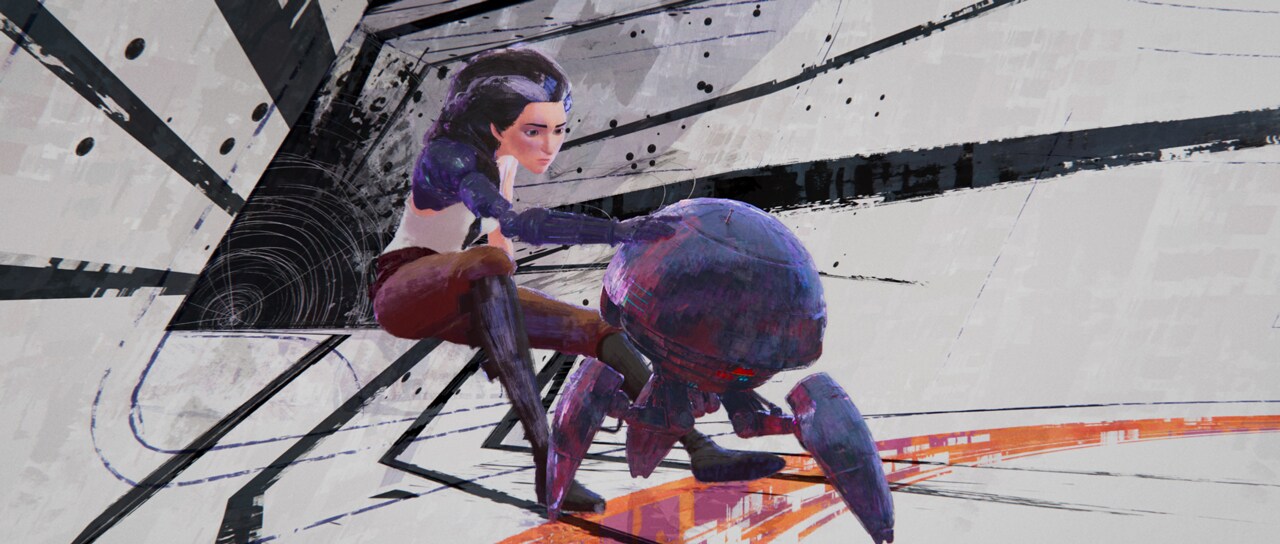 1. Introduction to the world of "Sith."

Right from the start, we know "Sith" is bold and stylistic. In the opening scene, a ball-shaped droid (E2) rolls through a stark white corridor on his way to wake his master. Here we meet Lola, in the middle of a nightmare, with streaks of black pouring out around her. Though no words are spoken, this scene tells us that we're in for a surreal experience — color plays a large role in "Sith," in literal and symbolic ways — and that our heroine is haunted by something. That's efficient, gifted storytelling.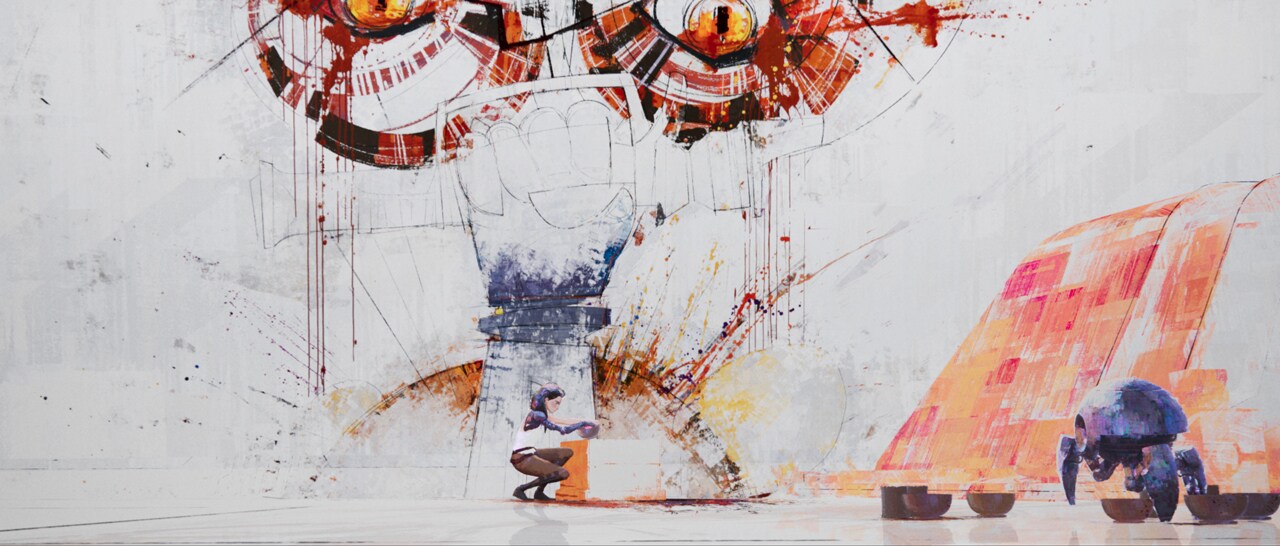 2. "It's like darkness wants to be part of the painting."

The short's inventive use of color continues, as Lola works on her mural. Building on a previous scene, she's unable keep black and darkness from infecting her work — a smart metaphor for her internal struggle.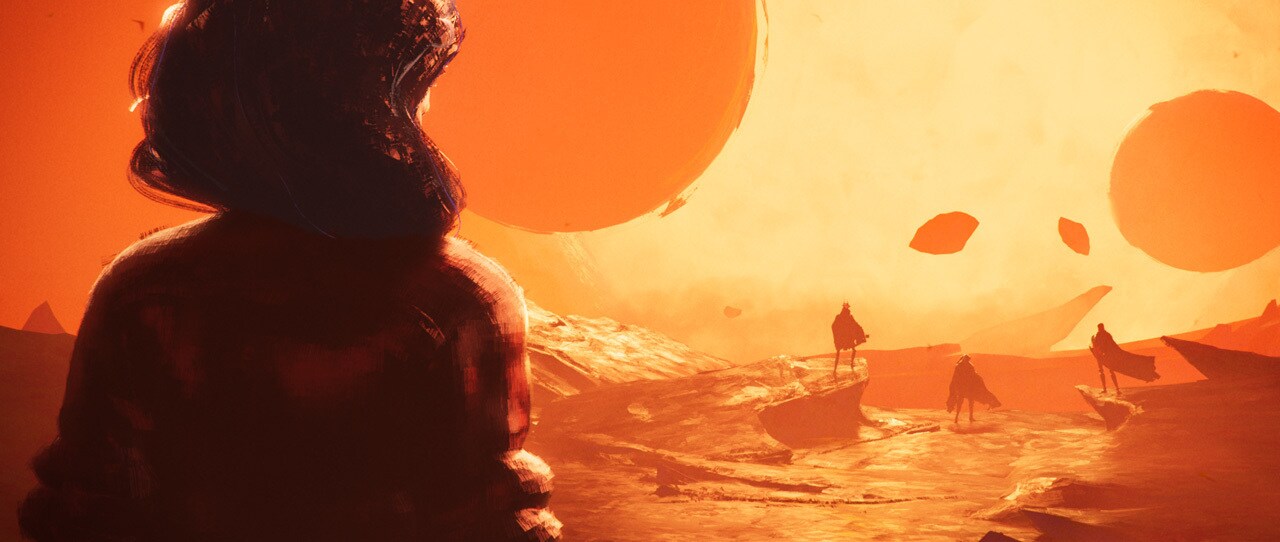 3. The Sith Master's arrival.

The Sith Master appears at Lola's outpost with two intimidating droids. He's a frightening sight, with various attachments to his head and a dead-eyed glare, making for a properly cool Star Wars villain. It's safe to say that this is what was making Lola toss and turn.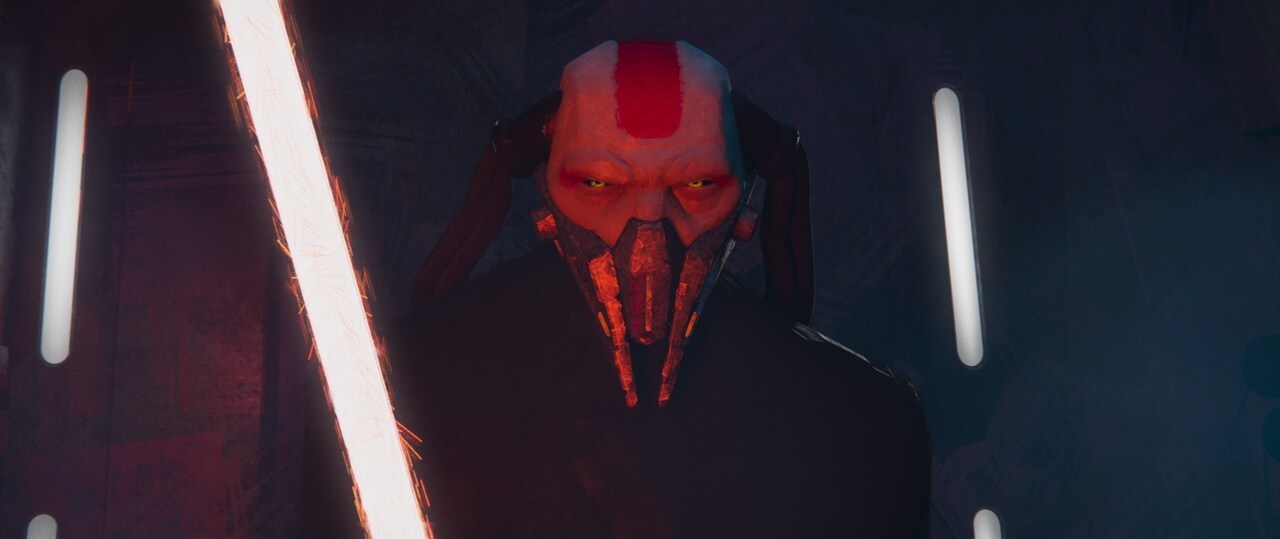 4. The chase.

Battle droids, these are not. The Sith Master's droids chase Lola over a rocky landscape in a short but exhilarating sequence, one filled with quick closeups that ratchet up the tension, along with surprising maneuvers. The droids are a genuine threat, but Lola and E2 prove to have some impressive moves of their own.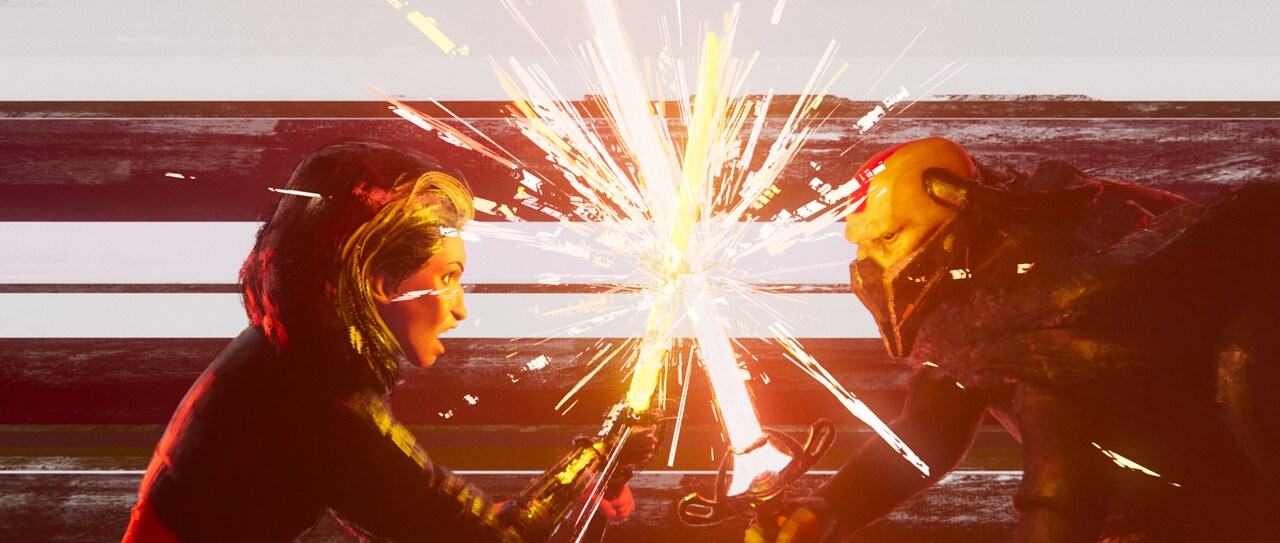 5. "Light and darkness are part of the painting…part of me."

Lola must face her past and fears in her former master. While the duel between the two is dynamic and well-choreographed, and the sequence's use of color is arresting, the emotional punch comes from Lola's realization and acceptance of the darkness within her. As she manipulates colors through the Force, it's a beautiful payoff to the themes and visual storytelling of "Sith." The Sith Master never had a chance.
(Though the surprise ignition of a secondary red blade from Lola's yellow lightsaber is also pretty rad.)