The new book from Amy Ratcliffe, author of Star Wars: Women of the Galaxy, explores mindfulness in a galaxy far, far away.
Breathe. Just breathe. Reach out with your feelings. What do you see?
Mindfulness is as much a part of the fabric of Star Wars as the Force itself, guiding characters to pause, reflect, and get in touch with their feelings as well as their surroundings. So it seemed like a natural fit as Amy Ratcliffe was exploring the topic for her new book, The Jedi Mind. Part self-guided mindfulness primer and part appreciation of the practice of mindfulness woven throughout the Jedi teachings, the book is paired with beautiful illustrations from artist Christina Chung to give readers bite-sized meditations on everything from letting go to looking inward.
StarWars.com is pleased to give you your first look at the cover as well as pages and passages on gratitude and more! Plus, we sat down with the author to discuss what inspired her to link her own practice of mindfulness to the Jedi mind and how she hopes the book can help readers and fans who are new to the idea.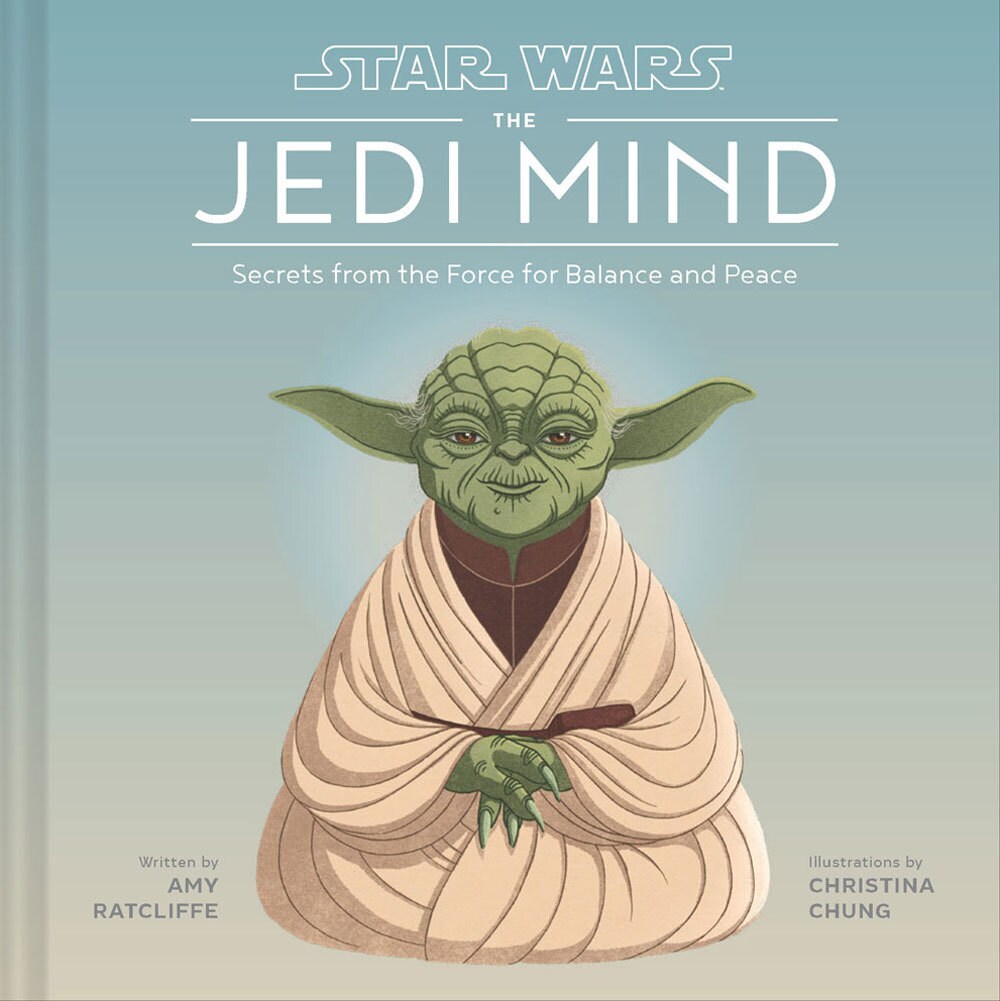 Before we clear our minds of questions, here's what Ratcliffe had to say to a few of ours…
StarWars.com: Fictional stories can be such an important tool for understanding our own feelings as well as universal experiences and ideas. What inspired you to start thinking about mindfulness and how it's exhibited in the Star Wars saga?
Amy Ratcliffe: It started with meditation. Pausing to meditate and breathe opened the door to mindfulness for me. It's just one of the many ways to practice mindfulness, but it's the cornerstone for me. Whenever I would meditate, I would think about the Jedi. Specifically, I think of Qui-Gon Jinn dropping to a seated position and meditating during his battle with Darth Maul in Star Wars: The Phantom Menace. The first time I saw the movie I was so surprised by that. Like, "Buddy, what are you doing right now?!" But as I sank deeper into the world of Star Wars, I realized how much sense it made for Qui-Gon -- specifically Qui-Gon -- to pause when he had a chance and be in the moment.
Then as I thought more about that I considered the Force and how the Jedi teach others about it and the things Jedi say about the Force. Obviously the Force doesn't exist in our lives and mindfulness is not called out in Star Wars, but they pair together beautifully.
StarWars.com: I love that you connect a quote, character, or moment to a real-life aspect of mindfulness on each page and include a suggested practice. As a self-proclaimed worrier, do you have a favorite passage or page? Can you talk about why it speaks to you so profoundly?
Amy Ratcliffe: Mindfulness helps me stay more centered, but I'm always going to worry. I can spiral like a champ. Writing this book and going through all the practices repeatedly meant I really got to learn which ones work the best for me. One thing I struggle with is how I react to situations around me and how I allow external forces to affect me -- particularly the ones I can't control. In Star Wars Rebels Bendu told Kanan, "Only you can change yourself." I connected that moment to a self-acceptance meditation. Kanan was carrying so much weight on his shoulders, particularly after his battle with Maul and losing his eyesight, and Bendu's guidance helped Kanan accept himself as he was. That really hit me.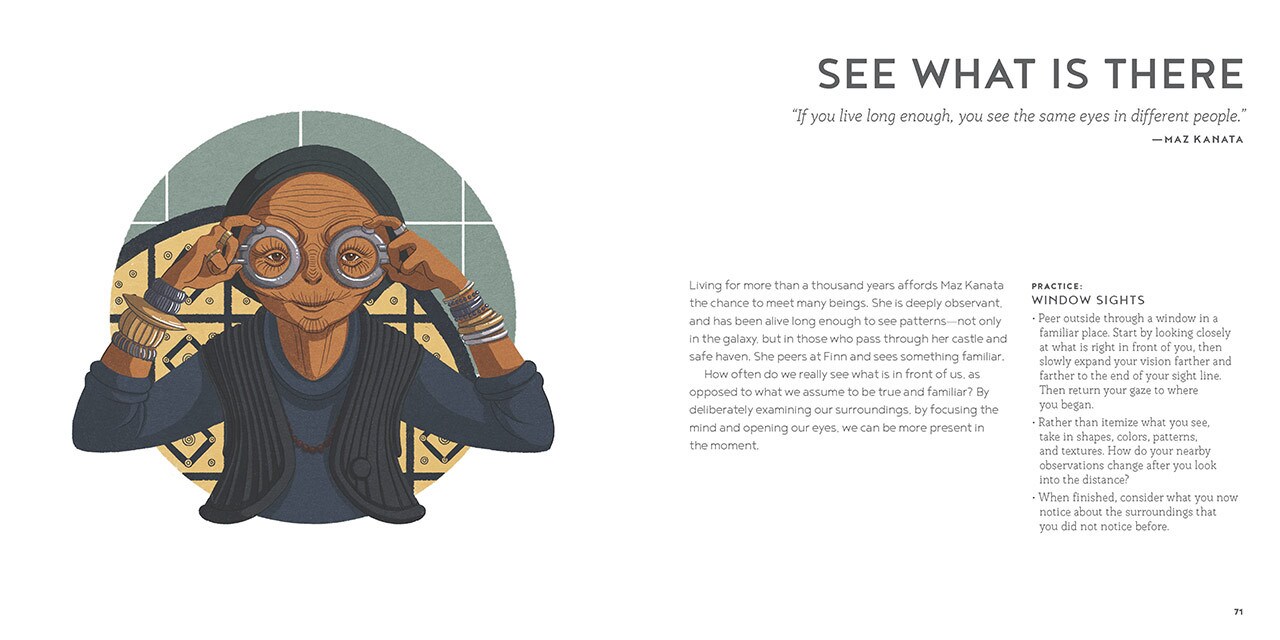 StarWars.com: It's also important to note that you can really jump around in this book. You could read it in one sitting or pick a few pages at random, or even bring it into your yoga practice and read one page before starting each session. Why was it important to you to structure it this way?
Amy Ratcliffe: I didn't want the book to be daunting. Especially if someone isn't sure about mindfulness or how to approach it. Mindfulness is a vast world; it can be hard to know where to start. And while I absolutely encourage anyone interested in learning more to do so, The Jedi Mind goes over mindfulness basics and then it's kind of like a sampler platter (which is always a terrific choice when you can't decide on a single appetizer). Pick the book up, admire a soothing illustration, read a quote tied to the Force, and learn how to adapt it for practical use. Maybe you'll skip around a few pages before finding one that catches your eye. Maybe you'll want to go page by page and try everything. It's about whatever works best for your style!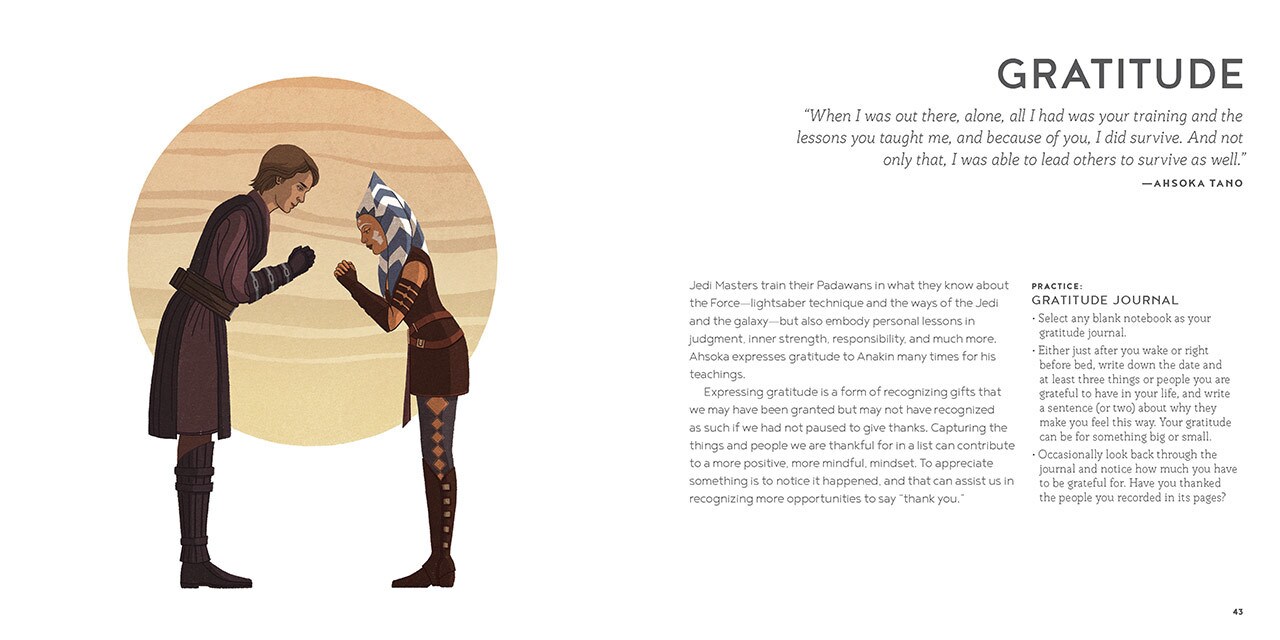 StarWars.com: Christina Chung's illustrations are also just gorgeous! We have two pages to share today. Can you tell us a little bit about each one and your collaboration with the artist?
Amy Ratcliffe: I almost just suggested skipping through to look at all the illustrations first because Christina's work is so beautiful! So, do that. Christina contributed to Star Wars: Women of the Galaxy, and when my editor and I started discussing what kind of illustrations would be in The Jedi Mind, we knew she would be perfect. As I wrote the text, I made suggestions for characters and possible poses for every quote and practice. I didn't know which ones we'd end up illustrating, so I wanted to cover my bases. For "Gratitude," I gave a very basic note like, "Anakin and Ahsoka." That was it. So helpful. With "See What is There" I suggested Maz Kanata peering through her goggles as she did in Star Wars: The Force Awakens.
And in both of those cases, Christina took those suggestions and made them blossom. She chose such calming color palettes and all her strokes are elegant and truly elevate the text. Her work adds such a unique factor to the book. I'm so grateful she was willing and available to contribute.
StarWars.com: What do you hope fans and readers will get out of this book?
Amy Ratcliffe: My wish is that readers find at least one practice to help them savor a moment. To experience it fully. Because mindfulness isn't about zoning out, it's about tuning in with all our attention. And to readers unfamiliar with mindfulness, my hope is that framing practices in the context of Star Wars will encourage them to take their first steps into a larger world.
Pre-order your own copy of The Jedi Mind now before it's released this fall.
Associate Editor Kristin Baver is a writer, host of This Week! In Star Wars, and all-around sci-fi nerd who always has just one more question in an inexhaustible list of curiosities. Sometimes she blurts out "It's a trap!" even when it's not. Do you know a fan who's most impressive? Hop on Twitter and tell @KristinBaver all about them.
Site tags: #StarWarsBlog