StarWars.com writer Amy Ratcliffe reflects on her first time serving as a Star Wars Celebration host.
I took my first step into the world of Star Wars Celebration with Celebration V in 2010. It was in Orlando, and unable to get time away from my office job, I took a red-eye from Los Angeles to the East Coast on Friday night and arrived at the convention bright and early Saturday morning. The next two days passed by in a blurry haze, but despite my sleep-deprived state, I knew Celebration was an event I didn't want to miss again. I've attended all the US-based Celebrations since, but this summer, I traveled to Celebration Europe in London and did something different: I hosted the Behind-the-Scenes Stage.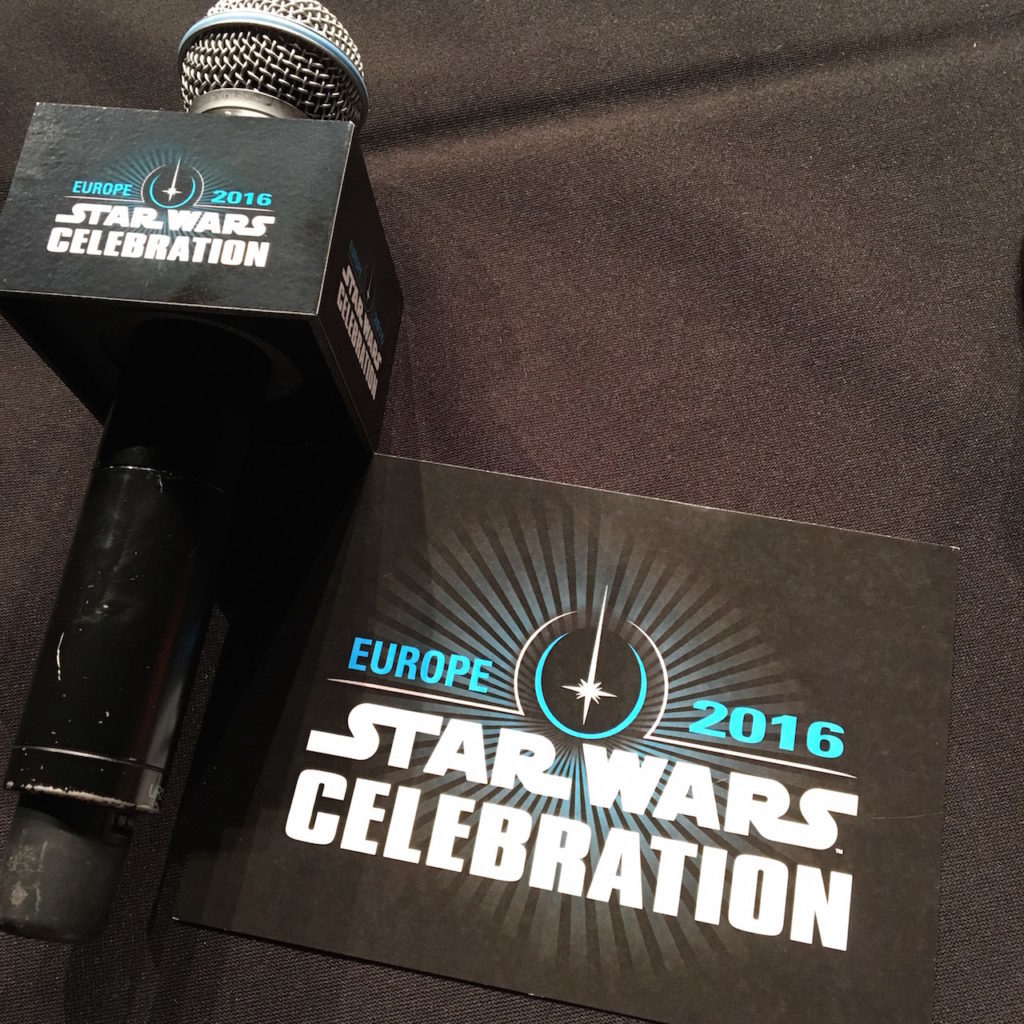 Stage hosts, or anyone working at Celebration for that matter, have a different perspective. In some ways, I had a more limited view of the event. At the same time, I saw so much from my stage. I connected with fans that were on panels and in the audience, I watched the Rogue One trailer with hundreds of fellow attendees, and I got to celebrate so many unique facets of Star Wars.

The Behind-the-Scenes Stage is primarily about what goes into making Star Wars -- Star Wars films, books, and merchandise. The line-up at Celebration Europe included panels from DK Publishing, Fantasy Flight Games, Mattel's Hot Wheels, and Star Wars Insider, among others. Each day had its own schedule, but for the most part, my routine at the Behind-the-Scenes stage went like this:

Arrive early for any scheduled rehearsals (but not quite as early as my awesome stage crew) and discuss any last minute details with panelists. Most everything was covered via e-mail in the weeks before Celebration started, but this was the time to ask final questions about format, to make sure presentations ran smoothly (again, I have to point out my helpful stage crew that worried about the tech so I didn't have to), and to ensure all bases were covered.
Review the day's panel list and organize notes and questions in chronological order. Be as prepared as possible, including being prepared to wing it if necessary.
Drink as much coffee as time allows before the first panel starts and also, if time allows, stroll around the exhibit hall.
Introduce panels, moderate group discussions, and/or interview individuals.
Use breaks between panels to walk to the bathroom because of drinking all the coffee and lots of water, to eat lunch and snacks, to visit with friends, to drop by the Galaxy Stage and see fellow host David Collins in action, and to prep for the next panel. Rinse and repeat until the day is over.
If it sounds like I spent a lot of time in a single part of the convention, that's because I did. I'm not complaining though, because the action came to me. A handful of panels were hosted by others, so I was able to sit and enjoy them with other fans at the Behind-the-Scenes Stage. Some highlights from the weekend: I saw Doug Chiang discuss designing the art of Star Wars. I talked with Bryan Benedict, the passionate senior staff designer at Hot Wheels, about the incredible details that go into designing the Star Wars character vehicles. I even got to host the Tattoo Competition; I encountered fans that have decided to permanently showcase their love of the universe with ink featuring characters from Salacious B. Crumb to Poe Dameron.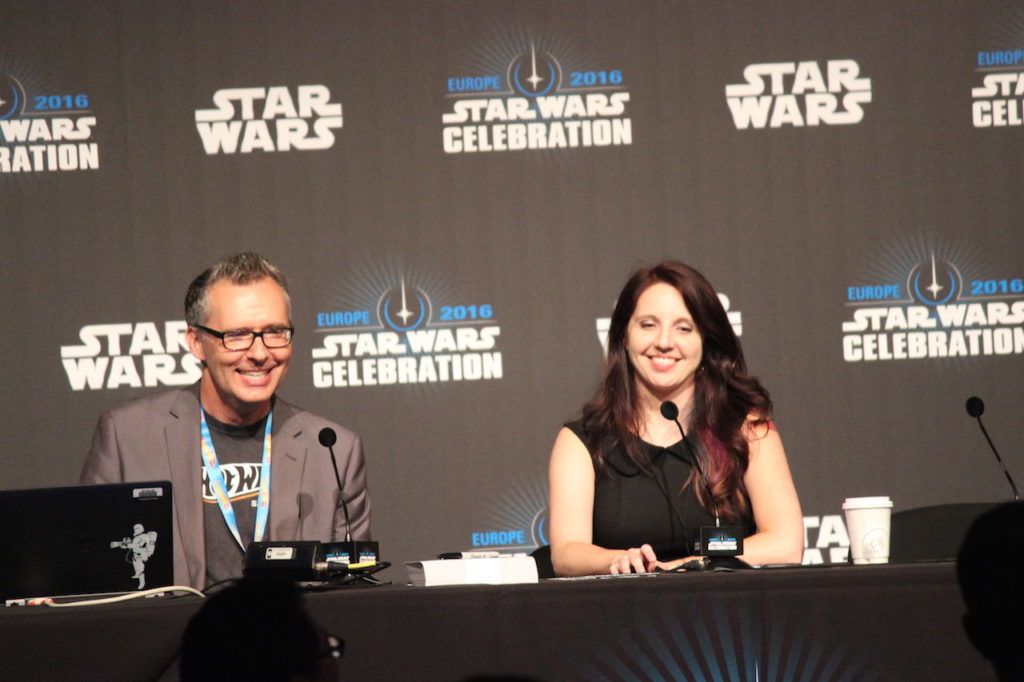 In a word, it was surreal. The three days flew by at a rate that would impress even Han Solo. When the time came for David Collins and I to join Warwick Davis on the Celebration Stage for the closing ceremonies, I couldn't believe it was already almost over. My memories and my Loth-cat plush will have to get me through until Celebration Orlando in 2017.
Amy Ratcliffe is a writer obsessed with Star Wars, Disney, and coffee. Follow her on Twitter at @amy_geek.