Lucasfilm Publishing's executive editor on what makes these books special.
As part of the Star Wars publishing editorial team, I'm extremely proud of what has been accomplished thus far with the Star Wars: The High Republic series, across all formats, from adult novels to all-ages comic books. But I get the sense that there are some readers who haven't sampled our books from Disney Lucasfilm Press aimed at a middle grade audience (a target age range of 8-12 years, give or take), and with today's arrival of Justina Ireland's Star Wars: The High Republic: Mission to Disaster, I'd like to take the opportunity to share what I love about the High Republic middle grade novels, and why you should give them a try.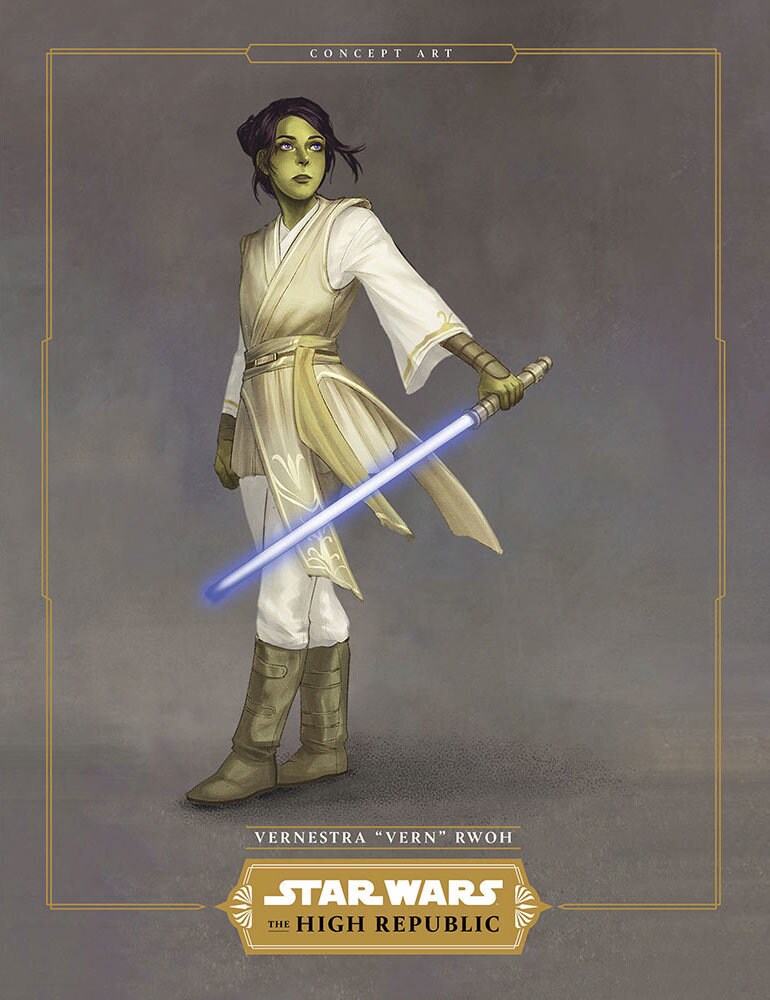 1. Two words: Vernestra Rwoh.
Vernestra Rwoh is one of the greatest Jedi in the High Republic, and if you're not reading the middle grade novels, you're not getting her full impact. Vernestra Rwoh is one of the more popular characters from The High Republic, but in my opinion she's also one of the most important. She's the epitome of a character who always tries to do what is right, made more complicated by the fact that she is still a teenager. How many of us who were convinced at age 16 that we knew everything, now look back and realize just how little we did know? Now imagine making the kind of life and death decisions Vernestra finds herself faced with, and how admirably she reacts in the face of difficulty. Granted, she has a lifetime of Jedi training behind her, but it's impressive nonetheless. None of which means she is without doubts -- she has plenty, which speaks to her maturity. She knows well enough to know she doesn't know everything. Navigating those challenges while still rising above obstacles makes Vernestra a fascinating character who embodies what being a Jedi is all about, and in both Star Wars: The High Republic: A Test of Courage and Mission to Disaster (both by Justina Ireland), she really shines. Don't miss out on getting a full view of one of the stars of this era.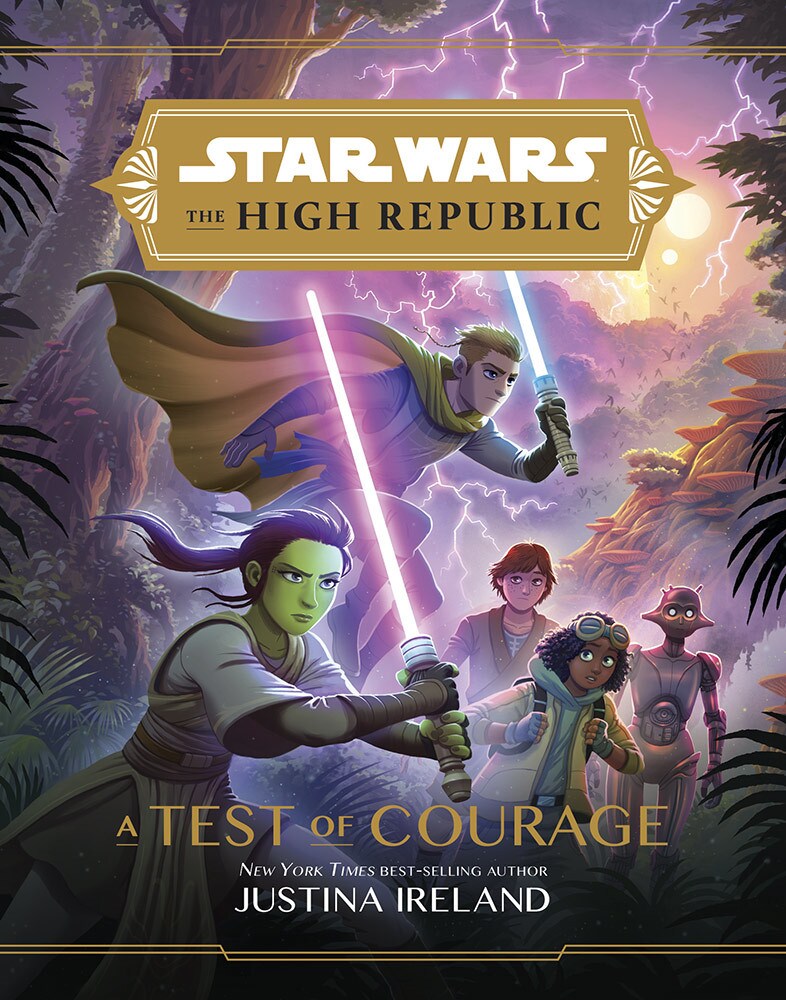 2. Young people who fight back with smarts and humor.
I have a confession to make: although I just spent time lauding Vernestra, Avon Starros might be my favorite High Republic character. And it's because she's not a Jedi. In fact, she is often the first to side eye their decisions or question their wisdom, because Avon bases her view of the galaxy in science, which is not always consistent with the Jedi. It's refreshing to have a character with this outlook, especially such a young one, amidst the Jedi who are so revered during this time period. Another of my favorites is Jedi Padawan Ram Jomaram, who manages to combine a zest for life with a lack of zest for fighting, which is a quality I appreciate. Ram is also technically-minded (it's ironic that two of my favorite THR characters are this way, as I decidedly am not), and I shudder to think what Ram and Avon could get up to if their paths ever cross. Both characters use their brains and skills to navigate the galaxy, all while being hilarious at the same time. And while Ram appears in Daniel José Older's YA novel Star Wars: The High Republic: Midnight Horizon, Older's middle grade Star Wars: The High Republic: Race to Crashpoint Tower brings him into focus. And Avon appears briefly in the YA novel Star Wars: The High Republic: Out of the Shadows, but A Test of Courage and Mission to Disaster showcase her range.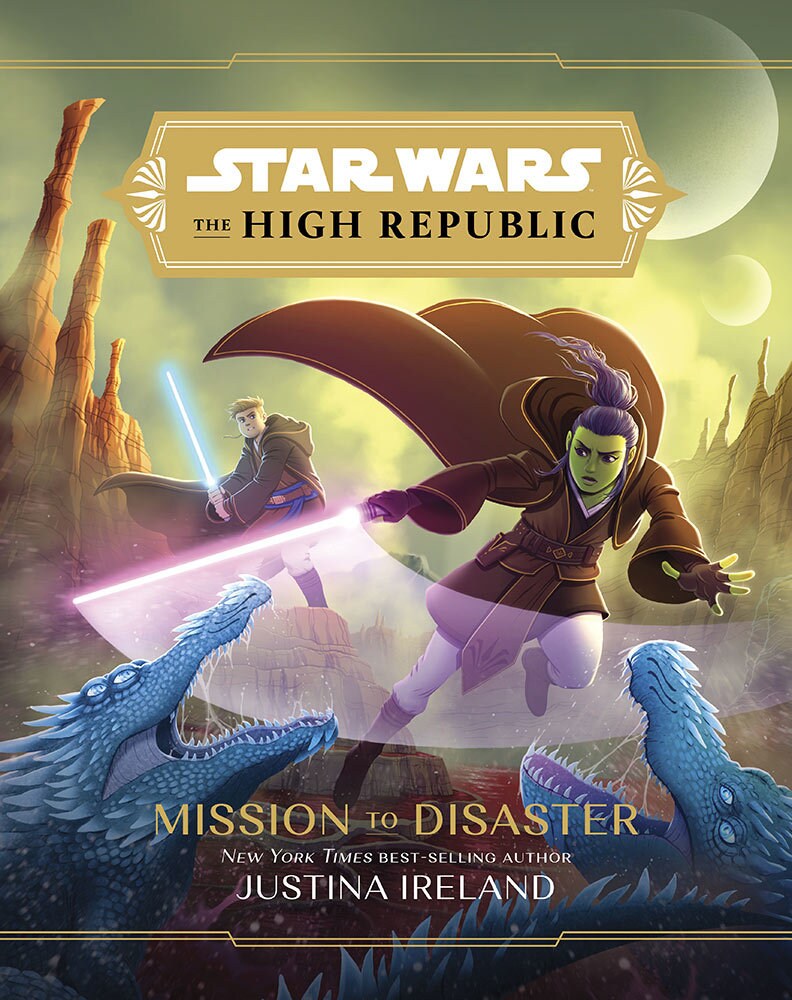 3. What happens here affects what happens elsewhere.
Those of us who work on The High Republic do our best to keep it so that if you only read one format, you get a complete story. But it's nonetheless true that by reading all formats, you get an even fuller picture of what's going on in the galaxy. Mission to Disaster is especially important in that regard, as it contains hints to happenings in Phase II and even sets some things up for Phase III. It also gives us a closer look at the Halcyon towing Starlight Beacon to Dalna -- something that is referred to in Star Wars: The High Republic: The Fallen Star, but is seen unfolding in the middle grade novel. (Mission to Disaster takes place before The Fallen Star and Midnight Horizon, but has implications that reach beyond those novels.)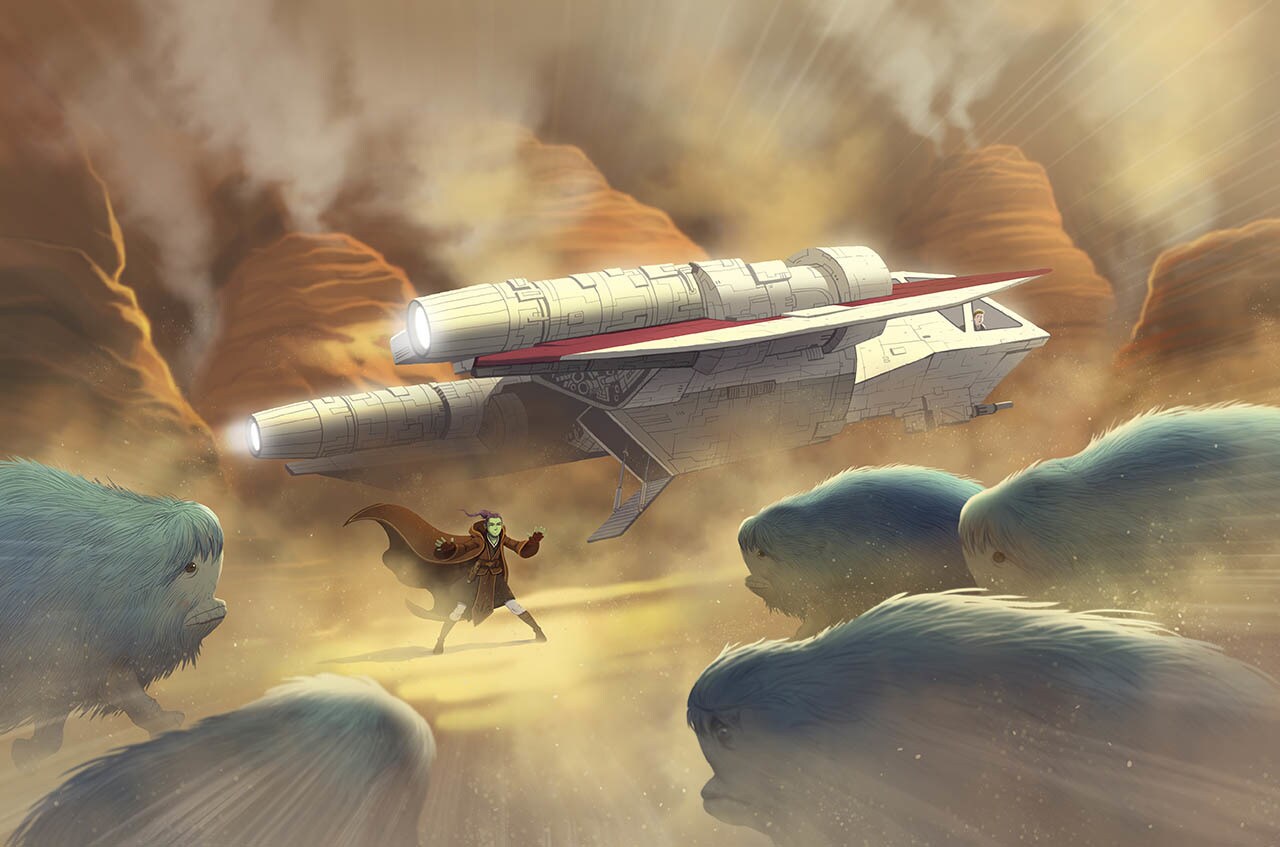 4. Great action set pieces -- accompanied by great art.
If Star Wars action is where it's at for you, then don't worry, middle grade storytelling doesn't let you down. The interior art piece from Mission to Disaster, seen above, shows Vernestra attempting to use the Force to ward off a stampeding herd of boolsas, while her shuttle takes off without her onboard. Will she save the day and get on the ship in time? You'll just have to read the book to find out! A Test of Courage and Race to Crashpoint Tower have similarly epic action scenes, beautifully illustrated in full color by Petur Antonsson. Don't worry--none of the excitement of Star Wars is missing here.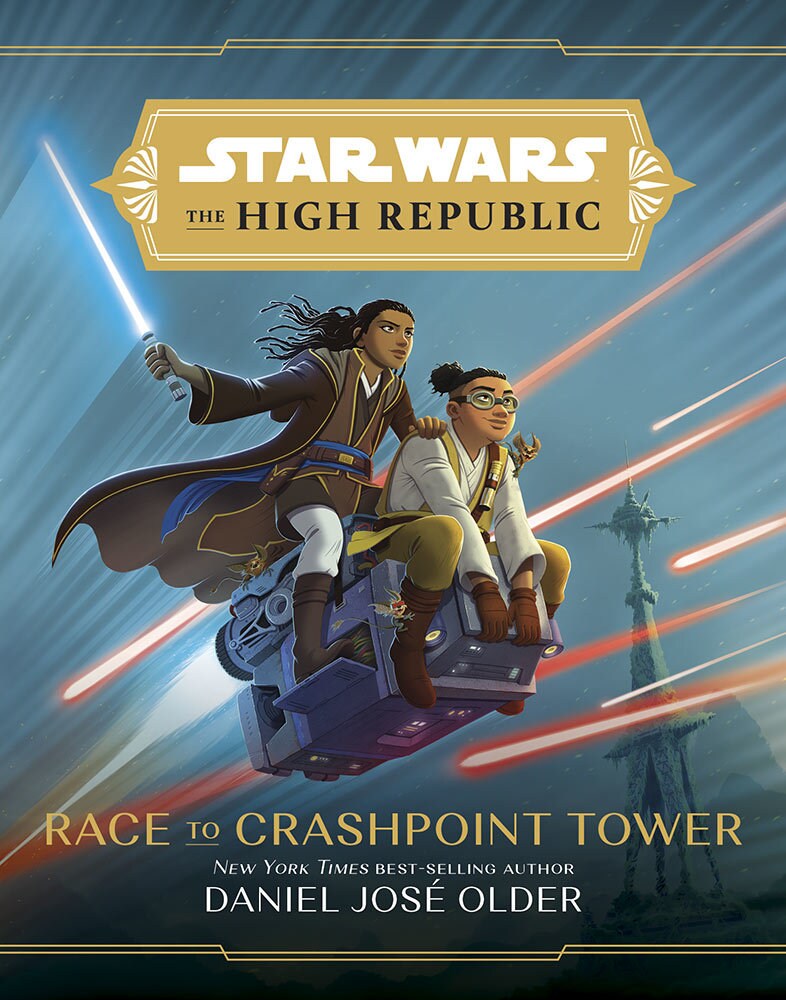 5. Middle grade stories examine themes that are fundamental to Star Wars -- and to our own lives.
In an interview at Star Wars Celebration in 2017, George Lucas spoke about a few important life qualities and lessons that relate to Star Wars: "friendship, honesty, trust, and doing the right thing." Those are touchstones of publishing for younger readers as a whole, with good reason, as they are so essential to our development. And when it comes to Star Wars books in particular, I like to think that our middle grade storytelling is where you can find some of the clearest examples of those themes, told elegantly and powerfully. And let's face it: friendship, honesty, trust, and doing the right thing are important issues to examine throughout our lives, not just as children.
I hope if you've been resistant to checking out The High Republic (and other Star Wars) novels for younger readers, this list has given you a curiosity to give them a try. We are all the Republic!
Mission to Disaster, Race to Crashpoint Tower, and A Test of Courage are available now.
Visit Lucasfilm's official hub for all things Star Wars: The High Republic at StarWars.com/TheHighRepublic.