A weird pitch, Star Wars Celebration, and loving the prequels: Inside one StarWars.com writer's experience getting some Episode I-inspired ink.
If the Jedi say that attachments are forbidden, then perhaps it's against the Jedi Code to get a tattoo. Thankfully, in this case, I'm no Jedi. So, I sat down with seven-time licensed Lucasfilm tattoo artist, Mike Bianco, to get my very own Star Wars tattoo during Star Wars Celebration Anaheim 2022.
Star Wars has had a huge influence in my life. I grew up watching the prequel trilogy with Star Wars: The Phantom Menace as my favorite movie. They had a pivotal role in my upbringing and I wouldn't be where I am now if it wasn't for the part that this galaxy far, far away played in my childhood.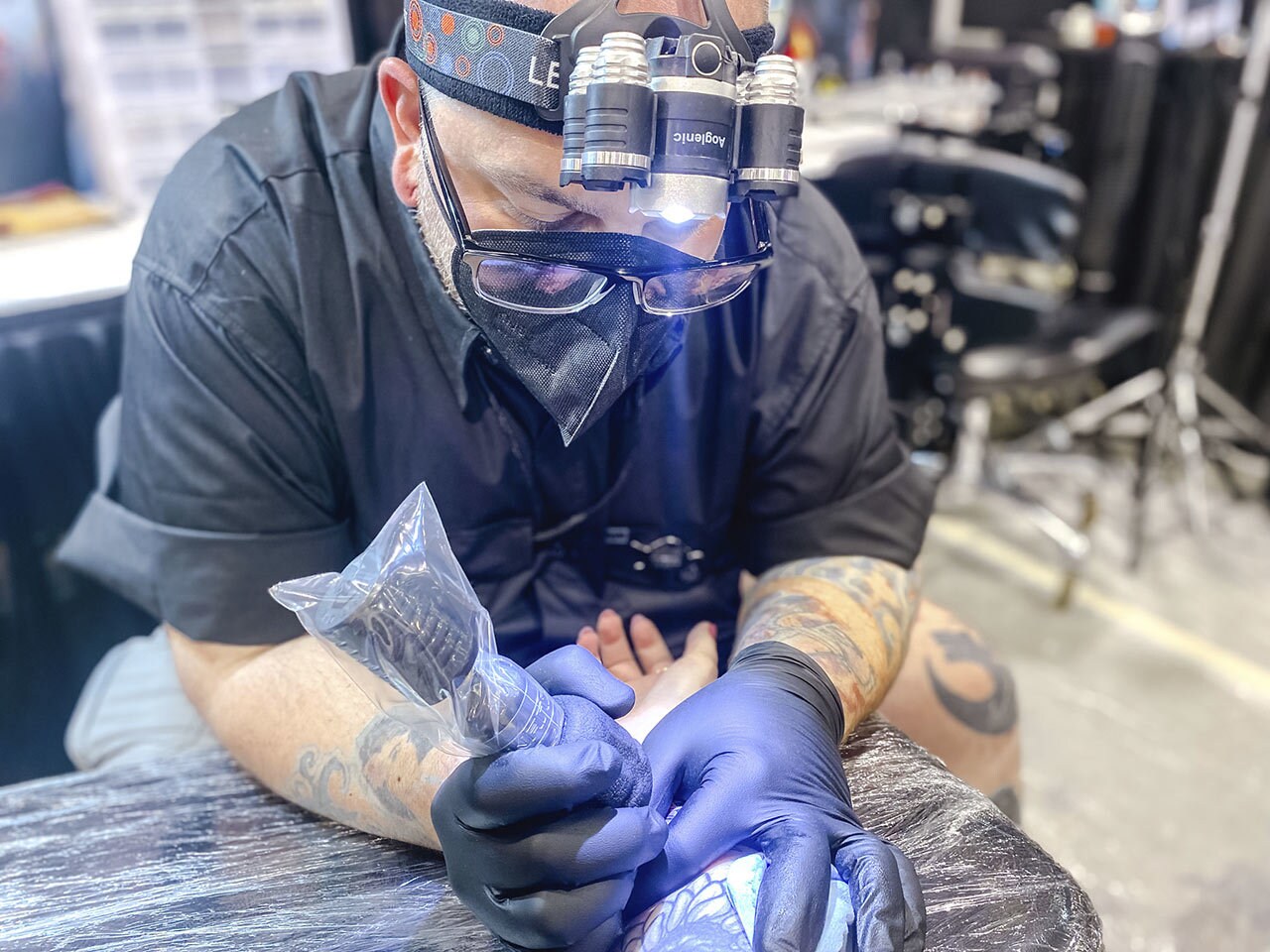 Once I decided that I wanted to get a Star Wars tattoo at Celebration, I pitched the idea to StarWars.com as a possible video segment or article. Somehow, they went for both. There was no turning back.
We began the design process a few weeks before the appointment so we could get an idea of what we would be filming for the Star Wars Celebration LIVE! show. When Mike and I started designing my tattoo, I had no idea what I wanted to get. The Star Wars galaxy is vast and overwhelming with tattoo options. This would not be my first Star Wars related tattoo -- I have a beat-up X-wing helmet and a cute little bug with the Rebel Alliance insignia on it -- but I wanted to break away from some of the more obvious symbols and try for something that was subtle. What could be just subtle enough for fans to really have to examine in order to understand its meaning?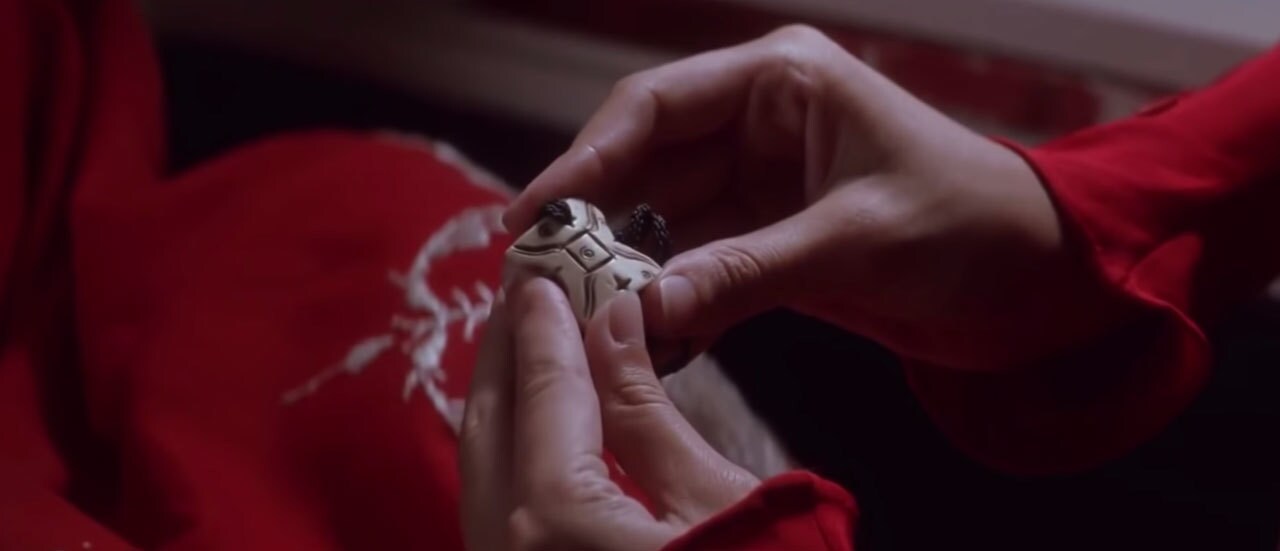 I wanted a tattoo that reflected my love of the prequels, but also tied into the rest of the Skywalker Saga. That's easier than it sounds. I sent Mike an email with a vague description, saying, "I want something that celebrates the prequels and Padmé Amidala, but I do not want to get a portrait." With limited options, Mike had to stew on my request while I was also trying to figure out what I want.
As if predestined by the Force, we arrived at the same idea, kind of at the same time: the japor snippet that Anakin gives to Padmé. Mike also suggested depicting it wrapped in the flowers that were in Padmé's hair during her funeral. He responded with this idea at the same time the japor snippet popped into my head. Wizard!
The japor snippet dawned on me because of how simple yet significant it is. The Phantom Menace was the first Star Wars film I saw in theaters. I was obsessed with everything about it. To me, the japor snippet is a perfect reflection of the impact The Phantom Menace had on me as a kid. And as a tattoo it would be subtle enough from afar, but jam-packed with meaning.
It's a thread that pulls the prequels together and signifies the start of a journey in the Skywalker Saga. It's Anakin's journey after leaving everything behind to become a Jedi and it's Padmé's journey of holding on to hope while believing in the future of the Republic. Although it ends in tragedy, the japor snippet signifies what Star Wars is about: family, hope, and the choice to be better. From this gift Anakin gives Padmé, a hope for a better future is born. It's also a good luck charm, and a symbol of their love.
Of course, the highlight of this experience was getting the tattoo on camera for Star Wars Celebration LIVE!. A tattoo segment is something of a tradition for StarWars.com's live coverage of Celebration, and I'm truly grateful to be the subject this year. Not only was I able to get a permanent reminder of how much this saga means to me, I also got to do it while working with some of the most talented people in the business. You can watch the segment below.
The actual tattoo process was a breeze. I've been collecting tattoos like Grievous collects lightsabers for the past eight years, so I was familiar with the process and time it takes to get a tattoo of this detail. Most of my tattoos are black and white with shading, and this design followed that same pattern. The total process was about two hours, but it flew by as I was talking to Mike and the production crew.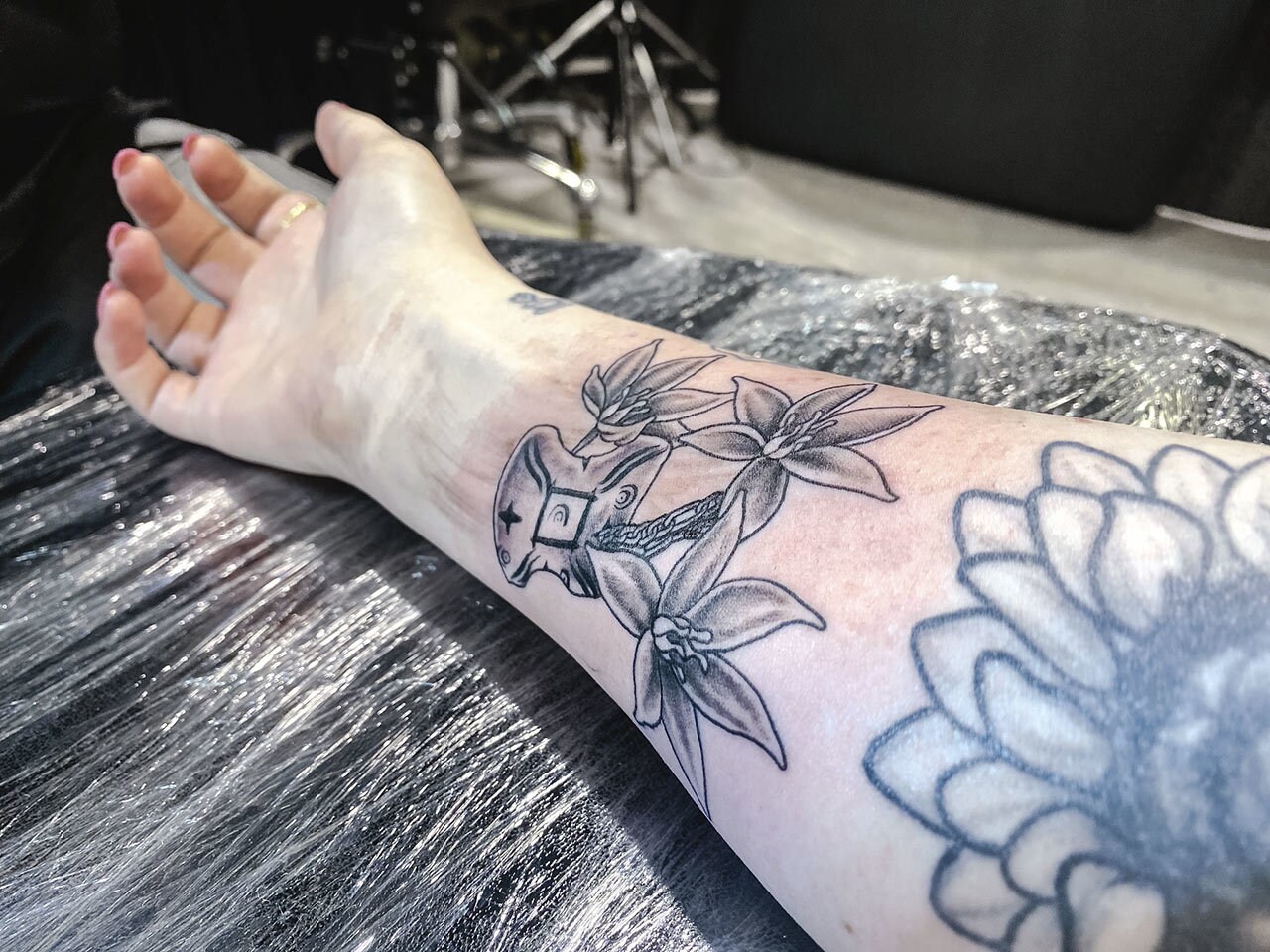 Depending on the tattoo experience, people either hate the line work the most or they hate the shading part the most. Outlining the tattoo usually puts me to sleep, but it's the shading part afterwards that has me wanting to go home and rethink my life. I got to watch as Mike worked on my tattoo and, even with the uncomfortable shading, I was blown away by the detail and care  that he put into this design to bring it to life.
When I saw the finished piece, I felt like it was always part of me. It was meant to be there. I imagined my younger self watching me get this tattoo for Star Wars Celebration LIVE!. I got this tattoo for her.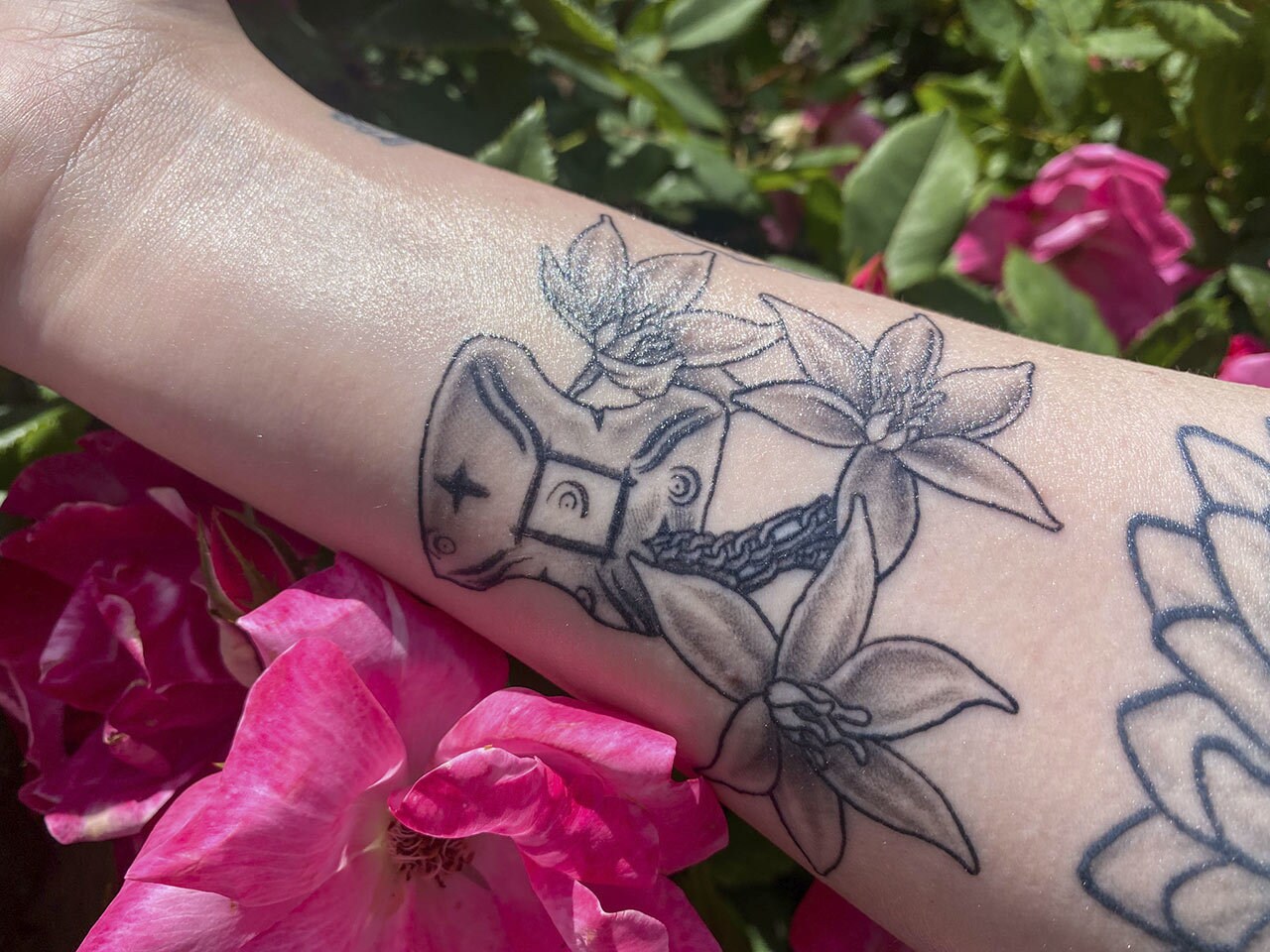 I'm so honored that I got to be part of the tattoo tradition with Star Wars Celebration LIVE! and talk about why I love the Star Wars prequels so dearly. These films were my first step into a larger galaxy, and getting a tattoo that represented that during Star Wars Celebration and the 20th anniversary of Star Wars: Attack of the Clones is an experience I'll treasure, even after I'm a Force ghost.
The final result of Mike's design is absolutely beautiful, and I'm so excited that I get to have a little good luck charm with me wherever I go. And I'm already thinking about my next Star Wars tattoo. Maybe something with Max Rebo...
Watch Kristen's tattoo segment on Star Wars Celebration LIVE! below!