Check out StarWars.com's comprehensive guide to collectibles available at SDCC 2014!
Heading to San Diego Comic-Con 2014 and looking to take home some Star Wars collectibles? Check out StarWars.com's complete guide to new exclusives and products available at the massive pop culture party, from art to clothing to action figures!
ACME Archives - Oola Character Key
Booth #5629
($39)
The latest in ACME's popular series of Character Keys – consisting of a cel layer floated above a lithographic background offering color reference, sketches, stats, and an animation-style rendering of Jabba's slave girl, Oola. Each character key comes matted with a title tag and a certificate of authenticity. Matted measurements are 8 inches x 6 inches.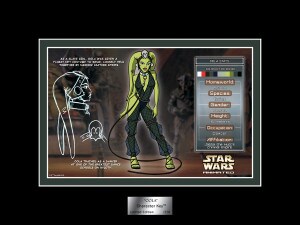 ---
Black Milk - Sith Touchdown
Booth #2913
($100)
Be the first to get your hands on the Black Milk Clothing's Sith Touchdown!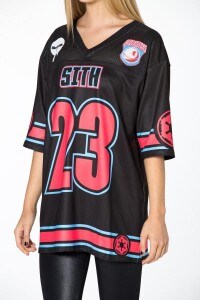 ---
Star Wars Celebration - Luke Skywalker Pin
Booth #2913
The Star Wars Celebration pin trading program starts at San Diego Comic-Con with the X-wing Luke Skywalker pin. Purchase a Star Wars Celebration Anaheim ticket at the Lucasfilm Pavilion (Booth #2913) and receive your pin at the show.
The Star Wars Celebration Anaheim Pin Trading Collection will feature a total of 45 unique character pins, designed by artist Christopher Lee. Some pins will be available for sale or trade at Celebration, while others will be available online, exclusively for Celebration ticket-holders.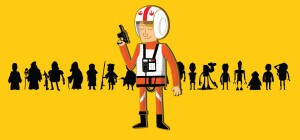 ---
Diamond Select Toys - Star Wars Spirit Yoda Figure Bank
Booth #2401
($23)
Toys, exclusives... a Jedi craves these things! DST's 7-inch Yoda bank returns in spirit form, as a translucent blue vinyl figure exclusively available at SDCC! In scale to previously released Ultimate Quarter Scale action figures and banks, this new limited edition of the original Yoda bank includes a separate cane accessory, and has a coin slot on the back as well as an access door in the base.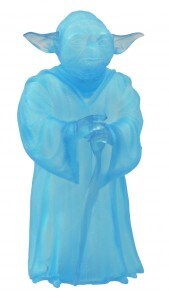 ---
Gentle Giant - R2-KT SDCC 2014 Exclusive Maquette & More
Booth #3513
(R2-KT: $80)
R2-KT was created by Albin Johnson (founder of the 501st Legion), master droid builder Jerry Greene, and the R2 Builders Club for Johnson's daughter Katie (the "KT" in the droid's name is a tribute to her). In real life, R2-KT makes appearances at children's hospitals, Star Wars Celebration and charity events in the southeastern United States. In the Star Wars universe, the character had a cameo in the Star Wars: The Clone Wars film, and has been made an official part of the universe's canon. Gentle Giant Ltd. is excited to realize our own incarnation of this character with the R2-KT Maquette. More importantly, we're proud to announce that $10 from each R2-KT Maquette sold at the show will go to the San Diego Chapter of the Make-A-Wish Foundation. Digitally sculpted by the master artisans at Gentle Giant Ltd., the R2-KT maquette uses the top photo reference available for top-notch accuracy. Cold cast in high quality polystone and hand painted, each limited edition maquette comes individually numbered and includes a matching certificate of authenticity.
Also available at SDCC will be a Ralph McQuarrie-style Luke Skywalker mini bust, a Jek Porkins mini-bust, and an oversized AT-AT driver based on the original Kenner toy.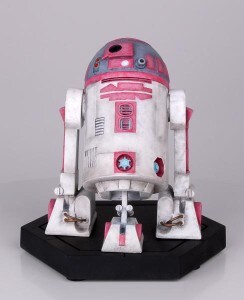 ---
Hallmark - Wampa Keepsake Ornament & Star Wars Itty Bittys Two-Pack
Booth #2913-H
($35 per Wampa Keepsake Ornament; $20 per itty bittys pair)
Wampa was created especially for event sales and depicts the ferocious horned predator that attacked Luke Skywalker on the ice planet Hoth as seen in Star Wars: The Empire Strikes Back. In place of actual wampa fur, the ornament is covered in velvety flocking. Limited edition of 1,800.
Hallmark is offering an exclusive two-pack of itty bittys styled after a Tusken Raider and a Bantha as seen in Star Wars: A New Hope. Limited edition of 2,700.
Visitors will also be able to meet and receive free autographs from Keepsake Ornament Artist Jake Angell, who created this year's Yoda Peekbuster ornament scheduled to arrive in Hallmark Gold Crown stores in October. Visitors can also collect a series of five buttons featuring Keepsake Ornaments that will be handed out for free while quantities last. The series features Star Wars designs, with a limited quantity of one design given away each day of the event.