Just in time for Star Wars Day, executive producer Dave Filoni details the costume of the Ghost crew's most explosive member.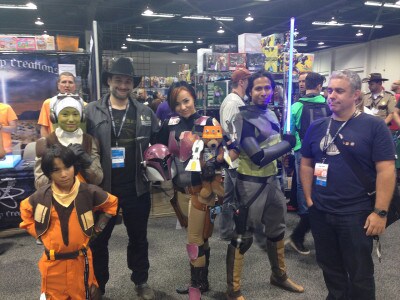 Hello,
Happy May the 4th! I hope everyone is having a great weekend. It's been really busy around Star Wars HQ here at the Presidio, and there has been a lot of exciting news for all of us. I hope you all catch the Star Wars Rebels trailer this weekend -- I'm very proud of the work our crew has done on this new series. As a special thank you to you the fans for all your support here is another breakdown of a character from Star Wars Rebels: the much-anticipated Sabine!
I saw lots of your comments on the Hera post and I'll try to post an image of her blaster, and Sabine's, as soon as I can. One last thing -- I wanted to thank The Perales family for their incredible Rebels cosplay at WonderCon. I have to say, if you take at look at their costumes they really nailed it. The details are amazing! The materials used, the look, everything -- they did a really great job. Sabine dyed her hair for the first time ever just for WonderCon, and the family learned to sew for the first time to make this project happen! Unbelievable! Thank you so much for showing Kilian and I your amazing costumes -- you were the highlight of our WonderCon experience! We love the Chopper bear!
Thanks again everyone and May the 4th be with you.
Dave