Plus, StarWars.com has 5 tips for making your own pet costuming dreams come true.
I never imagined I would give my dog a makeover. But when Oh My Disney! contacted me to see if I wanted to give my pet, Chuy, a Star Wars makeover, how could I resist? I immediately said yes, while my dog celebrated his good fortune with a nap on the couch. Chuy is my 12-year-old Chihuahua, and he's gotten used to being dressed up in my handmade creations. Over the years, I've dressed him up as Ebenezer Scrooge, a Star Destroyer, and most recently, a porg! One character I've always wanted to dress Chuy as is Salacious B. Crumb. Not only is Salacious one of my favorite Star Wars creatures, but Kowakian monkey-lizards and Chihuahuas do look similar.
When I arrived on set for Star Wars Pet Makeovers by Oh My Disney, Chuy and I didn't know what to expect. We got whisked away into hair and makeup (for me) and then we met with costume designer, Ngozika Okeke to discuss outfit options. I got a little distracted by all the incredible-looking Star Wars masks and helmets. [Insert Tusken Raider battle cry here.] Thankfully, Ngozika helped me get back on track when she shared some of her ideas for Chuy's makeover. I also showed her the Boushh-bounding outfit I had put together for the photo shoot. After we added a makeshift bandolier to my ensemble, it was time for Chuy's big moment.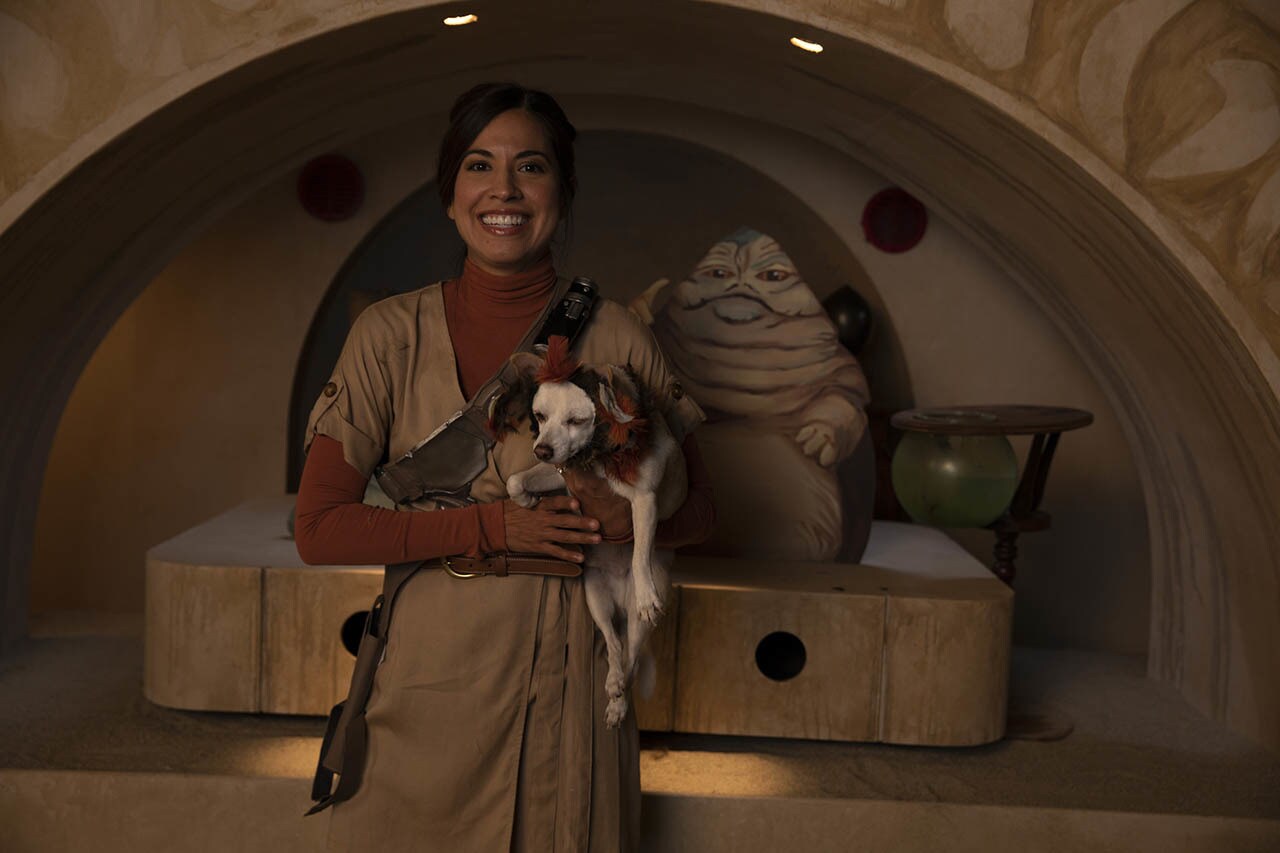 Chuy's Salacious B. Crumb makeover was perfect. Ngozika made his costume from feathers, which meant the pieces were extremely lightweight and easy for my little guy to wear. My Return of the Jedi dreams were realized when I saw the dog-sized Throne Room, complete with a small Jabba the Hutt! I was floored by how screen-accurate the set looked and how it was tailor-made for Chuy. Bounty hunters aren't supposed to smile but I couldn't stop beaming during the photo shoot. The photo shoot was a mixture of fun and hilarity, but it also ended up being a special day for both of us, I think. As I mentioned earlier, Chuy is a senior dog. He's got a lot of energy left but he's definitely in his twilight years. And after my daughter was born, he moved to a lower rank in the pack. So the makeover ended up being a chance to spend some quality time with my little buddy -- hanging out, laughing, eating treats -- just like Jabba and Salacious B. Crumb.
If you're interested in dressing up your furry friend, here are my 5 pet costuming tips!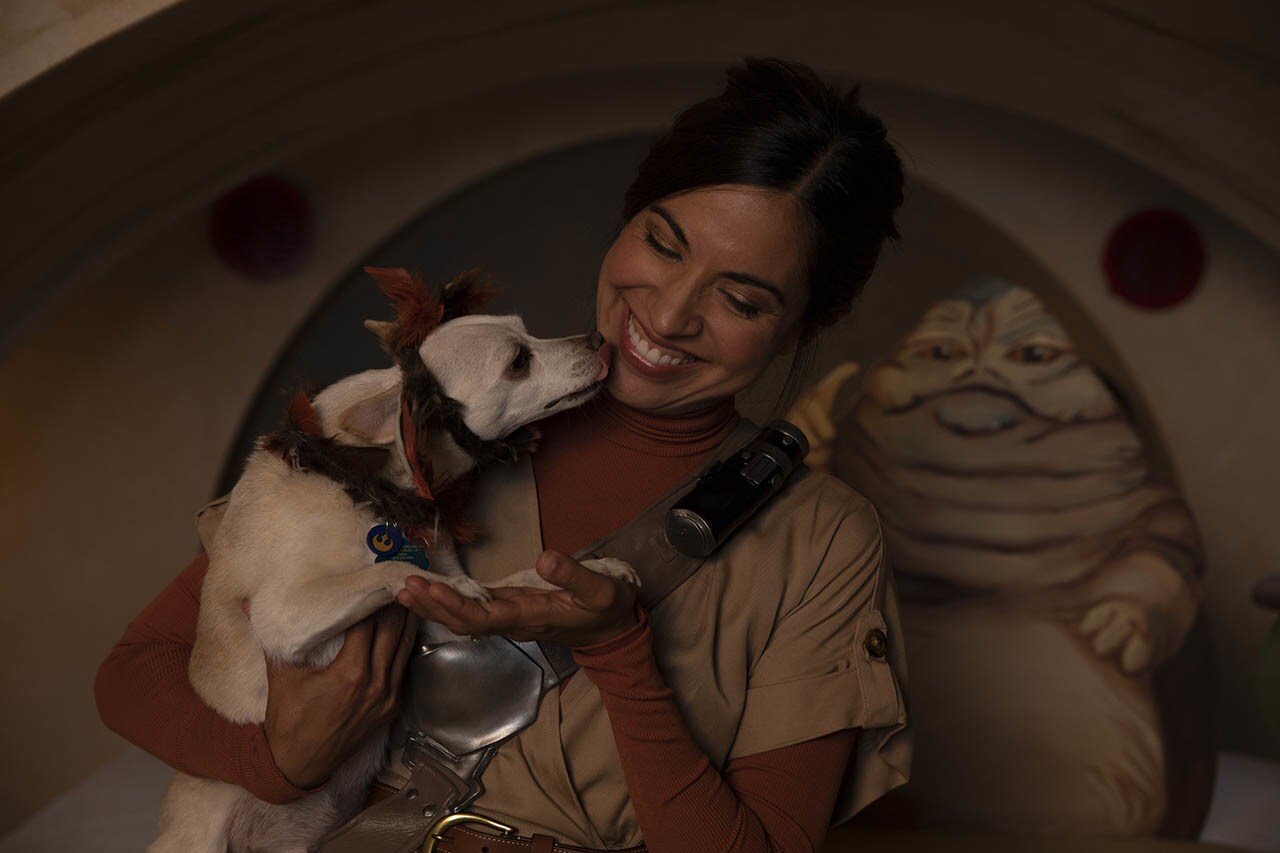 1. Know your dog. The most important thing when picking out your pet's costume is to know what they will feel comfortable in. Some dogs don't like having their legs or paws covered. Other dogs are happy to sit in an Ewok hood and body suit all day. If this is your pet's first time dressing up, try something easy-to-wear like Yoda ears or a BB-8 hoodie. This will give you a better sense of what their comfort level is…and whether they're ready to rock that Han Solo wig and vest.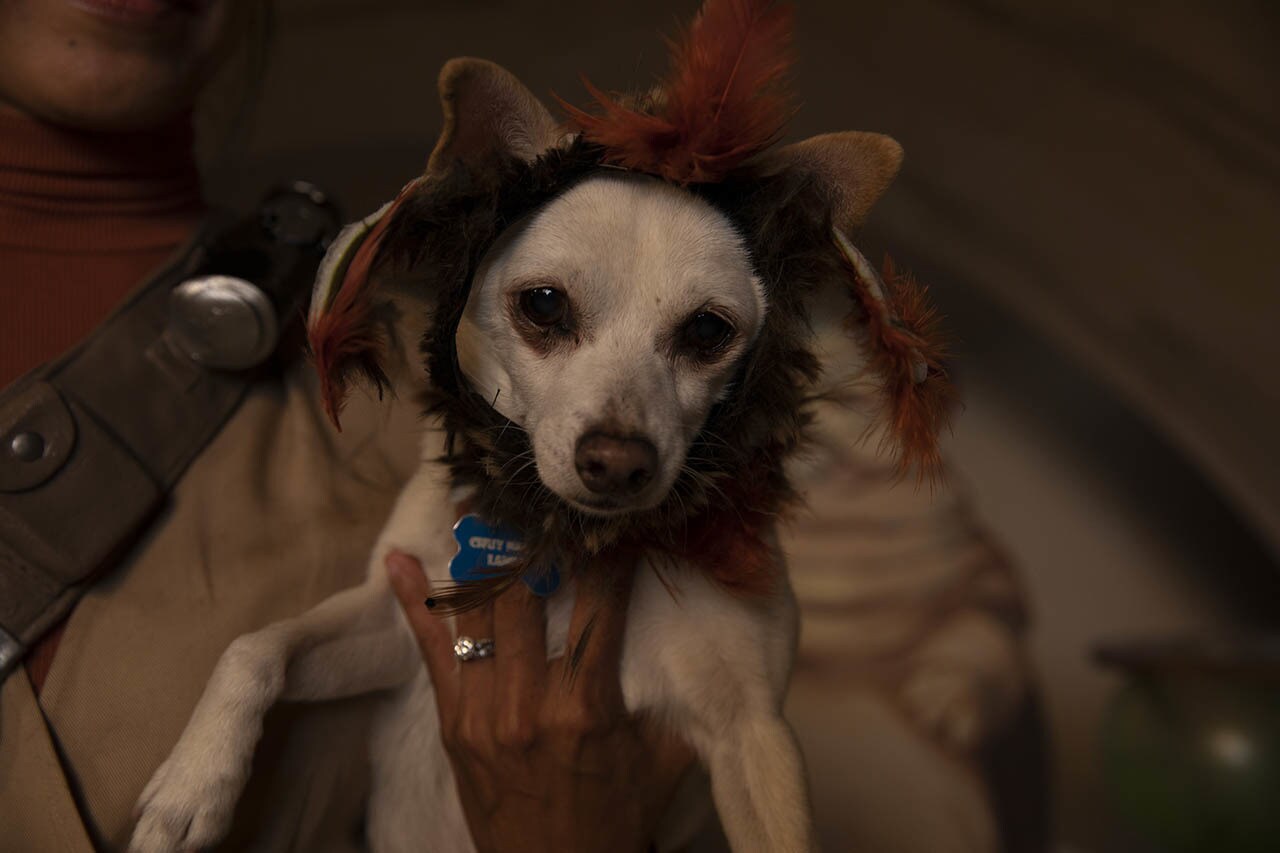 2. Choose fabrics wisely. Once you know your dog's comfort level, it's time to think about fabric options. Soft fabrics like fleece or fake fur are always a safe bet. Synthetic fabric like polyester is often used to make pet cape costumes, like Darth Vader, or dresses, like Princess Leia's in A New Hope. I have learned that my dog prefers fleece and fake fur fabric over polyester costumes. It all depends on your pet's personality. If you have your heart set on that Lando Calrissian dog costume, try it on your pet. But if they give you a look that seems to say "This deal is getting worse all the time," it might be time to ditch the cape.
3. DIY or store bought? There are so many choices when it comes to Star Wars costumes for pets. You can find lots of affordable options online and in pet stores. The great thing about buying a pet costume from a store is that it comes in multiple sizes to ensure the best fit for your pet. If you're looking for a Star Wars pet costume that is outside of the box, like a Star Destroyer or TIE Fighter, DIY'ing it will be your best bet. Just make sure that whatever costume you choose, your pet can move freely and breathe easily.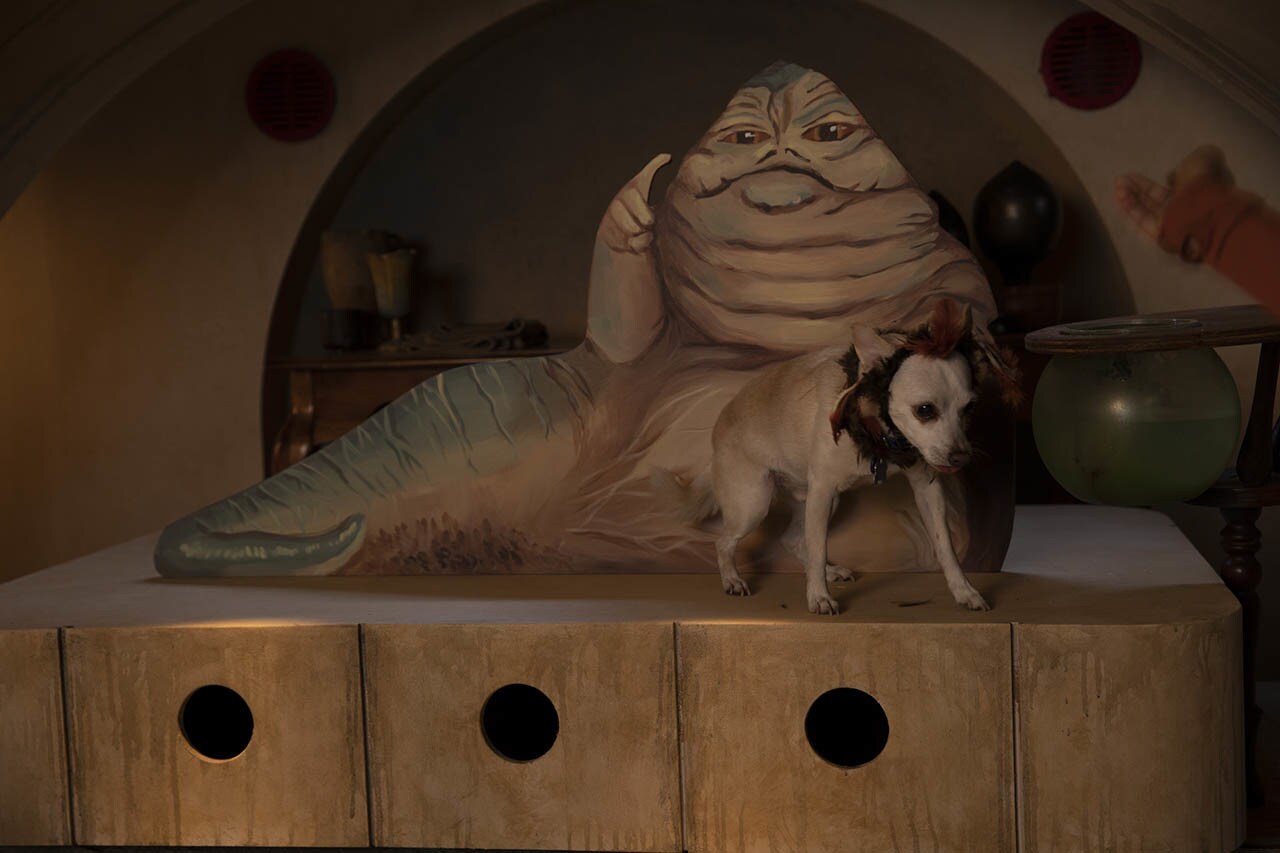 4. Limit the amount of time in costume. Your pet may not mind wearing that cardboard Boba Fett jetpack at first, but after 5 minutes, your pup may show you that they've had enough. No matter how cute your pooch looks in their getup, it's only fun if they're comfortable, too. If they have trouble walking, if they keep scratching themselves, or try to bite the costume, that's your cue to step in. Even cozy costumes made of fleece can become uncomfortable over time so always keep an eye on your pet.