Long lines, bootlegs, and excitement for a popular American film marked December 1977 in the UK.
As the 37th
Star Wars
Christmas arrives, it's a great opportunity to roll back the years to the very first, in 1977, and see what it was like here in the UK. Compared to the traditional
Star Wars
Christmases that have followed, it was distinctly unique.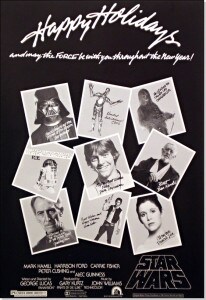 After the release and record-breaking success of Star Wars in North America on 25th May 1977, the anticipation for Star Wars in the UK was palpable. As was the way back in the '70s and '80s, UK audiences had to often wait months for American films to cross the Atlantic, and so all summer and autumn we heard about this groundbreaking space fantasy that broke convention and records in equal measure, full of faces familiar to UK audiences.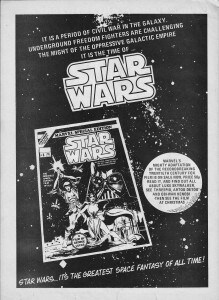 As the UK release date approached so the anticipation rose. The UK release of the film's adaptation had been published on 8th September 1977 and via Marvel comics adverts we were prepared for the arrival of Star Wars Weekly, which eventually hit shelves on 8th February 1978. Kids nationwide would read about the film coming in Look-In magazine, as BBC's lunchtime magazine program Pebble Mill at One reported on the mania surrounding it in the States. The week Star Wars arrived, London cinemas were showing such classics as The Giant Spider Invasion, Dark Star, Futureworld, Demon Seed, and Godzilla vs the Cosmic Monster. "Mull of Kintyre" by Wings was well on its way towards selling 900,000 copies, the album Disco Fever was number one for the second week and The Morecambe and Wise Christmas Show on BBC 1 attracted more than 28 million viewers -- one of the nations highest viewing figures to date. But as kids across the UK opened their presents to the news that the legendary English silent comedian Charlie Chaplin had passed away, Star Wars was yet to open. That momentous event was still 48 hours away.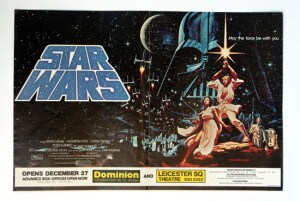 Star Wars
premiered in the UK on 27th December 1977, opening at the Leicester Square Theatre and the Dominion, Tottenham Court Road. During its first seven days at Leicester Square and the Dominion (a location closely associated with
Star Wars
releases in the UK) the film took a record-breaking £117,690, beating out
Jaws
' previous record of £90,655 from 1976. Back in the day, films always opened first in London and rolled out across the country afterwards, and as such the film remained at these two cinemas for over four weeks until 29th January 1978 when it broadened to twelve major cities around the UK and a further 16 cinemas in Greater London the week afterwards.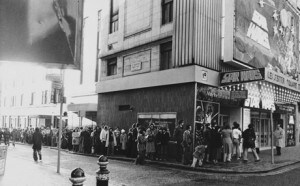 The popularity of the film was instant. Police came down hard on touts, who sold £2.20 cinema tickets for up to £30.00 a ticket (and getting what they demanded). As in the States the demand for merchandise was high, and quickly-released bootlegs became prevalent, as did any sci-fi and space related toys and books. Easy wins such as jigsaw puzzles, T-shirts, and sweets began to arrive. And the press got on board with the film, as shown here by these reviews from UK papers.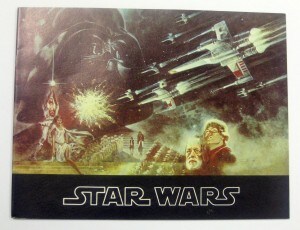 On 16th December 1977
The Daily Telegraph
sent its science correspondent Adrian Berry, 4th Viscount Camrose and a Fellow of the Royal Astronomical Society, to review the film and clearly he was pleasantly surprised.
"Until recently, space melodrama films have tended to be made with neither imagination nor money. With the brilliant exception of the Clarke-Kubrick 2001: A Space Odyssey, they have been badly-written B-feature affairs from producers with little knowledge of astronomy or technology.
Star Wars is far removed from these shoddy productions. It is the best such film since 2001, and in certain respects it is one of the most exciting ever made.
The story is unpretentious and pleasantly devoid of any "message."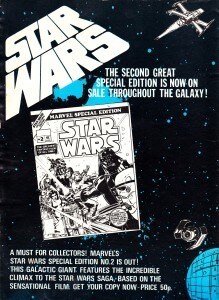 On its day of release Derek Malcolm's review in
The Guardian
, entitled "Lucas In The Sky With Diamonds," offered mixed thoughts on the film.
"Quite whether George Lucas, of American Graffiti fame, is also a genius is another matter. Viewed dispassionately -- and of course that's desperately difficult at this point in time -- Star Wars is not an improvement on Mr Lucas' previous work, except in box-office terms. It isn't the best film of the year, it isn't the best science fiction ever to be translated to the screen, it isn't a number of other things either that sweating critics have tried to turn it into when faced with finding some plausible explanation for its huge and slightly sinister success considering a contracting market.
But it is, on the other hand, enormous and exhilarating fun for those who are prepared to settle down in their seats and let it all wash over them. Which I firmly believe, with the extra benefit of hindsight, is more or less exactly what the vast majority of the cinema-going public want just now. Last year it was Jaws, which gave us more dangerous frissons, and not long before that it was The Exorcist, with enough green slime to give us all nightmares. Inevitably 1977 was going to be the year of safer pleasures. Star Wars, let me tell you, wasn't given its U certificate for nothing. The only exclamation the producers want from you is "Wow!"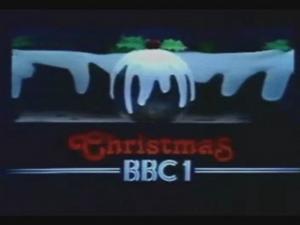 Also on 27th December the
BBC
 had this to say:
"Thousands of people are flocking to cinemas in the UK to watch the long-awaited blockbuster, Star Wars -- a movie which is already setting US box offices alight.
Bracing the cold weather, young and old queued from 7:00 a.m. in London at the Dominion, and Leicester Square cinemas, to snatch up non-reserved tickets which are otherwise booked until March.
Star Wars, which was first released in America seven months ago, has taken audiences by storm and outstripped last year's blockbuster Jaws to gross $156m (£108m) at the box office.
Carrie Fisher, Sir Alec Guiness, and little known Harrison Ford star in this fairytale set in space."
"Little known Harrison Ford." How things change. Of course, that first Star Wars Christmas was very different in the United States with the film having been out for seven months and products filtering in. 1978 would herald the big explosion in merchandise and collectibles, but that innocent Christmas of 1977, when the deep impact the film would have on popular culture was yet to be apparent, was the start of a tradition, the Star Wars Christmas, almost four decades old, multi-generational, and many more to come.