In the tenth installment of Marvel's UK magazine, you could win a snazzy Star Wars watch, learn Chewie fun facts, and much more.
The year: 1978. For British Star Wars fans, that was the year where the power of the Force truly arrived. Despite a vast percentage of the cast and crew being from the UK and the interior scenes being shot at Elstree, Pinewood, and Shepperton studios in and around London, the film had taken seven months to make the short trip across the Atlantic to our shores. And by the time the 10th issue of the UK Star Wars Weekly landed in newsagents across the country, Star Wars was already a worldwide phenomenon. However, there were positives and negatives. A negative was that our international friends had a good few months' head start in soaking up the cosmic awesomeness of Star Wars. A positive was that we had far less time to wait for The Empire Strikes Back to arrive…
In the music charts, little had changed. "Matchstalk Men and Matchstalk Cats and Dogs" by Brian and Michael was still at number 1 with "I Wonder Why" by Showaddywaddy rising three places to number 2. The classic Baker Street by Gerry Raffertty rounded out the top three while in the album charts 20 Golden Greats by Nat King Cole sat at the top, with 20 Golden Greats by Buddy Holly and the Crickets at number 2, and ABBA The Album at 3, ahead of new entries And Then There Were Three by Genesis at 4 and London Town by Wings at 6. Out in the "real world," radio broadcasts from the British parliament began on the 8th April, Volkswagon opened their first US assembly plant in New Stanton, Pennsylvania, and in the Soviet Union the Tbilisi Demonstrations saw protests against plans to change the status of the Georgian language. And most importantly, on Monday 10th April, Cheggers Plays Pop debuted on BBC 1. Any British kid of a certain age will know exactly what that means.
Meanwhile here in a cold and showery UK -- that even managed to see snow in various parts of the country -- we were eager and raring to get stuck into the next issue of Star Wars Weekly.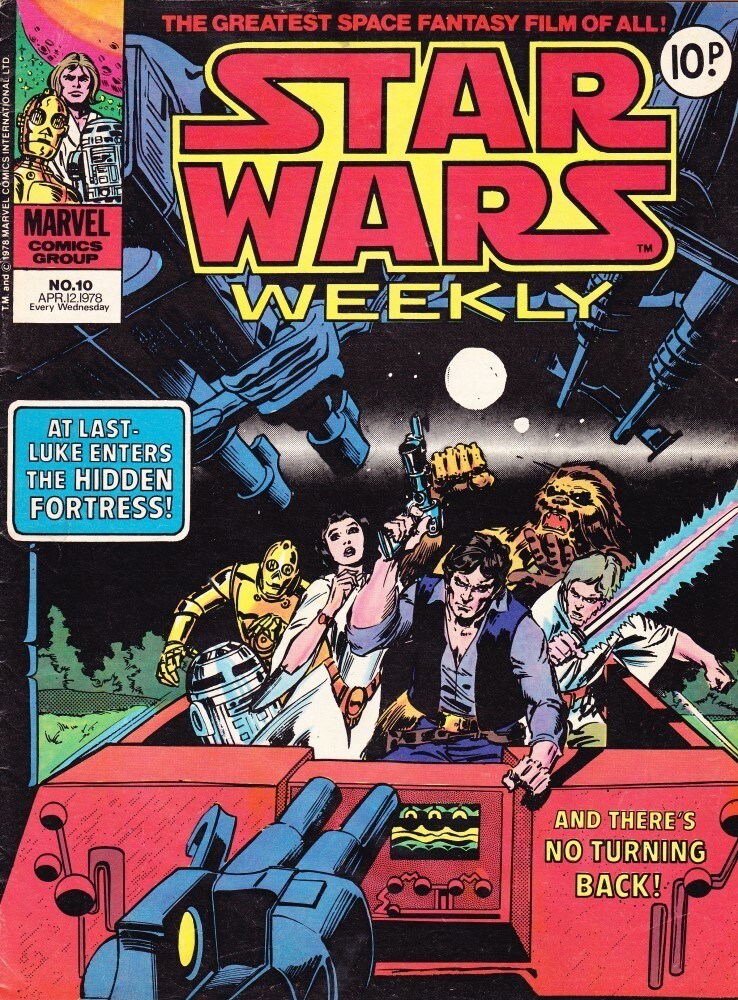 Our cover was as thrilling and dynamic as always. Behind the title "At Last – Luke Enters The Hidden Fortress!", referring to both Admiral Motti's strangled words and the Kurosawa film that partially inspired Star Wars itself, we see Han, Luke, Leia, Chewie, and the droids facing down an arsenal of weapons. The background of a treeline and a field of grass refers to the moon of Yavin as the issue begins with their escape from the Death Star and ends with the launch of the X-wings from the moon.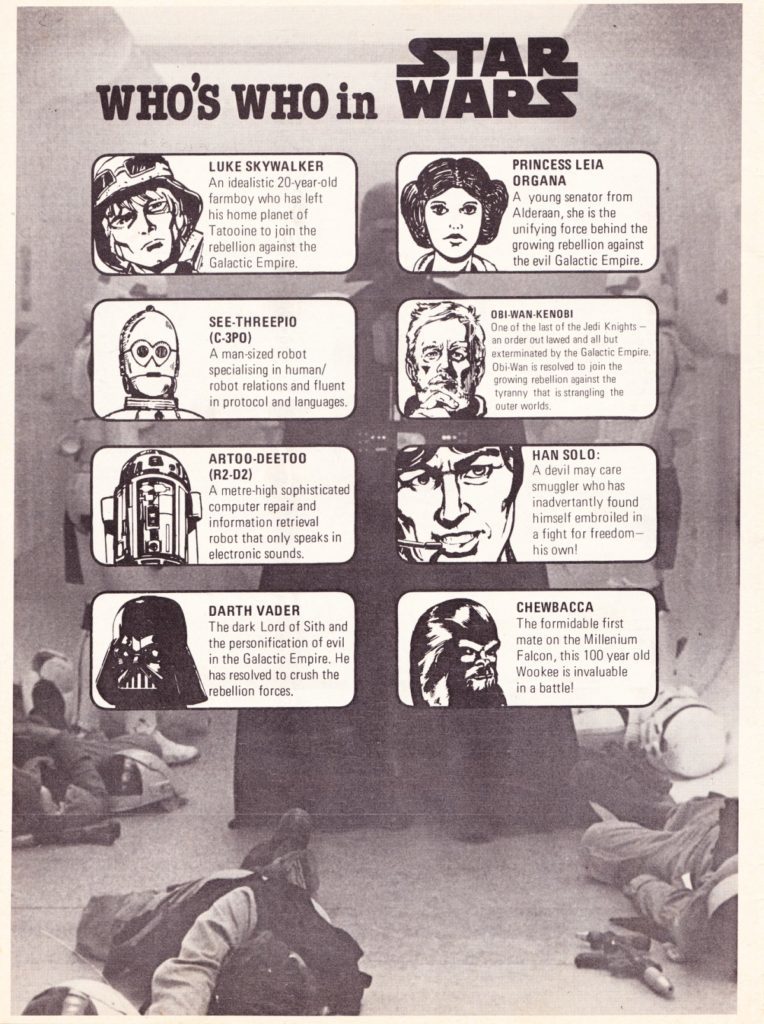 Kicking off the issue as always was Who's Who In Star Wars, the essential guide to the characters of the first Star Wars epic. This week we focused on Luke (resplendent in his floppy farmer's hat), Leia, Threepio, Obi-Wan, Artoo, Han Solo, Darth Vader and Chewbacca. Interesting that Leia is described as "the unifying force behind the growing rebellion against the Galactic Empire," a phrase that would return in James Luceno's 2003 final entry in the New Jedi Order series. Chewie is revealed to be 100 years old and, in an age where people still didn't know how to spell character names correctly (which still seems to persist 40 years on), he is called a "wookee."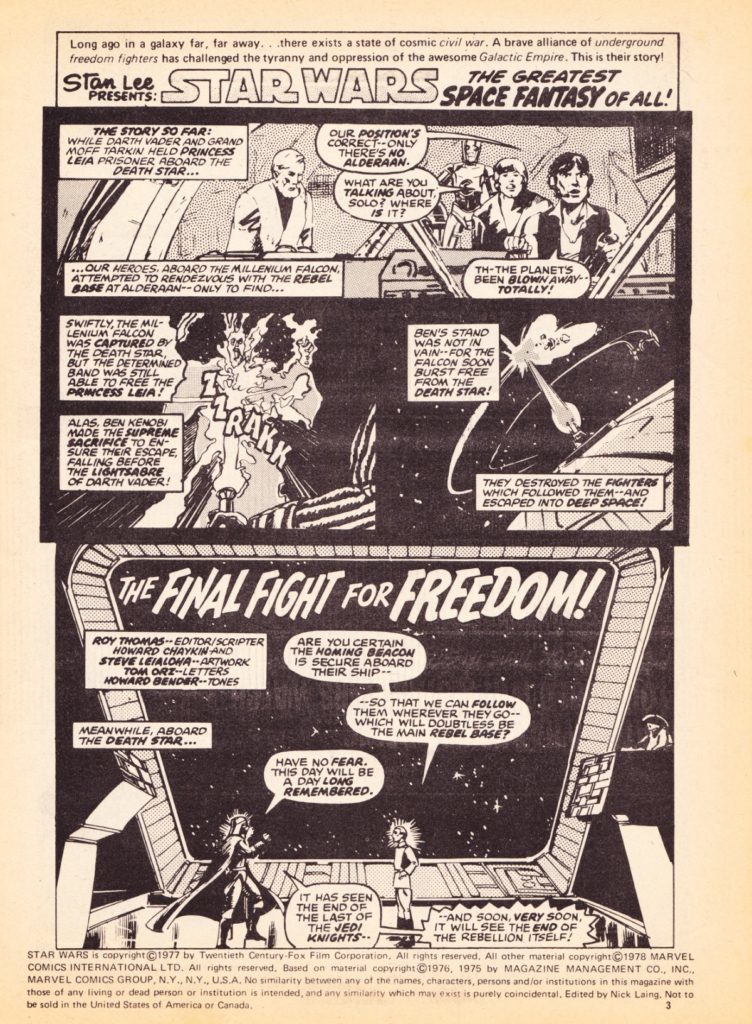 Sitting beneath a banner that quite rightly describes Star Wars as "The Greatest Space Fantasy Of All!", we have the weekly Story So Far. Leia held captive, our heroes attempting to rendezvous with the Rebel base at Alderaan, only to find the world shattered to smithereens. The death of Kenobi, their heroic escape, and then "The Final Fight For Freedom" as Grand Moff Tarkin warns Darth Vader of the awful risk they are taking by securing a homing beacon aboard the Millennium Falcon.
Taking us through the events of the film, we are treated to one of the cut scenes which wouldn't return until the Special Edition, 18 years later. Luke is introduced to "Blue Leader" (changed to Red Leader in the final film) and quizzed about his piloting skills. Biggs vouches for his young friend, describing him as "the best bush pilot in the Outer Rim Territories." Blue Leader recognizes the Skywalker name. "Skywalker -- of course! I met your father once when I was a just a boy. He was a great pilot."
Given the exclusion from the film of these background details, it's always interesting to note how much of a history Luke had in the pre-Empire Strikes Back days. We were yet to learn of Ben's certain point of view, history-tweaking ways, but were aware of Luke's father's fame as a skilled pilot. Of course, all that would change.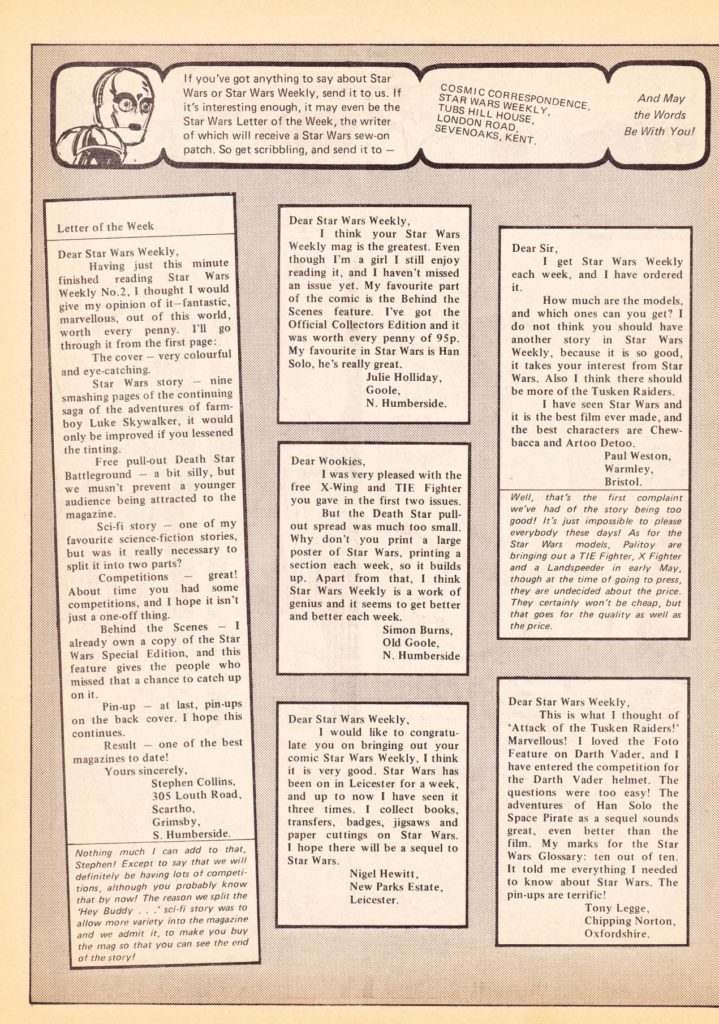 Cosmic Correspondence returned for issue 10, giving UK readers the chance to voice their appreciation or concerns. This issue, See Threepio headed up the column, choosing a Letter of the Week (this time by Stephen Collins of Grimsby) and five other letters by boys and girls across the country. Julie Holliday of Goole said, "I'm a girl and I still enjoy reading it. My favourite in Star Wars is Han Solo, he's great," while Simon Burns from Old Goole wrote with an idea. "Why don't you print a large poster of Star Wars, printing a section each week, so it builds up." Nigel Hewitt of Leicester showed an early eagerness for collecting. "I collect books, transfers, badges, jigsaws and paper cuttings on Star Wars." All in all a very satisfied bunch of fans.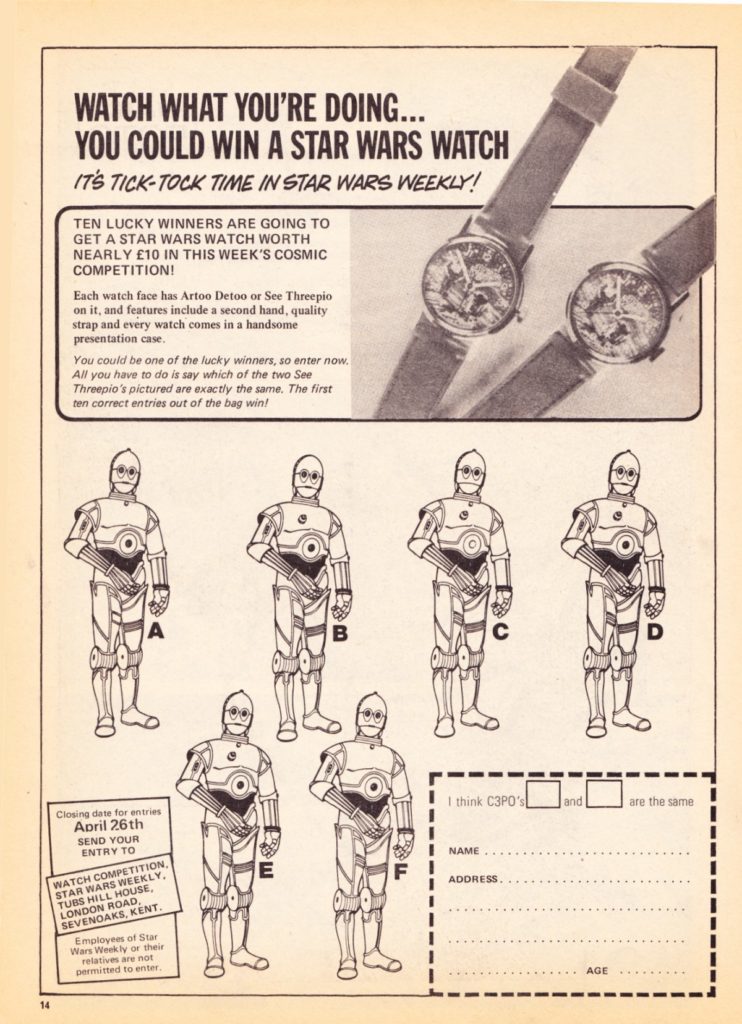 Speaking of competitions, it was tick-tock time in Star Wars Weekly! Issue 10 had yet another, giving the kids of '78 the chance to win a Star Wars watch worth nearly £10! Entries had to be in by April 26th and the challenge was simple: spot the different C-3PO. Anyone could enter, except for employees of Star Wars Weekly and their relatives.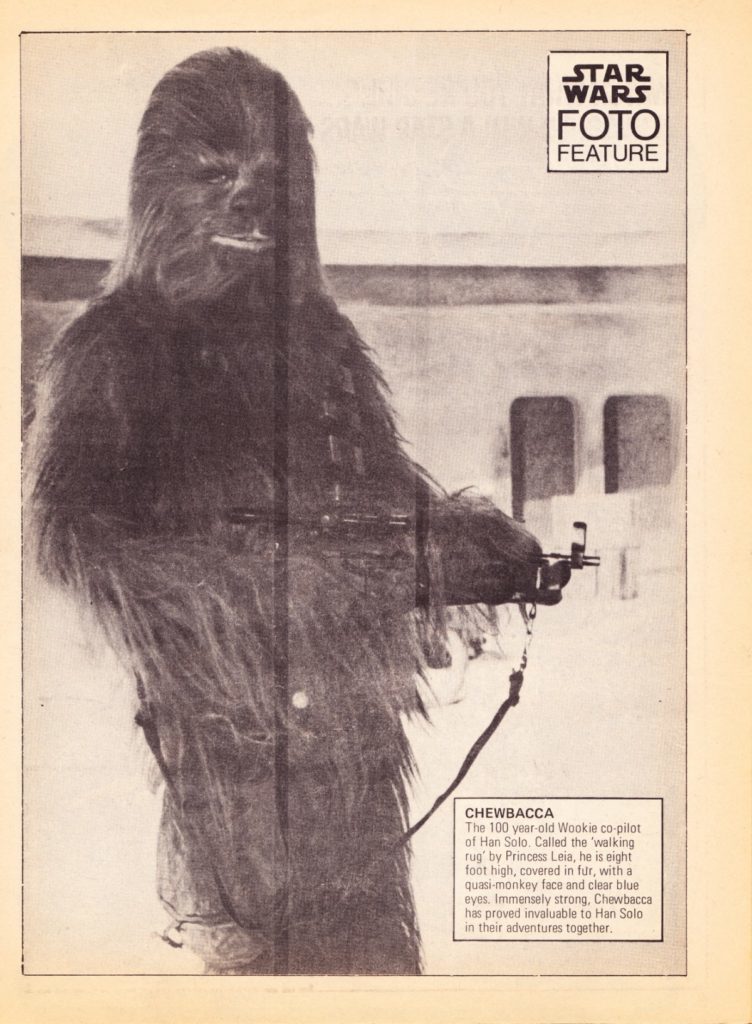 The classic Foto Feature  featured a very hairy Wookiee (or "wookie," as it's printed) co-pilot. Shown in Docking Bay 94, Chewie is described as the "walking rug" and being eight-foot-high and 100 years old. While some of those details may have changed over the decades, there's no questioning that he was indeed invaluable to Han Solo in their adventures together, right to the very end on Starkiller Base. And while that story may have been 37 years ahead of us in 1978, the information here was absolute playground currency, as those awesome Palitoy 3 ¾ inch figures began to arrive for kids everywhere and everyone was keen for knowledge.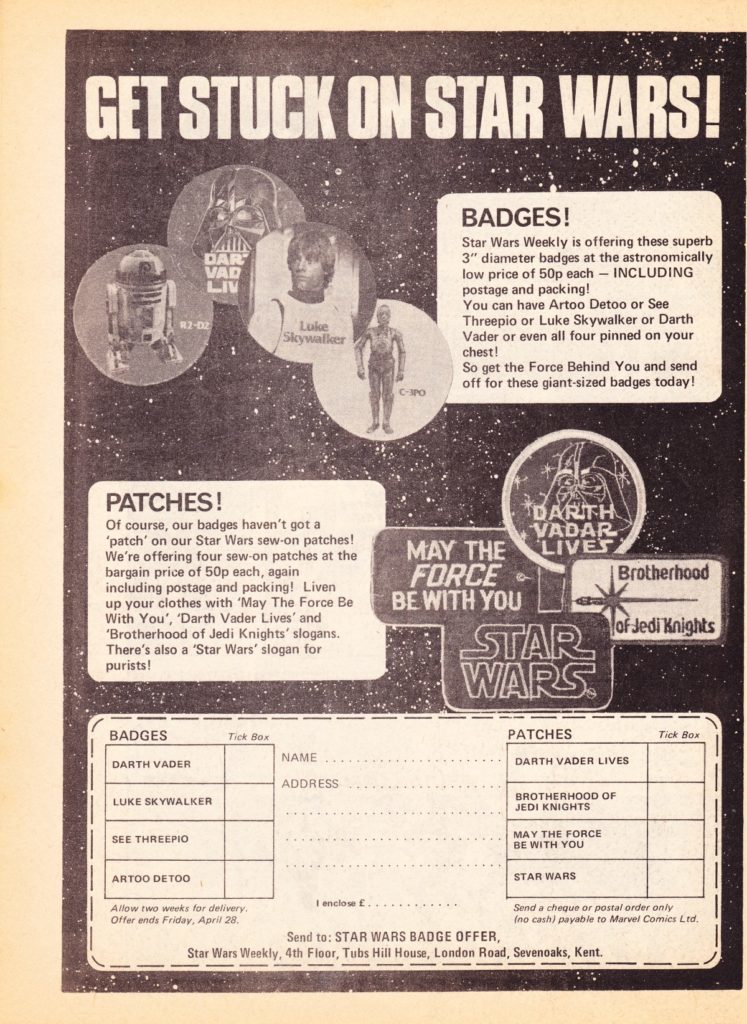 The remainder of the magazine was dominated by some classic Marvel stories as Tales of the Galaxy brought us "Glory of the Father" by Doug Moench, Alex Nino, and Roy Thomas, followed by The Sword in the Star's next chapter, "Witchworld" by Bill Mantlo and Justice League legend Keith Giffen. Interspersed were ads for the Official Collectors Edition by Marvel, the UK perennials Mighty World of Marvel, Complete Fantastic Four, and Super Spider-Man, Star Wars badges and patches, and the 48-page Close Encounters Special Edition, which could be yours for 60p. Today 60p wouldn't buy you a Mars bar. Back then it was more than most kids had in pocket money in a week. Oh, how times change!
But one thing that hasn't changed is the magic of Star Wars. Stay tuned as we continue our Hoth Tub Time Machine escapades and dive into issue 11 of UK Star Wars Weekly.
Mark has contributed to Star Wars Insider since 2006, is the owner of Jedi News, writes for DeAgostini's Build The Millennium Falcon partwork magazine, and co-hosts RADIO 1138 and Take Cover on the Jedi News Network. He's an honorary member of the UK Garrison of the 501st, a friend of the Rebel Legion, and when he's not talking, tweeting, or writing about Star Wars, he can usually be found sleeping -- where he'll most likely be dreaming about Star Wars.