The high-end millinery has taken four classic trilogy characters and reimagined them in a line of limited-edition hats and headbands with delicate details and subtle sophistication.
A new line of Star Wars-inspired hats and headpieces marries couture detailing, thoughtful materials, and fashion-forward design with some of the most identifiable characteristics of our favorite classic trilogy characters.
Gigi Burris, the lead designer of the Star Wars X Gigi Burris collection, founder, and namesake of the high-end millinery house based in Manhattan, discovered Star Wars in a darkened all-purpose room at her childhood summer camp near her family home outside Orlando, Florida. Now she hopes fans might snag her specialty pieces for Disney bounding at the Disney Parks, a special occasion, or to simply add a subtle nod to their fandom into their everyday fashion accessories.
Prior to the shutdown that sent Burris and many others working from home earlier this year, Burris and her team were in the studio pulling together mood boards, sketching ideas, and rewatching the entire Skywalker saga to get a sense for the characters and design details that would make their collection stand out while also blending into the galactic landscape. "I think so much about Star Wars is about community and it was evident even within my own team," Burris says. For each piece, Burris challenged herself and her crew to play up the most unmistakable features and elements of the most beloved characters. "What is it you know and love?" she asked them.
The end result is a handful of exquisite pieces that don't scream Star Wars but rather hint at the iconic characters that inspired them. Recently, we sat down with Burris and her patient dog Bo -- who is not named for Bo-Katan Kryze. We asked! -- over video chat to discuss her debut collaboration with Star Wars, available now.
Although John Williams' Star Wars soundtracks played on repeat helped keep Burris in the moment as she worked out her designs, it's the individual characters that have always resonated most with the self-proclaimed fan of the fretful golden droid C-3PO. "These characters are so iconic. These characters are so cherished. And they're really kind of a visual vocabulary even for people who aren't Star Wars fans."
In Threepio's honor, Burris crafted what's probably her favorite piece in the collection, a 14K gold-plated headband, which she hopes captures the elegance of the humanistic droid's design and incorporates the details of the way the film costumers forged the stamping on the sides of the head as well as the crown-like top of the seam. "I really love C-3PO," says Burris. "I just have always visually appreciated the mechanics of him. They're so lo-fi yet at the same time very sleek." And the timing of the piece feels right after the droid's important role in Star Wars: The Rise of Skywalker last year. "We were very much inspired by the original trilogy, but I do feel like there's been a renewed love for C-3PO from the latest movie because he was such a hero."
A Yoda headband makes for another unmistakable silhouette and comes in two versions. One is a simple rose gold band with specially formed outlines of the Jedi Master's ears while a special edition embellishes the design with Swarovski shadow opals that hint at his luminous green skin. "It's almost like a milky green cream."
The design itself is a play on an earlier version Burris created for a Mickey Mouse-themed collection, elevating the ears often adorning the heads of Disney Park attendees. Initially, Burris considered adding a space-dye finish, but ultimately stuck to the refinement of fine metals rather than trying to plate the piece, which was already a challenge. "His ears are so wide!" she says. "It was quite a bit of back and forth trying to find the perfect silhouette of his ear because what looked good in hand and on a tabletop was then kind of shaped differently once you had it on your head because the headband expands. He doesn't have an elf ear; he has a very distinguished flatline ear."
To balance out the collection, "I knew I wanted to do something that was a little more dark side," Burris says, incorporating her brand's Sharina design. Darth Vader was the perfect match.
"It's kind of a shape that we're known for, but it reminded me so much of the angular points of Darth [Vader's helmet]," Burris says of the hand-molded, seamless design, crafted by artisans in the same painstakingly patient way milliners have crafted similar hats for centuries. "There are a lot of human hands that went into the crafting of this product," Burris says, along with hours of blocking and setting. Patent leather binding hints at the gleam of his helmet while the felt construction is a nod to his matte cape. At a glance, you may not even think it's a Star Wars piece.
But Burris and the team played around with external hardware to more distinctly tie the cap to the Sith Lord, and a special damask silk ribbon emblazoned with the vintage logo hidden at the sweatband confirms the wearer's alliance. "You'll know it's Star Wars, but not everyone will know it's Star Wars," Burris says.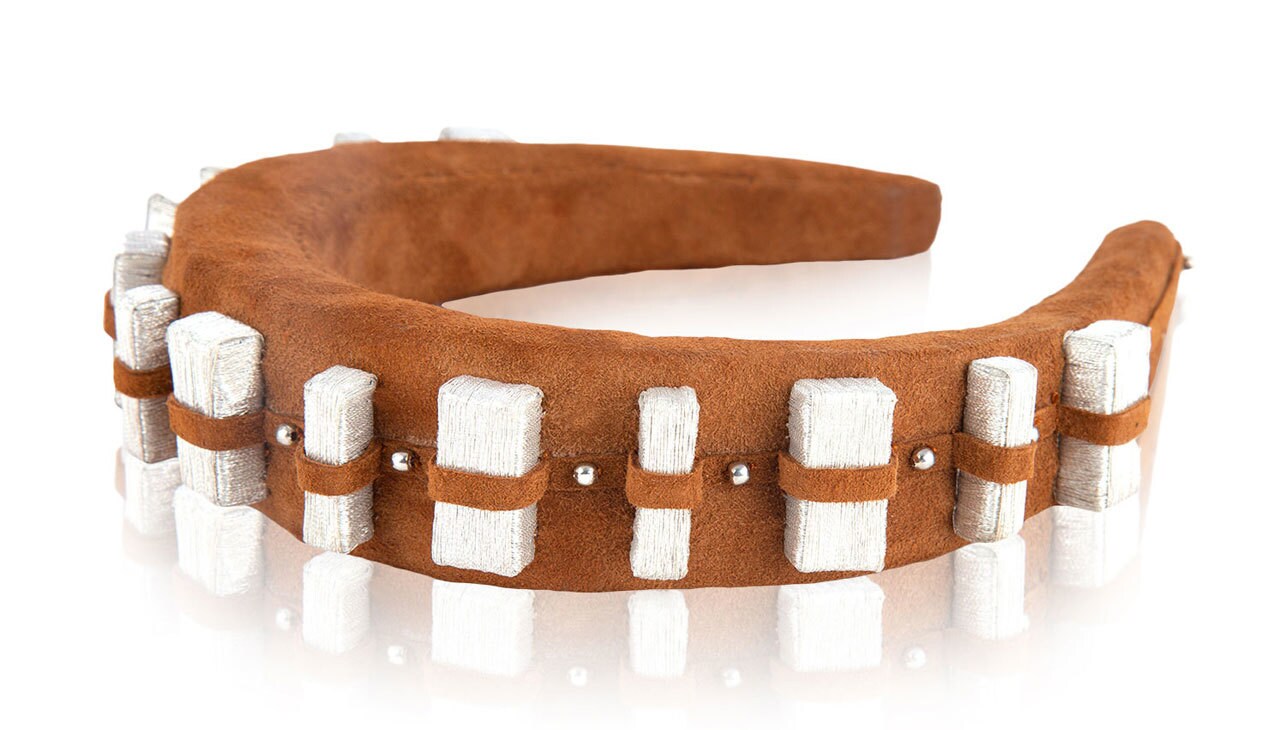 To pay homage to everyone's favorite Wookiee co-pilot, -- "Everybody adores Chewie. He's such a wonderful and kind spirit," Burris notes -- Burris and her team also designed a special padded suede headband with handcrafted details to signify Chewbacca's bandolier.
"From a design perspective, Chewie was all about texture," Burris says. "So much about him visually is texture." Burris ensures her pieces are locally produced whenever possible, artisan quality, and crafted by a diverse group of men and women to give each one a human touch.
In keeping with those ideals, "the bandolier is pieces of wood that have been hand-wrapped with metallic thread filaments," Burris says. "So it has a really beautiful, couture, hand-finished quality with little silver studs."
The fifth piece in the collection is the most casual and limited of them all. At just 20 pieces to be stitched, with collectible numbers embroidered on interior tags, the bucket hat evokes the idea of the weapon of the Jedi and the Sith: the lightsaber. In this case, it's a red blade of light that inspired the visor of the hat. "When you wear it, the light casts a glow on your face," Burris says. "It looks really cool. You capture the light, which I think is what the lightsaber was all about." A ribbon accent complete with the original Star Wars logo finishes the piece inside and out.
While this line marks Burris's first collaboration with Star Wars, she hopes it won't be her last. The designer would love to create pieces that inspire fans of R2-D2 and Princess Leia Organa among others in a future capsule collection.
Shop the Star Wars X Gigi Burris collection now.