Zoraida Córdova, the author of the new YA novel out this summer, tells StarWars.com about crafting a 24-hour love story on Batuu and subverting classic tropes.
Like Luke Skywalker before him, Jules makes his home on a far-flung planet but dreams of piloting his own ship among the stars. Meanwhile, his childhood friend Izzy has chosen a life of smuggling after her parents were killed; despite her adventurous existence what she really craves is a place to call home. At Black Spire Outpost they find their lives intertwined in the new YA romance novel Star Wars: Galaxy's Edge - A Crash of Fate.
"They're both at the same place in their lives," says the book's author Zoraida Córdova. "If this were a YA rom-com, it would probably be the summer before college where they're trying to figure out 'what do I do with my life?'"
The teen romance takes place over the course of a single day on Batuu, which was recently brought to life on Earth at Disneyland Resort and opening August 29 at Walt Disney World Resort. But long before the first visitors stepped foot inside the new themed land, Córdova was pouring over concept art and schematics, getting to know shopkeeper Dok-Ondar, and recreating the land for her own story. "That's where that crazy writer imagination really has to come in," she says. "You really have to sit there and visualize."
Her storytelling arsenal included a detailed map of the Outpost. "I had a lot of source materials for the actual theme park," she says. "For me, maps are really important when it comes to fantasy books. I know where to place everybody once I know where that map is." Córdova routinely uses small figurines to construct the plot, like a general hatching a war strategy.
That was even more important for a story that takes place in a location that hadn't yet been fully realized but where readers would soon be able to venture on their own. "It incorporates lands beyond, but the majority of it does take place on the Outpost," Córdova says. "And there are some sections of the theme park where you can't go as a visitor, but in the book those places are explored."
Like Anakin and Padmé
In A Crash of Fate, Izzy and Jules start out as best friends, climbing the spires near the Outpost for fun when they're just six years old then leaps into the future. "Izzy's parents left for reasons that she never really understood while Jules's family stayed on Batuu," Córdova says. "And this story picks up 13 years later when they sort of crash into each other very literally." Jules quickly falls in love, while Izzy is focused on the job she's been hired to complete. After all, she's in this life for good.
To capture the budding romance, Córdova studied classic archetypes in the Star Wars saga, including taking a second spin through Lost Stars by Claudia Gray and giving a closer examination to the forbidden romance of Anakin Skywalker and Padmé Amidala. "I definitely try to lean into that I think," she says. "There's a lot of pining on Jules's part."
To capture that angst, she rewatched episodes of Star Wars: The Clone Wars, including "Hostage Crisis." "It's the episode where Anakin gives Padmé his lightsaber and he's like 'You want to know how much I love you? I'm going to give you something I'm not supposed to give you because we're not supposed to be together. That's how much I love you.'" Although not forbidden by the Jedi Order, the romance between Izzy and Jules is rife with other complications. "Their emotions just feel larger than life. They can be together, but the thing that's sort of keeping them apart is what they want in life and also the truncated time period. It's 24 hours so all of their feelings are magnified."
'The boy next door'
Córdova's story also inverts some classic romance and gender stereotypes. "She's the aspiring smuggler and he's the boy next door," she says, turning the classic roguish-rebel-meets-girl-next-door storyline on its head. "I am a romance writer as well as a young adult author, so for me it's about taking tropes and elevating them."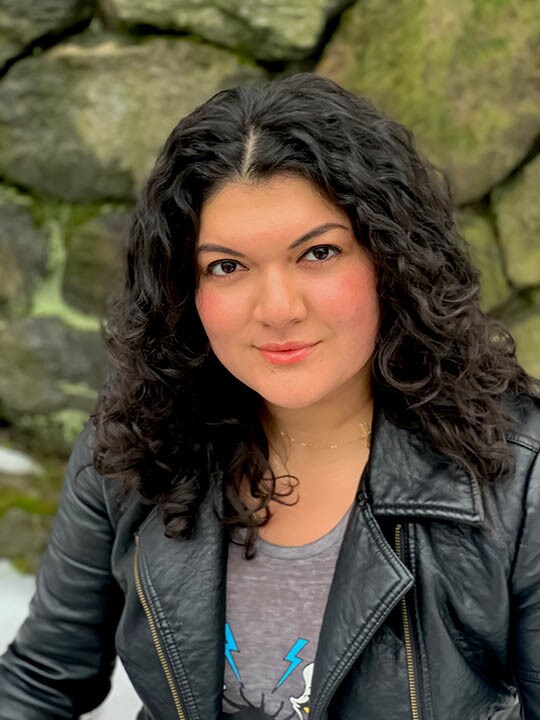 And although the two characters seem to have two different goals in mind -- Jules wants to escape while Izzy is experiencing a homecoming of sorts -- their parallel lives are complementary, Córdova says. "They have all of this baggage and they have to like, untangle it. …Izzy, she feels very worldy. She thinks she's very wordly because she's just been to a lot of places, but she doesn't have a place to call home, really." When readers meet her again at 19, she's desperately trying to find her place in the galaxy and what she should do with her life. "Everybody keeps telling her, 'You're a traveler, you're just passing by.' So for her, just like Jules, what is her place on this planet?
"And for Jules, he's never left," despite opportunities to get away, she says. "I think as Star Wars fans we sympathize with the farm boy who's never left his planet."
In addition to the all-new characters she created for the tale, Córdova incorporated Dok-Ondar, the business keeper visitors can meet at Star Wars: Galaxy's Edge who has his long Ithorian fingers in all the goings-on at the Outpost. "He's sort of the godfather of the Outpost, he's the keeper of the black market," she says. "For me, Dok made more sense for one of the characters to be associated with him. Jules was sort of a delivery boy for him and there are things that are happening on the planet that are happening in the theme park." The day in which the story takes place is canonically very close to the time period visitors experience within the park today. "Everybody knows that the Resistance is setting up a base here, right? So things are happening and nobody understands why. The storyline is sort of how the Outpost is affected by the Resistance and the First Order."
Find out more when Star Wars: Galaxy's Edge - A Crash of Fate, available for pre-order now, is released August 6, 2019. It will be available early at San Diego Comic-Con this week.
Associate Editor Kristin Baver is a writer and all-around sci-fi nerd who always has just one more question in an inexhaustible list of curiosities. Sometimes she blurts out "It's a trap!" even when it's not. Do you know a fan who's most impressive? Hop on Twitter and tell @KristinBaver all about them.
Site tags: #StarWarsBlog