The new book features many little-known details and revelations about Batuu -- the world seen in the Star Wars-themed land at Disney Parks.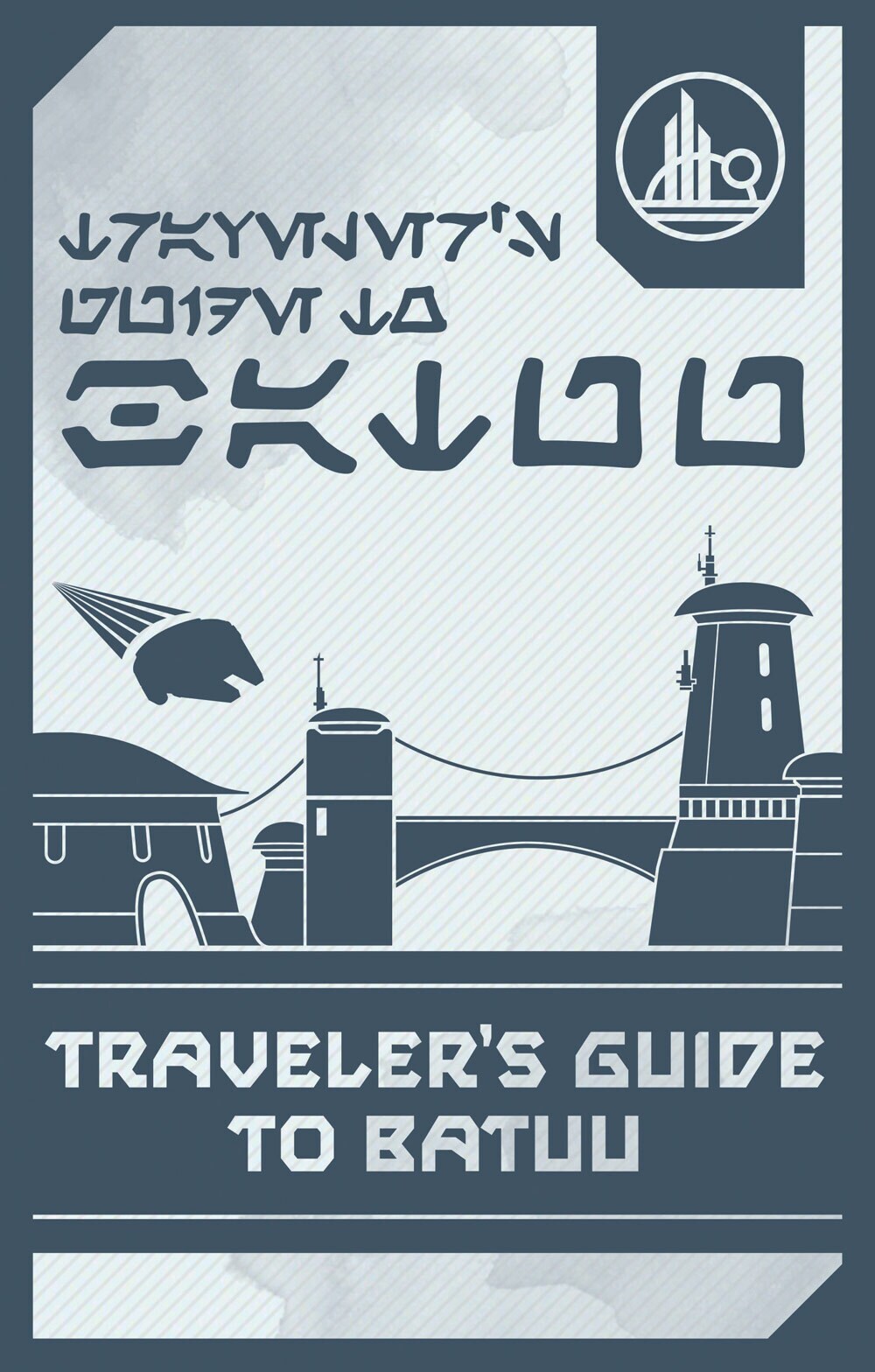 The newly released book Star Wars: Galaxy's Edge: Traveler's Guide to Batuu by Cole Horton gives Star Wars fans a unique look at what you'll discover while visiting Batuu. You'll learn details about the stores, eateries, and cantinas you can visit as well as the locals who run them. Even if you've visited Star Wars: Galaxy's Edge via a trip to Disneyland® Resort or Walt Disney World® Resort or read tie-in books and comics that have featured Batuu, there are lots of new details, factoids, and travel warnings to discover in this in-world guidebook written by historian Eloc Throno. To paraphrase Luke Skywalker, you'll find that Star Wars: Galaxy's Edge: Traveler's Guide is full of surprises -- here are seven we found.
1. Batuu isn't far from another particular planet.
The map near the front of the guide shows where Batuu and dozens of other Star Wars worlds are located. As Batuu is in the Outer Rim, it's a good stopping off point for people brave enough to explore Wild Space. Batuu is also fairly close to Ahch-To, known for its thriving porg population, among other things…
2. There are many more Batuuan communities.
Black Spire Outpost gets most of the attention in discussions of Batuu, as it's the largest settlement and center of action for most travelers. But Batuu has many more communities -- such as the Galma District, known for its podracing, and the Surabat vicinity, a popular destination for mountain hikers and thrill-seekers.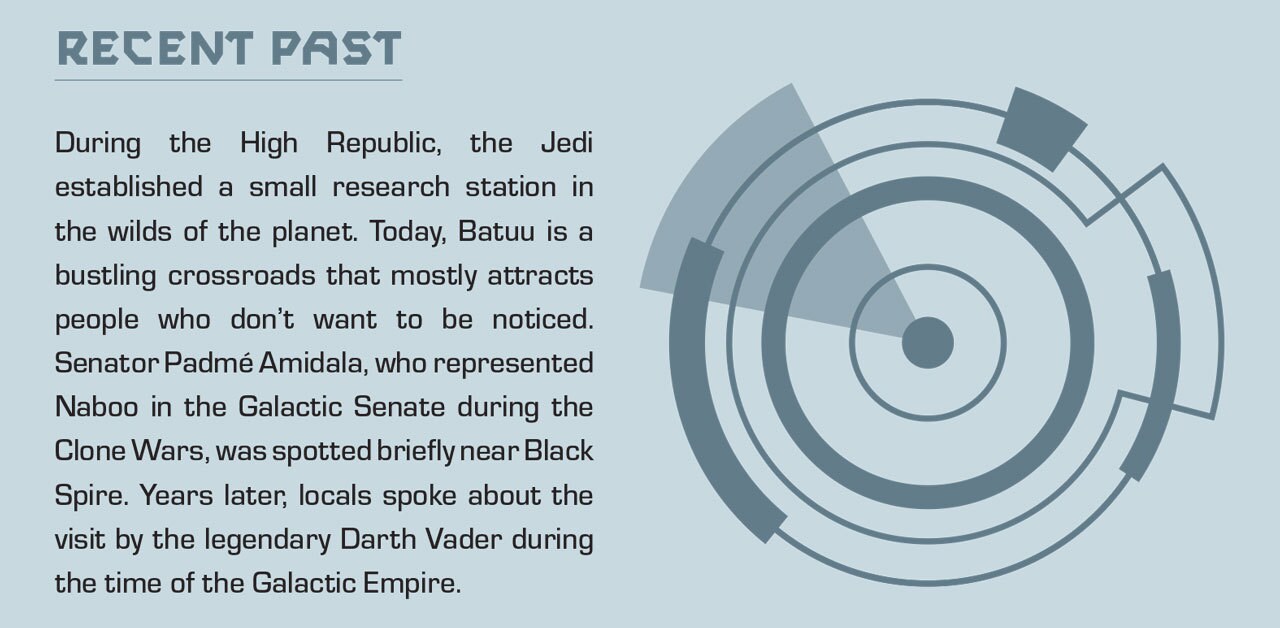 3. There's a Star Wars: The High Republic connection.
In the history section of Star Wars: Galaxy's Edge: Traveler's Guide to Batuu, the High Republic -- to be explored in the publishing mega-event, The High Republic -- has an intriguing mention. During this era, about 200 years before the events of Star Wars: The Phantom Menace, the Jedi established a small research station in the wilds of Batuu. Little else seems to be known about Batuu from this time period…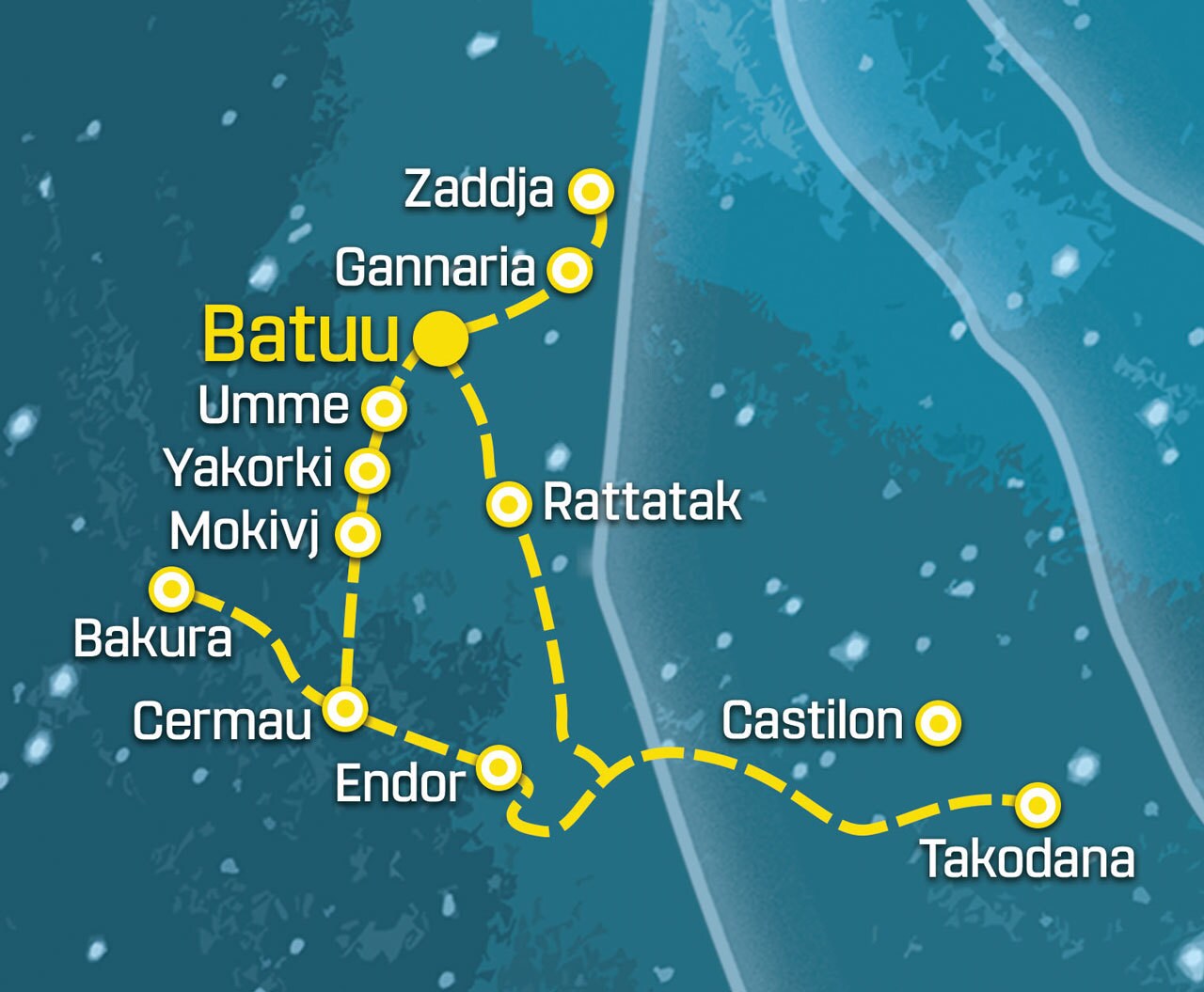 4. You can plan some galactic day trips!
Every good travel guide has a section about day trips where travelers can learn more about worlds they can easily reach and explore if their schedule allows. Some of these destinations may be areas vacationers have heard of before, like the Forest Moon of Endor or Takodana. Other locales may inspire new adventures, such as Mokivj, a world known for its beautiful sunsets and ten moons, or Umme, a popular choice for big game hunting.
5. Every local has a story.
Batuu is filled with a fascinating cast of characters and you can learn more about several of them throughout this guidebook. Salju from Black Spire Station and droid repair technician Mubo are just two of the residents profiled -- and probably a safer choice to visit with than cantina owner Oga Garra.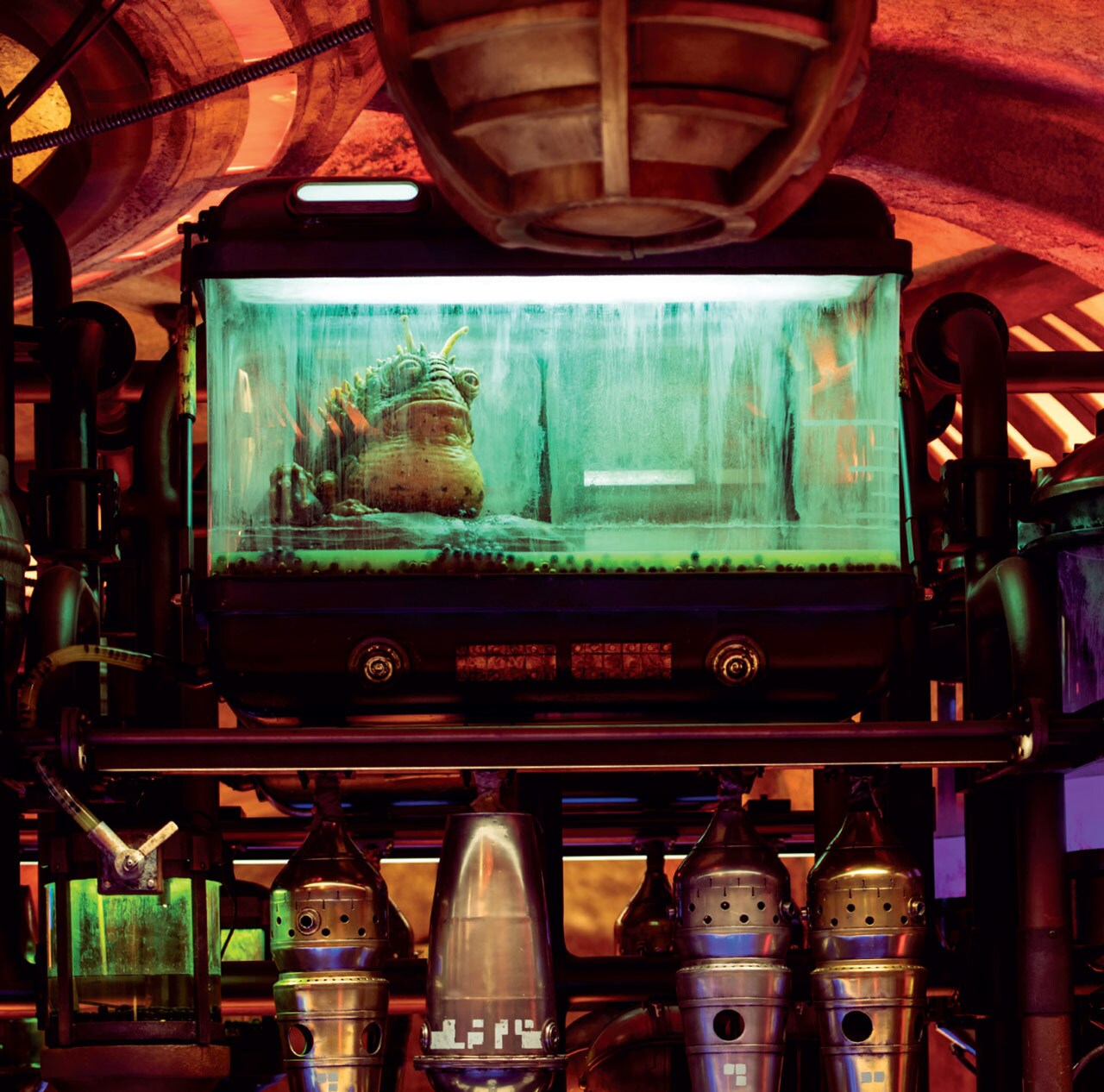 6. Like the cantina creatures? They're there for a reason.
If you've been lucky enough to visit Oga's Cantina for a tasty beverage, such as the Fuzzy Tauntaun or the Yub Nub, you've probably spotted a few interesting creatures behind the bar. What you may not have realized is that the creatures provide ingredients (such as the eggs laid by the worrt) for some of the drinks and snacks sold to customers.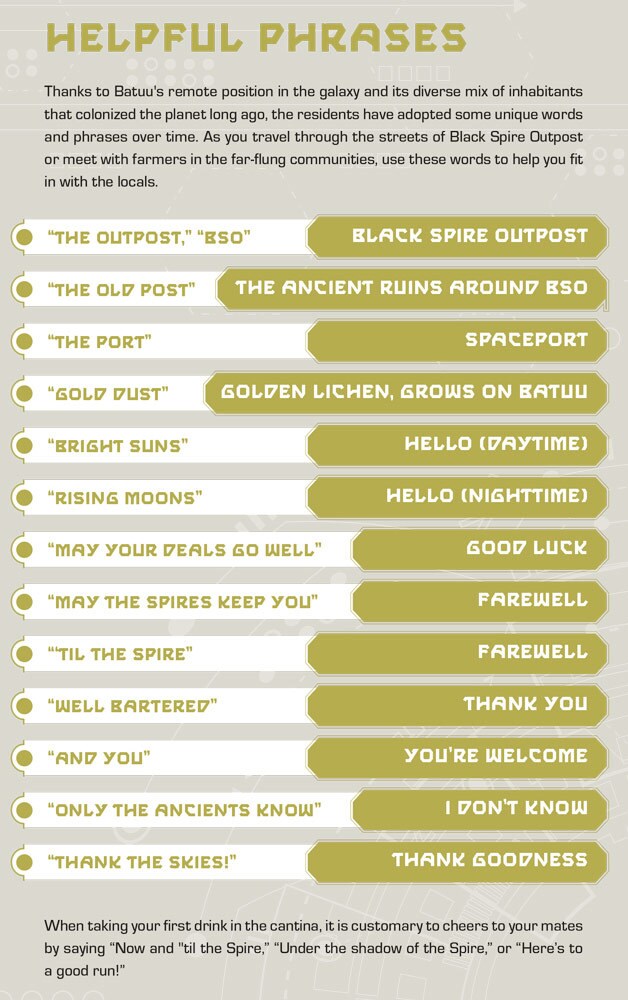 7. There's lots of lingo to learn!
It's always useful when visiting a new place to be aware of regional news and customs. You may choose to schedule your trip to coincide (or avoid) special events such as the Batuuan Harvest Festival or Black Spire Day. You can fit in more with locals if you understand slang such as "Only the ancients know," or "Thank the skies!" And you will be wise to not get influenced by the First Order propaganda posters visible throughout the area. If you intend to return home, that is.
Star Wars: Galaxy's Edge: Traveler's Guide is available now.
Star Wars: Galaxy's Edge is at Disneyland® Resort and Walt Disney World® Resort.
Amy Richau is a writer, lifelong Star Wars geek, and diehard Denver Broncos fan. You can find her on Twitter @amyrichau and more of her writing on FANgirl Blog.
Site tags: #StarWarsBlog