Writer Ethan Sacks tells StarWars.com about setting his story at Black Spire Outpost in a crossover miniseries based on the new Star Wars-themed land coming to Walt Disney World Resort and Disneyland Resort.
Pirates, smugglers, merchants, and wanderers from across the galaxy have traveled to make their score or sell their wares at the infamous black market located at Black Spire Outpost on Batuu.
In April, journey to this locale in the Outer Rim in the new Marvel Star Wars comic series Star Wars: Galaxy's Edge, which ties into the new lands opening at Disneyland Resort and Walt Disney World Resort later this year.
Readers of the five-issue miniseries will be the first to meet the infamous Dok-Ondar, the Ithorian collector of rare antiquities, and find out what happens when the First Order reaches the edge of wild space. The key to saving this lawless outpost might just involve a job pulled long ago by none other than Han Solo and his cohort Chewbacca.
Get your first look at a concept design variant cover art featuring Dok-Ondar, designed by Karl Lindberg and Iain McCaig, for Star Wars: Galaxy's Edge issue #1 below!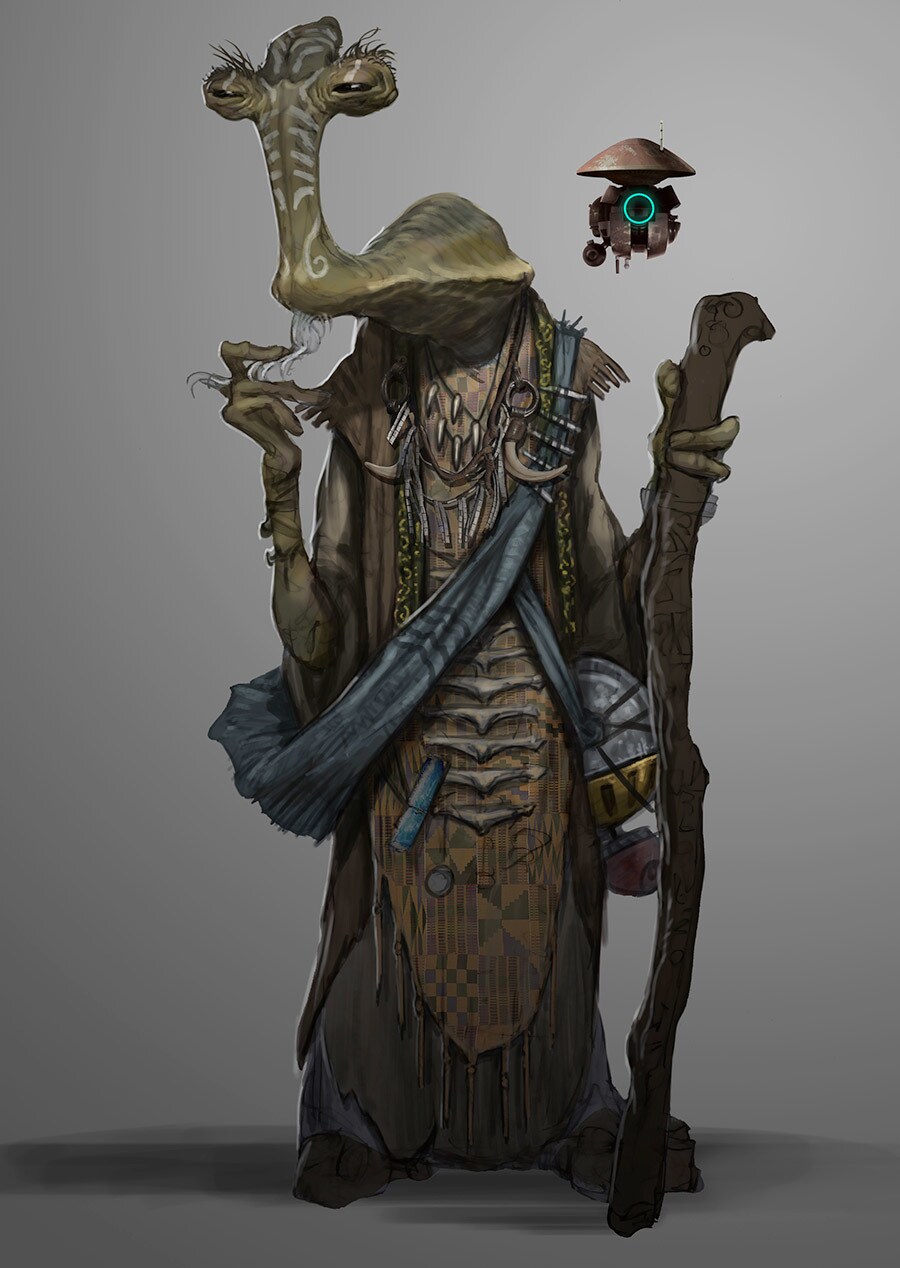 The series is written by Ethan Sacks, who recently entered the Star Wars comics galaxy with a tale of Jedi Master, Mace Windu, in the Star Wars: Age of Republic series. The series will be illustrated by Will Sliney, the artist behind the Beckett one-shot who also penciled the comic adaptation for Solo: A Star Wars Story. Cover art will be created by Walt Disney Imagineering and Lucasfilm artists.
We recently spoke with Sacks to learn more about how Star Wars first captured his imagination, and get a sneak peek at what's in store for fans when the new series launches this spring.
StarWars.com: You just recently wrote your first Marvel Star Wars story, focusing on the fearless Jedi Master Mace Windu in the Star Wars: Age of Republic Special. What was it like being a fan entering the galaxy to shape a story around this character? And how different has it been plotting and collaborating for your new series, Star Wars: Galaxy's Edge?
Ethan Sacks: My lifelong fandom started on a summer afternoon in 1977, when as a four-year-old I first heard John Williams's score in the theater. That experience of wonder changed my life in a very literal way, driving me on a path that ultimately led me to entertainment journalism and later writing comic books. So this is very personal for me.
The Mace Windu story in Age of Republic was self contained and fairly easy to write once I came up with the basic story idea. While Galaxy's Edge has intertwined stories over several eras — including a Han Solo and Chewbacca adventure, a very specific dream come true — so plotting it to fruition was kind of like playing a high stakes hand of Sabacc on an active Dejarik board. Fortunately, I have great editors in Mark Paniccia and Thomas Groneman to help me navigate that asteroid field.
StarWars.com: What can you tell us about Dok-Ondar and his role in the story? We know he's mentioned in Solo: A Star Wars Story, but only briefly.
Ethan Sacks: There's a reason Dok-Ondar's name ripples far and wide in the Star Wars universe. He's a mysterious Ithorian who is the proprietor of the most notorious antiquities shop in the galaxy. And every item has a story behind it. Some more dangerous to listen to than others.
StarWars.com: Your story takes place on Batuu at Black Spire Outpost, a place fans will get to visit later this year at Disneyland Resort and Walt Disney World Resort. How did you approach adding to this vibrant, remote black market?
Ethan Sacks: Our series will give fans the chance to visit Black Spire Outpost months ahead of voyaging to Batuu in person. Armed with top-secret sketches and information from Walt Disney Imagineering and Lucasfilm, we are keeping this authentic to the spirit of this rich new setting. I'd tell you more, but I already have the death sentence on 12 systems….
Be sure to reserve a copy of Star Wars: Galaxy's Edge issue #1 at your local comic store, or wherever comics are sold.
Check back for more exciting news on other Star Wars books and comics hitting shelves in 2019!
Associate Editor Kristin Baver is a writer and all-around sci-fi nerd who always has just one more question in an inexhaustible list of curiosities. Sometimes she blurts out "It's a trap!" even when it's not. Do you know a fan who's most impressive? Hop on Twitter and tell @KristinBaver all about them.