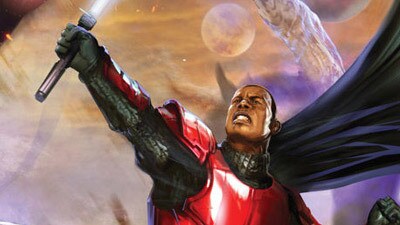 It's Wednesday, which means one thing: new comic books! Check out a preview of new Star Wars comics available today after the jump!
Star Wars: Legacy #3, $2.99
Ania Solo and her friends have been chased, blockaded, and shot at, and now they're stuck on a world of molten sulfur all because an Imperial Knight wants them dead. Just when things seem bleakest, another Imperial Knight shows up! Is he here to help them, or help destroy them?

Creators
Writer: Corinna Bechko, Gabriel Hardman
Artist: Gabriel Hardman
Colorist: Rachelle Rosenberg
Cover Artist: Dave Wilkins
Star Wars: Dawn of the Jedi: Prisoner of Bogan #5, $2.99
Je'daii Daegen Lok is on the verge of launching a war against the Je'daii. With the Force-strong stranger Xesh as his ally and a young Je'daii captive, Lok is close to his goal.
But Je'daii Rangers are close behind, as the Masters at the Temples have unlocked some of the secrets of Xesh's origins. Something worse than the prisoner of Bogan is loose in the Tython system!

Creators
Writer: John Ostrander
Penciller: Jan Duursema
Inker: Dan Parsons