Get a sneak peek at Star Wars Legacy #13!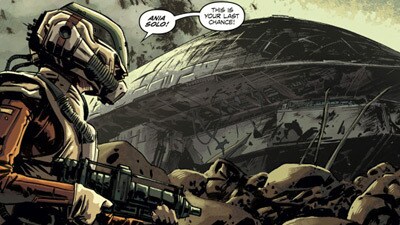 It's Wednesday, which means one thing: new comic books! Check out a preview of new Star Wars comics available today after the jump!
STAR WARS: LEGACY #13
$2.99
32 pages
After a crash landing on a wild planet with her captor -- and former flame -- Ramid, Ania Solo is having trouble shaking the other bounty hunter on her tail. She's going to need some help from someone, but when you're accused of murdering an Imperial Knight, friends are hard to come by!
"Corinna Bechko and Gabriel Hardman have introduced me to a new favorite Star Wars character." -- Comic Vine