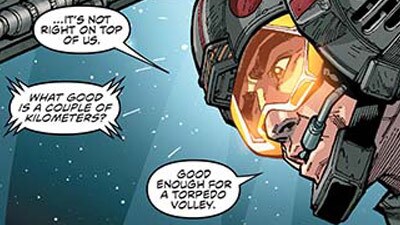 It's Wednesday, which means one thing: new comic books! Check out a preview of new Star Wars comics available today after the jump!
Star Wars #6, $2.99
When he and Chewbacca are cornered by Imperials, Han Solo resorts to an improvised plan -- with the most dangerous results imaginable! Meanwhile, half a galaxy away, Princess Leia and Wedge Antilles prepare for certain death, unaware that Luke Skywalker has an improvisation of his own. And Darth Vader is watching...
Sketch variant by Alex Ross!
"It all just feels like Star Wars, and for a franchise that has been around for over 30 years, D'Anda somehow finds a way to inject new life into it." -- Complex
Creators
Writer: Brian Wood
Artist: Carlos D'Anda
Colorist: Gabe Eltaeb
Cover Artist: Rodolfo Migliari