Check out the complete schedule for all fan podcasts coming to London!
Without a doubt, one of the many successes of Celebration Anaheim in April 2015 was the debut of a dedicated Podcast Stage, bringing live podcasts from the USA, UK, and beyond to audiences over the four-day event. Step forward a year and the concept returns at Celebration Europe, which takes place at the ExCeL Arena London July 15-17. As before, the Podcast Stage is very much at the heart of the event, in this case quite literally.
Sharing a dedicated area together for the very first time, the UK Garrison of the 501st Legion (UKG), the Elstree Base of the Rebel Legion, and the Galactic Academy are joined by Jedi News to form "Four Clubs, One Force." Within this shared area lies the One Force Stage, and on that stage, a selection of 15 podcasts and YouTube channels will be appearing live at the show.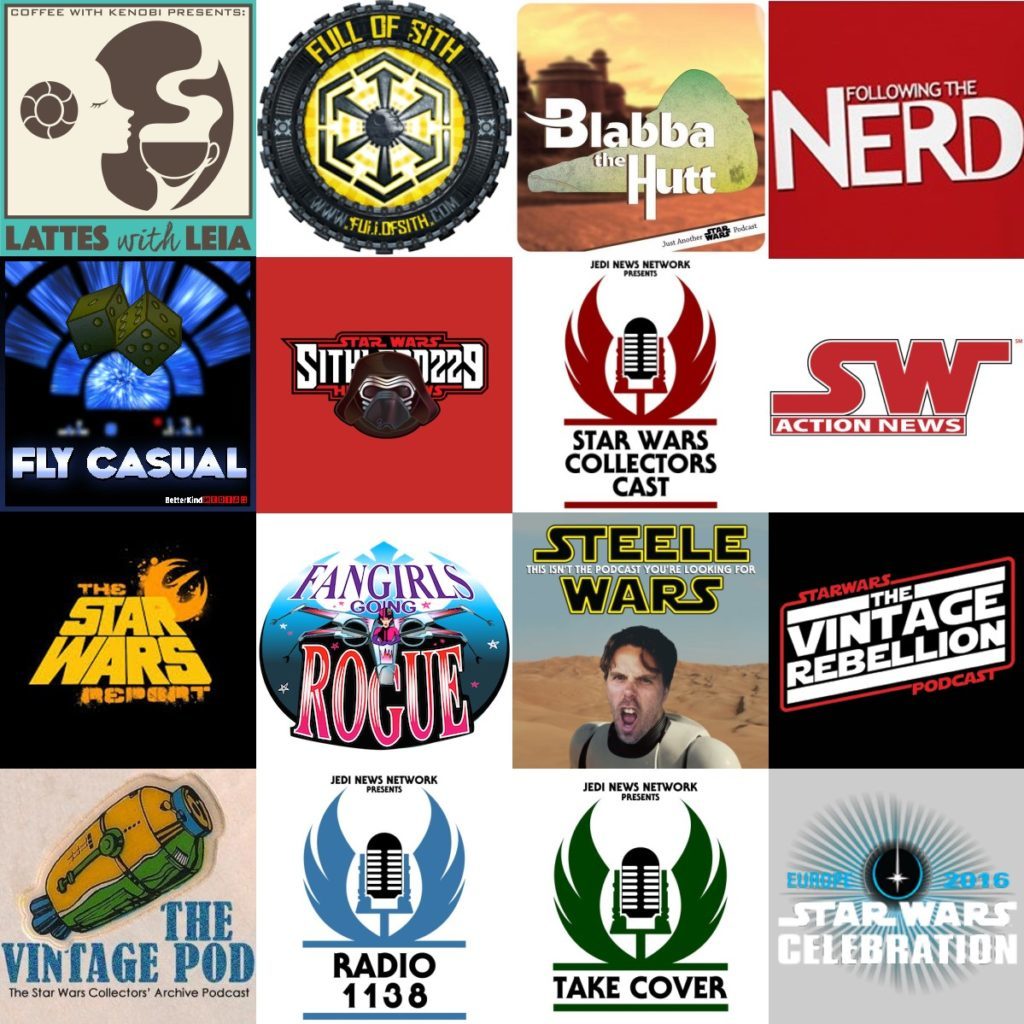 At the request of the wonderful Mary Franklin at ReedPOP and our fellow groups in One Force, I had the great pleasure of organizing the schedule and choosing the podcasts for the show. My intention from the beginning was to bring as many of the best podcasts to Celebration. Given that we were sharing the stage with the UKG and Rebel Legion, who have their own selection of presentations running through the weekend, I was keen to fit in as many podcasts as possible into a limited number of slots (15 different shows from numerous networks sharing eight 45-minute slots) and to provide some unique content for the event. As you'll see, we have an eclectic array of content covering collecting, interviews, literature, comedy and shows with a UK, US and Australian focus.
So, who will you be listening to this year?
Friday, July 15

10:30 a.m. - 11:15 a.m.
Full of Sith and Lattes With Leia
One panel, two podcasts: Prepare to make your first jump to hyperspace with Full Of Sith, the show dedicated to the most interesting Star Wars conversations in the galaxy and then pour a cup of your beverage of choice and take a trip to the galaxy far, far away with Lattes With Leia.

1:30 p.m. - 2:15 p.m.
Blabba the Hutt and Following The Nerd
One panel, two podcasts: Strap yourselves in for the emerald hour! All the way from Dublin, Ireland, it's Blabba The Hutt and joining them are Following The Nerd, the podcast that's bang up to date on all the latest news, reviews, articles, and information across all mediums from games to action figures.

3:30 p.m. - 4:15 p.m.
Fly Casual and SithLord 229
One panel, two podcasts: We're coming in at full throttle with Fly Casual, the podcast that's more than a journey. It's all about our Star Wars lives and YouTube star SithLord229, providing in-depth, HD analysis of some of the coolest Star Wars toys and collectables from across the galaxy!
Saturday, July 16

10:30 a.m. - 11:15 a.m.
Star Wars Action News and Star Wars Collectors Cast
One panel, two podcasts: There's no such thing as coming in too fast when you have two of the world's premiere collecting podcasts joining forces. We have Star Wars Action News bringing all the latest news and reviews from the Star Wars galaxy. Star Wars Collectors Cast is here covering UK and worldwide collecting.
12:30 p.m. - 1:15 p.m.
Star Wars Report and Fangirls Going Rogue
One panel, two podcasts: Echo Station 3-T-8, we have spotted Imperial walkers and they're bringing two amazing podcasts with them. The Star Wars Report bring us in-depth news coverage from the galaxy far, far away, and joining them are Fangirls Going Rogue, the first Star Wars podcast hosted exclusively by fangirls.

4:30 p.m. - 5:15 p.m. 
Steele Wars
Jumping out of lightspeed too close to the system is Australian comedian Steele Saunders, bringing his unique flavor to Celebration Europe. Steele loves Star Wars and finds people of interest to talk to him about it. We are honored by his presence.
Sunday, July 17

10:30 a.m. - 11:15 a.m.
Chive Cast and The Vintage Rebellion
One panel, two podcasts: It's the golden hour! The Star Wars Collectors Archive Podcast brings us its knowledge of vintage Star Wars toys and memorabilia and Vintage Rebellion discusses Star Wars toys from yesteryear. WAMPA!! WAMPA!!
1:30 p.m. - 2:15 p.m.
RADIO 1138 and Take Cover
One panel, two podcasts: We reach the end of our Celebration Europe podcast panel journey for 2016 as RADIO 1138 see out the show with Star Wars news from across the galaxy and Take Cover grab their bookmarks to discuss book, comic, and magazine news.
Stay tuned to all of the above websites, blogs, podcasts, and YouTube channels, as well as checking in with Jedi News for all the latest announcements. If you're attending the show, come on down and check out the shows live. You never know who's going to be turning up.
Mark has contributed to Star Wars Insider since 2006, is the owner of Jedi News, writes for DeAgostini's Build The Millennium Falcon partwork magazine and co-hosts RADIO 1138 and Take Cover on the Jedi News Network. He's an honorary member of both the Rebel Legion and the Rebel Legion UK as well as the UK Garrison of the 501st Legion and when he's not talking, tweeting or writing about Star Wars he can usually be found sleeping where he'll most likely be dreaming about Star Wars.