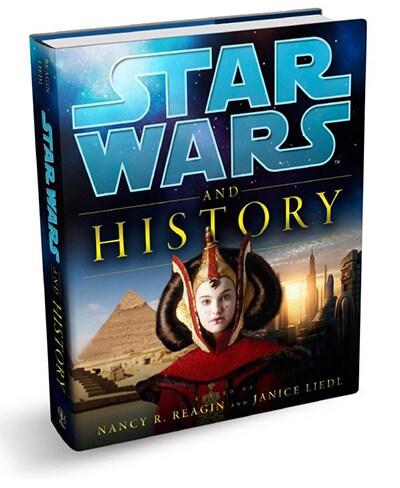 Back in 2007, George Lucas sent me a copy via his assistant of Star Wars and Philosophy. He then called and said he wanted to do something in that vein -- starting with Star Wars and History. This month, five years later, that book was published by Wiley. We even have an essay written by the editor of that book, Kevin S. Decker.
Why five years? Six-month vacations and sleeping on the job. Also it takes time to find the right publisher, to get contracts set up with a new licensee, and then to recruit authors. Luckily, throughout, I've been working with a fine editor over there at Wiley named Constance (Connie) Santisteban. Connie has really made the whole process a lot easier -- and her team really did a nice job with the design of the book. Connie found the book's editors, Janice Liedl and Nancy R. Reagin, who did a great job fielding the essayists and chipping in when, for example, we couldn't find the right person for a chapter on women and resistance movements. Janice and Nancy dropped everything and wrote a stellar essay.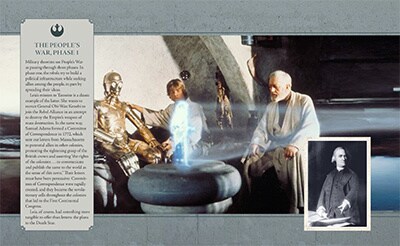 My job was to be the intermediary between George and everyone else. If an author had a question, I'd ask George. If George had problems with an essay, I'd try and explain them to the editors, who would then coordinate with the author. A couple of times I got on the phone with George, who was happy to explain why certain historical patterns formed the basis of, say, criminal organizations in Star Wars. At the outset, George made a list of subjects from which to choose. Some of these fell into the category of political science, rather than history, so we all agreed to put those aside for another book.
Authors weren't limited to what George wrote down, but those ideas became the nucleus for all the essays, with the writers then riffing on topics with their own ideas.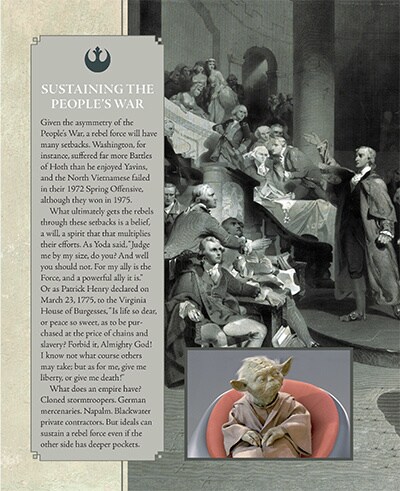 My personal and favorite item in the book is on page 64 -- the photo of a female Mexican revolutionary wearing a hairstyle that helped inspire that of Princess Leia. Nancy and Janice had to find someone who happened to be going to Mexico to clear that photo. The legendary but old fashioned archives in Mexico had no fax, Internet connection, or any communication device except phone and mail, and the clearance had to be obtained in person. Publishers don't have huge budgets for jetting people around the world, but our editors happened to know someone who was flying down… A graduate student named Pamela was doing her dissertation research down south -- and became the go-between until the very last minute before the book was going to press when permission was, thankfully, granted.
Overall the book is an excellent primer for anyone who wants to deepen their knowledge of history, while seeing how George Lucas' own studies and interests led him to repurpose historical trends for his own cinematic purposes. As he's told me, Star Wars is like an onion: you can keep peeling away and finding more layers…
Check out the Star Wars and History Facebook for a chance to win a free book!
Lucasfilm executive editor J. W. Rinzler is the author of The Making of Star Wars and The Complete Making of Indiana Jones. He is now writing The Making of Return of the Jedi (and really looking forward to finishing it) for a fall 2013 release. You can visit jwrinzler.com for more info.