The fashion label's chief executive discusses a new line of Star Wars styles.
Military motifs, a keen attention to detail, and a dedicated fan following are all synonymous with the fashion label rag & bone and the Star Wars universe. Now the two have combined forces to rule the galaxy, or rather, release a line of contemporary apparel with subtle hints to the space saga.
Launching in waves beginning December 1 at rag & bone stores (with select pieces available at ShopDisney.com), the limited edition capsule collection will offer a selection of the fashion label's timeless styles remixed with classic Star Wars elements. rag & bone has also teamed up with Lucasfilm and Disney for the Ultimate Galactic Experience Sweepstakes, ending November 26, in which fans have the chance to win a tour of Lucasfilm in San Francisco and much more.
StarWars.com recently sat down with rag & bone's chief executive Marcus Wainwright (en route to the office after an important diplomatic mission at a parent-teacher conference) to give us his insights on the line's conception, and talk about his love of stormtroopers, meeting Mark Hamill, and fusing his passions for a collaboration that is, to quote his favorite T-shirt in the line, "More powerful than you can possibly imagine."
StarWars.com: There's a timelessness to the classic rag & bone aesthetic, pieces that are tailored and really functional with an edge, a lot of quilting and military details, which we also see in the Star Wars universe. So when you're aiming to integrate this sort of modern Jedi concept into the line, what's the process you're going through?
Marcus Wainwright: Yeah, I mean it's fairly similar to the way we do everything, to be honest. We obviously had to take some references from Star Wars, but we were very conscious not to make it look like costumey. It needed to look like something that one of our customers would actually want to wear and see as a rag & bone piece. At the same time, we wanted it to be something that a pure Star Wars fan who maybe didn't know anything about rag & bone would also see as a Star Wars piece and something that they could genuinely wear in their day-to-day life. It's pretty difficult in some ways to restrain yourself from going too much into the Star Wars thing, but so many of the Star Wars pieces have literally evolved by subtly referencing vintage military stuff. And it's a huge base of what rag & bone does, we have a huge vintage archive. I actually went to Pinewood (Studios) a few years ago and met the costume designers from Rogue One, and we were referencing the same pieces as they were for that film in our daily exploration of vintage military stuff. So it was pretty straightforward. We wanted something clean and timeless so we didn't want to overwork it with too much Star Wars paraphernalia.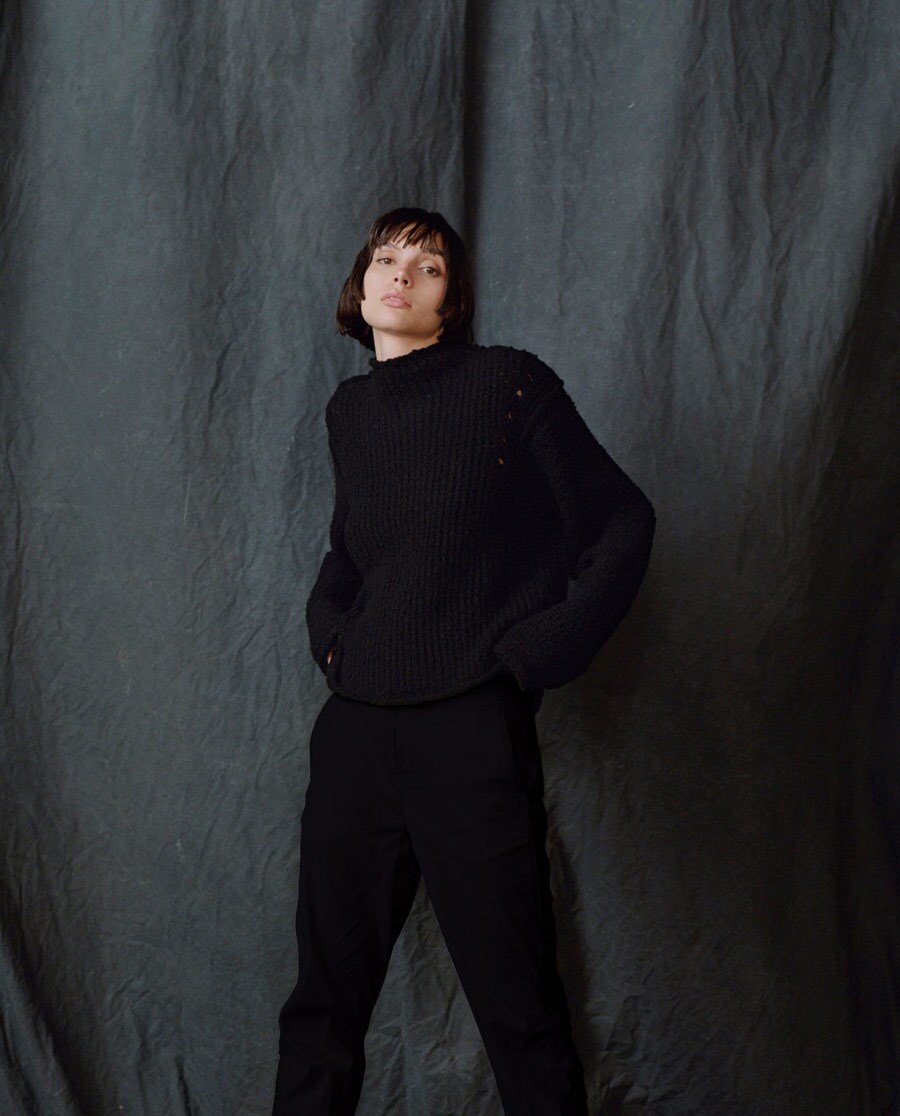 StarWars.com: How do you define where the line is between something wearable and something that belongs in wardrobe on a film set?
Marcus Wainwright: It's a sort of gut check of "Would the girls in the office or the guys in the office wear the product?" And that's the gut check for a lot of what we do anyway and "Would you wear this in your day-to-day life?" I mean, obviously, we had to push it more in a Star Wars direction than the normal rag & bone stuff. That's the acid test. "Would you wear this and does it fit with the language of rag & bone?" And luckily we've referenced that stuff so many times and we've actually referenced Star Wars multiple times as inspiration for the clothes. It was quite easy, that part. Just take sort of iconic rag & bone references and sort of twist them into this project.
StarWars.com: Some of the pieces give a nod to the inspiration in the name, like the Echo Jacket in Hoth, which looks like it could be pulled from The Empire Strikes Back, but also something you could wear in real life. When you were mining the saga for inspiration were you trying to honor specific characters and favorite places or were you more trying to capture the feeling of watching Star Wars?
Marcus Wainwright: I think all of the above, really. We didn't necessarily want it to be like this obviously referenced from Hoth. I mean, we didn't necessarily want it to feel like that. But all of those things we were trying to do. And it's a fairly broad collection. There's some very obvious things like the T-shirts where we just wanted it to be cool T-shirts that a Star Wars fan would love.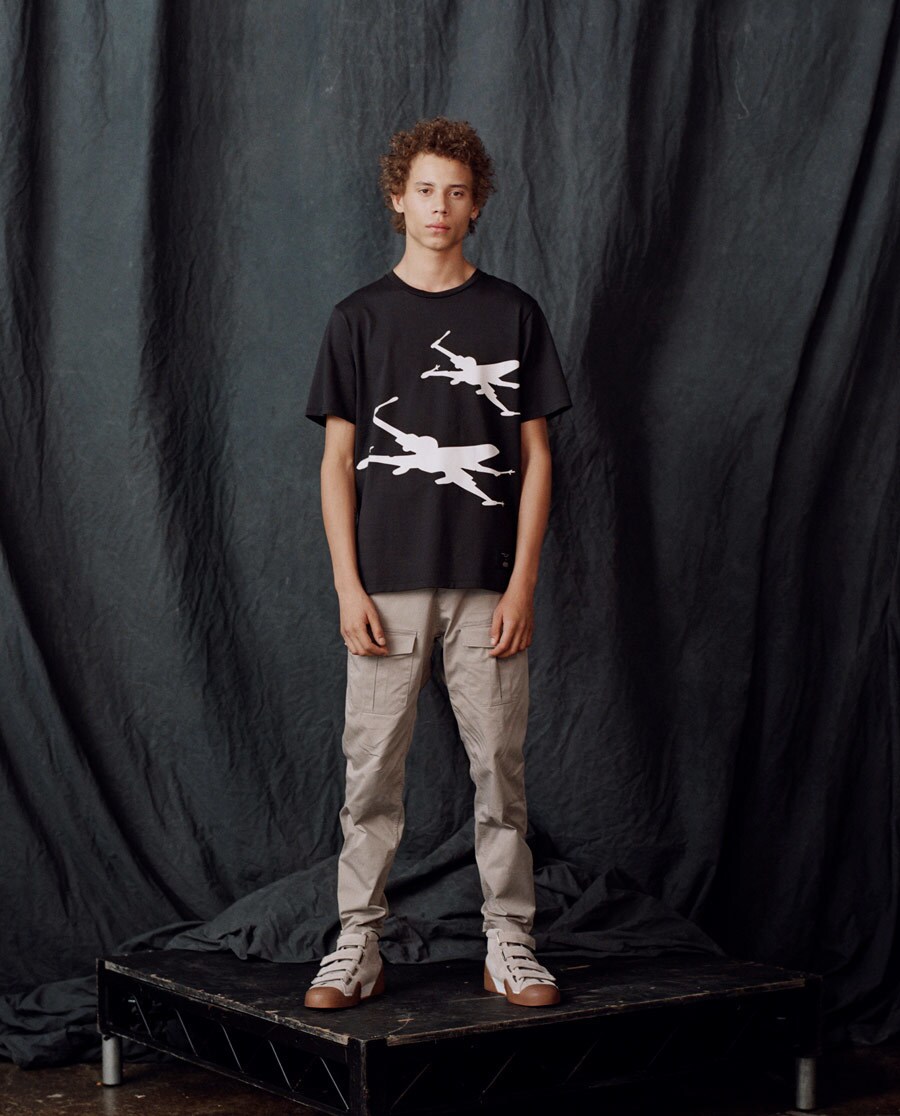 StarWars.com: I think the X-wing T-shirt seems to be the most overt reference in the whole collection other than maybe the piece with the quote, "More powerful than you can possibly imagine."
Marcus Wainwright: I mean, who doesn't want an X-wing on a T-shirt? There was no point in being that subtle about that one. Or the quote, which is one of my favorite quotes. There were a few that were on the table. I would have loved to have done more, to be honest with you, of the quotes.
StarWars.com: While we're talking about the T-shirts: the T-shirt that says rag & bone translated in Aurebesh.
Marcus Wainwright: It was fun! Graphic T-shirts in fashion, it's always been a big thing but it's very popular at the moment. It just felt like a very timely and relevant way to do a T-shirt that a lot of people would understand and they'd be happy to wear.