The creative team discusses honoring the original Star Wars, creating new characters, and shares interesting insights from the set of the highly-anticipated film.
Ron Howard has long been a fan of Star Wars, and he knows his fellow fans of the galaxy far, far away genuinely care about the stories, characters, and the lore that binds them.
That also goes for the other creators making new films today, like the highly-anticipated Solo: A Star Wars Story, which Howard directed. "It's a blast because the people around a movie like Solo are so dedicated to not just what's existed before but what else they can do," Howard says.
Still, the experience wasn't without its challenges. "I'm at a point in my life where I like experimenting, I like to take some chances." When he got the chance to direct Solo, he told himself: "Ron, don't [mess] this up."
On Saturday, the cast and crew of Solo: A Star Wars Story gathered in Los Angeles to talk about creating new characters, share insights from the set, and discuss honoring the original people who brought a certain scruffy looking nerfherder and his co-pilot to life.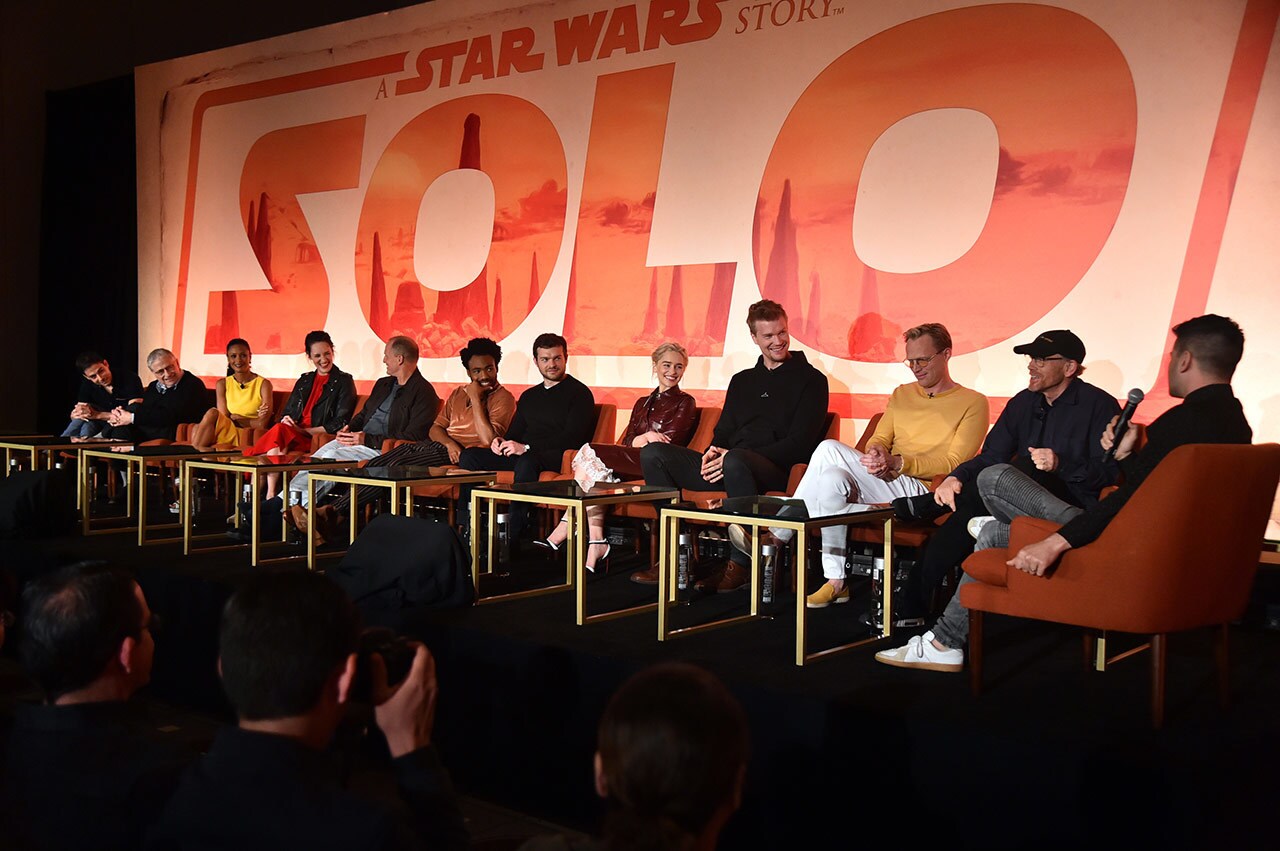 On honoring the originals
For Solo scriptwriter Lawrence Kasdan, everything he needed to know about Han Solo's character came from the first time he saw A New Hope. "This is the kind of character that I have loved always," Kasdan says. "This is a character who's reckless, who's cynical, doesn't trust anybody. He's a little bit stupid. I love that. He just does things he shouldn't do. He gets in over his head." And while the new film builds upon that, the multifaceted personality was captured in the first Solo scene in George Lucas's original film. "You can see it in the brilliance of George's cantina scene. It's just a few minutes and you get everything about who this guy is."
Earlier in the day Saturday, Harrison Ford had surprised Alden Ehrenreich, walking up behind the new film's titular star during an interview with Entertainment Tonight. It wasn't the first time they met. Two years ago, Ehrenreich and Ford had lunch to talk about passing the baton on the iconic role. "He was really encouraging, really supportive," Ehrenreich says. And Ford has given the finished film his blessing since the world premiere on Thursday. "It's just such a huge deal to have him really genuinely love it."
Ehreneich also studied up on Ford's performance after landing the part. "The way I went about it pretty much was to watch the original movies very early on and just kind of absorb as much as I could both of, you know, I think mainly the character, how the character operated in the world and Harrison and the whole Star Wars universe, which is so rich and there's so much to it. So I tried to kind of take in as much of that as I could very early…and then move into working on the part and kind of put all of that aside and forget about it and play this guy where he is now in his life because the most important thing is that it feels like a real person."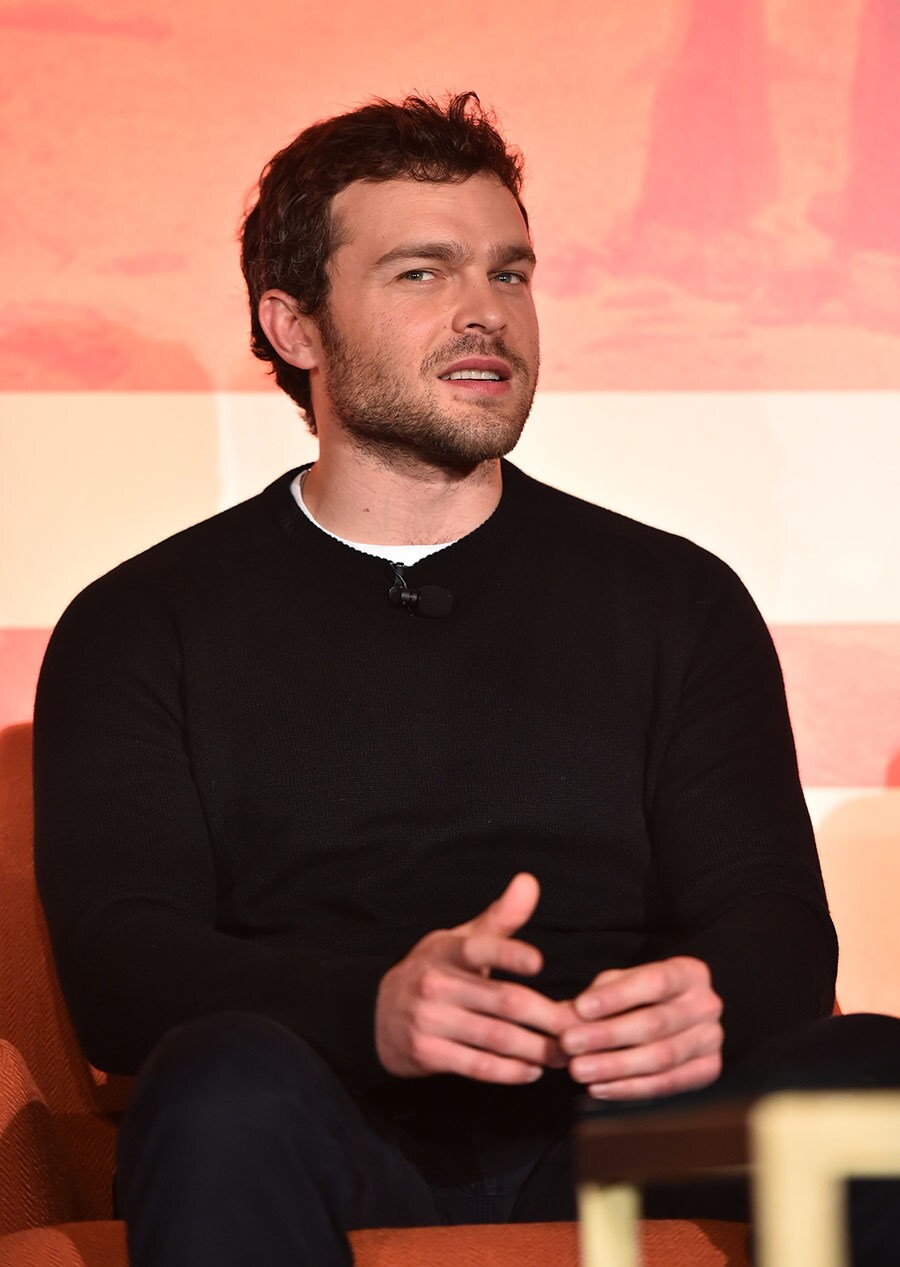 To embody the mighty Chewbacca, Joonas Suotamo went to Wookiee boot camp, training alongside the actor who portrayed the original walking carpet. "Peter Mayhew, who created this character with George Lucas, has been so instrumental, giving me his blessing and giving me some tips in our weeklong session together on how to be this character," Suotamo says. "I never could have understood what went on underneath the mask of Peter Mayhew…It was so important to get right in this film."
On how the film has changed the lives of the actors playing Han, Chewie, and Lando
"It's really wild, really exciting, bigger than you could wrap your head around and it's wonderful particularly being in the Millennium Falcon," Ehrenreich says of becoming Solo. "You kind of get in and you can't believe you're in it and it's so surreal…and then a couple of months into shooting, you're inside of it, you're flying, and you know where the buttons are."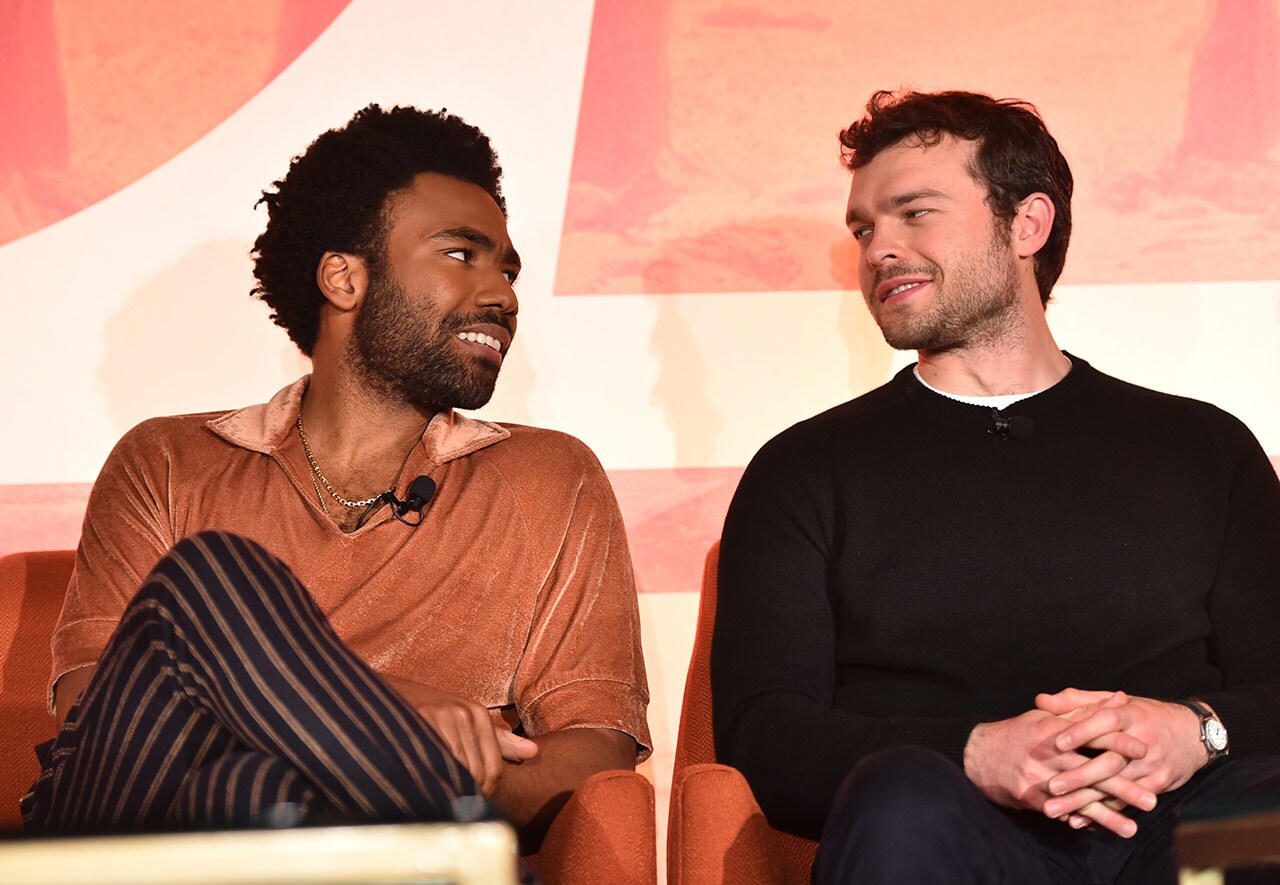 Donald Glover's father was a huge Lando fan, and the then 7-year-old Glover also loved the character. So when he first heard about the film, he knew he wanted to be a part of it. He called up his agent and said, "If they're making anything with Lando in it, I have to be Lando," he says.
His agent was skeptical. "I hear you, I don't like your odds."
Suotamo was living with his mother when he got the chance to play the towering Wookiee. "I really couldn't sleep at night and I was so excited," he says. "This was a life changer for me. I was borderline jobless…My now fiancée, then girlfriend, has seen me go from living with my mom to becoming Chewbacca. That's the span of our relationship."
On creating the new crew
The story also introduces several new characters including Emilia Clarke as the mysterious Qi'ra, Thandie Newton as Val, Phoebe Waller-Bridge as the self-made droid L3-37, Woody Harrelson as Tobias Beckett and Paul Bettany as Dryden Vos.
"It was really fun," Clarke says. "It's pretty difficult to talk about because she is completely mysterious." The film also leaps forward in time, skipping ahead three years after audiences first meet the young Qi'ra. "When we find her again, she seems to have lived a pretty dark life," Clarke says.
Bettany says Howard helped him find his character's personality with a single whispered word: oligarch. "And I went, 'Got it!'" After working on the Avengers: Infinity War, where he played the heroic Vision, Bettany relished getting to play a villain. "It was just lovely to play someone…Just somebody who is deliciously bad and really OK with it," he says. "No guilt…Just super happy about being evil."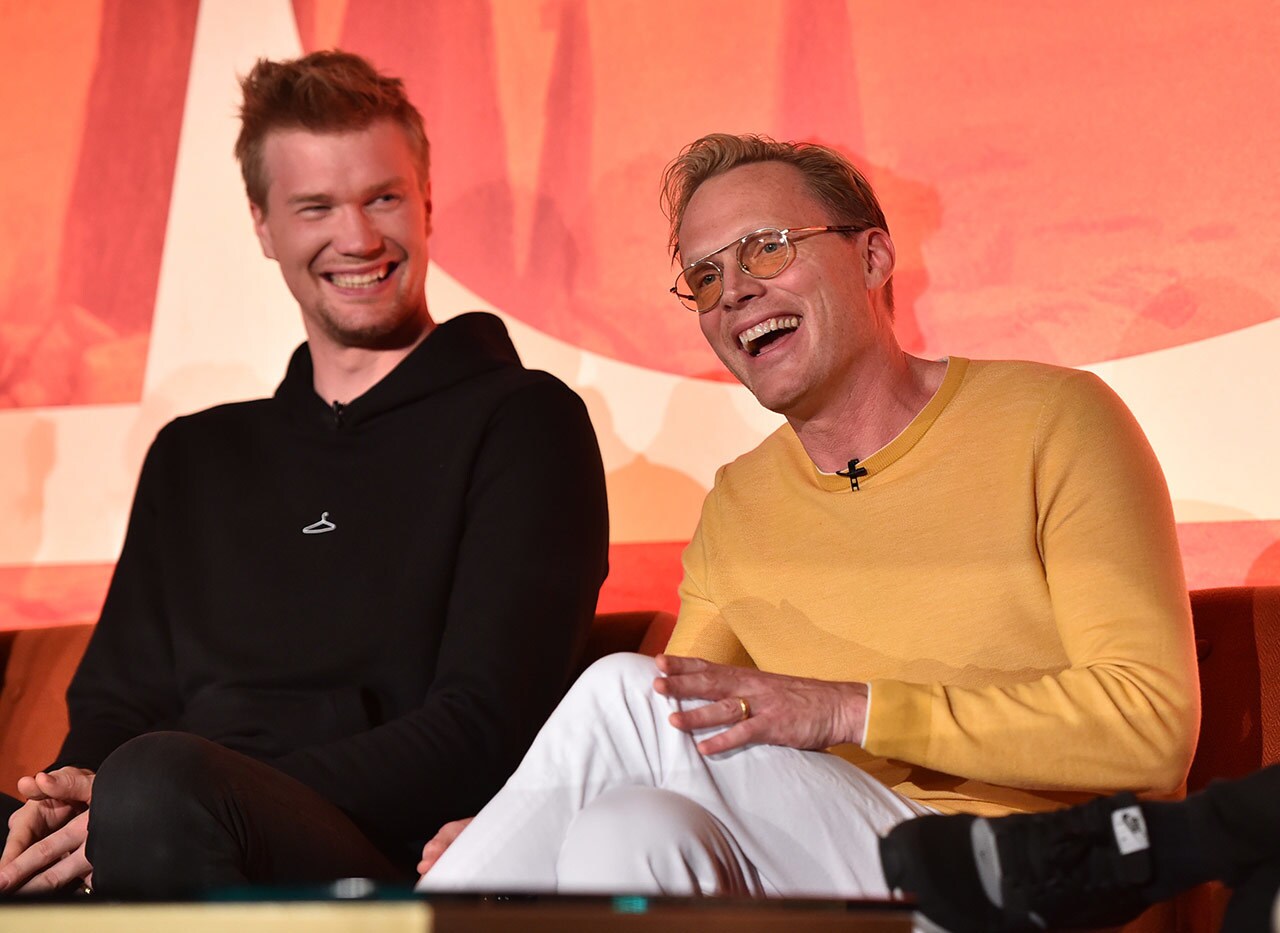 But Bettany admits he was wooed by Chewbacca on his first day on set. "The problem was I had to shake hands with Chewbacca and I started shaking his hand and…I went in for a cuddle," he says, miming a hug.
Harrelson's character is inspired by western gunslingers. "It was a really easy character for me to play because he's a scoundrel," Harrelson jokes. "He was really well written…Larry Kasdan really wrote an extraordinary script and just at the right time Ron came in and did his magic."
Plus he was just happy to be included in the galaxy. "It's pretty cool getting to be in Star Wars."
Thandie Newton says shooting could get messy, especially during muddy battle sequences. "We would have fun, we'd be in really extreme situations sometimes," she says. "Mud in places you didn't even know you had places." But the cast always kept each other laughing. "The camaraderie between us was just humor…Some of the stuff that you share and just taking the piss out of each other all the time." And just like in the Star Wars universe, not everything went according to plan during shooting. "Things would go wrong," Newton says. "A lot going wrong, by the way."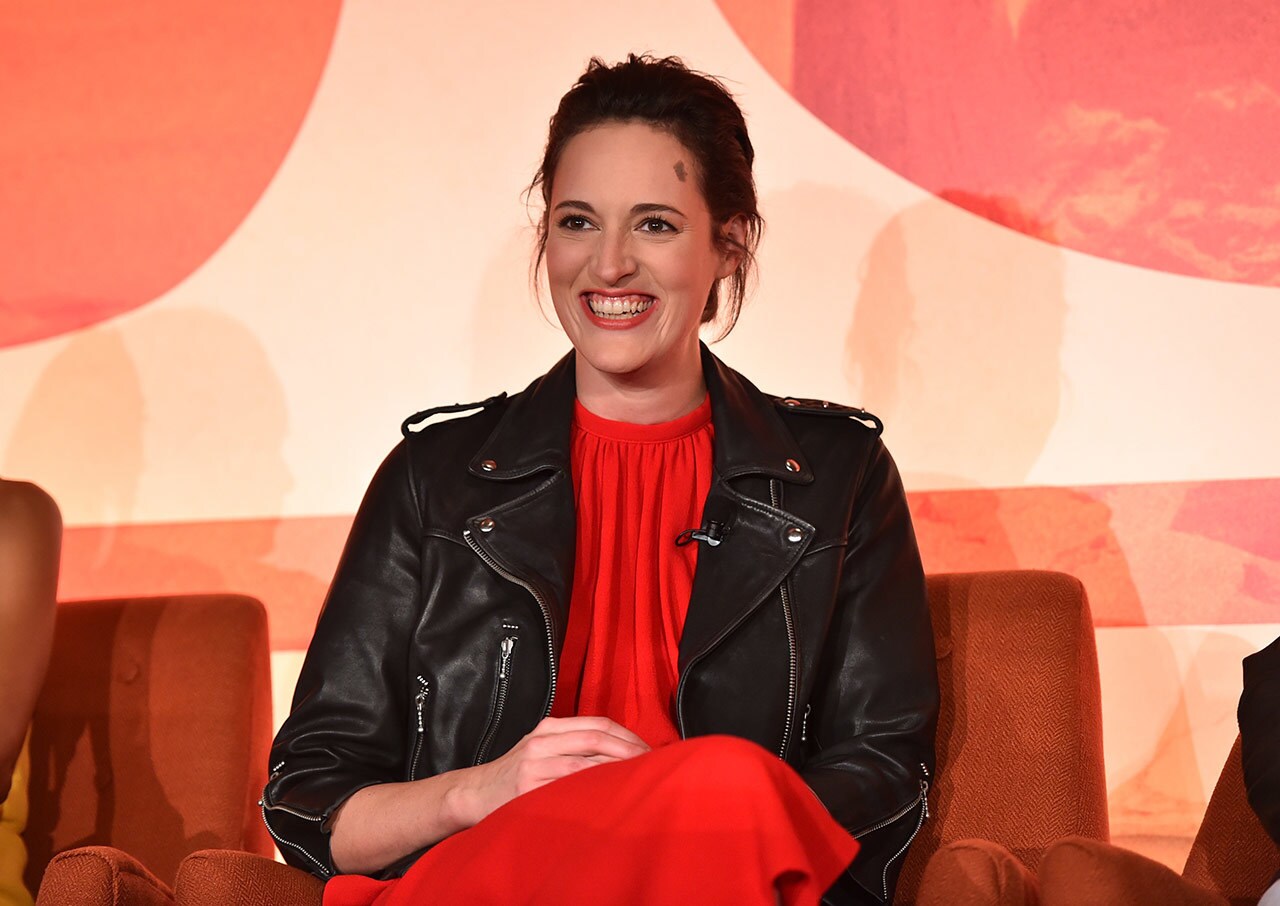 Waller-Bridge's L3 is unlike any other droid seen before in the Star Wars universe. "She's a self-made droid so she created herself out of parts of other droids.
"She's got a great attitude…she's fearless, she's uncensored, she's very funny, and she's a revolutionary. She has an agenda, which is bigger than the sum of her parts."
And the writers revealed Waller-Bridge also helped contribute to the character's personality and her lines, including a retort about equal rights for droids. "It's a real treat to work with everyone on this panel," Jonathan Kasdan says. "You write situations and then have performers and writers in their own right who can contribute a better idea on top of what you created is a big part of it. It makes us look good and it makes everybody feel good.…That is the perfect example of something that feels totally true to her character."
On the importance of the Star Wars universe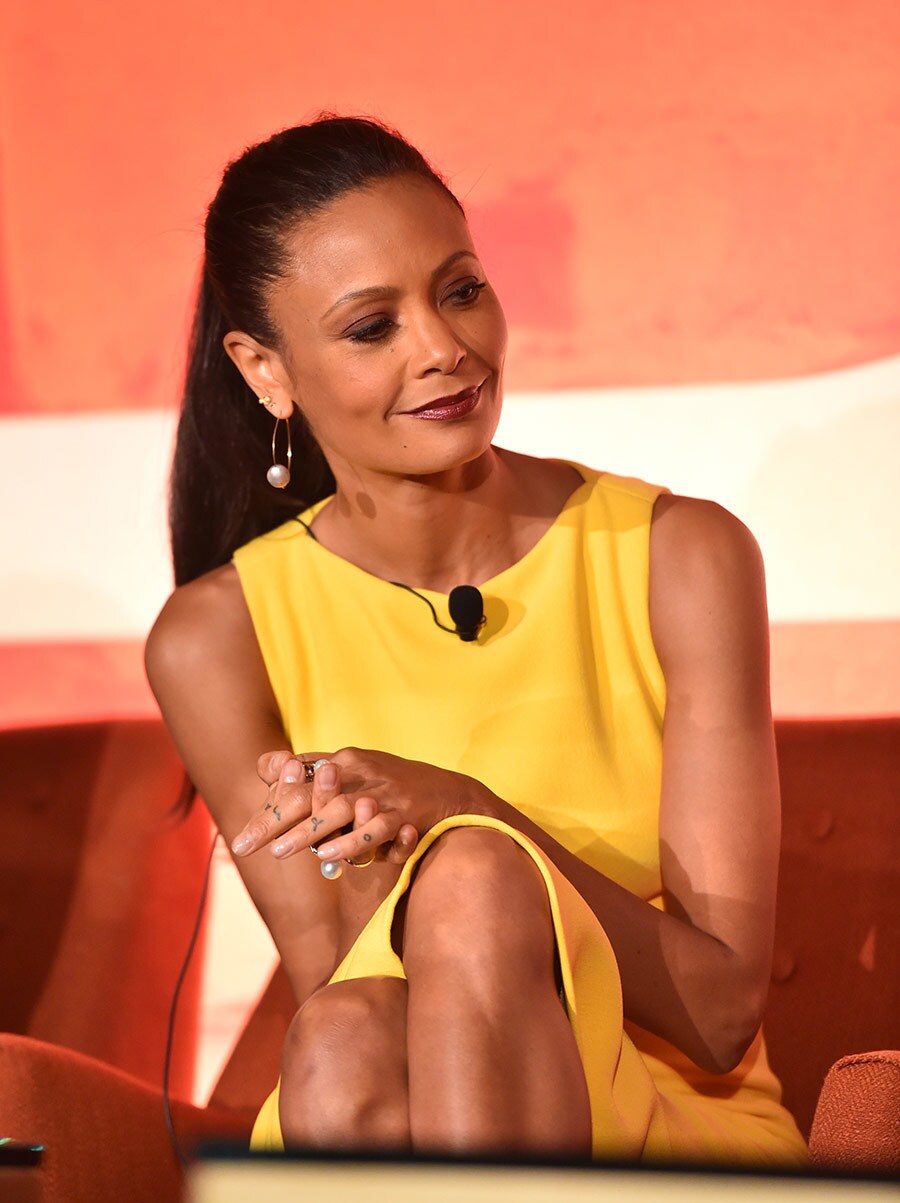 Newton brought her young son to the set on her first day, and he immediately gravitated toward an R2-D2 puppet on set. After the two chatted — the boy gabbing in toddler speak while the puppeteer behind the astromech responded in beeps and bloops — "It ended, I kid you not, with my son hugging R2-D2," Newton says. "This is the stuff that dreams are made of…. These characters have a kind of magnetism that is unparalleled." Newton herself remembers the magic of seeing the unforgettable opening crawl of Star Wars for the first time. "This stuff like imprints on your psyche. I think it goes so far beyond even us as filmmakers."
On the biggest surprises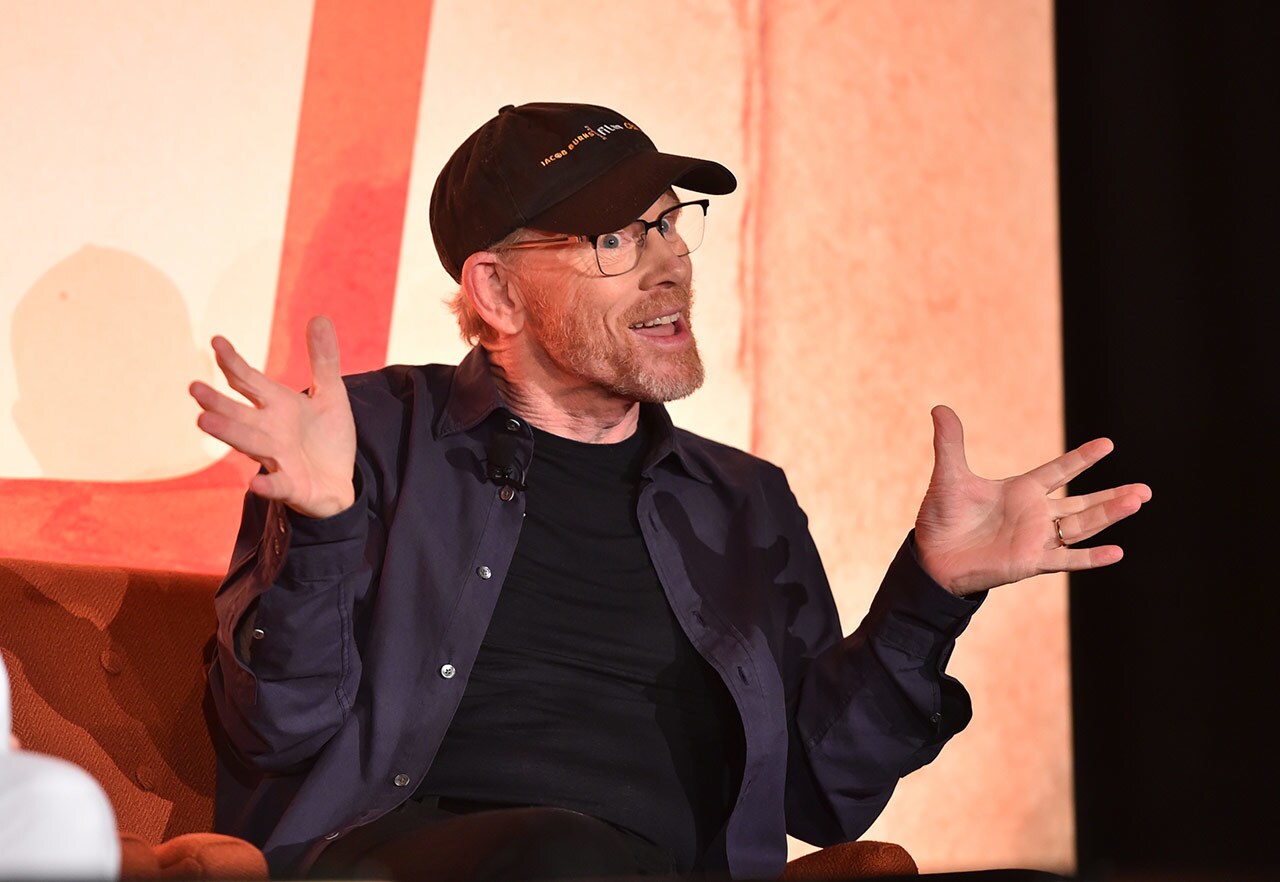 Howard says the film has more in common with Indiana Jones than the traditional Star Wars saga film, because it's more character driven. Even big action sequences, while technically complicated and complex, would "really be about testing Han Solo," he says "What does this mean? What does this tell us about Han Solo? It sort of defined the way the action scenes would be cut, would be shot and roll out. It was challenging, but it was really fun and exciting. The big surprise for me is what a blast it was."
Glover enjoyed Lando's cape armoire, even if he didn't get to bring any of the custom costumes home with him after the film wrapped. But he did get a memento. "The fur cape I had, they had extra material, and they made a pillow out of it for me," he says. "Now I have a pillow that I try and wear as a cape."
On making Solo their own
Howard, who came on midway through shooting, says he approached the tale as if it were inspired by true events. "I immediately said, you know, I'm going to treat this like a true story. I've done a lot of true stories. And I'm going to get technical advisors….I'm a fan and I always appreciated the movies, but I'm not encyclopedic," Howard says. "I don't know everything, I haven't seen everything, I haven't read everything. And so I came into the situation and immediately of course I started working more off of instinct than anything else."
Jonathan Kasdan says he wanted the script to reflect the gray area between right and wrong. "Star Wars so often, and almost really up to this moment, has been a very classic story of the dark and the light, good and evil, and we saw this as an opportunity...to really make a character movie where every character had some ambiguity to them," he says.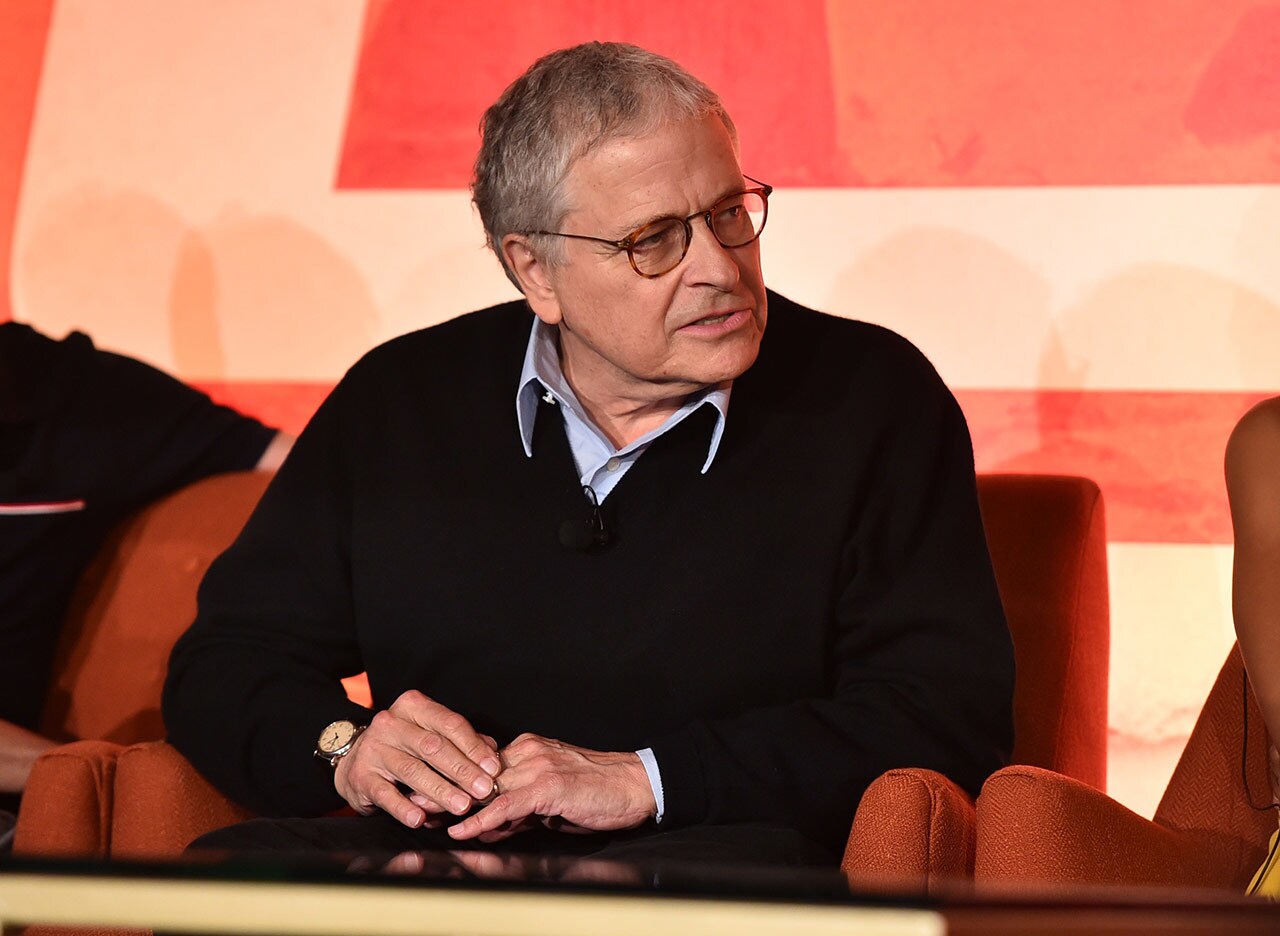 His father and co-writer Lawrence Kasdan has been part of Star Wars storytelling since he penned The Empire Strikes Back. "George had set up something that could go off in many different directions and it would be wonderful for a long time. And I've never really changed my opinion. It happens to be a Star Wars story, but always first we're trying to tell a story that will keep you interested."
Solo: A Star Wars Story arrives May 25, 2018.
Kristin Baver is a writer and all-around sci-fi nerd who always has just one more question in an inexhaustible list of curiosities. Sometimes she blurts out "It's a trap!" even when it's not. Do you know a fan who's most impressive? Hop on Twitter and tell @KristinBaver all about them!