The toy designer behind the innovative, interactive plush tells StarWars.com about weaving on-screen antics into a plaything for kids of all ages.
Denise Wong remembers her first Star Wars toy vividly. The child-sized replica of Luke Skywalker's X-wing helmet made her love of Star Wars characters, costumes, and storytelling come alive in a new way and helped inform her future career.
"I was amazed by all the details from the movies, and how it translated into a toy," says Wong, who now works as a senior manager of product design at Mattel.
Among her recent projects is a new kind of toy that brings the playful nature of the Child, Grogu, into our homes in much the same way. The Child Real Moves Plush is designed with several interactive features, to follow fans, play hide and seek, and respond to a remote control that's conveniently sized for children and adults.
Recently, Wong sat down to talk to StarWars.com about her passion for Star Wars and how she and her colleagues turned their adoration for The Mandalorian into inspiration for their detailed, life-like creation.
StarWars.com: Can you take us back to the beginning of devising the Real Moves Plush. What was it about the character that inspired this interactive, free-roaming version? 
Denise Wong: After seeing The Child walk for the first time and explore the world in the show, we were inspired to create this toy. At that time everybody -- including our Mattel design team -- was talking about the magical moments with The Child in the show, and we said to ourselves, "Imagine if we could make a toy not only look like The Child aesthetically, but also bring it to life with life-like motions." And we knew from the start that we wanted fans to feel a connection with The Child Real Moves Plush.
StarWars.com: I love the hide and seek and curious modes -- although my cat was less than thrilled when I unleashed Grogu in the house. What were some of the unique challenges you experienced as you were fine tuning these more high-tech interactive elements?
Denise Wong: Overall, it took a lot of trial and error. We must have tested over 10 different ways of balancing and off-balance between the main body, head and the base. At the same time, we did a lot of testing using different programming on motions. It was really fun seeing how The Child comes to life through different programming.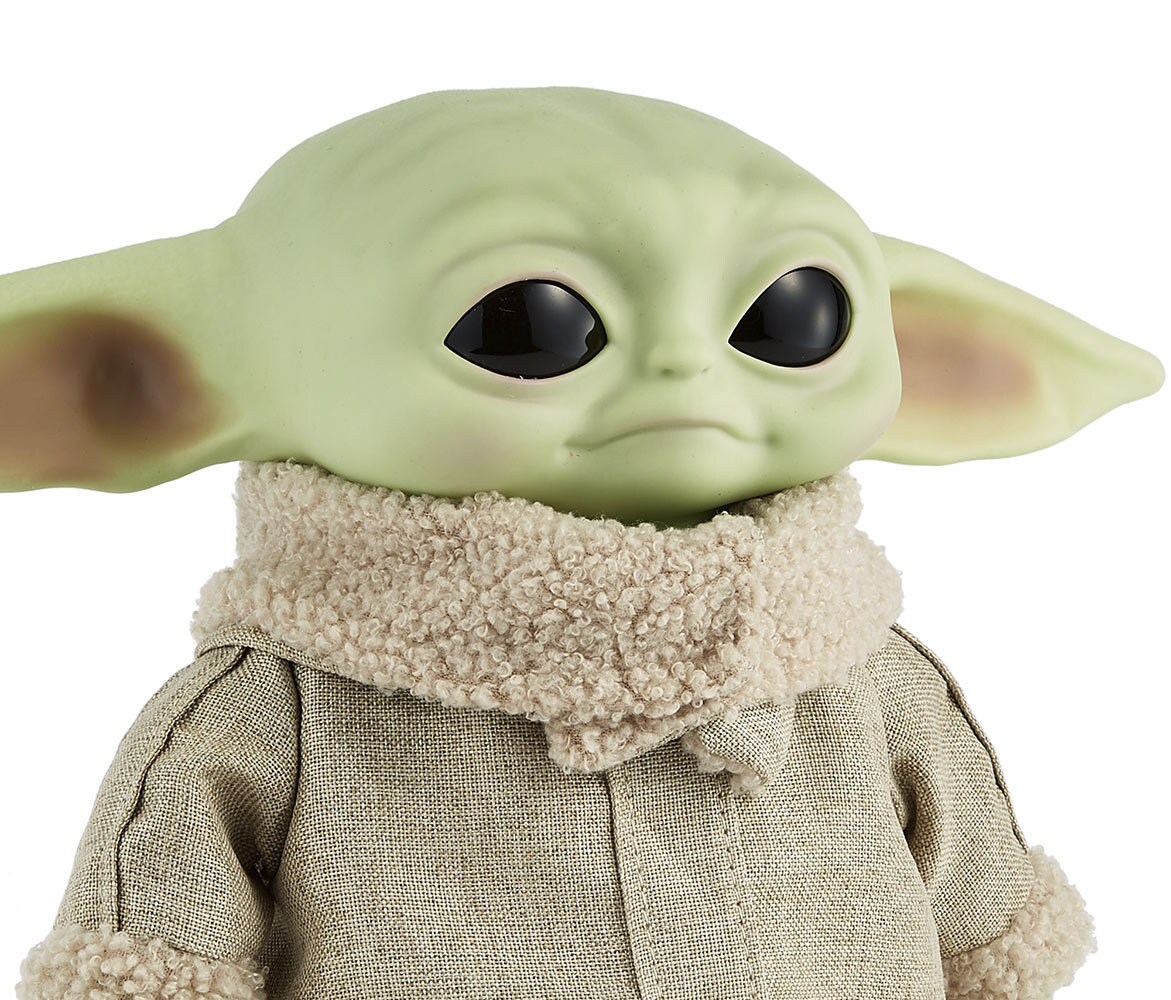 StarWars.com: The sound effects and facial expressions are really something. Did you have a eureka moment during development when you knew you had nailed the sculpted likeness as well as those features?
Denise Wong: There were two key priorities when it came to model-making for this special toy -- bring The Child to life, and keep the features true to the show.
Our first focus was making sure that we capture the details of the motions, like the way that the Child wobbles when he walks, and how his hand will shake when he lifts it up into the "Force" position.
In order to really emphasize The Child's glossy eyes, we used a matte roto skin with texture for the face and we kept refining the molds until we got to a result that felt [accurate]. We wanted the toy to really feel like a real person, so we added stuffing and padding to the body to give it a natural baby feel. And when it comes to toy clothing, it's all about authenticity. After going through swatches after swatches, we were thrilled to find the current fabrics.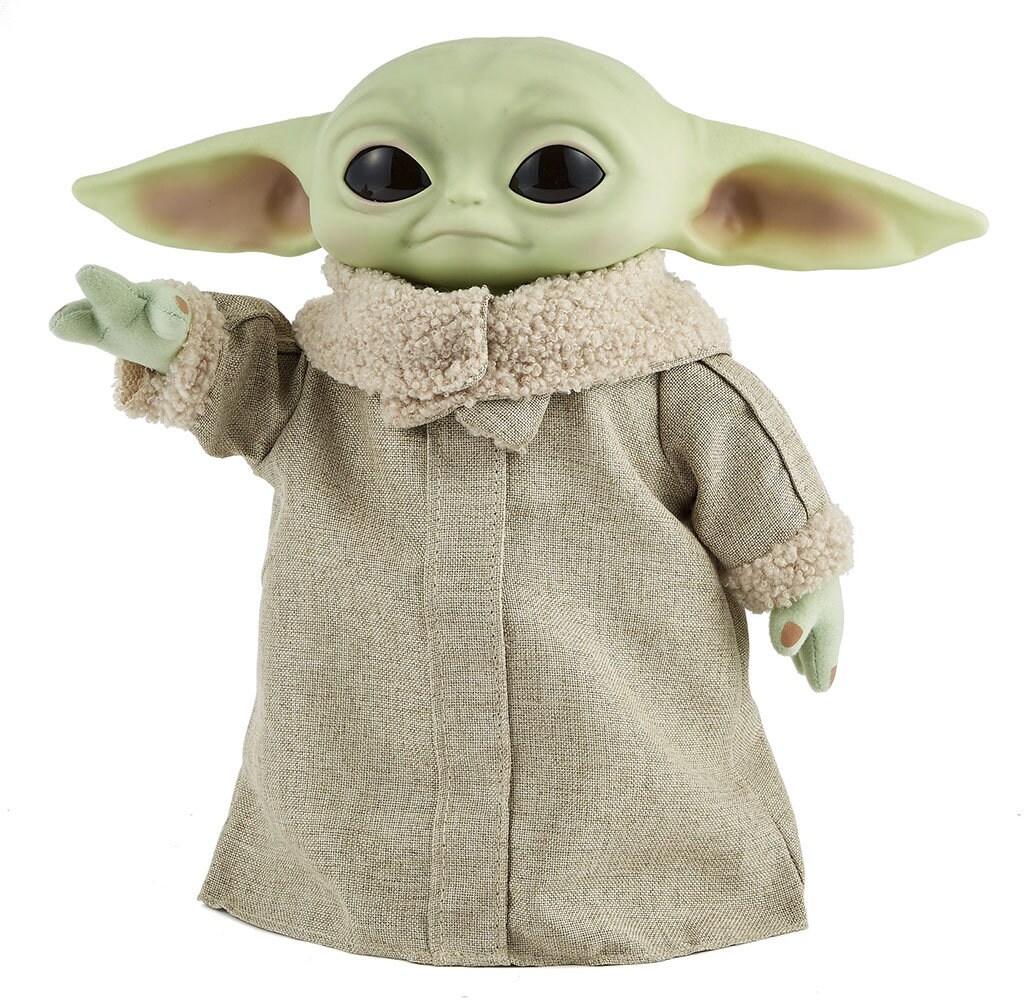 StarWars.com: As you mentioned, he uses the Force (or at least he tries, waving one magic hand.) How did you first identify all of the various sounds and activities that would work for a toy yet also make sense with what we know from the series?
Denise Wong: We try to bring the most fun elements of a character or show into the toy. We all watched and enjoyed The Mandalorian, so we tried to weave our favorite parts of it into this product through innovative features. At Mattel, we have a group of very talented designers and engineers, so we see these challenges as part of the fun of making a great toy.
Mattel's Star Wars The Child Real Moves Plush is available now.