The rare sample from Mattel will be auctioned off to benefit ProjectArt.
On the exhibition floor at the New York Toy Fair last year, the Child was just beginning his reign. Three months after toddling onto our screens, The Mandalorian's co-star was gaining his own following, as fans clamored for toys and collectibles modeled after the bounty hunter's green companion.
Among those earliest offerings, though not for sale, one display stood out from the crowd: a floating pram, inspired by the one featured on the Disney+ series, hovering in mid-air, 2.5 inches of its base, and protecting a most valuable plush-and-vinyl asset sculpted by the designers at Mattel. That 11-inch plush Grogu has since won Plush Toy of the Year at the 2021 Toy of the Year Awards, flying off of store shelves faster than the Razor Crest making a daring escape. But a life-size, levitating replica of the floating pram remained an elusive acquisition….until now.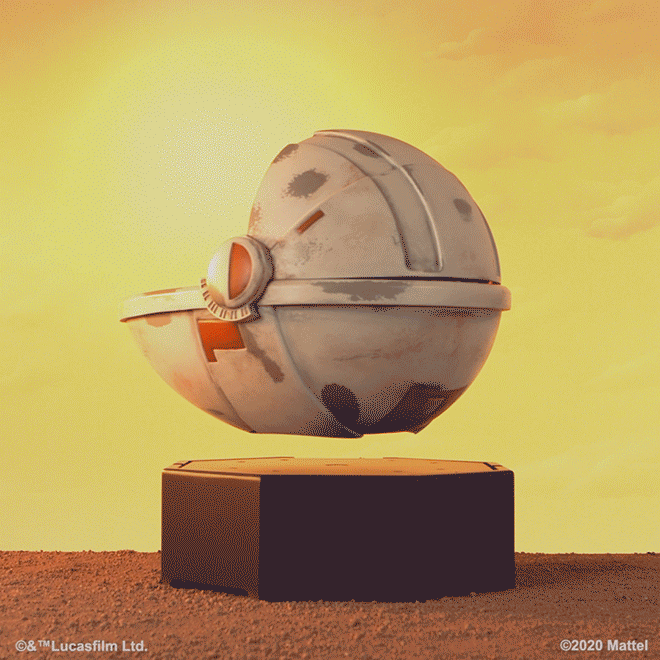 Today, Mattel Creations, in partnership with ProjectArt, will place one specially-crafted hovering pram up for bid through an online auction on eBay and 100% of the final auction price (minus PayPal fees if purchased via PayPal) will benefit ProjectArt, a charity that supports the arts for underserved K-12 students by promoting teaching and learning through visual arts. Bidding is open now through March 5.
But before one lucky fan captures this prized asset, StarWars.com sat down with Mattel designer Michael Kadile to get a full bounty puck of intel on how the display piece was made.
StarWars.com: This floating pram is so unique! What can you tell us about how you took something that is partially in CGI on The Mandalorian and brought it into reality?
Michael Kadile: I'm a huge fan of Star Wars, so you don't have to ask me to repeatedly watch this incredible new show. After watching The Mandalorian several times, screen capturing scenes and studying every angle, the first step was to recreate a 3D digital replica with the talented Mattel Sculptural Department. After the sculpt was perfected, we printed out massive molds to build a life-size pram.
After several versions of the molds, I then began to experiment with the process of building the pram. I was able to document the process so that the build could be replicated, if necessary. Finally, we painted static models of the pram to best replicate how it looks in the series. To finish the look, we added some stellar work from the Mattel Soft Goods team with custom ornamental blankets and the project was a hit!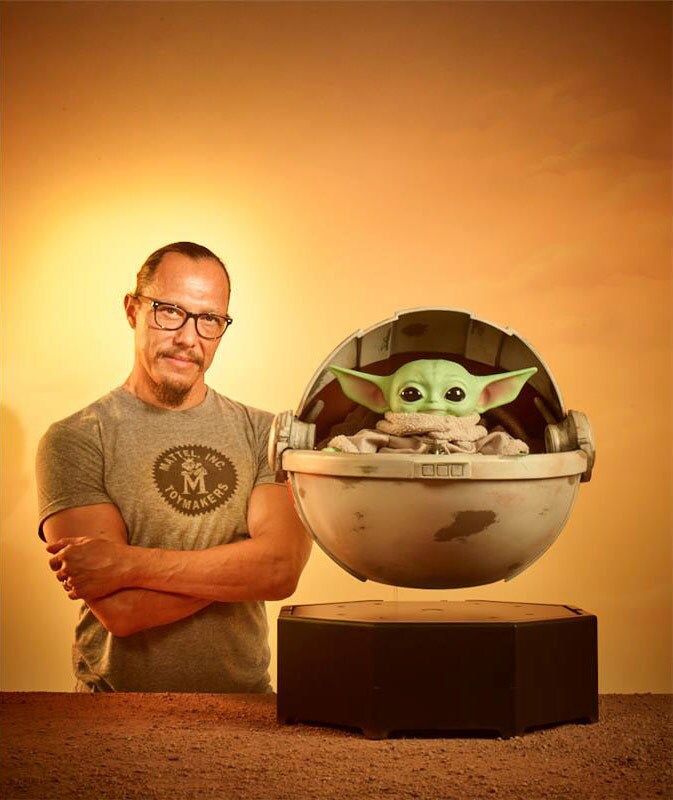 StarWars.com: What was the biggest challenge you and the team encountered?
Michael Kadile: We had to install a powerful electro-magnetic levitation system on something that was large enough to be an actual pram. The balance was meticulous and specific. It has to be centered directly and balanced precisely when The Child was set inside of it along with the ornamental blankets. The slightest imbalance, even a gust of air, could have thrown it off if not installed properly.
Then two months after New York Toy Fair 2020, I was asked to replicate the display model for the charity auction. The biggest challenge for this next model was the COVID-19 shutdown. I would need to assemble it from one location (my garage) and working remotely with all the same teams to complete this version.
To show my appreciation for all the people who contributed to this phenomenal project, I insisted that each and every one of them signed their name somewhere on the inside of this collectible art piece. I was thrilled to work on this project and can't wait to see who gets to enjoy this one-of-a-kind creation in their own home.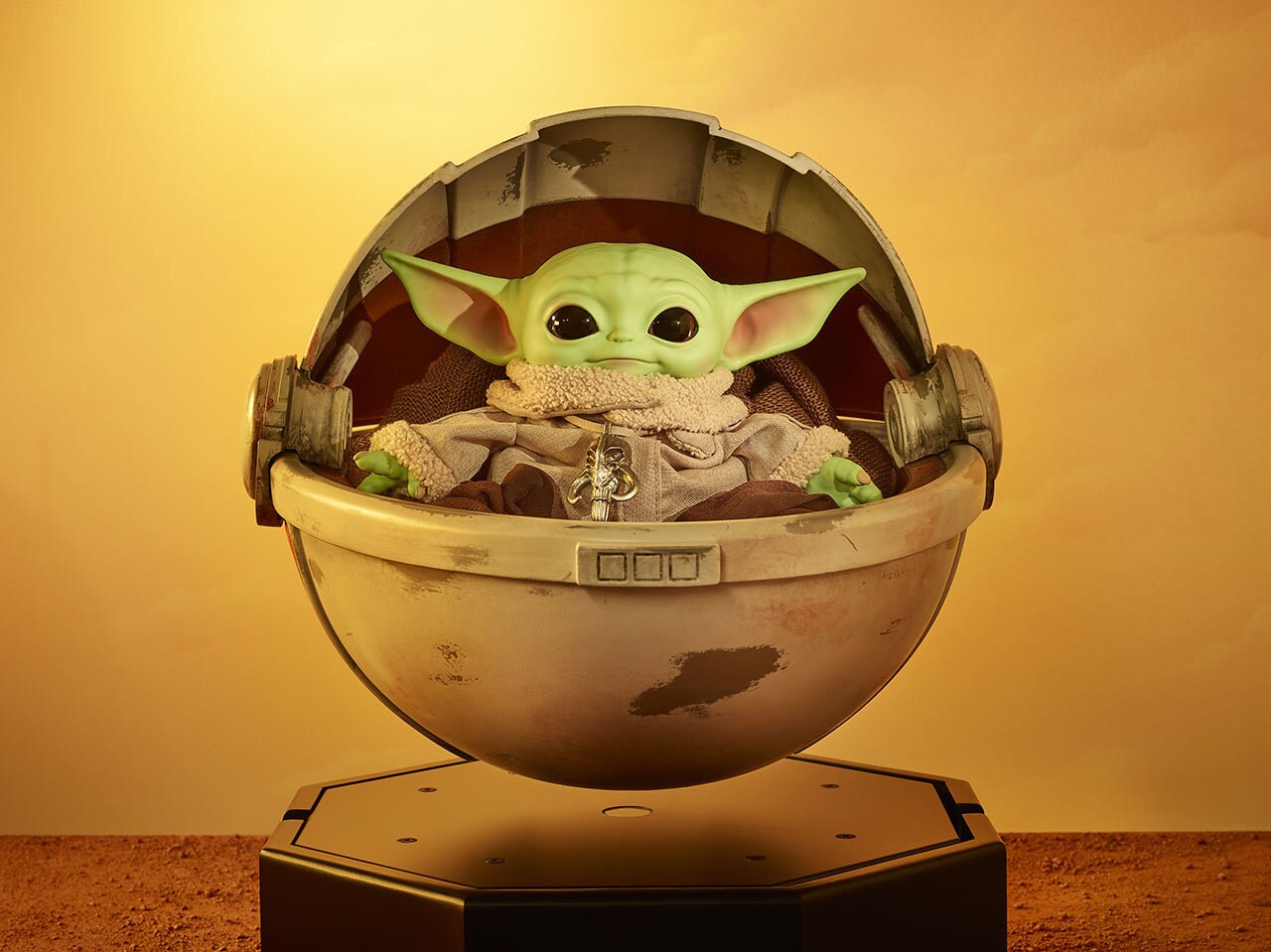 StarWars.com: The auction will benefit ProjectArt. Why is that charity important to you as an individual, and an artist yourself, as well as Mattel as a company?
Michael Kadile: ProjectArt focuses on bringing learning through visual arts to underserved K-12 students while also providing a residency program in the public library for artists to create new artwork and mentor youth who don't have access to art education.  Giving kids the ability to express themselves through art and exploring their creativity is a great passion of mine, and being creative in my childhood ultimately helped me get to where I am today.
Mattel has a multitude of purpose-led brands and this partnership between Mattel Creations and ProjectArt is dedicated to giving back to the next generation of creators, particularly through the arts. Connecting with these kids is something that I find extremely rewarding. It's amazing to have the ability to potentially impact their future and let them know that they can become anything, even a toy designer, and continue to play well into their adulthood.
In addition to the charity event, Mattel Creations also announced a new collector's edition plush of The Child in a motorized hover pram, with realistic-looking hair and plush hands and feet, as well as a very limited quantity of autographed 3-packs of the Star Wars x Barbie dolls signed by acclaimed Barbie designer, Robert Best. The Star Wars - The Mandalorian The Child - Collector Edition Plush with Hover Pram and Star Wars x Barbie sets are available for a limited time only starting March 5 at 9 a.m. PST and ending at 9 a.m. PST on March 12.
Bidding on the eBay auction for the Mattel floating pram is open through March 5 at 9 a.m. PST at ebay.com/mattelcreations.
Associate Editor Kristin Baver is the author of the book Skywalker: A Family at War, host of This Week! In Star Wars, and an all-around sci-fi nerd who always has just one more question in an inexhaustible list of curiosities. Sometimes she blurts out "It's a trap!" even when it's not. Follow her on Twitter @KristinBaver.
Site tags: #StarWarsBlog, #TheMandalorian