The scoundrel teams up with Chewbacca for a dangerous gamble that will take them into Jabba's lair.
That ol' smoothie Lando Calrissian is getting his own Marvel one-shot.
To celebrate the 40th anniversary of Star Wars: Return of the Jedi, today StarWars.com and This Week! in Star Wars are revealing your first look at the cover art for the Marvel comic featuring the one-time Baron Administrator of Cloud City, Lando Calrissian, once again pressing his luck at the Sabacc table.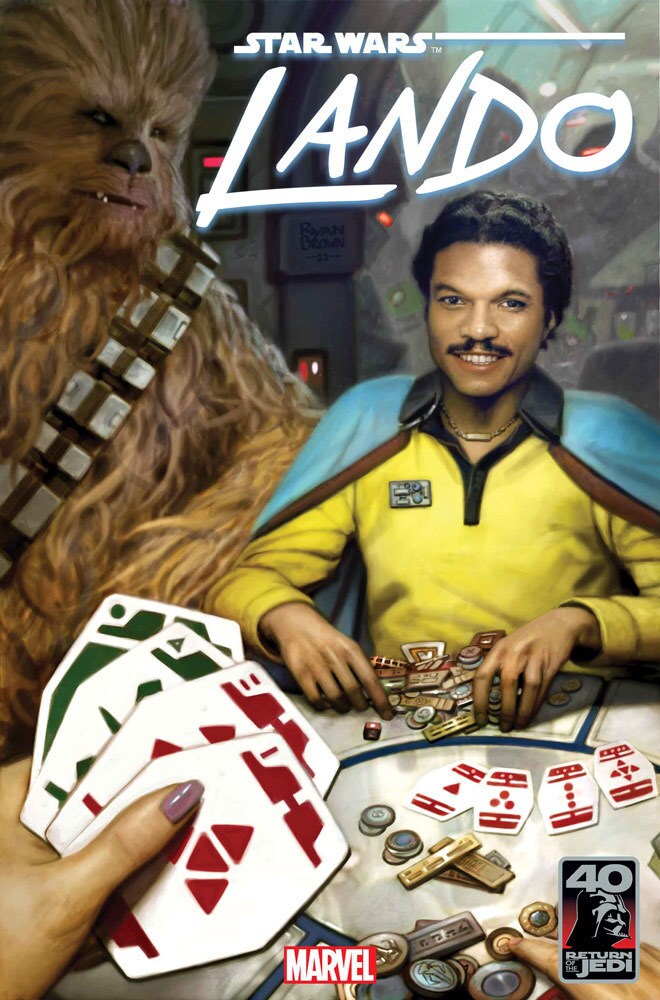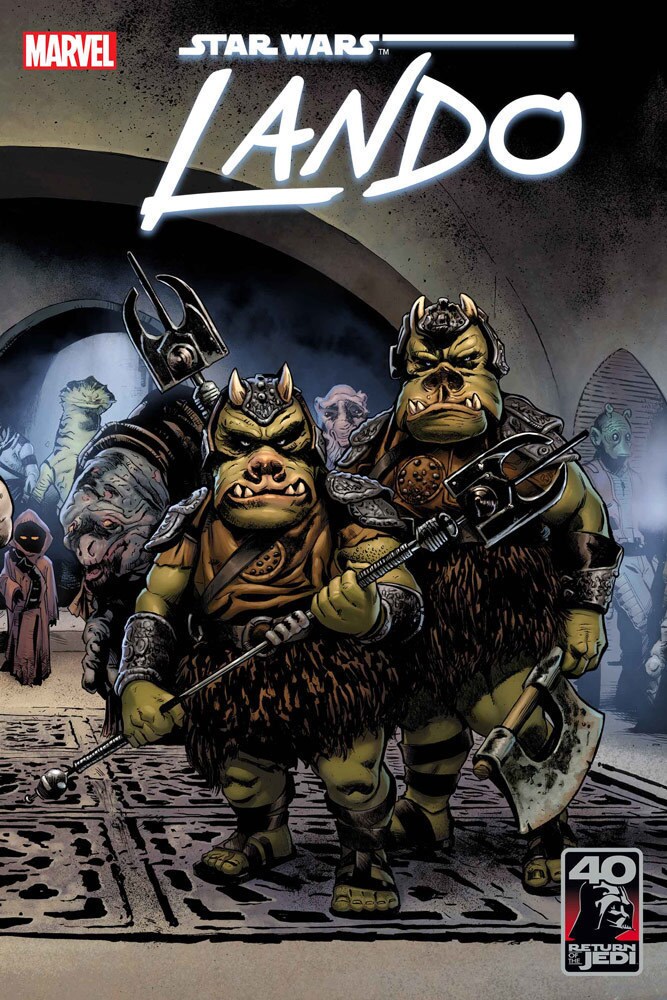 Written by Stephanie Phillips with art by Álvaro López and a cover by Ryan Brown, Star Wars: Return of the Jedi – Lando #1 follows Lando and Chewbacca the Wookiee on their journey to complete a heist from the nafarious Jabba the Hutt and ultimately reclaim their friend, Han Solo. Check out the connecting variant cover by Lee Garbett featuring a pair of Gamorrean guards and read the full synopsis below…

STAR WARS: RETURN OF THE JEDI - LANDO #1
STEPHANIE PHILLIPS (W) • ÁLVARO LÓPEZ (A) • Cover by RYAN BROWN
VIRGIN VARIANT COVER BY RYAN BROWN • CONNECTING VARIANT COVER BY LEE GARBETT
VARIANT COVER BY RAHZZAH • VARIANT COVER BY BRIAN STELFREEZE
VARIANT COVER BY TYLER KIRKHAM
LANDO AND CHEWIE ANTE UP TO SAVE THE GALAXY!
When Lando Calrissian and Chewbacca find themselves on a perilous mission to steal from Jabba himself, a dangerous figure from Lando's past threatens their plans and their lives.
Chewie finds that putting his trust in Calrissian is a gamble that just might pay off, as Lando calls on his skills as a smuggler to make it out alive.
Part of a series of one-shots celebrating the 40th Anniversary of Return of the Jedi, this story by Stephanie Phillips (COSMIC GHOST RIDER, ROGUE & GAMBIT) and Álvaro López (CAPTAIN MARVEL) bring you a new, high-stakes adventure with some of Star Wars' most beloved characters.
Star Wars: Return of the Jedi – Lando #1 arrives in May of 2023, following March's Star Wars: Return of the Jedi – Jabba's Palace #1 and the April release of Star Wars: Return of the Jedi – Ewoks #1, all available at your local comic book shop.
See 
Star Wars: Return of the Jedi – Lando #1
and more on the latest episode of
This Week! In Star Wars
below!