Check out the variant covers that will grace Marvel's Star Wars comics starting in June.
Lucasfilm and Marvel are teaming up to celebrate Pride Month, a time dedicated to uplifting, honoring, and supporting the LGBTQIA+ community's impact in the world. StarWars.com is thrilled to showcase 2022's Pride Month variant covers coming to Star Wars comics beginning in June; each cover has been created by LGBTQIA+ artists and showcases LGBTQIA+ characters of the Star Wars galaxy, featuring trade dress with a rainbow burst and a classic Star Wars logo with a rainbow trail. Check out all the covers below along with commentary from several artists!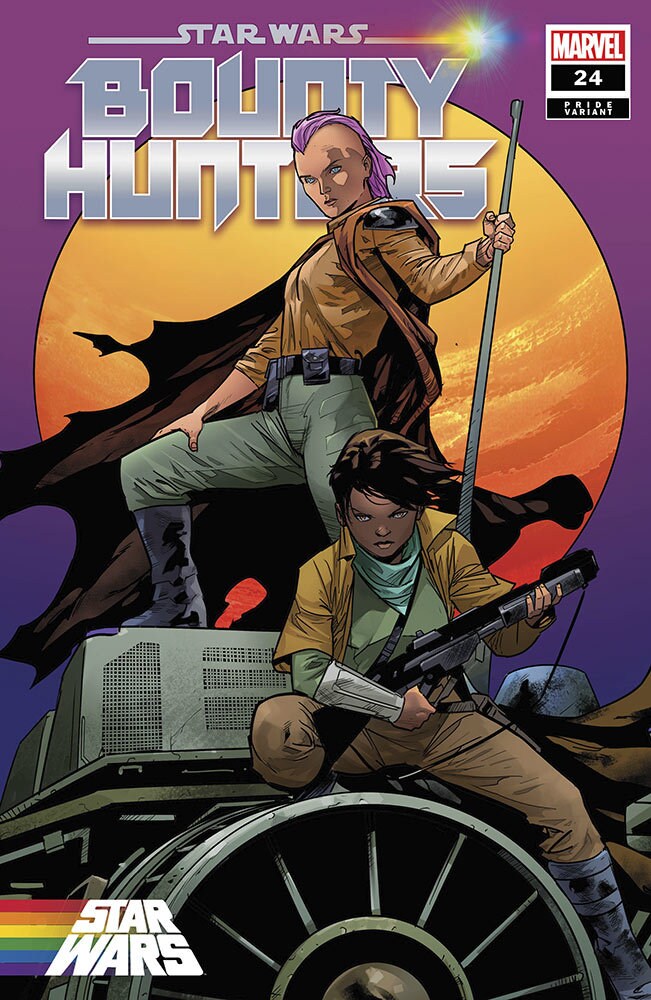 Star Wars: Bounty Hunters #24, featuring T'onga and Losha (On Sale June 15)
Artist: Jan Bazaldua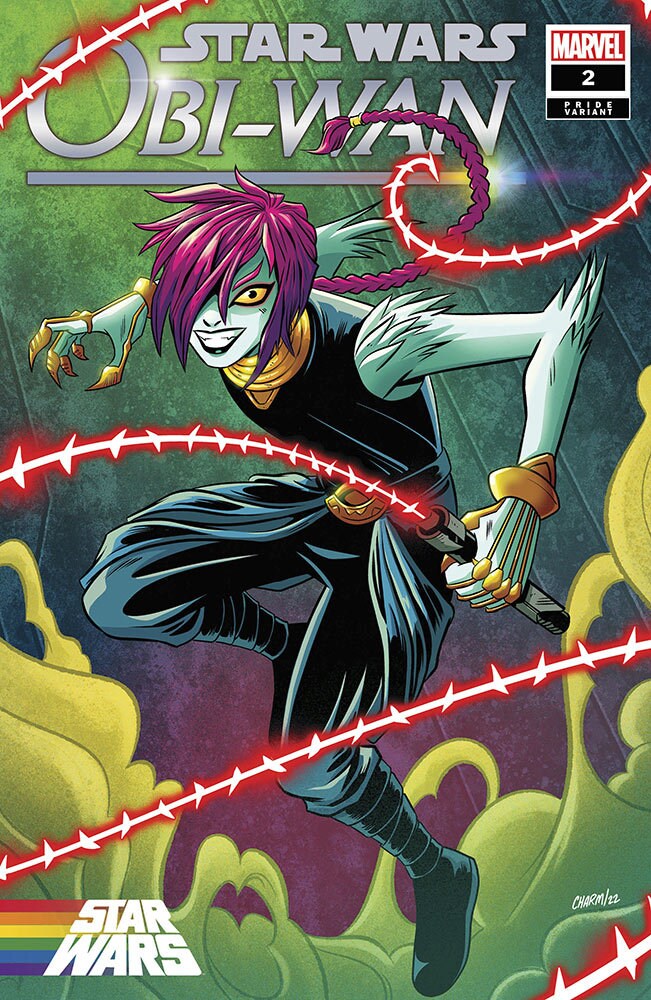 Star Wars: Obi-Wan #2, featuring Kho Phon Farrus (On Sale June 22)
Artist: Derek Charm
"I'm really happy to be a part of this, especially when I found out I'd be drawing Kho Phon Farrus. I always gravitate towards the more villainous characters and this one has such a great design. It's great to highlight that by its nature, the Star Wars universe is an infinitely inclusive and diverse place." -- Derek Charm
Star Wars: Darth Vader #24, featuring Sabé, Saché & Yané (On Sale June 22)
Artist: Kei Zama
"I'm excited to be celebrating Pride Month with Star Wars! For real, I'm definitely a big fan of the prequel trilogy; I have such a special fondness for Episodes I to III, so drawing characters from The Phantom Menace for this cover was a very cool experience." -- Kei Zama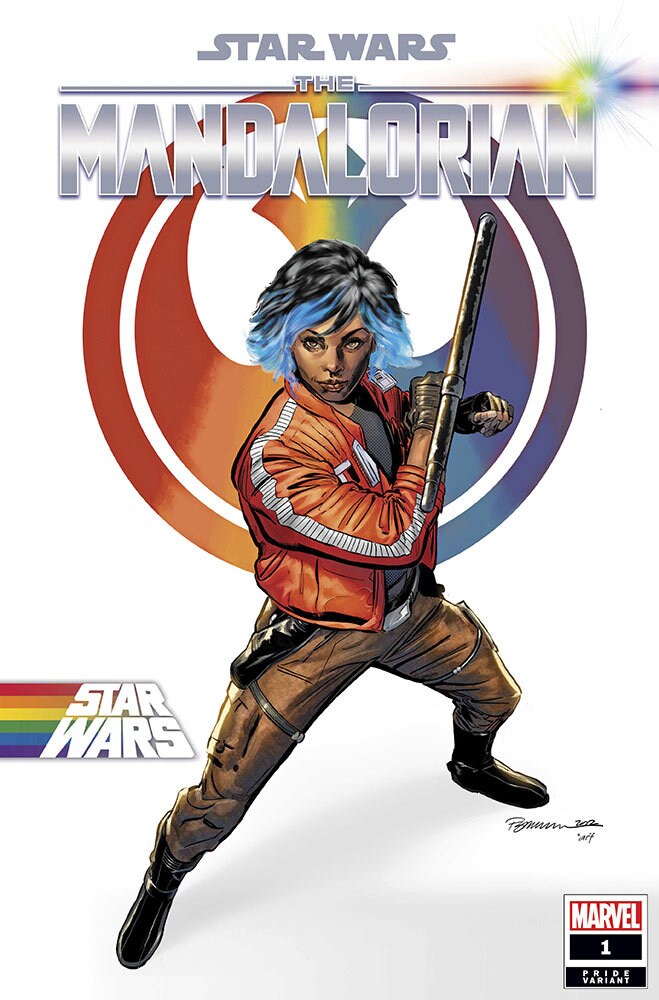 Star Wars: The Mandalorian #1, featuring Vi Moradi (On Sale July 6)
Artist: Phil Jimenez
"Star Wars and Marvel are about as culturally relevant as it gets, and to see the support they're giving the LGBTQIA+ community during Pride Month is something special. I didn't know much about Vi Moradi before I started researching her for this piece -- and I'm hoping now even more people will recognize her and the important role she plays in the Star Wars universe!" -- Phil Jimenez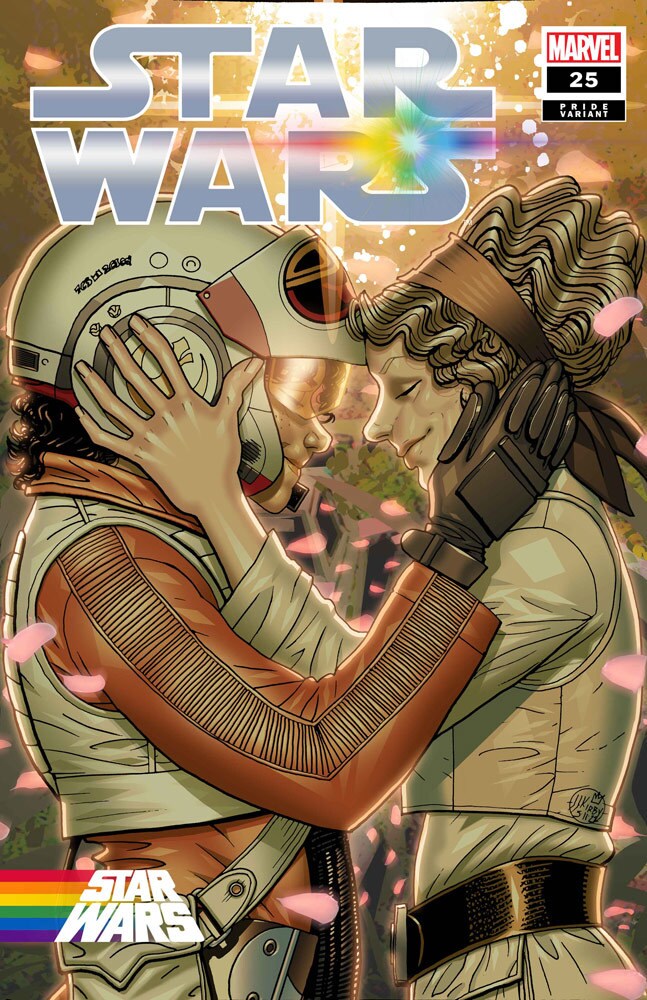 Star Wars #25, featuring Larma D'Acy & Wrobie Tyce (On Sale July 20)
Artist: JJ Kirby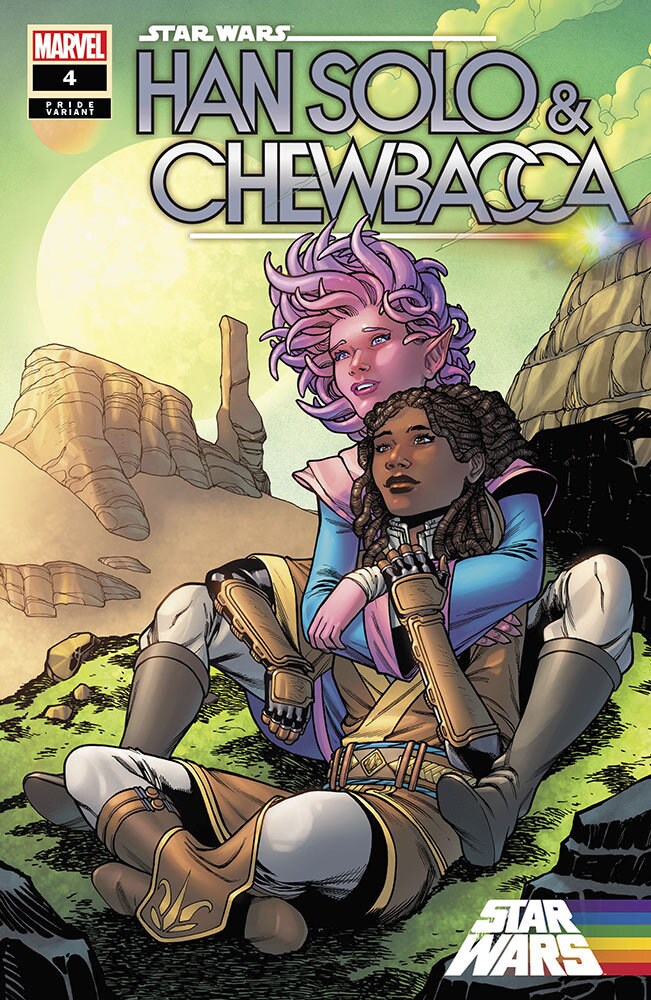 Han Solo & Chewbacca #4, featuring Lula Talisola & Zeen Mrala (On Sale July 20)
Artist: Javier Garrón
"For me it's one of the greatest honors and pleasures to highlight the wonderful diversity of characters in comics. Maybe we come to stories because it's sci-fi, or action, or thriller, or whatever, really. But if we stay in them, if those stories stick with us, it is because of the characters.
"Lula and Zeen have a beautiful story, as epic as any starfighter battle, and I wanted to showcase that. An intimate, tender and quiet moment together. A loving hug looking at the stars, their destiny! Because in the great scheme of things, even on a galactic level, it's the small human things that really matter." -- Javier Garrón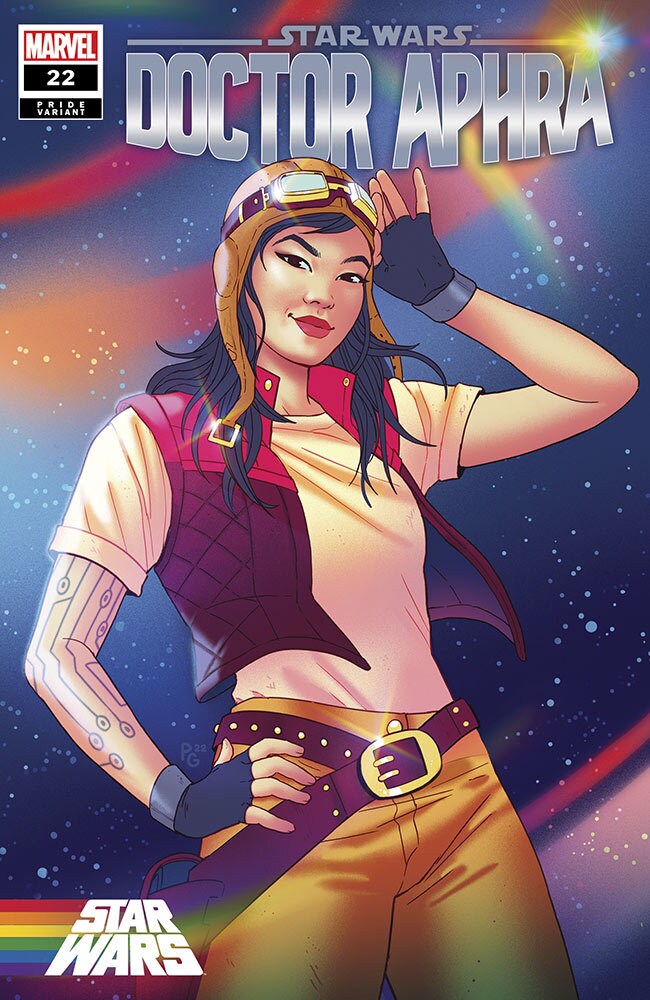 Star Wars: Doctor Aphra #22, featuring Doctor Aphra (On Sale July 27)
Artist: Paulina Ganucheau
"Doctor Aphra is always a blast, so getting to draw her for Pride Month and be part of the Star Wars celebration is extra special." -- Paulina Ganucheau