Design director Jens Kronvold Frederiksen talks to StarWars.com about the LEGO Group's epic Master Series set.
Who shot first? You can now decide -- with an amazing new LEGO set.
The LEGO Star Wars Mos Eisley Cantina, arriving globally October 1 on LEGO.com and in LEGO Retail Stores with availability for LEGO VIP members on September 16, is a sprawling and epic tribute to one of the saga's most famous sequences. Part of the Master Builder Series, it consists of 3,187 pieces, comes with 21 minifigures (including everyone from Han and Greedo to various alien patrons you won't want to mess with), and includes a speeder and dewback, all making for the LEGO Group's most expansive take ever on the Tatooine watering hole. StarWars.com reached out to LEGO Star Wars design director Jens Kronvold Frederiksen to talk about this "dream" version of the cantina, considering LEGO Star Wars fans' wish lists, and a hilarious hidden surprise.
StarWars.com: I think I speak for all LEGO Star Wars fans when I say, Finally! Tell us about why this was the right time for a big, accurate Mos Eisley Cantina set.
Jens Kronvold Frederiksen: The Mos Eisley cantina scene is something special to most Star Wars fans but also for us at the LEGO Group. That's why we have made it into LEGO sets several times; however, these sets have all been smaller models. The idea of creating a big, super-detailed version has been a dream for many years! We knew that a set like this would require a lot of minifigures -- several of them with new molded heads.  This time around we had the opportunity to make these, and then create the best set we could imagine, with most of the cool iconic aliens included as LEGO minifigures.
StarWars.com: The expansiveness of the set is incredible, from Han and Greedo and their booth, to the Dewback pen outside. What was the research and design process like?
Jens Kronvold Frederiksen: We have, of course, watched the movie sequence of the cantina over and over again. We have also collected all the photographic reference we could, from Lucasfilm Licensing, books, and more.
We decided from the beginning that we wanted to create a model with a super-detailed interior. It should be possible to recreate all the scenes from the movie with it! That wasn't enough, though. We wanted the model to look accurate and very detailed on the outside, also. We believe we succeeded there by adding the Dewback, the Jawa junk shop, and all the other smaller details. All this was included to give the LEGO model the very special atmosphere in and around the Mos Eisley cantina as seen in Star Wars: A New Hope.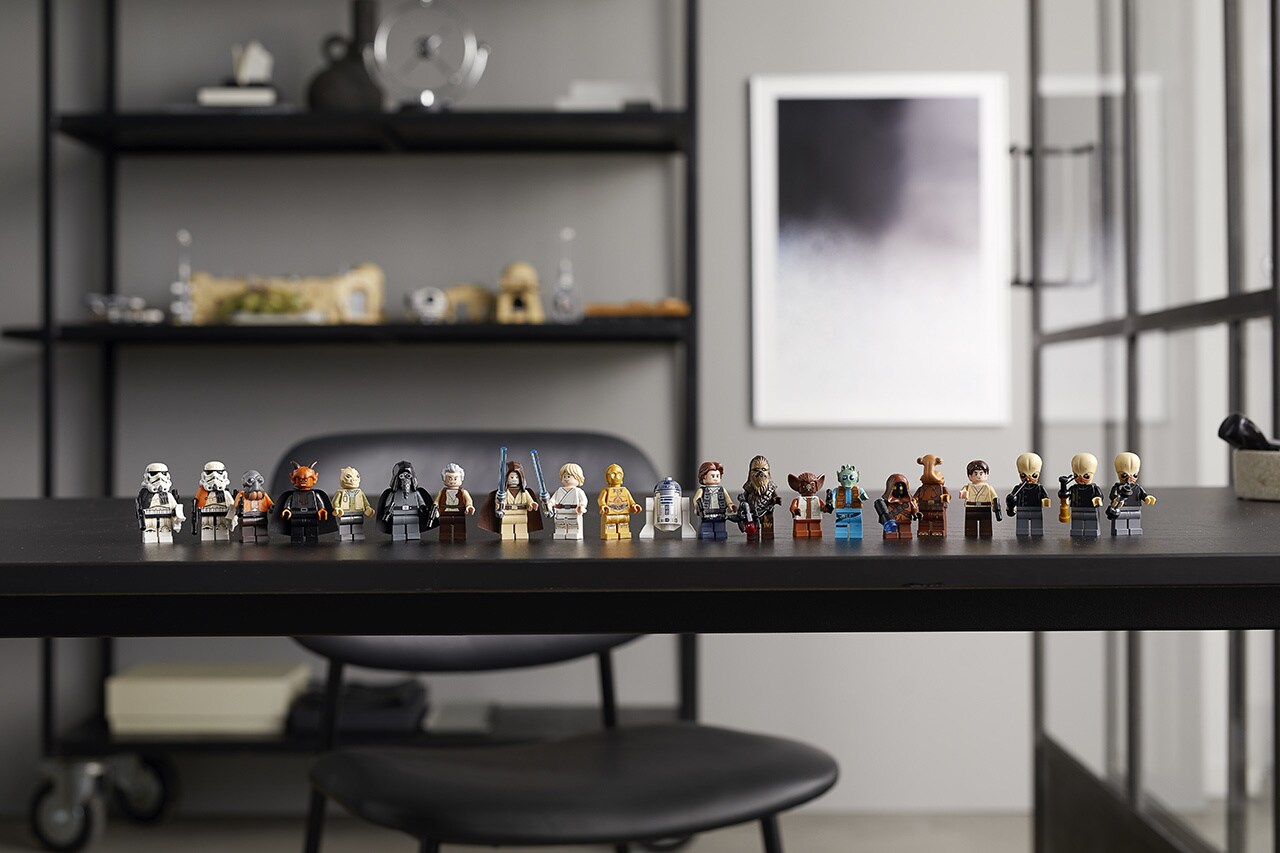 StarWars.com: A big part of the appeal of the cantina scene is the wide array of aliens featured, and this set includes a total of 21 minifigures based on the sequence. That's a big number! How did you decide who to include, and what reference did you have to bring them to life?
Jens Kronvold Frederiksen: Deciding which minifigures should be included was a difficult decision. We had an idea about how many minifigures we could add to the set. We started out by mapping ALL the characters seen in the cantina movie sequence. We then rated them by how important they are to the story, which ones are most iconic, and which would work best as LEGO minifigures. We also investigated which ones were highest on the LEGO Star Wars fans' wish list. These parameters, and long discussions, led us to the lineup of minifigures you now see in the set!
StarWars.com: This set is something that would appeal to me just as much as it would to my son, who's five years old and becoming a LEGO obsessive. That wide appeal is a quality that's rare. How important is it to the LEGO Group and in developing a set like the Mos Eisley Cantina?
Jens Kronvold Frederiksen: Very important! The set is age marked 18+ but we were, from the beginning, totally aware that the set would have a broader appeal. We have experienced the same with other LEGO Star Wars sets like the Death Star. The model is a complicated build, but can maybe engage several members of a family, and the final model will hopefully inspire children "of all ages" to role play all the scenes. If it works out that way, we got it right!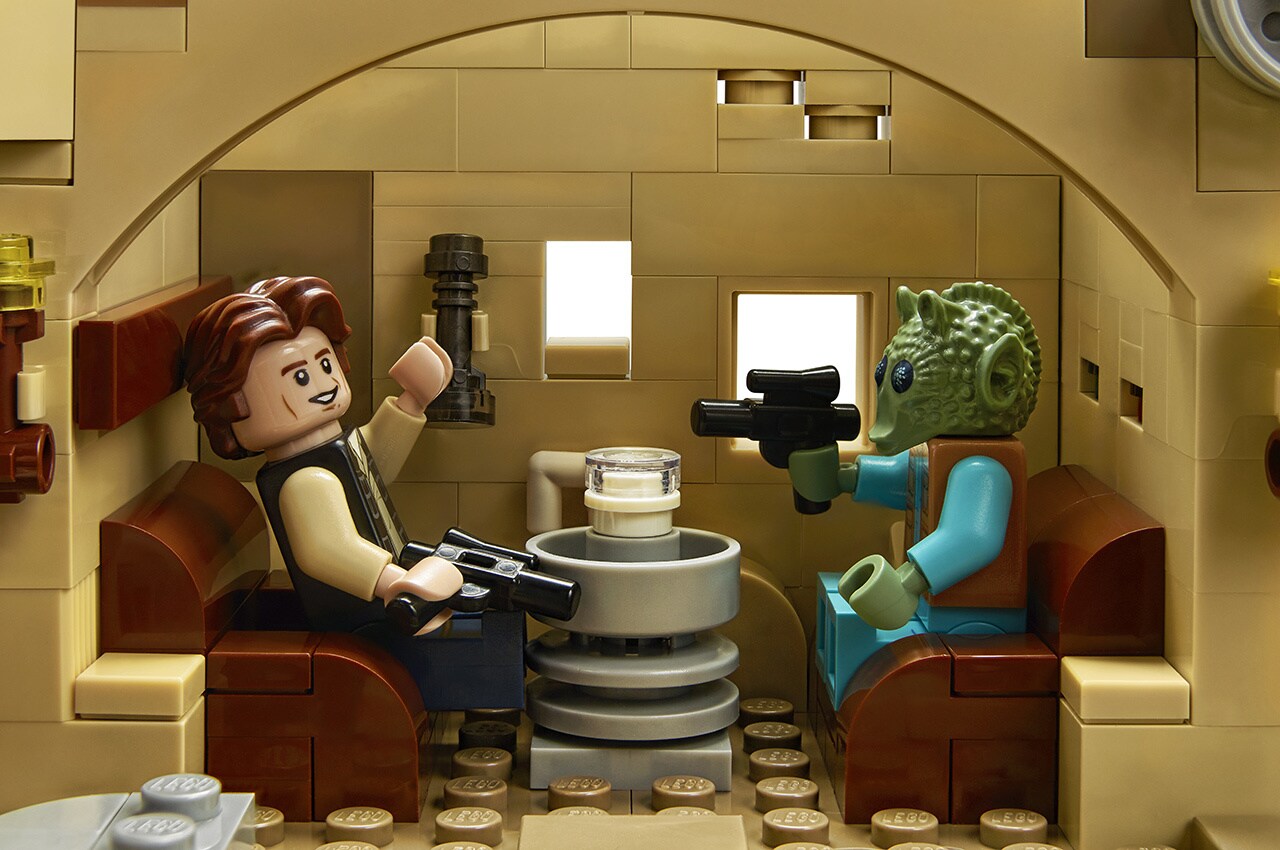 StarWars.com: Finally, who shot first?
Jens Kronvold Frederiksen: The model includes an ejector seat so a minifigure can pop out of the seat when hit by the opponent's blaster. We have included the function in both Greedo and Han Solo's seat, so the decision is yours!
LEGO Star Wars Mos Eisley Cantina set arrives globally October 1 on LEGO.com and in LEGO Retail Stores with availability for LEGO VIP members on September 16.
Dan Brooks is Lucasfilm's senior content strategist of online, the editor of StarWars.com, and a writer. He loves Star Wars, ELO, and the New York Rangers, Jets, and Yankees. Follow him on Twitter @dan_brooks where he rants about all these things.
Site tags: #StarWarsBlog