Get your first look at the next installment in a LEGO Star Wars Christmas tradition, inspired by The Mandalorian.
A new snow has fallen. Carolers sing outside your window. You cozy up by the fireplace, cup of hot cocoa in hand.
And there's Grogu in a holiday sweater, enjoying the season while Tusken Raiders launch snowballs at stormtroopers.
In other words, it's the perfect Christmastime scene.
We could only be talking, of course, about the LEGO Star Wars Advent Calendar for 2021 -- the latest installment in what has become a LEGO Star Wars Christmas tradition, and revealed exclusively here on StarWars.com. Themed to The Mandalorian, the set features minifigures and small builds inspired by the Disney+ Original Series, and many with a fun holiday twist. There are seven LEGO Star Wars characters packed with the set, including The Mandalorian and Grogu in a wintery scarf and holiday sweater, respectively, plus a Scout Trooper, Stormtrooper, Tusken Raider, IG-11, and IT-O Interrogator Droid. Fans will also find mini ships, such as The Razor Crest, Riot Mar's starfighter, Imperial Troop Transport, X-wing, TIE Fighter, Imperial Light Cruiser, Boba Fett's starship, and Grogu's hoverpram; other mini builds include an E-web heavy blaster snow launcher, training targets, Tusken Raider's weapon rack and snow launcher, Imperial weapon rack, and Mandalorian weapon rack. It's an adorable collection that would fill even Moff Gideon's heart with holiday cheer; for LEGO Star Wars fans, we can think of no better bounty to help count down to Christmas. StarWars.com caught up with LEGO Star Wars designer Jason Zapantis to talk about this year's LEGO Star Wars Advent Calendar, available September 1.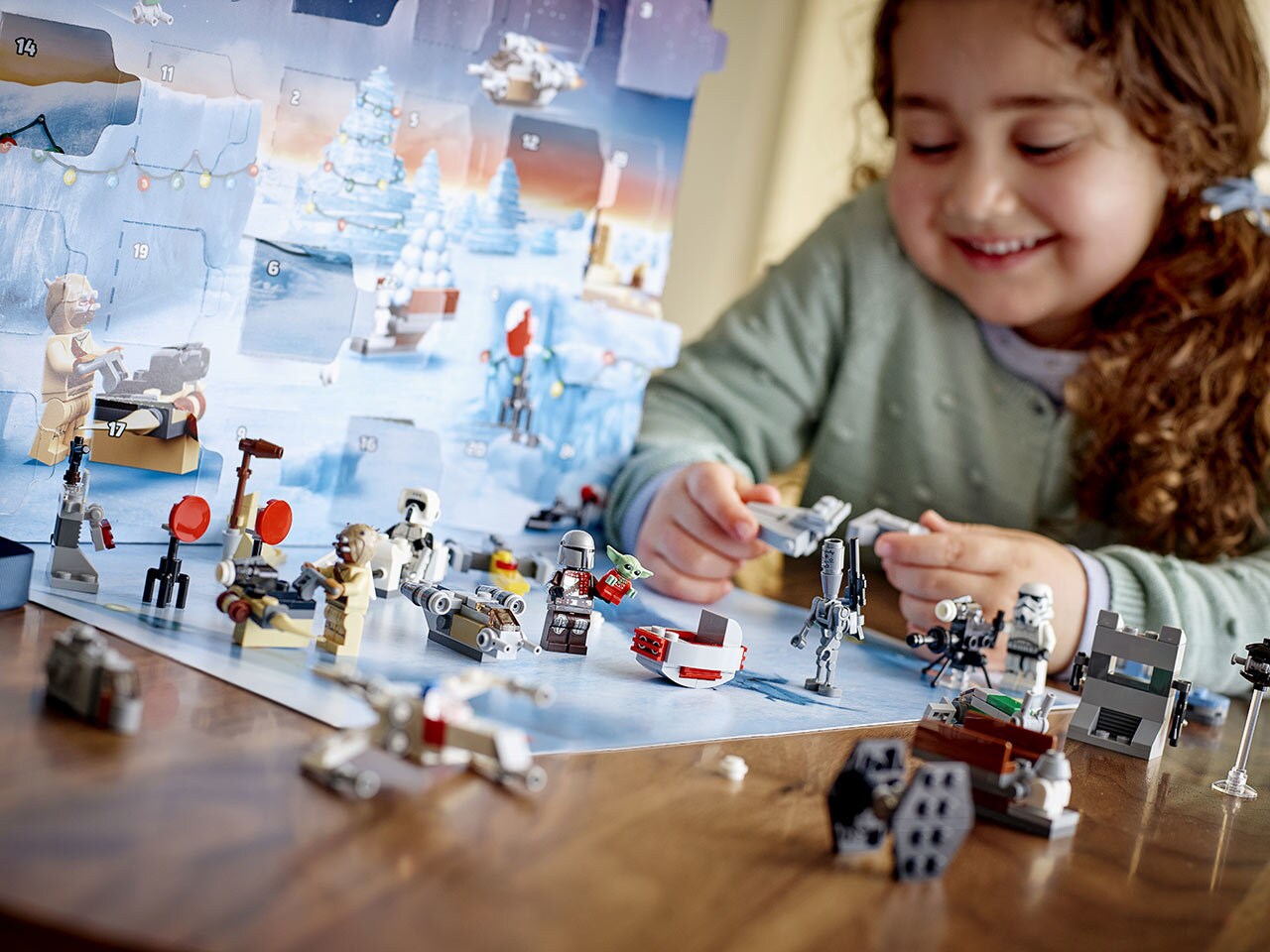 StarWars.com: I love the very funny holiday touches in this set, like Grogu in a holiday sweater and the snowball cannons. Can you tell us about the LEGO Group's creative process for the LEGO Star Wars Advent Calendar's minifigures and mini builds?
Jason Zapantis: This advent calendar is a first in the decade we have been doing them, as it is completely dedicated to The Mandalorian. All the days correspond with things that appear in show, with some items getting a festive touch as we have done in previous years.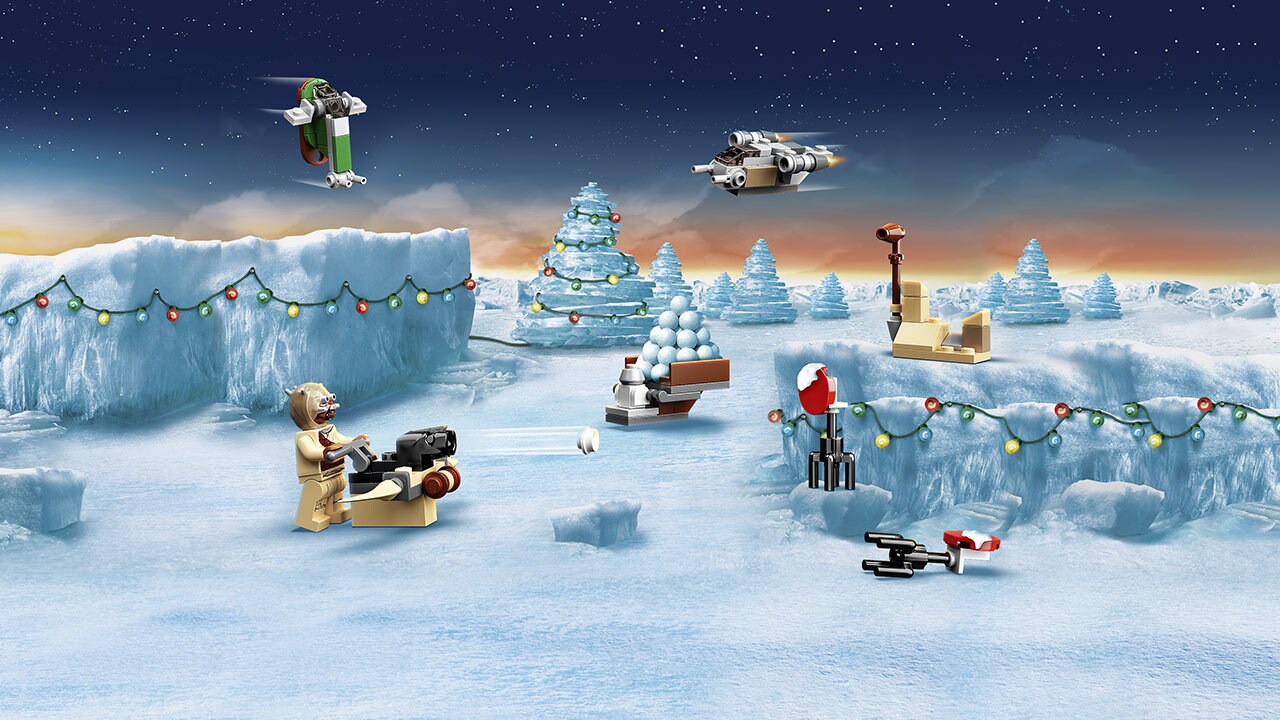 We look to pick a variety of builds balancing between the iconic elements from the show, recognizable favorites, and offering up some unique builds. Of course, we always have our Christmas-themed minifigures/modified builds each year. Something different for this year is that we have a buildable speeder bike that can be used by the Scout Trooper with room to attach Grogu in his holder on the back.
We have a hover crib for Grogu and the ride-on droid transport trailer. A lot of the items allow for interaction and play with minifigures, with some builds belonging to a sub group in the calendar. There's a lot of opportunity to create your own little stories with the builds.
StarWars.com: The mini builds of ships and vehicles are pretty adorable. Is it challenging to simplify complex Star Wars ships in this way?
Jason Zapantis: Yes, it can be a challenge as we need to be able to show how a ship can built in only one instruction. So when designing, we want to keep builds easy to read and minimize the amount of parts. We look for elements that are as close to resembling the different shapes found on a vehicle and avoid building it out.
StarWars.com: What's your favorite item and/or element in this year's LEGO Star Wars Advent Calendar, and why?
Jason Zapantis: My favorite element in the Advent Calendar is the 1x1 brick with four knobs. The brick brings so much versatility into achieving certain builds and is used a few times in different days.
It allows you to build in all directions and also has the added ability to insert a shaft element from either side, allowing you to do quite a lot with the limitations we have.
My favorite item has to be Grogu's hover crib. It's the first time we have done a build of it in the Advent Calendar, and the little red festive highlights go well with Grogu's festive-themed getup.
The LEGO Star Wars Advent Calendar for 2021 arrives September 1.