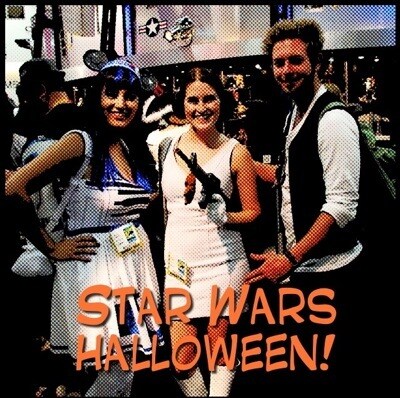 It's the day before Halloween and you don't have a costume. Dressing up like Queen Amidala might be out of reach, but there are plenty of other Star Wars costumes you can make in a day. Maybe you just got invited to a Halloween party? Or perhaps you want to dress up for school or work tomorrow? Whatever the case may be, fear not! Here are some Star Wars costume ideas that will help you get ready for Halloween in a hurry!
CARDBOARD STORMTROOPER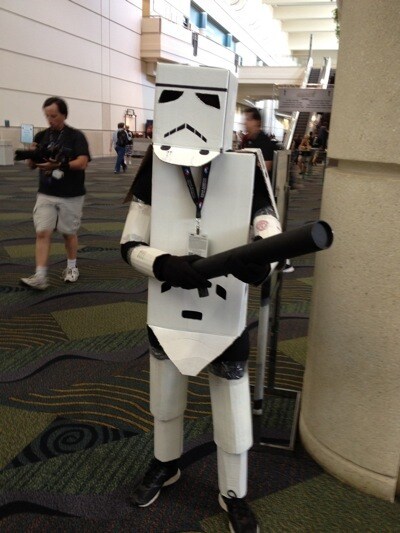 What You'll Need:

1 small cardboard box (for the helmet)
1 large cardboard box (for the body)
Extra cardboard pieces (for the arm & leg armor)
White spray paint
Black spray paint
Black acrylic paint or black marker
Cardboard mailing tube
This crafty costume was one of my favorites from
Star Wars
Celebration VI. I thought it was a really clever and affordable way to make a Stormtrooper costume: Spray paint all the cardboard pieces white, then use black paint or a black marker for the helmet and body details. For the blaster rifle, use a cardboard mailing tube and spray paint it black. Instead of using a bodysuit, this cosplayer wore black pants, a black long-sleeved shirt, and gloves to complete the look. I never got the name of this cardboard Stormtrooper, but I salute him for thinking outside of the box!  :)
DARTH VADER & BOBA FETT - NO CAPE OR JET PACK REQUIRED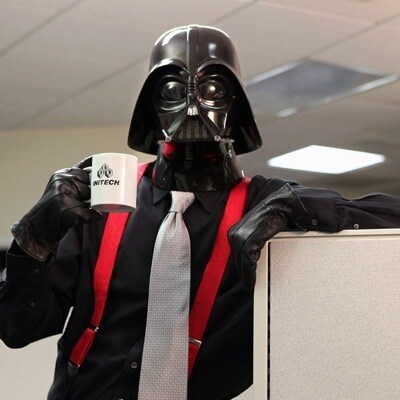 What You'll Need:

Darth Vader or Boba Fett helmet
Wardrobe inspired by a particular theme
All this costume requires is a
Star Wars
helmet -- and what you imagine everyday life might be like for a Sith Lord or bounty hunter. If you don't have a Darth Vader or Boba Fett helmet in your possession, you can generally find one at Target or your local toy store. Once you have your helmet, choose a theme for your wardrobe. Why not go as Office Manager Darth Vader? Or crown yourself Sith Prom Queen by wearing an '80s prom dress and tiara? Or pay tribute to the 1970s as a disco-fied Boba Fett?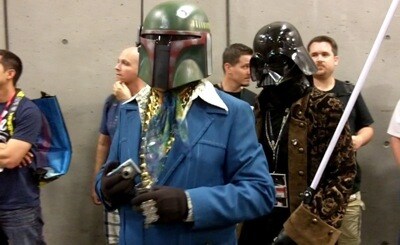 Depending on your time and budget, the possibilities are endless with this costume!
BATHROBE JEDI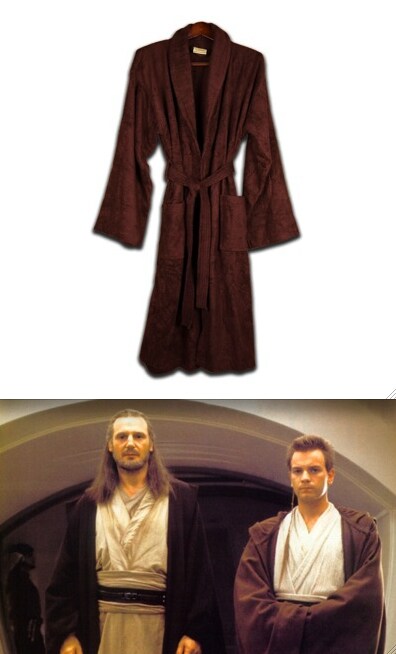 What You'll Need:

Brown bathrobe
Tan pants
Cream-colored shirt/tunic
Boots (if you have them)
Lightsaber
Transform your basic brown robe into the robe of a Jedi Master. Pair it with tan pants, a cream-colored shirt, and brown boots, and you'll be a lounging Obi-Wan Kenobi or a casual Qui-Gon Jinn (depending on the length of your hair). If you own one of ThinkGeek's
Jedi robes
, the same idea applies: Pair your Yoda bathrobe with brown pants and a brown shirt and become a Jedi you will, hmmm? (I also happen to own a Yoda mask.)
Dressing up as a bathrobe Jedi is a quick solution to your costume conundrum. Not to mention, you'll feel the Force…in comfort!
BAND OF REBELS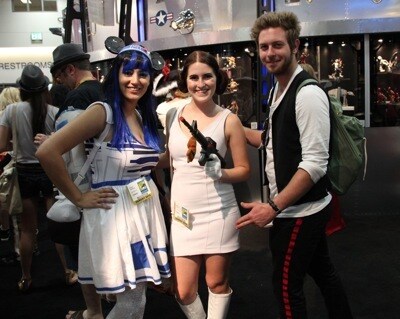 What You'll Need:
Princess Leia Costume

White dress
White boots
Toy blaster (optional)
I spotted these cosplayers at this year's San Diego Comic-Con. What I love about their costumes is that they put a modern twist on classic
Star Wars
characters. Update Princess Leia's
A New Hope
costume by wearing a form-fitting white dress and white go-go boots or heels. Wrap your hair in side buns and you'll instantly become a modern-day Princess of Alderaan.
Han Solo Costume:

Black vest
White long-sleeve shirt
Navy pants
Navy ribbon
Red ribbon or red craft felt
Fabric glue or hot glue gun
Whether you're a guy or a gal, this Han Solo costume is an easy and relaxed way to dress up like that charming scoundrel. The key to this costume is the vest. Check out your local thrift shop or bargain store (i.e., Ross, Marshalls) for vest options. Wear a long-sleeve shirt and keep it untucked for a more laid-back look. For Solo's pants, wear navy trousers or dark denim jeans. If you have a couple hours to spare, you can create the blood-stripes on Han's pants by using ribbon and glue. Cut two strips of navy ribbon to match the length of the pant. Then cut small rectangles from the red ribbon or craft felt. Attach each red block onto the navy ribbon with fabric glue (or a glue gun). Once the blood-stripes are completed, sew or glue the navy ribbon onto the sides of the pants. With or without the blood-stripes, you'll look like a contemporary Corellian smuggler.
R2-D2 Costume:

Blue fabric paint
Silver fabric paint
Paintbrush
White leotard
White skirt
Blue ribbon
Blue clip-in extensions (found at most beauty supply stores)
White tights
This R2-D2 costume is probably the most time consuming of the three. Although. if you're crafty, you can definitely whip up this costume in a night. Find images of R2-D2 online and let them be your guide as you paint. Paint Artoo's system diagnostic ports and other accoutrements on the middle section of the leotard using blue fabric paint. Use the silver paint to add side panel details. Then, paint the droid's lower interface panels on the lower half of the skirt. Add blue ribbon around the waistband and bottom edge of the skirt. You can either sew the ribbon to the fabric or attach it using a glue gun. Wear whatever shoes you're most comfortable in -- whether it's ballet flats, heels, or nice sneakers. Clip in some blue hair extensions and you'll be the cutest astromech droid on the block.
Planning a last minute costume requires scrappiness and a little improvisation. Before you head to the store, look around your home and see what items you can use for your Star Wars ensemble. With a little creativity and some craftiness, no one will know that you created your awesome Star Wars costume the night before!
Jennifer Landa is a Los Angeles-based actress, writer, and video blogger. One of her proudest moments was helping to design the Death Star...into a skirt.  To learn more about Jennifer, visit jenilanda.com.