Looking to learn more about this intimidating blaster-for-hire? StarWars.com has you covered.
There are two distinct groups of Star Wars fans who watched The Book of Boba Fett "Chapter 2: The Tribes of Tatooine" last month. First, there's the group who watched and went, "Oh that black-furred Wookiee looks pretty neat and like he's seen some action." And then there's the group that jumped out of their seats, hit the ceiling, and yelled, "SWEET FORCE, THAT'S KRRSANTAN ON OUR SCREENS!" If you're in the former group and wanted to say "bless you" when your friends said his name but are curious to learn more about the coolest Wookiee since Chewbacca, this is the guide for you.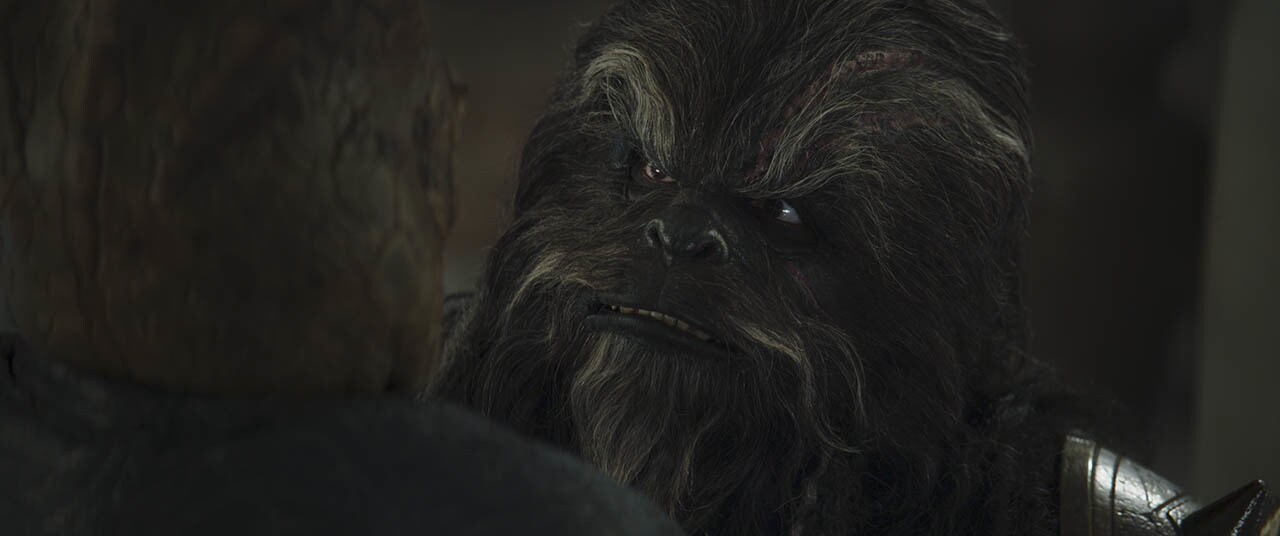 Krrsantan, or "Santo" if you're Garsa Fwip, has the distinction of being one of the few Star Wars characters to make the jump from page to screen. Created by comic creators Kieron Gillen and Salvador Larroca, Krrsantan is no newcomer to the sands of Tatooine or the world of bounty hunting and working for morally questionable individuals. But who else has he worked for? Who else has he teamed up with? What bounties has he brought in? And is there an overlap between those categories? For these answers and more, we turn to the world of Star Wars comics!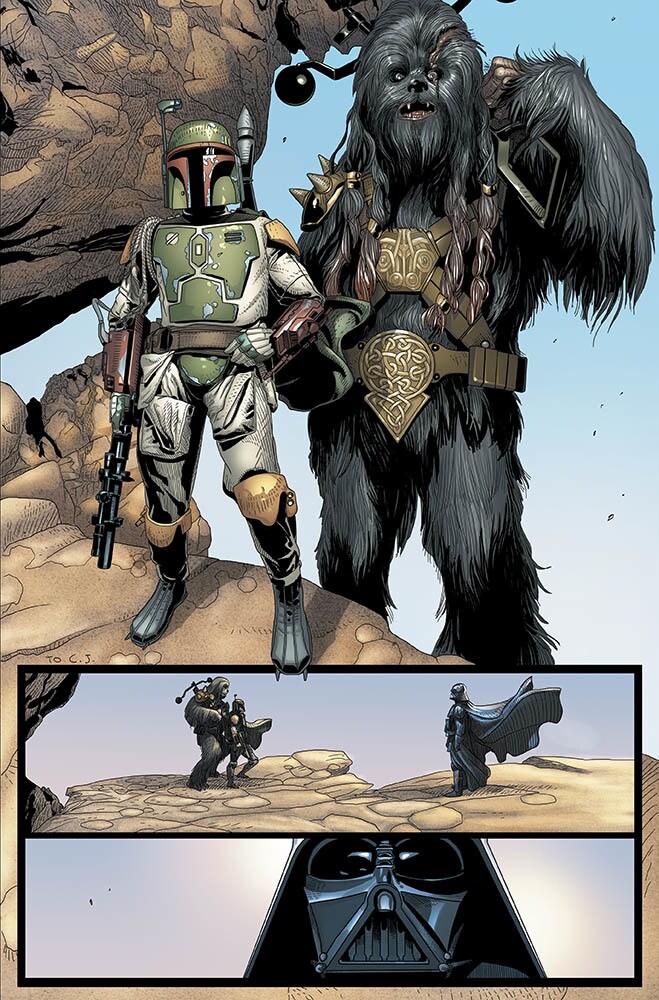 The Debut: Darth Vader Volume 1: Vader
Krrsantan originally debuted in Darth Vader #1 back in 2015 alongside, believe it or not, Boba Fett. The pair were hired by Darth Vader on Tatooine for separate missions. While Fett was sent off to discover the identity of the rebel pilot who had destroyed the Death Star, Krrsantan was instructed to track down an agent doing secret work for the Emperor.
More Work for the Dark Lord: Darth Vader Volume 2: Shadows and Secrets, Vader Down, Darth Vader Volume 4: End of Games
After successfully completing his first mission for Darth Vader, Krrsantan continued to work for the Sith Lord throughout Vader's eponymous comic. The jobs ranged from operating with Doctor Aphra, to actually stealing from the Empire, to tangling with certain famous rebels, to working directly for Vader to track down the wayward Aphra.
Archaeology Time: Doctor Aphra (2016) Volume 1: Aphra
After rescuing Aphra from being tossed out an airlock (long story), Krrsantan continued to work for her as she left behind Vader and got back to her more archaeological shenanigan roots. After years away, Aphra's father, Korin, appears back in her life and causes her archaeological credentials to be called into question. That leaves Aphra, Krrsantan, and the murder droids Triple-Zero and BT-1 with no choice but to go along with Korin to find the Ordu Aspectu; a hunt that takes them to Yavin 4 and then a seriously spooky situation in the Citadel of Rur!
Adventure and Mishap: Doctor Aphra (2016) Volume 2: Doctor Aphra and the Enormous Profit, Volume 6: Unspeakable Rebel Superweapon
Krrsantan continues to pop up here and there throughout Doctor Aphra's first comic series. Their paths crossed for everything from a party with a fancy dress code and the who's who of galactic criminals that caught the unwanted attention of Vader to a less than ideal situation that found Krrsantan and Aphra once again on opposite sides.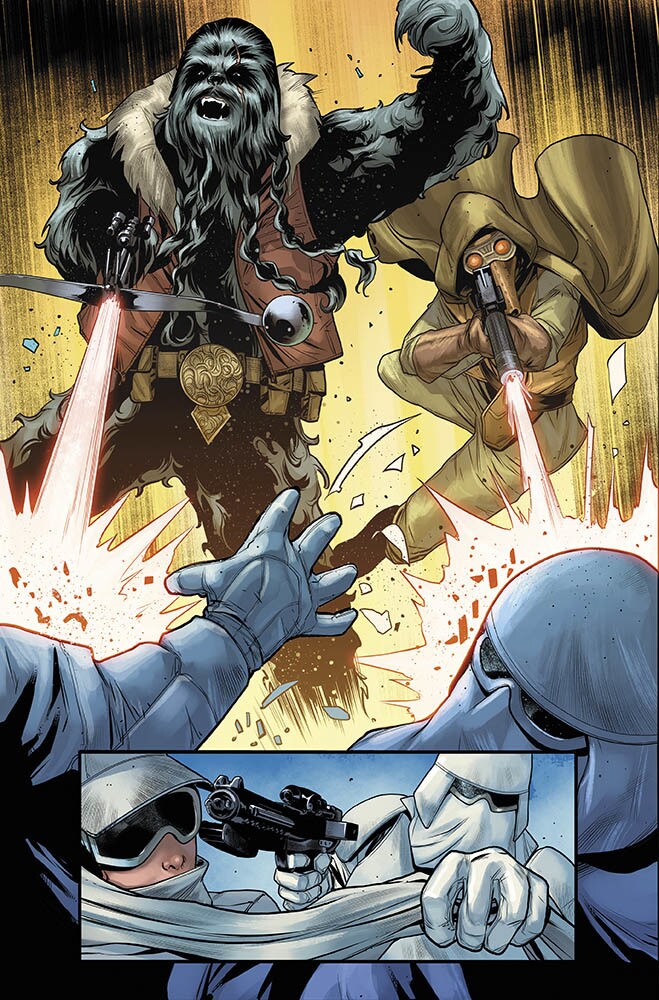 New Treasure Adventures: Doctor Aphra (2020) Volume 1: Fortune and Fate
Marvel couldn't launch a brand new Aphra series without bringing back Krrsantan! In the first arc of a new series by Alyssa Wong and Marika Cresta, Krrsantan, Aphra, and new friend Just Lucky went on the hunt for supposedly cursed Rings of Vaale… and they weren't the only ones.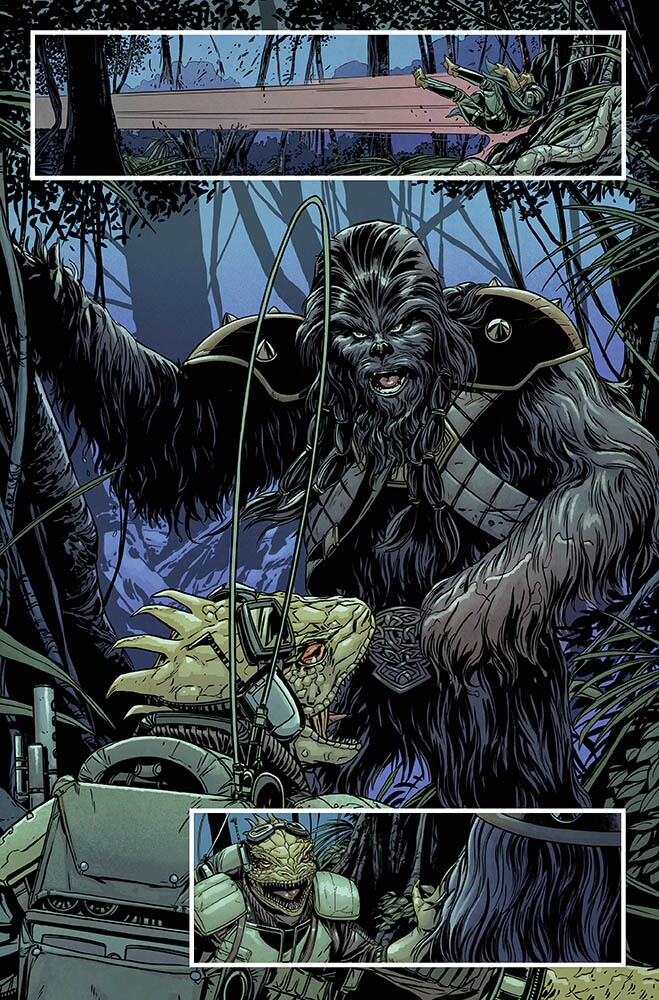 The Origin Story: Doctor Aphra Annual #1
If Garsa's talk of blood in arenas and champions to Krrsantan in The Book of Boba Fett "Chapter 4: The Gathering Storm" intrigued you, the single issue with his origin story is a must read. The first Aphra Annual details Krrsantan's gruesome history with Trandoshans and his time in the gladiator pits. It's a brutal, must-read issue for anyone who really wants to understand what it's like inside the Wookiee's mind.
Tangle with Kenobi: Star Wars #15 and Star Wars #20
Years ago, after a run in with some water tax collectors within Jabba the Hutt's employ, the gangster hired Krrsantan to bring him Obi-Wan Kenobi alive -- although he didn't know the Jedi's identity. Krrsantan tracked Obi-Wan to the Lars' farm and kidnapped Owen, Luke Skywalker's uncle, to successfully draw Kenobi out.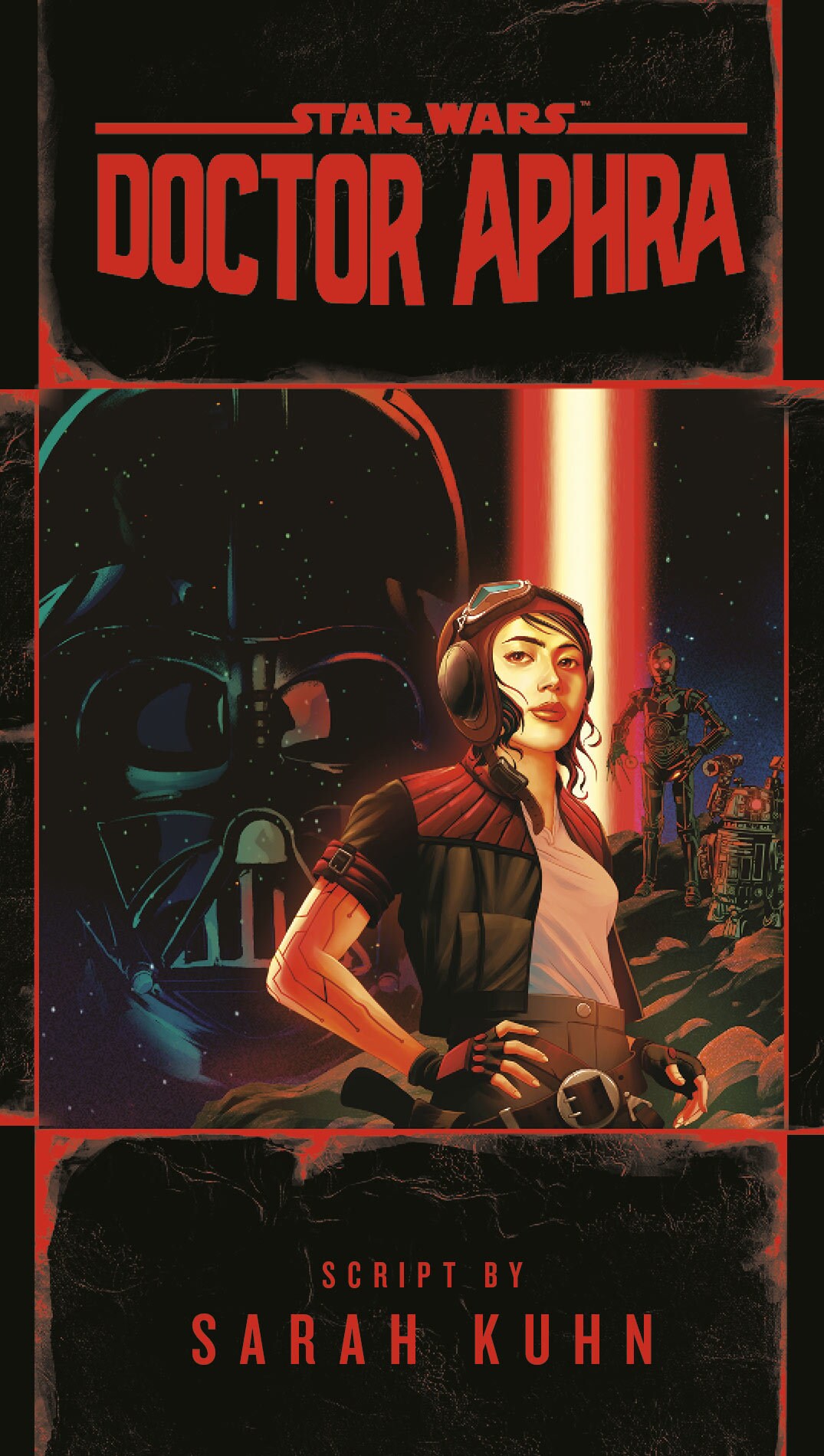 Doctor Aphra: An Audiobook Original
And finally, for those who want to hear the dulcet sound of Wookiee roars while learning more about Krrsantan, the Doctor Aphra audio drama may be for you! Also available in script form, the audio drama adapts the events from the Darth Vader (2015) comics through another lens. While it obviously centers the rogue archaeologist, Krrsantan still has his chance to shine and we get to see him specifically from Aphra's point of view.
Be on the lookout for Star Wars Tales: Krrsantan #1, a collection of the deadly Wookiee bounty hunter's most memorable comics exploits, coming soon from Marvel!